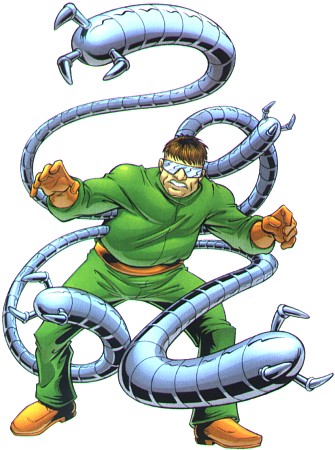 10th Week
(Byes: Arizona, Cleveland, Green Bay, Washington)
Thursday, Nov. 8
Indianapolis at Jacksonville, 8:20 p.m
- Okay, so the Colts will be missing their starting corners, their starting tight end, the #2 receiver, the original halfback, one of their rush linebackers and possibly will be without their best tackling linebacker. Away teams are 2-6 on Thursday Night. A.J. McCarron is supposed to start for Luck as a favor. Yep, Colts win.
PICK: (IND 9-0)
Sunday, Nov. 11
Oakland at Baltimore, 1 p.m
- The players voted this week that the worst three teams in the league are Oakland, Cleveland and Jacksonville. The results feel like that "Stars are Just Like Us" article from US Weekly. The Ravens can stumble into a victory in this one like they did last week.
PICK: (BAL 9-0)
Denver at Carolina, 1 p.m
- SuperNoodle vs. Superman. If I had any artistic ability at all, I'd be making a drawing of Peyton Manning's noodle arms snaking around Cam Newton; rendering him useless. Sort of like Doctor Octopus or something. Yes, yes, I know that Doc Oct was a Spiderman villain. Just go with the visual.
PICK: (DEN 8-1)
N.Y. Giants at Cincinnati, 1 p.m
- The Giants on the road! The Giants on the road! Forget about talking about the Steelers from last Sunday; that game was more about how the Giants never play that well at home and the team had a much longer week from not going anywhere. The Steelers almost equaled Manning's passing total with their pass interference yardage.
PICK: (NYG 9-0)
Tennessee at Miami, 1 p.m
- The Miami-Indy game last week was some good proof that there is still something going on with Vegas and the NFL. How was it that the Pagano speech was talked about right as the games were beginning? There was no way Indy was losing that game after that; though Miami played their role well by leading for most of the contest until having their worst two drives of the game on their last two drives of the game.
PICK: (MIA 9-0)
Detroit at Minnesota, 1 p.m
- Matt Stafford passing yards in the second quarter last week: 113. Christian Ponder passing yards in week 7 and week 9: 121 total, 87 net. Adrian Peterson cannot do it on his own.
PICK: (MIN 5-4)
Buffalo at New England, 1 p.m
- It feels like this game happens four times a year. The Bills are lucky it doesn't. Buffalo is showing signs of a team that doesn't care about the scoreboard or situation anymore. Celebrations after plays when down. Bad play-calling. Bad play. Not good when the Bills still have a great shot at that last AFC spot.
PICK: (NE 9-0)
Atlanta at New Orleans, 1 p.m
- The Saints playoff run story spliced with ending the undefeated season for Atlanta is just so easy that it has to happen, right? Also, I am sick of the stats that show weak schedules for 7-1, 8-0, 6-2 teams. A team that has played 8 games and played 8 opponents that have played 8 games will have a 1/8 effect on their own strength of schedule. That is 64 games. Minus 8 games is 56 games. 28-28 is .500. 28-36 is .438. There are so many flaws to almost all strength of schedule arguments. Remember when Denver was supposed to have the toughest sked in the league? Now people are talking about how easy it is.
PICK: (ATL 9-0)
-
Writer's note: I was shocked at the 9-0 here.
San Diego at Tampa Bay, 1 p.m
- Tampa Bay is still in the top 12 in QB rating differential and just traded their best corner anyway. They are 4-4 and playing behind the strong running game and deep passing attack perfect for Vincent Jackson and Mike Williams. Tampa Bay may be making some noise. I know Norv will be gone soon, but this falling asleep on the sidelines stuff is just disrespectful.
PICK: (TB 6-3)
N.Y. Jets at Seattle, 4:05 p.m
- Too much green and bright green in this game for me. Thank goodness that Seattle does not have a field that is the same color as that green. Rex Ryan was offended this week when he thought a reporter said "Over-weighted" when he was told that he was voted to be the most "Over-rated" coach.
PICK: (SEA 8-1)
Dallas at Philadelphia, 4:25 p.m
- What is the highest over/under for turnovers in a game that Vegas has ever set? This would be the 0-0 game this week, but the offenses are so good at giving up six points to the defense that I couldn't do it. It should be noted that this game was selected for the National Association of Bad Clock Management and Terrible Decision-Making 2012 Year End Bash. The fact that Jason Garrett and Andy Reid give generously to the NABCMTDM every season does make the event site seem a little contrived.
PICK: (PHI 7-2)
St. Louis at San Francisco, 4:25 p.m
- Remember when people thought that the NFC West might be a close race this season? Unfortunately, the Rams and Seahawks have to play on the road and the Cardinals can't block anything.
PICK: (SF 9-0)
Houston at Chicago, 8:20 p.m
- The Bears are first in point differential at +116. The Texans are second at +100. The Chicago D/ST have allowed 8 touchdowns this season. The Chicago D/ST have scored 8 touchdowns this season. Will that be enough to make up for how bad Cutler and the offensive line will look against that defense?
PICK: (CHI 5-4)
Monday, Nov. 12
Kansas City at Pittsburgh, 8:30 p.m
- The Most Likely to Finish 0-0 Game of the Week. This is not a rip on Pittsburgh at all. They could not even show up to the game and it would finish 0-0 because the Chiefs can't score. Every time the Chiefs try, Matt Cassell finds a new way to turn the ball over. Just watch what he comes up with when the only 11 guys on the field are his own.
PICK: (PIT 9-0)
LAST WEEK: 11-3
SEASON: 82-50 (62.12%)