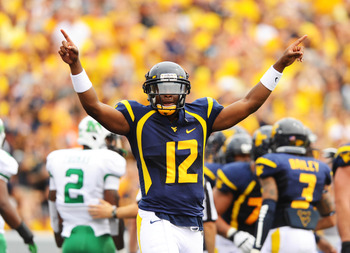 As hard as it is to believe, we're already halfway through the 2012 season. For some teams, that means buckling down and preparing for the second half as the push to secure a spot in the postseason begins. For other teams and their fans, it means evaluating the players currently on your team *cough*MikeShanahan*cough* and looking forward to 2013. And what better way to look ahead to the next season than a mock draft? The draft order this time around is exactly as it would be if the Draft were to be held tomorrow. The order is determined by win-loss record with ties being broken by strength of schedule. This section will cover picks #1-#16.
1) Kansas City Chiefs - QB - Geno Smith - West Virginia:
What started out being hailed as one of the deepest quarterback classes in recent memory may now also be the deepest quarterback class to not contain a clear #1 overall pick. However, there is no need more glaring for the Chiefs than quarterback, and thus Geno Smith becomes the first player selected. I'm still not fully buying into Smith and don't think he's good enough to be the top pick, especially with some of the recent struggles he's had, but I can't ignore the writing on the wall. As much as I may want to.
2) Jacksonville Jaguars - DT - Star Lotulelei - Utah:
Terrance Knighton is a decent enough starter at defensive tackle, but Tyson Alualu is a sieve and the Jaguars could desperately use an upgrade. Lotulelei would provide that instantly with his blend of unique athleticism and power. It could be tempting for the Jags to use this pick on a quarterback if they find themselves this high up in the order yet again.
3) Cleveland Browns - LB - Jarvis Jones - Georgia:
I've gone on record saying that if I had to pick one player from this Draft, I would personally select Jarvis Jones. I think he's the best prospect in the nation and only by bad fortune with the first two teams picking does he not end up as one of the first two picks. Jones would however immediately boost a suspect linebacking corps in Cleveland, and give them a bona fide pass-rushing fiend at the same time. Don't be surprised if Jones reminds a lot of people in his rookie season of Von Miller.
4) Carolina Panthers - DT - Johnathan Hankins - Ohio State:
Whereas Jacksonville at least has Terrance Knighton manning the middle, the Panthers can't boast any competent defensive tackles on their roster right now. This has been a glaring hole for Carolina for years now, and it's about time they finally get it addressed properly. Hankins is every bit of the intimidating force Lotulelei is, so this is about as good of a consolation prize you can get if you're the new Panthers general manager.
5) St. Louis Rams* - OT - Luke Joeckel - Texas A&M:
Using the pick acquired from Washington in the RG3 trade, the Rams can make a serious investment in revamping their ghastly offensive line. Joeckel has been stellar all year long, and has firmly established himself as the top offensive tackle in this class. With a quarterback who has had health concerns like Sam Bradford has in the past, getting someone like Joeckel to protect his blindside could do wonders for his career, and subsequently for the Rams.
6) Tennessee Titans - G - Chance Warmack - Alabama:
Everybody knows that I was as big of a fan of David DeCastro last April as anybody else. Well, there's a Chance that Warmack might just be even better. This is still pretty high for Warmack and quite a bit of a reach, but the other options at this spot really aren't really players that Tennessee needs right now. Their two guard spots need to be upgraded though, and this is the best solution available.
7) Cincinnati Bengals - LB - Manti Te'o - Notre Dame:
Heisman! A defensive player who might win the Heisman! Te'o surprised many when he returned to South Bend for his senior season, but so far I doubt he has any regrets about it. He's significantly improved his draft stock and is poised to cash in come April. He's even put his name firmly in the conversation to be the first defensive player to win the Heisman since Charles Woodson did it in 1997.
8) New Orleans Saints - CB - Dee Milliner - Alabama:
You really could just throw a dart to determine which area of the defense the Saints most need to address. New Orleans has invested several picks into corners the past few years, but to little effectiveness. Patrick Robinson is struggling mightily in his first full year as a starter, Johnny Patrick can't get on the field, and Corey White was a fifth-round pick this past April who has started four games this year. You can guess how that's worked out. Hopefully Milliner would be the first step to repairing a defense that looks beyond broken.
9) Buffalo Bills - QB - Matt Barkley - USC:
Barkley has been a bit disappointing this year after entering 2012 as the presumptive top prospect in all the land. He's not in any danger of falling out of the first round by any means, but he has dropped down to somewhere in this vicinity. As it turns out, Ryan Fitzpatrick is exactly who we thought he was; not very good. With the contract Buffalo gave him, they have the option of letting Barkley sit for a year on the bench behind him to learn the finer points.
10) Oakland Raiders - LB - Barkevious Mingo - LSU:
Oakland is in dire need of a legitimate pass-rushing threat. Kamerion Wimbley packed up and took his talents to Nashville, leaving the Raiders high and dry. Lamarr Houston and Matt Shaughnessy are both defensive ends more geared towards defending the run, and while Richard Seymour is still giving them consistently strong play, he's not getting any younger at age 33. Mingo can come in on day one and nicely compliment Rolando McClain and Philip Wheeler as the weakside linebacker, and continues the trend of primarily 4-3 teams looking to find the next pass-rushing phenom in the mold of Von Miller.
11) St. Louis Rams - OT - Jake Matthews - Texas A&M:
This is probably a little bit too high for Matthews, son of NFL Hall of Famer Bruce Matthews, but it makes sense for the Rams to pick up both of the highly touted Aggie bookends on the offensive line. Plugging in Joeckel and Matthews at both offensive tackle spots, along with the return of Scott Wells at center and the continued solid play of Harvey Dahl at guard, would go a tremendously long way to overhauling the porous line the Rams are currently trotting out every Sunday.
12) Philadelphia Eagles - DE - Bjoern Werner - Florida State:
The Eagles find themselves in a really rough spot here. Ideally they would trade out of this pick, seeing as how their biggest needs are in the secondary and linebacking corps, but since I am not including any trading in here, why not make the scariest part of your team even scarier? Adding Werner to a defensive end rotation that already includes Trent Cole, Jason Babin, and Brandon Graham would give the Eagles four fearsome pass-rushers not too dissimilar to their divisional rivals, the New York Giants.
13) New York Jets - LB - Sam Montgomery - LSU:
It's going to be very tempting for the Jets to make a move for Barkley or even Geno Smith if they haven't figured out their quarterback situation by this point. It's also feasible that they reach for someone like Tyler Bray if they feel like they have to. But the most glaring weakness I've noticed when watching the Jets this year is that all of their linebackers are suddenly old and/or slow. Rex Ryan's defense has been able to cover up that previously, as well as the fact that the team doesn't really have a premier pass-rusher. But all of that has been exposed this season, and Sam Montgomery would be able to provide an answer to each of those problems.
14) Dallas Cowboys - WR - Keenan Allen - California:
I think it's safe to say that the Cowboys are at a crucial point with their often beleaguered wide receiver, Dez Bryant. Is the value he's producing on the field worth dealing with his constant headache inducing problems off of it? Personally, I don't think so. Which is why I feel the Cowboys would be best served moving on from Bryant and drafting his replacement in the form of Golden Bear star, Keenan Allen. Allen may be done for the season after suffering a knee injury in his last game, (on an onside kick attempt!!) but it is a PCL sprain and won't impact his athleticism or tremendous ability as a downfield receiver.
15) Arizona Cardinals - OT - Taylor Lewan - Michigan:
Well...it's hard to really see the need to explain this one. Taylor Lewan looks like a pretty good left tackle, not of the same caliber as former Wolverine Jake Long, but still a solid first round pick who can man the blindside for years to come. D'Anthony Batiste and Bobby Massie? Not so much.
16) Tampa Bay Buccaneers - DT - Kawann Short - Purdue:
I'm beating the drum hard for Kawann Short, and that's typically not my style. Short has the label of being a streaky performer who doesn't always play hard, and I would say that coming into this season, it was a fair way to look at him. But this season I've seen a monster in the middle of the defensive line for the Boilermakers who is constantly creating chaos and havoc for opposing offense. It looks like Short has finally put it all together and dedicated himself to being great, and that should be represented by being selected somewhere in this area come next April.
Picks 17-32 coming tomorrow. Stay tuned!