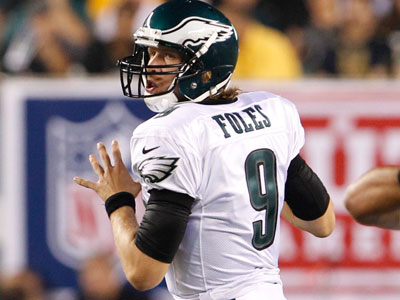 The Rookie Report returns!!
Week Ten QB Rankings:
1) Andrew Luck - 18/26 (69.2%) - 227 yards - 8.7 YPA - 0 TDs - 1 INT
2) Russell Wilson - 12/19 (63.2%) - 188 yards - 9.9 YPA - 2 TDs - 0 INTs
3) Nick Foles - 22/32 (68.8%) - 219 yards - 6.8 YPA - 1 TD - 1 INT
4) Ryan Tannehill - 23/39 (59.0%) - 217 yards - 5.6 YPA - 0 TDs - 3 INTs
Andrew Luck has gotten quite a bit of hype and publicity over the past few weeks, and while his performance against the Jaguars by no means set the world on fire, it was quite a competent outing. His already impressive completion percentage would have been even higher if not for four dropped passes from his receivers on the night, and even though he didn't score any touchdowns through the air, he put six points on the board by running it in himself. The main blemish on the night for Luck would be the interceptions. Or more appropriately, "interceptions". Officially he only was liable for one pick in the game, but another one was called back thanks to a roughing the passer penalty. Even still, Luck shook off the mistake and proceeded to drive the Colts downfield after the penalty for a touchdown.
Russell Wilson didn't put up any numbers that necessarily wowed viewers, but he didn't have to considering the strong day from Marshawn Lynch and the suffocating performance of his defense. Both of his touchdowns were on passes of twenty yards or more through the air, and both of them came on plays where the Jets were blitzing. Wilson did a great job of diagnosing the coverage behind the blitz, lofting touchdowns to Sidney Rice and Golden Tate in the process. Wilson did take four more sacks in this game however, which highlights an underlying flaw in his game that has been present all season. He's been sacked only 19 times so far, but the average time from the snap of the ball to when he's been sacked this year? 4.25 seconds. Yikes. That number leads all quarterbacks by a fair margin, considering that Michael Vick is second and clocks in at only 4.02 seconds.
Nick Foles made his long awaited debut in the NFL this past weekend after Michael Vick was knocked out of commission early in the game against the Cowboys. Immediate results were less than inspiring. The touchdown to Jeremy Maclin looked good, but it did come on a play where the Cowboys secondary blew the coverage and left him wide open. In the end it was the play of Foles that sealed defeat for the Eagles. The third round rookie out of Arizona made mistakes at the worst possible moments, including a TAINT on a throw that never should have been attempted in the first place, and a fumble in his own endzone that ended up resulting in another touchdown for Dallas. These of course are only a couple of mistakes which Foles made, and the only ones that actually counted. This isn't even mentioning the pass with 2:40 to go in the second quarter which was broken up by Orlando Scandrick, but could very well have been picked off for six points, as well as another interception to Anthony Spencer that was erased by a Morris Claiborne holding penalty (we'll get to him later) on a side of the field Foles didn't even look at.
The saving grace for Foles is that those interceptions didn't count. The same cannot be said for Ryan Tannehill, who tossed three picks in an unfortunate manner in a rout at the hands of the Titans. It has to be said that on the most damning of the three, the ball was deflected at the line of scrimmage and landed right in the arms of Titans LB Colin McCarthy, who ran it all the way back for a touchdown. The other two are a lot harder to defend, and ultimately the two interceptions in the first half resulted in 10 points for the Titans, and a 24-3 lead at halftime for Tennessee that would prove to be insurmountable. Outside of the interceptions, Tannehill didn't have too poor of a game. His 59% completion would look better if it hadn't been for a few drops by Dolphins receivers, though you would also have liked to see a bit more in the department of yards per attempt. To wit, only three of Tannehill's 39 attempts traveled more than twenty yards through the air, and none of them resulted in completions.
Rookies who Shined:
- If I asked you to name the two rookies on the Tampa Bay Buccaneers who have impressed the most thus far, almost all of you would probably be able to name one of them. Everybody is aware of how Doug Martin has set the NFL ablaze the last few weeks with stellar rushing performances. However, just as impressive as Martin on the other side of the ball has been linebacker
Lavonte David
. He was all over the field against the Chargers, recording thirteen tackles in the process and eight of them for stops. Not to mention the nine times he rushed the passer resulting in three hurries on quarterback Philip Rivers. For the season, David is now second among all linebackers in the league in stops, behind only Derrick Johnson.
- A rare off-day for the San Francisco 49ers' offensive line allowed the fearsome pass-rushers of the St. Louis Rams to constantly be creating chaos in the backfield. Chris Long and Robert Quinn were the main catalysts of this as usual, but
Michael Brockers
provided a heap of pressure himself. Logging two sacks and three other hurries on the duo of Alex Smith and Colin Kaepernick, the rookie defensive tackle had his best game as a pro so far.
- The numbers don't jump off the screen at you, but Bengals' rookie wide receiver
Mohamed Sanu
had himself quite a nice day going up against a lackluster (to be polite) New York Giants secondary. He hauled in four of the six receptions thrown to him for 47 yards (An average of 11.8 yards per reception), and scored the first receiving touchdown of his NFL career. Sanu also holds a perfect career 158.3 quarterback rating, so you know, there's that.
Honorable Mentions:
Matt Kalil - OT - MIN, Kevin Zeitler - G - CIN, Luke Kuechly - LB - CAR
Rookies who Faltered:
- Offsides, Holding, Pass Interference, Holding, Offsides. Referee Walt Coleman got himself very familiar with having to say the words, "Number 24, defense" this past Sunday against the Eagles. He said it a total of five times for all five penalties that were called on
Morris Claiborne
. As mentioned earlier, one of those flags ended up taking an interception off the board by teammate Anthony Spencer. In coverage alone, Claiborne didn't have a bad day. He only gave up four receptions for 44 yards, including the unbelievable touchdown to Riley Cooper.
- A few weeks ago in the Rookie Report I was hyping up Patriots' rookie
Alfonzo Dennard
after his impressive debut and continued strong play. Well, unfortunately I now have to take him to task after his play against the Bills. Dennard was targeted ten times and gave up seven receptions for a total of 85 yards, including giving up the touchdown to Donald Jones. I noticed that Dennard was used to cover the slot receiver a lot more often than he had been asked to in other games, and that might have played into his struggles. He was consistently giving the receiver a lot of space to work with off the snap of the ball, and it continued to cost him and the Patriots.
- I doubt that it's going to be often I get to do this, so I'll take advantage of the opportunity now;
Chandler Jones
played poorly this past Sunday. He was getting pushed back off the ball and kept out of the play in the run game, and to credit the Buffalo offensive line, he was completely nullified as a pass-rusher, recording just one hurry on Ryan Fitzpatrick in his 42 snaps as a pass-rusher. Whether or not this is indicative of a rookie in the NFL just starting to wear down thanks to the long grind of a professional season remains to be seen, but the overall performance of Jones as a rookie has done nothing but provide confidence to the Patriots that they have a star in the making.
Dishonorable Mentions:
Trumaine Johnson - CB - STL, Miles Burris - LB - OAK, Mike Harris - OT - SD