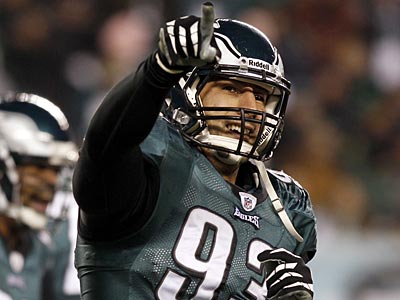 Things were looking up for Jason Babin last year. He had just come off of his first Pro Bowl selection with the Tennessee Titans in 2010; signed a nice, shiny, new contract with the Philadelphia Eagles, after becoming a free agent, worth approximately $28M over the course of five years (with about $6M in guarantees); proceeded to flourish in 2011 with the Eagles while racking up 18 sacks, earning him not only another Pro Bowl selection, but an All-Pro selection as well. Yes, things were looking quite peachy for Jason Babin at the conclusion of the 2011 season.
And then 2012 came around. Oh boy.
In a season where everything was destined to go wrong for the Philadelphia Eagles, there was nobody capable of escaping the grasp of the ominous shadow looming over the team. This includes one Mr. Babin, who now finds himself unemployed after just a year and a half with the Eagles through no fault of his own. Babin had accumulated six sacks, ten hits, and twenty hurries on opposing quarterbacks so far this season, and was rated at the time of this article being published by Pro Football Focus as the #22 4-3 defensive end in the NFL this season.
Nevertheless, Babin is now on waivers and could be scooped up by a possible Playoffs contender in need of a pass-rusher. The Tampa Bay Buccaneers are one team that comes to mind, as pairing Babin with Michael Bennett (Pro Football Focus's #11 4-3 DE) would give the team a very formidable pair of bookends. If he gets past the Buccaneers, it's hard to imagine the New England Patriots wouldn't be interested. Especially considering they just lost Jermaine Cunningham to a four-game suspension for violation of the NFL Substance Abuse Policy.
No matter where Babin ends up, this move clearly illustrates the writing on the wall within the Eagles' organization. Babin is simply the first domino to fall. There will be many more, almost assuredly including head coach Andy Reid and 100-Million Dollar Man Michael Vick, and probably several other players like Babin who symbolize the moves and mess created by the current regime. It does seem just a bit too late to fire Babin though, considering that he and the rest of the Eagles already quit a long time ago.