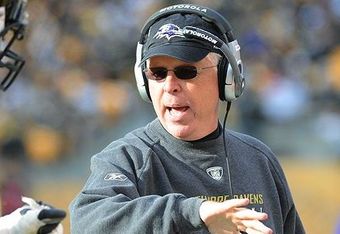 Shhhhhh....listen. Can you hear that? That is the faint sound of a chorus of angels cascading down upon the city of Baltimore today, coincidentally arriving along with the news of offensive coordinator Cam Cameron's dismissal.
Cameron was hired as the offensive coordinator of the Baltimore Ravens in 2008, having been fired by the Miami Dolphins as head coach after just one season, in which he compiled a 1-15 record. In hindsight, that probably should have been some sort of clue. Those first couple of years were splendid though for a franchise historically used to offensive output ranging from inept to mediocre. In 2008, Cameron's first year in the new role, they were 11th in points scored. That success carried over to 2009 and reached even higher heights when the team ranked 9th in the same category. Oh what a merry and joyous time it was.
But soon after, things began to turn for the worse. In 2010 the offense dropped all the way down to 16th in points scored and 22nd in total yardage. 2010 was also a year in which superstar RB Ray Rice averaged 23.1 touches per game. That figure would dip in 2011 to 22.9 touches per game, and then a drastic drop this season to 19.3 with more emphasis being placed on the passing attack. A passing attack which is, of course, designed as if it was the mid-nineties and full of iso routes and other rage-inducing features.
Fan frustration steadily had been building up over the past few seasons with Cameron, who had developed the knack for always making the stupidest play-call at the worst possible times, and trying his damnedest to single-handedly lose games with his play-calling (See, Kansas City Chiefs - 2012, Jacksonville Jaguars - 2011, etc.). Current quarterbacks coach Jim Caldwell will take over the offensive coordinator duties in the short-term, and will likely be interviewed for the position in the offseason. Rumors have already popped up that the team would be interested in pursuing Norv Turner were he to be fired by the San Diego Chargers this offseason.
With my final words here, I bid you adieu Cam. And that from now on, whenever I'm watching any football game anywhere, I shall always think of you when I see a runningback take the handoff and run directly into the center for no gain. I shall be reminded of you whenever I watch team continuously try to establish a passing game despite no evidence that you are actually gaining any traction in doing so, especially when in the process the said team completely ignores their runningback that also happens to be the best player on the team. But most of all Cam, I shall miss you whenever I accidentally hit the "Ask Madden" button whenever I'm playing Madden on my XBox 360, and I see the play-calls that you made your living off of.
Oh, and also whenever I see Ted Ginn Jr. and his family.