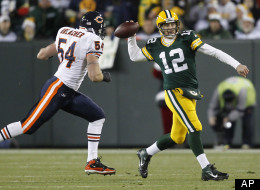 Well, now I'm determined. Matt just can't seem to have a bad week. His streak stands at 23-7 and now has a higher win percentage for the season, while we both are doing reasonably well. I stayed afloat with a 3-3 week while his 5-1 trumped me.
GB (-2.5) @ CHI
RG: Bears are 1-2 when I see them play the Packers. I'll be there this weekend and I never feel confident. That one win was glorious. It was the 35-7 game with the Urlacher return touchdown in what was supposed to be the final Favre game in Soldier Field. The Bears are so banged up that practice is limited this week while the Packers gain Matthews. The teams combined for 12 sacks last time and likely will again. The Bears loss of Robbie Gould is really underrated. Plus, as a Bears fan, it just makes sense that they would lose this game, win the final two to squeak in, Lovie would keep his job and they would try the Cover 2 without Urlacher, leading to a bad season and a contentious negotiation with Jay Cutler. Nope, haven't thought about it all. PICK: Green Bay
MK: I really want to take the Bears. They need this game. Two things are making me hesitate. First, Rich is going on a pilgrimage this weekend and that sounds like a recipe for disaster. Second, my rule is, more or less, if the spread is under three, don't get too cute and just pick the winner. I break that rule sometimes. PICK: Chicago
NYG @ ATL (-1)
RG: See below. PICK: New York N
MK: I get the points in this one? [Evil laugh.] PICK: New York N
DEN (-2.5) @ BAL
RG: I really think this playoff run for Baltimore will be determined by Joe Flacco and his ability to run an offense he thinks he can run. Still, the hiring of Jim Caldwell, who has never called plays, makes me think a lot of those backflips by Ravens fans ended with them flipping into a brick wall. Also, we are at the point where Peyton Manning must be trusted until everyone sees their playoff draw. PICK: Denver
MK: When a coach fires a coordinator in the middle of a playoff push, no matter how justified, it's not good. The Broncos will probably enter the playoffs winners of eleven straight, yet be the team that we know the least about in the AFC. PICK: Denver
PIT @ DAL (-2)
RG: If the Steelers were smart, they would run the ball at the beat-up front seven from Dallas. But do they think that they have a running back they trust right now? I have a feeling that Roethlisberger may want to prove his arm is healthy by throwing a bit; to his detriment. I danced around this one. PICK: Dallas
MK: This is basically a playoff game. The loser is probably eliminated--and if that loser is Dallas, probably I think becomes definitely--and the winner at least stays on pace or within striking distance. I'm not crazy about this line, but I'm not sure there's a line for this game I would like. When in doubt, take the points, right? That's not the rule, though. PICK: Dallas
SF @ NE (-6), O/U 48
RG: The Patriots tend to just win and win and win in December while preparing for playoff disappointments. I do like this as a Super Bowl preview, though I picked the Pats-Packers for the 4th straight season. I know, how Berman-esque of me. New England's defense and offensive line are now reaching underrated status. PICK: New England, the under.
MK: This was the Super Bowl I wanted last year, and it may yet be the Super Bowl I get this year. The Patriots have not lost a home game in December since December 22, 2002. They have lost a weirdly high number of games at Miami in December over the last ten years, though, and lost a January 1 game to the Dolphins at Gillette in 2005. Still. Damn. PICK: New England, the over
Food
MK: You know, this is the last week of the last semester in which I'll have a full slate of classes in my graduate career. This week, go to Chipotle.
RG: mmmmm, Chipotle. The ultimate body cleanser.
Beer
MK: When I was a younger lad, I interned at the Parliament of Canada in Ottawa for a couple of months. I can assure you, in Canadian Bacon, John Candy was wrong. Their beer does not suck. In honor of the NFL's annual field trip to Toronto, I wanted to pick out a true Canadian beer to showcase this week, so I chose a very famous Nova Scotian brew which is difficult to find stateside...
Alexander Keith's (recently acquired by Anheuser-Busch, the influence of which is I think unfortunately evident in the logo redesign; still, they're rumored to be distributing in the United States now...) makes an exceptionally good product. You wouldn't go wrong ordering their red or their brown or their lager, but their India Pale Ale is well worth a try. Beer nerds love IPAs because they're loaded with hops. IPAs are so called because they were made for shipment from metropolitan England to their colonial possessions in the sub-continent in nineteenth century; in order to withstand the long shipping distance and the great fluctuations in temperature throughout the journey, the brewers loaded the beer with hops, which essentially are a preservative. Modern hopheads love them because craft brewers do the same, but also tinker with the varieties of hops you'll find in an IPA. The category is always one of the most hotly contested at any beer competition. Anyway, I'm not one of those guys. I still love this beer, though, and if you're ever up in true north, do yourself a favor and order one.
RECORDS
LAST WEEK:
MK: 5-1
RG: 3-3
SEASON:
MK: 32-22 (59.25%)
RG: 50-39-1 (56.11%)
PS: 5-7