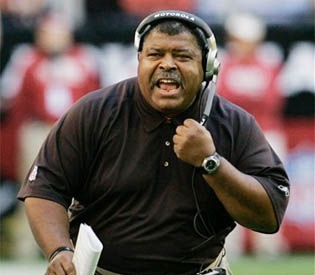 As with the Lions who were featured yesterday, the Kansas City Chiefs came into the 2012 season expecting a promising campaign. Dumb writers like me ended up thinking that the Chiefs had a good shot at the playoffs. We thought that Matt Cassel only needed an average season. Jamaal Charles certainly wasn't going to hated by Romeo Crennel like he was obviously hated by Haley. Romeo is a players coach. The defense was going to be better. Unfortunately, the season began exactly as it would continue. The offense committed three turnovers in a 40-24 loss to the Atlanta Falcons.
WHAT WENT WRONG
It may be shorter to talk about what did not go wrong, but I will try to go into each point a little bit.
First, the Chiefs made a decision that mirrored a decision made by the Cleveland Browns during the last ten years. That very thought alone should be verboten in all managerial offices around the NFL. Somehow, the Chiefs saw Romeo Crennel as more than a good to great defensive coordinator; they thought he could be a head coach.
Secondly, the quarterback position has been awful, injured, healed, awful, re-tread and then awful again. Matt Cassel went 1-7 with 6 touchdowns and 12 picks. He was a large reason why the team committed 21 turnovers during the first six games of the season. The best thing that Brady Quinn has done is say this after the worst thing that happened to the team occurred:
"The one thing people can hopefully try to take away, I guess, is the relationships they have with people," Quinn said after the Chiefs beat the Panthers 27-21 for their second victory of the season. "I know when it happened, I was sitting and, in my head, thinking what I could have done differently. When you ask someone how they are doing, do you really mean it? When you answer someone back how you are doing, are you really telling the truth?
"We live in a society of social networks, with Twitter pages and Facebook, and that's fine, but we have contact with our work associates, our family, our friends, and it seems like half the time we are more preoccupied with our phone and other things going on instead of the actual relationships that we have right in front of us. Hopefully, people can learn from this and try to actually help if someone is battling something deeper on the inside than what they are revealing on a day-to-day basis."
Despite having insightful comments in the eye of a horrible situation, Quinn's play on the field has been horrible as well. Quinn has two touchdowns and six picks with a yards per attempt lower than Christian Ponder.
The turnovers problem alone is something that much more talented teams would not be able to overcome. Today, they sit at a -22 turnover differential, 31st in the league. They had less than three turnovers just once during the first eight games of the season.
Jamaal Charles is averaging 4.9 yards per carry but still is on pace for under 300 carries. Still, this season will end as the one where he has taken on the largest workload of his career. It is not enough. Dwayne Bowe is the leading pass catcher with 59 catches and just over 800 yards. He was just placed on IR and his tumultuous time in Kansas City may be over.
Consequently, the team is averaging slightly less than two touchdowns a game (13.9 ppg) and is the worst in point differential along with having the worst points per game average offensively.
Defensively, that have only 24 sacks this season. Justin Houston and Tamba Hali have 18 of those while the secondary has only seven interceptions. They can't cover after losing Brandon Carr and Brandon Flowers has no impressive stats. They can't rush the passer and they cannot create turnovers.
Time to move on. This is just depressing.
WHAT CAN BE DONE
Get a new coach and wait. The team has holes at DT, CB, FS, WR, and QB.