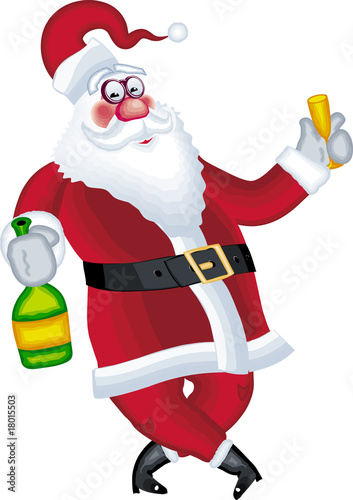 Don't be a drunken Santa just because your team stinks.
It the time of the year to give. Giving can mean different things to different people and some people just don't give two excrements about anything. Some teams played like that last weekend. No matter. I still am going to try to give each team or it's fans something this holiday season. What they should get is in each summary.
16th Week
Saturday, Dec. 22
Atlanta at Detroit, 8:30 p.m
-For Atlanta, the gift this season seems obvious; a playoff win. For Detroit, there are many gifts needed, but perhaps none more important than R. Lee Emery's Discipline Camp 2013. Man, I wish that existed. Honestly, how is that not a show? PICK: (ATL 9-0)
Sunday, Dec. 23
N.Y. Giants at Baltimore, 1 p.m
-The best gift any Giants fan can get this season is the 6th seed in the NFL playoffs. The stress brought on with the Skins and 'Boys involved can only increase the probability. For Baltimore, their gift is five more years of Joe Flacco whether they want it or not. Sorry, the FA options involve names like Alex Smith, Rex Grossman and Tim Tebow.
PICK: (NYG 6-3)
Oakland at Carolina, 1 p.m
- The best gift Oakland can get is defensive talent. Wait. What? They live in Oakland? Where the weather is nice? Eh, forget Oakland, they get nothing and like it. For Carolina, their gift should be the ability to take the second halves of 2011 and 2012 and add two wins.
PICK: (CAR 9-0)
New Orleans at Dallas, 1 p.m
- New Orleans' gift is to get Sean Payton back right after the season ends (they will) so he can squeeze two more seasons out of Drew Brees. I think Dallas may have already received their gift when Romo managed to win in December after going something like 1-28.
PICK: (DAL 5-4)
Tennessee at Green Bay, 1 p.m
- The Titans gift should be the weight off their shoulders when Chris Johnson is cut. Trust me, they will be a better team. That is, except when he runs for 400+ yards against them every year while he is with the Colts. Green Bay already got their gift. It was the injury to Jennings. Think about it. The injury allowed Cobb and James to develop and allowed them to know that Finley is not the answer. Does any of that happen if Jennings has a huge year? I don't mean to bring down the Jennings family, besides, he will get paid anyway.
PICK: (GB 9-0)
Minnesota at Houston, 1 p.m
- Forget gifts, the Vikings already have AD. He now leads Ponder 1,303-1,093 over half a season. Peterson averages 6.3 a run while Ponder averages 5.9 a pass. Okay, Minny's gift should be a serviceable QB. Houston deserves a gift of a playoff run that is not managed by T.J. Yates.
PICK: (HOU 9-0)
New England at Jacksonville, 1 p.m
- New England's gift is another playoff run. Seriously, what can you get for the team that has everything? Fine, iTunes gift card it is. No more than $25, though. At least let Tom Brady get the new Aaron Lewis country album. Yes, the guy from Staind. And it's good. Come on, we know that the Jags holiday gift is a golf vacation that features St. Andrews.
PICK: (NE 9-0)
Indianapolis at Kansas City, 1 p.m
- Seriously, what do you get for the team that always has a quarterback? Fine, give them a $50 iTunes gift card. The gift to the Chiefs is Alex Smith. Hey, it's can't get much worse, although I personally like Lake Catholic grad Ricky Stanzi.
PICK: (IND 9-0)
Buffalo at Miami, 1 p.m
- The Bills gift should be the forceful retirement of the formally good DC Dave Wannstedt. His old ways do not work in the current form of the NFL. He should go back to coach Pitt. Of course, Miami fans have not forgotten him, either. The gift the Miami fans should be one actual year of stability where players can develop.
PICK: (MIA 7-2)
Washington at Philadelphia, 1 p.m
- Washington's gift this holiday season should be one more year with no playoff team. Hear me out. As a Skins fan, do you want RGIII forcing his knee back this season? Won't it be easier to develop the team next year into the year after the dumb cap penalties expire? Washington doesn't have draft picks, and they need money. They don't have any next season. For Philly, their gift should be a new coach and maybe some HGH for Nnamdi Asomugha.
PICK: (WAS 8-1)
Cincinnati at Pittsburgh, 1 p.m
- The Cincinnati Bengals have not had consecutive winning seasons since 1981-1982. Those were the first two seasons of Cris Collinsworth. If they do it this season, it will happen for A.J. Green in the same manner. Clearly, the Bengals need Matt Millen at GM, wide receivers are the key to their team. It seems that the best gift for Steelers fans is a jury duty stint for Todd Haley.
PICK: (PIT 7-2)
St. Louis at Tampa Bay, 1 p.m
- For Rams fans, the best gift would be to have Sam Bradford witness a crime by the mob, making him go into witness protection, absolving Jeff Fisher of his contract. For Tampa fans, their gift should be another year of skinny Josh Freeman and a year with no holidays. Since Thanksgiving, Josh has 4 Tds, 5 INT and 0 wins. No more pie for him.
PICK: (TB 5-4)
Cleveland at Denver, 4:05 p.m
- I wanted to give the Browns their second win in Denver since 1972 and I wanted it to be given to them due to a Moreno fumble at the goal line, but I asked someone I know who bet on the Browns being under 5.5 wins this season. He wanted the winning bet. Denver doesn't deserve a gift. They have had magic with Tebow, Manning, the secondary and Miller. Get them a Groupon to a crappy day spa in the back of a burned out meth lab.
PICK: (DEN 8-1)
Chicago at Arizona, 4:25 p.m
- This game is the gift to us all because, um, it's The Mostly Likely to Finish 0-0 Game of the Week! The best gift a Bears fan can get is the location of and subsequent re-attachment of Lovie Smith's missing man parts. He still punts between the opponents' 45 and 33 on 4th down no matter what. The best gift a Cards fan can get is some quarterback who can complete a pass. Any pass.
PICK: (CHI 8-1)
San Francisco at Seattle, 4:25 p.m
- The best gift the Niners can get is a full set of the best gloves for returners imaginable. And a can of Stick-Um just to make sure. The holiday season would be perfect if they get a #2 or #3 from a desperate team for Alex Smith. The best gift for Seattle is a large NFL logo hat for Pete Carroll. Clearly, he still thinks the BCS and margin of victory matters.
PICK: (SEA 5-4)
San Diego at N.Y. Jets-x, 8:20 p.m
- David Shaw for the Chargers. Mike Zimmer for the Jets.
PICK: (SD 6-3)
LAST WEEK: 9-7
SEASON: 140-83-1 (62.72%)