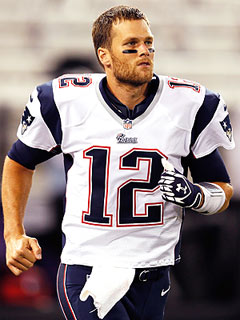 Last week, it seemed like Matt had a bye week before the playoffs and was a little rusty. Cincinnati came within 2 points of giving me a sweep in the NFL games. Of course, the college game gave us trouble but also seemed to send Brent Musberger scrambling for a certain pill. After a successful week in round one, I am sure to get my medicine this week.
Baltimore @ Denver (-9), 45.5 o/u
RG: Sadly, I think one of the biggest problems the Ravens will have in this game is managing the plays for Ray Lewis. The Ravens secondary is still questionable right now as Jimmy Smith is still not healthy. It would really help Baltimore if he became healthy for this game. The temperature for the game is supposed to be below freezing and that usually means a Manning playoff loss. He is 0-3 with seven picks in those games over his career. The difference here is that the Broncos have a great defense that led the league in sacks. They also move Miller and Dumervil around to get the match-ups that they want.
PICK: Denver, The Over.
MK: It will about 15 degrees at kickoff today, so we can finally add another chapter to one of the all-time great FP Feuds. The Ravens played horrible offense last week but did enough against a limited defense; they played energetic defense, which was enough to stunt a limited offense and force them to kick field goals. No such luck today.
Pick: Denver and the over
Green Bay @ San Francisco (-3.5)
RG: A lot of people are jumping the Seattle bandwagon. I think I am on the Green Bay bandwagon. I like their chances. Without a miracle catch by Terrell Owens, the Packers would have 5 game winning streak against the Niners in the playoffs. Pair that idea with the fact that there is no way Justin Smith is 100% and Kaepernick is still young and likes to fumble (nine in seven starts), I like the Packers. Plus, they could still cover and lose because the likelihood of a blowout is small.
PICK: Green Bay
MK: I've been basically dead all week with this awful flu that's going around (which is why this is late--seriously, if you get it, clear your schedule for about four days before you can start doing things again) but I've been reliably informed that the talking heads are telling me to watch out for the Packers. I think even most zealous Packers will stipulate that their offensive line is pretty much terrible and now I'm reading that Aldon Smith is probable? That dangling half point scares me, but I'm taking the defense.
Pick: San Francisco
Seattle @ Atlanta (-2.5)
RG: With all the hub-bub around the RGIII injury
here
and everywhere else, another huge injury have kind of been ignored. The loss of Chris Clemons hurts the Seahawks in every imaginable way. It forces a situational pass-rusher like Bruce Irvin to play against the run and play much more than normally. It reduces the effectiveness of the pass rush as Clemons had been the only guy to get pressure consistently over the last six games. I hope switched my opinion on this game more often than a new Taylor Swift dating rumor comes out and have settled on this: If I do not know, just take the favorite, especially when the spread is less than 4.
PICK: Atlanta
MK: The Falcons gave up over 100 yards rushing eleven times this season, and over 90 an additional two more times. That's pretty strange for a team with thirteen wins, because trailing opponents are typically forced to throw. Atlanta's played plenty of close games, though. Time for one of my favorite stats to cite: the Falcons have benefited from three turnovers or more seven times this season. Seattles runs the ball better than most and hangs on to it well.
Pick: Seattle
Houston @ New England (-9.5)
RG: I had all my top researchers working on an advantage for the Texans. They don't have one. It would take a fluke game for them to win this one. Their advantage should be in the backfield with Arian Foster and a much healthier Ben Tate, but the Pats averaged the same amount of yards per rush and were more efficient on the ground overall (28.9-22.4 in first down rush %). Sure, the Texans pass rush is better and JJ Watt will make 4-5 plays in this game, but the Pats are the kind of spread team that can exploit the Texan defense. Also, there is something wrong with Matt Schaub's arm. There has to be. He was looping 12 yard ins last week. Not the type of team to play from behind and Darth Hoodie won't let up.
PICK: New England
MK: Houston gained 420 yards against Cincinnati last week--more than you thought, right?--but they looked so horrible because they couldn't get anything done in scoring position. The Pats are 25th in the league in terms of yards allowed, but are 9th in scoring defense. Now, am I going to mention that this might have something to do with the fact that the Pats have forced a ton of turnovers this season? Six games of three or more? Isn't that hard to sustain? Sure. Right now, though, in continuing my overcorrection tour against taking big spreads, I'm not convinced that the Patriots have anything to worry about in the AFC.
Pick: New England
FOOD:
BALSAMIC ROAST BEEF
Cook this in a Crock Pot. Simple and very good.
Ingredients
1 3-4 pound boneless roast beef (chuck or round roast)
1 cup beef broth
½ cup balsamic vinegar
1 tablespoon Worcestershire sauce
1 tablespoon soy sauce
1 tablespoon honey
½ teaspoon red pepper flakes
4 cloves garlic, chopped
Instructions
-Place roast beef into the insert of your slow cooker. In a 2-cup measuring cup, mix together all remaining ingredients.
-Pour over roast beef and set the timer for your slow cooker. (4 hours on High or 6-8 hours on Low)
-Once roast beef has cooked, remove from slow cooker with tongs into a serving dish. Break apart lightly with two forks and then ladle about ¼ – ½ cup of gravy over roast beef.
-Store remaining gravy in an airtight container in the refrigerator for another use.
BEER:
It's Dutch Premium Lager type of weekend.
SCOREBOARD:
RG: 64-49-1, 4-2 last week, record includes correction of one game error.
MK: 40-38, 1-5 last week
PS: 5-7