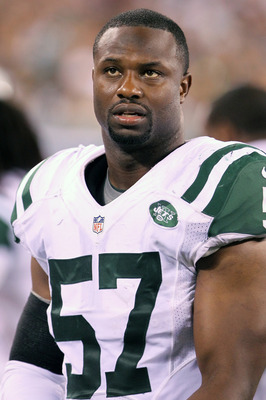 With the 2012 season and accompanying postseason fully in the history books, NFL teams are now focused on preparing for the upcoming 2013 Draft as well as the impending free agency period. Free agency officially begins on March 12, but there will be plenty of moves and transactions made before then. As always, we'll see teams release established veterans and valuable players in order to save themselves money and gain flexibility under the salary cap. I'll be going division-by-division and analyzing the salary cap situation of each team in the league, highlighting some players for every club that could potentially be axed in order to save some money. The AFC North was covered yesterday; today we'll take a look at the teams of the AFC East.
Buffalo Bills:
Current Projected Cap Space - $20.7M
Key Free Agents - Jairus Byrd (S), Andy Levitre (G), Leodis McKelvin (CB), Donald Jones (WR)
The Bills sort of threw a wrench in my plans for their analysis by making two significant cuts the day before this article was supposed to come out. Both Nick Barnett and George Wilson, two of the stronger players on the defensive side of the ball for the team in 2012, were axed in order to cut costs. Factoring in the dead money that the team will be on the hook for this year, the Bills saved themselves about $5.3M total. General Manager Buddy Nix seems to be confident in the move, stating that the team has "good, young players" ready to step up and fill those roles, but it will be difficult to replace the production Barnett and Wilson gave them last season.
This does not mean that the Bills are not completely done making changes to their roster however. There are still players who could potentially be following Barnett and Wilson out the door sometime soon. The next most likely victim of the cap crunch would be veteran defensive end
Chris Kelsay
, who only saw action in nine games this past year due to a ligament tear. He wasn't making all that much of an impact even while healthy though, and the sliver under $5.0M he's set to make next season could be money better put towards re-signing their top two free agents in Byrd and Levitre. Brad Smith hasn't exactly given Buffalo the special element of offense they desired when they signed him to a four-year contract in 2011, and they could save $2.75M by letting him go as well. For those wondering about DE Mark Anderson, it's highly unlikely he'll be going anywhere. Due to the terms of his contract, it would cost the Bills more to release him than it would to keep him on the team this year.
Miami Dolphins:
Current Projected Cap Space - $43.4M
Key Free Agents - Brian Hartline (WR), Jake Long (OT), Randy Starks (DT), Reggie Bush (RB)
One of the reasons I find it fun to do these brief analyses is getting to see which teams are primed to have a lot of money to spend this coming offseason. The Miami Dolphins certainly fall under that category, and currently are projected to have the fourth-largest amount to spend, behind only the Bengals, Browns, and Colts. The team has a good amount of starters who are hitting free agency, including their top CB Sean Smith and TE Anthony Fasano in addition to those listed above, so it's reasonable to expect a good chunk of that change going towards keeping their own house in order. The Dolphins do not need to cut anybody because they are in a financial bind, but they could still look to make their spending more efficient and cut ties with some players they feel are overpaid.
The most likely candidate to be chopped as of right now is probably CB
Richard Marshall
, who played in only four games before being placed on IR with a back injury. Marshall signed a three-year deal with the Dolphins during the 2012 offseason, and has a clean history of health in his seven years as a pro prior to last season, so it seems like it would serve Miami well to at the very least keep him around until training camp. Not to mention that Sean Smith is a free agent and will likely be allowed to sign somewhere else, as he never quite developed into the player they hoped he'd be when selecting him in the second-round of the 2009 Draft. The Dolphins claimed Dimitri Patterson off of waivers this past year once he was released midseason by the Cleveland Browns, but his current contract will pay him $4.0M next season, and it will cost Miami nothing to release him. In all likelihood, they'll do just that and try to bring him back at a lesser cost.
New England Patriots:
Current Projected Cap Space - $16.9M
Key Free Agents - Wes Welker (WR), Sebastian Vollmer (OT), Danny Woodhead (RB), Aqib Talib (CB)
The runners-up in the AFC will have a pretty decent amount of cap space to work with in the offseason. Unfortunately, it might not be enough to retain the services of their top two free agents in Wes Welker and Sebastian Vollmer. Everybody knows how talented Welker is, and Vollmer has developed into a damn good offensive tackle in his own right, so it is certainly rather displeasing for the Patriots to not be able to keep both of them around. This is not even mentioning that Aqib Talib is also set to hit the market, and one would assume New England has a vested interest in keeping him around after trading for him last November. The most easy way for New England to save money, if they felt the need to, would be by declining
Brandon Lloyd
's $3.0M option for next season, thereby making him a free agent. It's not exactly a cut, but still makes him a cap casualty nonetheless.
After Lloyd, there aren't really a lot of options for New England that would save the organization any decent sums of money. They don't have any albatross deals or guys who are being severely overpaid relative to their production. One possible cut they could make would be to part ways with Stephen Gostkowski. Despite being considered one of the better kickers in the league, we know that their performance can significantly fluctuate from year-to year. Just ask the 49ers how they felt about David Akers after his great 2011 season. Gostkowski is scheduled to earn $3.4M next season, the fourth-highest figure for all kickers in 2013. They'd have to eat about half of that to pay out his bonus money, but it's still a decent enough savings.
New York Jets:
Current Projected Cap Space - $22.9M OVER
Key Free Agents - Brandon Moore (G), Mike Devito (DT), LaRon Landry (S), Matt Slauson (G)
No, that is not a typo. You are reading that figure correctly. The New York Jets are currently projected to have the absolute worst cap situation in the NFL heading into the free agency period. Oh yes, there will be blood. The Jets are reportedly already preparing in the coming weeks to part ways with highly-priced linebackers
Bart Scott
and
Calvin Pace
. The two of those players alone are set to earn $20.2M in 2013, and cutting them both would save the organization approximately $15.7M. If you have a basic grasp of arithmetic, you can see that still leaves the team more than seven million dollars over budget. Well not to worry, as the team also is ready to release former #2 overall draft pick Jason Smith, who they acquired in a trade from the Rams before last season began. Cutting Smith would shave a further $12.0M off of the payroll for 2013, and with the added bonus of not having to cost New York anything to do it.
The three highest-paid players on the roster currently are David Harris, Mark Sanchez, and Santonio Holmes. So why are none of them being discussed as potential cap casualties for the team here? Well, simply because it would just not make enough of a difference to the team to release any of them. In the case of Sanchez and Harris, it would actually cost them more to get rid of them than it would to keep them. Cutting Holmes and his $12.5M cap figure would only create about $1.25M in free money to spend. These three players will almost certainly be kept around, or at least not cut. If the team wanted to be a bit more creative with their money-saving, they could always follow through on their idea to trade Darrelle Revis.