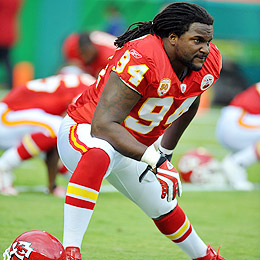 With the 2012 season and accompanying postseason fully in the history books, NFL teams are now focused on preparing for the upcoming 2013 Draft as well as the impending free agency period. Free agency officially begins on March 12, but there will be plenty of moves and transactions made before then. As always, we'll see teams release established veterans and valuable players in order to save themselves money and gain flexibility under the salary cap. I'll be going division-by-division and analyzing the salary cap situation of each team in the league, highlighting some players for every club that could potentially be axed in order to save some money. With the North, East, and South divisions already having been covered, we're left with one last team in the AFC to go over - the AFC West.
Denver Broncos:
Current Projected Cap Space - $15.9M
Key Free Agents - Ryan Clady (OT), Dan Koppen (C), Brandon Stokley (WR), Justin Bannan (DT)
The Broncos held the best record in the AFC in 2012, and tied with the Atlanta Falcons for the best record in the entire NFL. Alas, they could not repeat that same success in the postseason, losing to the eventual Super Bowl champion Baltimore Ravens in the divisional round of the Playoffs. Despite the loss, the Broncos are still one of the early favorites to reach the Super Bowl next year. Peyton Manning will be back to lead the offense after looking like every bit the superstar quarterback last season that he was prior to his neck injury, and Von Miller will in all likelihood continue to be one of the most dominant pass-rushing terrors in the league as well. The organization will have to break out the checkbook in order to retain the services of cornerstone left tackle Ryan Clady, and such a contract will surely eat up a good chunk of their available cap space. Therefore, they may have to make some moves to give themselves some more money to spend.
One seemingly easy way to accomplish that would be to part ways with beleaguered linebacker
D.J. Williams
, who missed nine games in 2012 due to failing a mandatory league drug test. Now it appears that Williams is without a job in Denver, and he hardly seems to warrant the $8.1M cap hit that the team would be on the hook for if they kept him around for 2013. Releasing him now would save the Broncos $6.0M on the nose, a fairly decent amount with which to use elsewhere. Another potential casualty could come in the linebacking corps in the form of Joe Mays, who began the year as the staring inside linebacker for the team. Injury cut his season short however after just four games, and the team seems to have moved on from him. Releasing Mays would clear $3.3M more from the payroll in 2013. With Knowshon Moreno and Ronnie Hillman both still under contract for next year as well, it's possible that Willis McGahee could be shown the door, and at 31-years-old, he might have trouble catching on somewhere else.
Kansas City Chiefs:
Current Projected Cap Space - $14.6M
Key Free Agents - Dwayne Bowe (WR), Branden Albert (OT), Ryan Lilja (G), Glenn Dorsey (DT)
After being predicted as a dark horse in the preseason by some, the Kansas City Chiefs endured a disastrous 2012 campaign that left them holding the #1 overall pick in the 2013 NFL Draft. While much speculation will occur over what the Chiefs will do with that selection, and what they will do with the rest of their offseason as well, there is one thing that seems to be generally agreed upon as a lock. A metaphysical certitude, if you will. And that one thing is the departure of 2009 third overall pick,
Tyson Jackson
. Set to make a whopping near $17.5M in 2013, Jackson truly has one of the biggest albatross contracts in the league right now. The bright side for the Chiefs however, is that cutting him means that they will only be on the hook for $2.5M of that money, and they'll end up with nearly $15.0M in freed up cash to spend.
A lot of Kansas City fans are also clamoring for the head of Matt Cassel on a silver platter. The new GM and head coach tandem of John Dorsey and Andy Reid have been steadfast in their lack of committal to Cassel for next season, and he may also find himself without a job soon. The team will save just a little less than $6.0M by shedding Cassel and his $9.8M cap hit for next season, so the incentive to do so is clearly there. It's just a matter of how the new regime plans on proceeding with the QB situation. The team could also free up an additional $2.0M by releasing linebacker Andy Studebaker, who would not result in any sort of dead money cap hit in 2013 if he was released. However, Studebaker is likely viewed as too valuable on special teams to be let go, and should return to the Chiefs for 2013.
Oakland Raiders:
Current Projected Cap Space - $1.2M OVER
Key Free Agents - Philip Wheeler (LB), Desmond Bryant (DT), Shane Lechler (P), Brandon Myers (TE)
The Raiders could be orchestrating a mass exodus in the coming weeks of a lot of familiar names and faces. The process may have already begun with the decision to void the contract of Richard Seymour last week, who was set to earn upwards of $19.0M in 2013. In doing so the Raiders saved about $6.0M for themselves, but still are on the hook for a very large portion of his salary this coming year. Even still, the Raiders are over the cap and need to clear some more money from the books. And with the team firmly in rebuilding mode (as they seemingly have been since 2003) they could be well served to sever ties with plenty of significant names. For example,
Tommy Kelly
is due to earn about $11.1M in 2013, but his production on the field doesn't exactly match the price tag. Especially not for a team unequipped to win now. Chances are that he's sent packing. The Raiders would save about $4.8M by cutting him.
Oakland faced a lot of scrutiny and was ridiculed highly for selecting Darrius Heyward-Bey in the 2009 NFL Draft ahead of Michael Crabtree. Rightfully so at the time, and possibly even more justified now that Crabtree has blossomed into a top young receiver for the team playing right across the bay in San Francisco. It doesn't help that Heyward-Bey has shown little progress since debuting in the league, and is now on the chopping block along with his $10.6M cap hit for next season. His release would result in savings of about $5.4M. The off-field troubles of Rolando McClain have been extensively well-documented, and it seems like an inevitably that the Raiders will release him this offseason. However, it might come a bit later than one would expect, as cutting him right now would actually cost quite a bit more than keeping him on the team. Instead, McClain is likely to be released after June 1, when the penalty for cutting him would be spread out across the next two seasons instead of just 2013. This is all of course without even mentioning the possible departures of Mike Brisiel, Carson Palmer, and Dave Tollefson.
San Diego Chargers:
Current Projected Cap Space - $5.9M
Key Free Agents - Louis Vasquez (G), Aubrayo Franklin (DT), Shaun Phillips (LB), Quentin Jammer (CB)
The Chargers cleaned house at long last after another disappointing campaign that resulted in the team missing the postseason in 2012. With that in mind, it's not likely that the overhauling will cease at just the front office and coaching staff. Plenty of players disappointed on the field last season as well, and a select few of them should certainly not feel safe in regards to their current status of employment. The Chargers have no obvious cap casualty candidates, but instead have a handful of guys who should probably be on their guard and prepared for the axe to come falling down on them.
Chief amongst this group is veteran linebacker
Takeo Spikes
, who recently made his intentions clear that he will not be retiring and wants to return to the Chargers in 2013. The question is whether or not San Diego will have him, and the $3.7M cap hit he's set to make. Spikes turned 36-years-old this past December, and by releasing him the Chargers would save exactly $3.0M in cap space. He would still be a serviceable starter for the team if brought back, but they may very well be able to get the same production from someone else at a lesser cost. The same thinking applies to right tackle Jeromey Clary, who has been mostly around average during his tenure with the team. Average might not be enough to justify a $5.7M cap hit for 2013 though, and the $2.3M they'd save could be enough to pay for a replacement that would provide similar production on the field.