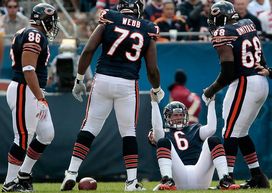 Word is leaking out in Chicago that famed left tackle J'Marcus Webb
is facing drug charges
for some wacky tabacky related offenses. Webb has been known to be one of the main culprits for the problems on the Chicago Bears offensive line. This news cannot help his future in the Windy City.
Webb, who has played left tackle for the better part of the last three seasons, allowed 14 sacks and committed 13 penalties in 2011 and has since been considered one of the worst at his position. The general consensus is that Webb has kept his job because the Bears just have not been able to find a decent replacement. Phil Emery has been on record describing the lack of options in 2012 and exactly why they did try to do more in the 2012 NFL Draft. Chris Williams never was good enough to play left tackle and has since been released by the Bears. Gabe Carimi followed Williams' path of needing surgery during his first season in the league and has struggled at right tackle since returning. With the Bears GM and new coach admitting the need to respond to the holes on the team's offensive line, getting arrested for anything at all is not going to help Webb's stock.
What weed does to short term memory has been well-documented, but there is a lack of studies as to what it does to slow feet. The Bears may want to make that investment themselves and privately test their offensive line during the season.