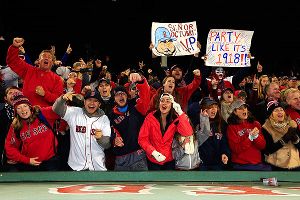 You don't get many days like this. I've been a Red Sox fan since 1973. I became a Reds fan when my family moved to Ohio in 1975, just in time to see my two teams play one of the greatest World Series ever. Yes I cheat by having two favorite teams but it started when I was 7 years old, too young to know that there were rules and I'm far too old to change. And it wasn't like I was really cheating, jumping on the bandwagon, my two teams had combined to win exactly one World Series since 1919.
At 8 years old, I was too young and inexperienced as a sports' fan to appreciate the Reds' win in 1975. By '76 I just assumed that the Reds would win the World Series every year (at 9 years old, 2 years qualifies as 'every year'). But more importantly, I didn't appreciate the '75 and '76 wins because I hadn't paid my dues. I had been a Reds' fan for 2 years and a baseball fan for 4 years and already had 2 titles. I thought that if you were a good boy, ate all your vegetables and cleaned your room, that your team would win the World Series. I didn't know that teams lost and players made errors. I didn't know that players got hurt or retired or could just be traded to the Expos for Woody Fryman. I didn't know that a ball could just pass right under Bill Buckner's glove and break your heart.
By 1990 I was 23 years old and had gained some perspective if not maturity. I had seen the Reds limp through the 80's. I had lived through the debacle of the '86 World Series. I knew that my teams weren't going to go to the World Series every year. Worse, I knew that even if they got there they wouldn't necessarily win. I savored every pitch of the Reds' sweep of the A's, who came into the series absolutely dripping of an arrogance so over the top it would make a yankees' fan blush. When local boy Todd Benzinger caught the final out I was elated, overwhelmed and, more than anything, relieved.
By '04 I had a firm grasp on who the Red Sox were. I had always known their history - 1918, the curse of Babe Ruth, the 4 losses all in 7 games – but at 37 years old I didn't just know their history, I had lived it. Every Red Sox fan knew that not only would they lose but they would do it in the most excruciating way possible. Going down 0-3 to the hated yankees was a nice change of pace - lose fast, nice and clean, get on with our lives. But then they started winning, not just winning but doing it in such spectacular, incredible ways that if you had put it in a movie script you would have been laughed out of Hollywood. I bought the DVDs of that series would probably be committed to a nut house if I admitted how many times I've watched them. After winning those final four over the yankees, the team had a different feel. They could actually win, and they did. The 4 game sweep of the Cardinals was somewhat anti-climactic but still sweet. An extraordinary end to an extraordinary drought.
I would be lying if I said that '07 was as sweet as '04 but that doesn't mean it didn't have meaning. A 2
nd
title in 4 years meant that they belonged, they weren't a fluke, they weren't the '69 Jets. Now we could talk about the teams of the 2000's, not just the one-off win.
That brings us to tonight. This one still isn't on the level of '04 but after the 2012 Valentine's year massacre it's pretty spectacular. More importantly, the season is over and my team, ok one of my teams, is the only one left standing. This is why we do it. All of us neurotic, obsessive, often childish sports fanatics who live vicariously not even through the players but the uniforms that they wear, because players come and go but the uniform represents the team and the team represents us. Every time we throw something at the TV, scream into an empty room, curse the player, coach, general manager or sports' gods themselves, it's because they haven't done everything in their power to get us to this day, the day our team wins the championship. Because as sports fans, this is all we have. Yesterday it was just a dream, tomorrow the offseason begins, but today my team is the World Series Champion.
As I said, you don't get many of these and every Red Sox fan knows that an 86-year drought can start tomorrow. I don't follow basketball or hockey and my football team has never won it all. 1975, 1976, 1990, 2004, 2007, 2013. That's it. I've had 6 days like this in the 16,864 days that I've been alive and I'm going to enjoy it cause there's no guarantee that I'll get a 7
th
.