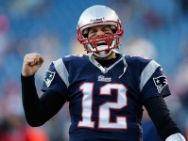 Man, when did this game get so hard?! No winners, again. That's a full month since anyone sipped champagne from the trophy. We went from four straight weeks with a winner, to four flushed.
I think the lesson here is that when people whisper that Tom Brady is done, bet the house on him. 23 of 33, 432 yards and 4 TDs. Yeah, he's done. Meanwhile, the guy a lot of us thought would be the most prolific QB of Week 9 is out with a bum shoulder. Mercifully, it's not his throwing arm.
They say that every failure is just an opportunity to start fresh. So daubers up, here's your schedule for Week 10. Gotta say, nobody jumps out at me. Denver's on the road in a divisional dogfight. Aaron Rodgers against Philly's secondary is tempting, but Seneca Wallace not so much. The 49ers are rolling but Carolina's defense allows the second-fewest points per game. Luck versus Jeff Fisher? Yeah, that's the ticket.
Indianapolis.
Redskins @ Vikings
Bengals @ Ravens
Lions @ Bears
Eagles @ Packers
Rams @ Colts
Seahawks @ Falcons
Raiders @ Giants
Jaguars @ Titans
Bills @ Steeelers
Panthers @ 49ers
Texans @ Cardinals
Broncos @ Chargers
Cowboys @ Saints
Dolphins @ Buccaneers