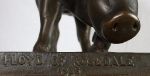 Each week, two of us take on five questions and pick five games of quality to help prepare for the football weekend, which begins in earnest with college games all day Saturday. In addition, we try to spot one upset special for the week and have a little fun in the process. If it's late afternoon Friday or early Saturday, grab your coffee and let's get started. And if you've got an opinion, or maybe another question, we'd love to hear from you.
If, after the initial read, you prefer more of a forum interface when commenting, click here.
FIVE GOOD QUESTIONS
1.) The same question to open, as always: if you could go to any game this weekend, where are you headed and why?
MK:
After two weeks with so many stellar matchups to lead off this conversation, we have some very interesting but not terribly spectacular games to feature this time around. There are easy and perfectly respectable responses to this question. Georgia has climbed back into the Top 25 and the Bulldogs are getting healthier looking to renew a series against #7 Auburn which dates back to 1892. Texas has at least partially recovered from their September embarrassments when they gave up 550 yards and 272 yards rushing in consecutive weeks to BYU and Ole Miss; they are now ranked, and are playing Oklahoma State in Austin in what amounts to an elimination game in the Big XII Championship race. This week, though, I'm thinking small and I'm traveling to Alliance, Ohio, which sits on the border between Stark and Mahoning counties, about as far from the Pro Football Hall of Fame in Canton as it is from the Pennsylvania border. Of all the games I could take in this weekend, I want to watch the Mount Union Purple Raiders—the top-ranked team in NCAA's Division III—take on the John Carroll Blue Streaks.
If you've only heard of one Div. III team in college football, it's probably Mount Union. Larry Kehres turned the small northeast Ohio college into a powerhouse, amassing an all-time record of 332-24-3 while winning eleven national championships, all of them since 1993, before passing the program on to his son following another 15-0 season which culminated in a national title. They've also won every Ohio Athletic Conference championship since 1992. The OAC is a marvelous little conference in Division III, featuring mascots ranging from the literary (the Marietta Pioneers!) to the creative (the Ohio Northern Polar Bears!) to the esoteric (the Heidelberg Student Princes!) to the just plain weird (the Muskingum Fighting, um… Muskies). John Carroll, the
alma mater
of Don Shula, has typically played the also-ran in the conference, often the second-best team in the league and unable to manage a victory over the behemoth since 1989. Tom Arth's squad, though, is undefeated, is ranked ninth nationally for their division, and is outscoring opponents on average 45.7 to 3.7. That's not a misprint. The numbers for Mount Union are equally impressive. Make no mistake, these are both very good football teams.
As fate would have it, JCU's road to the conference championship runs through Mount Union Stadium, as they'll have to travel just over an hour from their campus on Cleveland's suburban east side to unseat their nemesis of over two decades. This may not be the final meeting between the two this season, though, as the loser will almost certainly qualify for Division III's 32-team playoff. We could see a rematch as late as the national semi-finals. All the same, these two teams will play at least one game before an expected capacity crowd, some 5,600—approximately 82,000 fewer than will watch Auburn play host to Georgia, and probably less than at least five high school football playoff games in Ohio that very night.
Still, I'll be rooting for the Blue Streaks and trying to follow the game a bit on Saturday afternoon. Where else would you want to be?
BW:
A couple of summers ago, I made the trek to Canton with my dad. On our way home, we made a bit of a wrong turn, and shortly thereafter, ended up in Alliance, Ohio, where they welcomed me to the home of the (then) 10 time Division III champion. It certainly doesn't feel like a place that would be associated with big-time football, but that's exactly what makes it special. It's amateurism at its finest. Great pick.
This week, I'm heading out to the corn fields in the Midwest, where the "N" stands for "Nowledge". I'll be joining the "sea of red" at Memorial Stadium in Lincoln, Nebraska. Michigan State put together a very impressive defensive performance last week against Michigan, while Nebraska did the same to Michigan 2 weeks ago. Now, these two teams are battling for what will likely be the Legends Division championship, and a place in the B1G championship game against Ohio State.
2.) I think the Michigan State—Nebraska game will be a good one, but the Huskers didn't climb back into the Top 25 after their win at Michigan. As of this week, who is the best unranked team in the country?
BW:
There are a few interesting options here, but I'm going to take the easy way out and pick a team that isn't playing this weekend. Notre Dame is the one unranked team that I feel could beat nearly anyone outside of the top 5 or 6 in the BCS standings. They've handed Michigan State their only loss on the year, are the only team other than Stanford to have beaten Arizona State, and are the last team to defeat the surging USC Trojans (another strong candidate for this question). They could also conceivably be the team that provides the last hurdle for Stanford's BCS National Championship hopes. Tommy Rees has been very inconsistent this year, but when he's on, Notre Dame has the talent of a top 10-15 team.
MK:
I've written before about how impressed I was Keith Price's performance against Stanford back in early October, and I think I have to tap the Washington Huskies in this spot. It's worth stating here at the beginning that this is a team with balance. The Huskies run and pass the ball well—and efficiently—averaging nearly 300 yards per game through the air while still racking up 229 per outing on the ground, and are in the top 25 nationally scoring offense and just one place away from it in scoring defense. In addition to Keith Price, Bishop Sankey is one of the best runningbacks in the country and tight end Austin Sefarian-Jenkins may be the best pro prospect at the position in the country. Their play against a tough schedule backs up the numbers, too. Their best win of the season is probably a decent (but not great) Boise State, but while they looked terrible against a surging Arizona State team, they played both Oregon and Stanford tough and close deep into the second half this year in back-to-back weeks in a brutal Pac-12 North. The only other team to do that, you ask? Why, it's #13 UCLA, who they'll play tonight.
BW:
Washington is certainly an interesting pick, and clearly has the best offense of any team that is currently unranked. The other teams that I felt deserved serious consideration were Nebraska and USC.
3.) Should one-loss Stanford be ranked ahead of undefeated Baylor in the BCS?
MK:
No, they should not, and I'd like to begin here by begging the future playoff selection committee not to do something this stupid if the situation comes up next year. I've been over the numbers for Baylor and I don't see how you can fail to be impressed by them. The Big XII has not been as strong as the Pac-12 this season, but that doesn't mean it's bad football. Watch this team play. I have a sneaking suspicion that any doubts about a resume like Baylor's would disappear if Oklahoma or Texas were in the same position. Even if we accept that Stanford's schedule has been stronger to this point than Baylor's—and it has been—I don't particularly like the idea of parsing through schedules too finely. I'll add here that Stanford is a very, very good football team who might have played the most difficult schedule in college football so far this season; as it happens, though, they have been very fortunate in their draw of home games during their conference slate, getting Arizona State, Washington, UCLA, and Oregon at home, while having to travel to Washington State, Utah, and Oregon State. Tough games are tough games, but where you play them counts for quite a bit in college football.
The schedules of the other three unbeatens are not consistently overwhelming, either. Ohio State's Big Ten problem is pretty well documented, but the rose has been coming off the bloom for a few of Florida State's impressive, high-profile wins (or anticipated wins), too, while Alabama's schedule has a share of weak opponents to balance the strong—and the strong may not be quite as strong as they once were—despite playing in college football's conference of the past decade.
BW:
Stanford has become one of my favorite teams in all of college football, mainly because I'm a big fan of their style of play. Stanford's dismantling of Oregon (ignore the final score, that game was never in doubt) was probably the most impressive win for any team in college football this season. And Stanford has played as tough a schedule as anyone in the country, beating 5 teams that were in the top 25 at the time that Stanford faced them. But there's that one loss to a mediocre Utah squad that is standing out to me. When it comes to the national championship discussion, I've always believed that teams without a loss, especially in a major conference, should get the chance to prove their worth over a team that has a blemish on their resume. If Stanford and Baylor were to meet on a neutral turf, I don't think there's a question that Stanford would prove to be the much better team. But Baylor has taken care of the schedule that was placed in front of them, and if they continue to win, then I feel they've earned the right to be placed ahead of any school that has been saddled with a loss.
MK:
Agreed. It won't matter, though, not because Alabama and Florida State will out but because this is all just part of an elaborate jinx to try to get Baylor crossed up during their game against Texas Tech this weekend, who badly need a break after a rash injuries on defense and whose season is quickly spiraling out of control.
4.) Speaking of tailspins, is Florida still a great power in the SEC? And, sub-question, should Will Muschamp be updating his resume?
BW:
The power struggle in the SEC over the years, as well as all of college football, has centered around the big name coaches. Alabama with Nick Saban is a national power. But before that, what were they? LSU has thrived with both Saban and Les Miles. Florida took off with Steve Spurrier, fell back under Ron Zook, then took off again with Urban Meyer. In college athletics, the coaches are the real stars, and a team often fluctuates based on whom is at the helm. It's possible for a Gene Chizik to have a great season or two, but after a while, mediocre coaches are exposed. It hasn't taken long for Will Muschamp to be exposed as a coach who's clearly not on the level of elite college coaches. If Florida wants to compete with the likes of Alabama or LSU, then I don't think they can afford to wait any longer in relieving Will Muschamp of his duties.
MK:
Of course, the day after we pick this question the Florida Athletic Director comes out and publicly says that Will Muschamp 'will fix it,' which I guess is just the sort of show of confidence that can be reversed in about three weeks' time. To be honest, I've never really understood the Muschamp fascination. I never thought his Texas defenses were particularly great, and he might have gotten on television a lot for yelling at people as a defensive coordinator, but that's entertaining and not necessarily good coaching. As much as I agree that big-time coaches rule college football like petty kings, let's look at this from another point-of-view. Despite success and a national title under Spurrier, the apogee of Florida's power came under Urban Meyer, when they ripped off national championships in two out of three seasons and threatened for a third in four years. What changed in Florida, apart from Meyer—and, it must be said…Tebow—leaving? It's not like those are insignificant subtractions, but I think we might want to look north to Tallahassee. Florida State had been a power in decline for most of this decade, following a very successful 1990s, until Bobby Bowden—who built the Seminole program, really—exited the scene and Jimbo Fisher began recruiting and developing players in the panhandle once again.
It's easy to think that Florida's three big powers are always good, but usually one is clearly on top, one is rising, and one is falling, at least since the mid-1990s or so. While Miami dropped off after 1992 or so, Florida State rose to the top while Florida tried to keep up (and won a national title in 1997 trying to do that); eventually, Florida State was eclipsed not by Florida, but by Miami in about 2000, as the Hurricanes became a hegemon and the Ron Zook era began in Florida. When Urban Meyer arrived in Gainesville, though, he walked into a uniquely favorable situation: an aging Bowden and Larry Coker were losing control of the programs, while Meyer was savvy enough to use to Zook's admittedly talented recruits more effectively and integrate them into a new offensive system. The Gators, under Meyer, had no real intrastate challengers. Now, though, Florida State has moved back to the pole and Florida is in freefall. I don't quite know what to make of the Hurricanes yet, but let's calling them 'rising' to keep the model moving.
Last year, Gator fans were hopeful that 11-win campaign meant they could break of the cycle, but surrounded by 8 wins (in 2010), 7 wins (in 2011), and now possibly 5 wins (this year), it's beginning to look more like an aberration than anything else. In any case, Florida is still a potential power given their recruiting base, but it's likely to take some time to get back on top in their home state, let alone the SEC where they'll have to compete with Alabama. Oh, and the AD says Muschamp will fix it? He may give him three games to see if he can.
BW:
It really was perfect timing that as we agreed to tackle this question, the Florida AD gave his own kiss of death to Muschamp with the dreaded vote of confidence. The FSU angle is a good one, as they've clearly become a force again in recruiting under Jimbo Fisher. And Florida has less history than both FSU and Miami, although I'm not sure how much tradition actually plays a role. It's not like Muschamp was thrown into a bad situation, and it's easy to forget that Meyer left him with a team coming off a 7-5 regular season. But he's certainly done nothing to improve things, and if anything, they've regressed in his short tenure. Perhaps it's as easy as looking at their disappointing QB situation, but even then, Muschamp has to take some of the blame for the lack of development Jeff Driskel showed prior to his injury this season.
5.) This weekend, Ohio State will play Illinois, with the winner receiving a wooden turtle called the Illibuck. Bizarre, meaningless, traveling trophies are a college football institution, though, so which one is your favorite and why?
MK:
I thought long and hard about this one, but I've got to choose the Floyd of Rosedale, right?
I mean, it's a bronze pig that Minnesota and Iowa have been playing for since the Great Depression, and it's the spiritual successor of a live hog that the governors of Minnesota and Iowa bet on the game of 1935. There are plenty of great choices, but Minnesota plays for all the best of these stupid things. The Little Brown Jug isn't bad either, and neither is Paul Bunyan's Axe if we're being honest. It's kind of a shame that Minnesota, who acquired many of these traveling trophies when they were among college football's elite programs in the 1930s and '40s, has been very good since then and so we don't get to see Floyd or the Axe hoisted on national television very regularly.
BW:
I must admit that I love the concept of completely random and meaningless trophies. When starting my home fantasy league a decade ago, I decided that I wanted to give our league something that would make it stand out. While walking through a store, I happened upon a display with ceramic fruit. The best of these were the banana and the apple. Something clicked with me, and thus, the "Prestigious Golden Banana League" was born. The idea was that the league champ gets a banana trophy, while the doormat gets the "Rotten Apple" award. After the first season, on ebay, I stumbled into a clay banana bowl, replete with monkeys affixed onto the top of the bowl. The thing cost more to ship than to buy, but I had it painted a nasty gold, and that's served as our trophy ever since. The winner of the trophy each year is to display the trophy as a mantelpiece, until the next year, when the trophy is delivered to the new champion.
Anyway, back to the topic at hand, you made a fantastic choice in taking the Floyd of Rosedale. Really, a bronzed pig can't be topped. Minnesota really does have the market cornered on these trophies. I think the Thompson Cup has the most meaning, because it's awarded to the winner of Army-Navy, which is the best rivalry, bar none, in sports. But who wants to attach meaning to a trophy? There's the Platypus Trophy that's awarded to the winner of the Oregon "Civil War", since a platypus has features of both a duck and a beaver. There's also the Old Oaken Bucket, which is awarded to the Indiana-Purdue winner, and is literally an old oaken bucket. There are also some great random trophies in the lower divisions. Central Arkansas and McNeese St battle every year for a "50 Pound Iron Pot", while my alma mater, Division II Indiana (PA) evidently battles California (PA) every year for the "Coal Miner's Pail Trophy". But while this may be a bit irreverent, I think my favorite trophy has to be the "Chief Caddo", which is presented to the winner of the game between Stephen F. Austin and Northwestern State, and is the largest trophy in college football. A 7 1/2 foot, 330 lb solid wooden statue honoring an Indian Chief whose tribe (called the Caddo Tribe) was responsible for settling the locations of the two communities where the schools are located, and also providing safety for the early white settlers in the area. Frankly, I'm amazed this trophy has survived the PC police, but it lives on to this day, in all of it's glorious, uh... bigness? If I'm creating a random trophy, I want it to be big, I want it to be loud, and I want there to be a 37% chance that it will make the PC police cringe. This trophy fulfills all of my recommended criteria, and then some. It really is a sight to behold.
MK:
I believe it and Chief Caddo is one large man.
I do have make to an exception and say here that there is one traveling trophy that I sort of dislike, and that is the Heartland Trophy. Awarded to the winner of the Iowa—Wisconsin game, it's only eight years old, it's a small brass bull, and it's like the knockoff handbag of the Floyd of Rosedale. C'mon, Iowa—you should know better.
GAMES OF THE WEEK
MK:
Each week of the regular season, we'll be picking about five of the premier matchups on the slate. Instead of picking against the spread, we'll be raising the stakes using confidence points, a common method of scoring in bowl game pools. The more we believe in our pick, the higher the confidence rating. If five games are chosen, five is the highest rating, with one being the lowest. Each number can only be used once. Last week, Brian took home the prize again, as close games between Houston and UCF and Notre Dame and Pittsburgh both went in his favor. We're still waiting for our first upset special winner this season, but just like every week, this
has
to be the one.
Washington at #13 UCLA
Friday, 9:00 ET
BW:
I'm not sure why we need to have these marquee games on odd nights, but I suppose that if this were most any other week, this game would not be a marquee event. The Bruins need a win to keep their hopes alive in the Pac-12 South. While Matt has Washington pulling off the mini upset, I think UCLA rides a big game from Brett Hundley, and contains Keith Price and Bishop Sankey just enough to eek out a W.
BW's pick: UCLA, 37-31. Confidence rating: 3.
MK's pick: Washington, 35-31. Confidence rating: 1.
#16 Michigan State at Nebraska
Saturday, 3:30 ET
MK:
Last week, we both got dinged by the Cornhuskers, who went into Ann Arbor and upset the Michigan Wolverines. I have a feeling this may be the best game of the day on Saturday, and if it is, it will be because it walked that fine line between offensively ugly and defensively beautiful without stumbling. If you want to see pressure on the quarterback, tune in for this one. Brian has learned from underestimating the Huskers, where I'm doubling down on the Spartans.
BW's pick: Nebraska, 22-13. Confidence rating: 2.
MK's pick: Michigan State, 16-10. Confidence rating: 2.
#12 Oklahoma State at #24 Texas
Saturday, 3:30 ET
BW:
After starting the season slowly, Texas has been on a roll of late. Meanwhile, Okie State has reeled off 5 wins in a row following their upset loss in Morgantown back in September. Matt and I are on different sides of the aisle again with this one, as he thinks Oklahoma State will leave DKR-Texas Memorial Stadium with a big road win over the banged up Longhorns. I, however, feel that Case McCoy will build off of a career-best performance from last week, and lead a balanced Texas attack to a victory over the Cowboys.
BW's pick: Texas, 30-27. Confidence rating: 1.
MK's pick: Oklahoma State, 44-28. Confidence rating: 4.
#25 Georgia at #7 Auburn
Saturday, 3:30 ET
MK:
Where, oh where, have the great SEC defenses gone? Georgia is resurgent and has climbed back into the rankings, but they still can't stop anybody. Brian likes the Bulldogs in what's billed as the Deep South's Oldest Rivalry—wait, I had something for this…—but I see Auburn outscoring them.
BW's pick: Georgia, 34-27. Confidence rating: 4.
MK's pick: Auburn, 45-39. Confidence rating: 3.
Oregon State at #19 Arizona State
Saturday, 9:30 ET
BW:
Something has to give this week, as Arizona State, who is undefeated at home, takes on the Beavers, who are unbeaten on the road. After a blazing start to the season, OSU QB Sean Mannion has struggled as of late, and now returns to Sun Devil Stadium, where he threw 4 INTs two years ago in a loss to ASU. Matt and I both see Mannion's struggles continuing, as Arizona State rolls in preparation for their showdown with UCLA next Saturday.
BW's pick: Arizona State 33-16. Confidence rating: 5.
MK's pick: Arizona State, 55-38. Confidence rating: 5.
UPSET SPECIAL
MK:
The upset special is an off-the-board pick which must meet one of two criteria: (1) a consensus gap in rankings of at least five places or (2) a point spread of at least a touchdown or greater. Games between ranked and unranked teams automatically qualify. The team cannot cover but must win outright. A correctly pegged upset earns three additional points.
BW:
I'm going to take
Kansas
at home to upset West Virginia, and grab their first conference win of the season. West Virginia played Texas tough last week, but has been putrid on the road. Honestly, I have nothing good to say about Kansas or Charlie Weis whatsoever, but West Virginia shouldn't be favored by a TD over anyone on the road, so I'm pretty much just playing the odds, and hoping for the best.
MK:
I should be trying to win here, and I swear that I am, but there just isn't all that much that's inspiring in the upset category this weekend. I'd love to pick Texas Tech to upset Baylor, but I just don't see it. Give me the
Duke Blue Devils
to take down the reeling Miami Hurricanes at Wallace Wade Stadium, because why not? Duke took down Virginia Tech in Blacksburg a few weeks ago, and I haven't seen anything out of Miami yet this year to convince me that they're bound to steamroll an overachieving squad like the Devils.
RECORDS
MK: 7-5 (20 points, 0-3 in the upset special)
BW: 10-2 (27 points, 0-3 in the upset special)