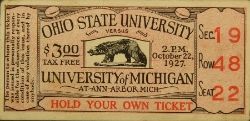 Each week, two of your friendly, neighborhood FPers take on five questions and pick at least five games of quality to help prepare for the football weekend, which begins in earnest with college games all day Saturday. In addition, we try to spot one upset special for the week and have a little fun in the process. This week, Brian and I have put together a special Rivalry Week edition of Tailgating to pair with your Thanksgiving feast. Rivals, prominent and less so, meet throughout the season and any given week there's liable to be ridiculous hardware or bragging rights on the line. Still, there's no weekend where there's more on the line than this one, where old hatreds are stoked and traditional rivalries are renewed, just as they are around your family's Thanksgiving table.
We're only picking the Saturday games, but we hope you didn't neglect the action on Thursday night—with Texas Tech's ill-fated trip to Austin or when Ole Miss ended the night with egg on their face when they lost intrastate foe Mississippi State, who became bowl eligible for the fourth consecutive year after starting the year 4-6—or this Friday afternoon and evening. Iowa, during this writing, has met Nebraska in what could become a late-season favorite in the new Big Ten, while Arkansas is looking to salvage their season against LSU, and serious tensions are flaring in the Pacific Northwest in the Civil War and the Apple Cup.
It's all good. Let's get started.
We appreciate our readers and their comments. If you prefer the forum interface when commenting, please follow this link and click through to the Tailgating page.
FIVE GOOD QUESTIONS
1.) Maybe the best week yet for this question: if you could go to any college football game in America this weekend, where are you going and why?
BW:
It's rivalry week, which means that there will be a number of great options this weekend. Last week, I went to Pasadena with my selection, and following the Bruins to the LA Coliseum for their matchup with USC would make for a great choice. There's also the Civil War in Oregon, great traditional matchups all over the B1G, Clemson-South Carolina, and even an exceedingly meaningful pigskin matchup between Carolina-Duke at Cameron Outdoor, where the home team would punch a ticket to the ACC Championship Game with a win. Then there's a great new-traditional SEC battle between Mizzou and Texas A&M, with Mizzou clinching an SEC Championship Game berth with a win.
But despite all of those options, there's one game that stands high above all the rest this weekend. I'm throwing on a Bo Jackson jersey, and heading down to Jordan-Hare Stadium in Auburn, Alabama for the
"Iron Bowl"
. The previous 4 national champions are represented in this game. While it feels like Alabama has been a dominant force for a long time, the fact is that since Bo Jackson interjected himself into this rivalry, Auburn has actually won 17 of the last 31 meetings, including 6 straight from 2002-2007, prior to Alabama reeling off wins in 4 of the last 5 (with the one loss being the 24 point Newton Comeback in 2010). While names like Namath, Stabler, Bryant, Jackson, and Newton litter the past, this year's version with Saban, Malzahn, McCarron, Yeldon, Marshall, and Mason may provide the most compelling matchup yet in this rivalry's 77 game history. This year will mark only the 7th time in 77 games that the two teams are both in the top 10, and is only the 2nd meeting historically with both teams in the top 5. Hundreds of RVs found their spot a week ago for this game, and 150,000+ people are expected to be on campus in time for kickoff (Jordan-Hare holds around 87,000+). This game is big every year, but this year is officially off-the-charts. The winner goes to the SEC Championship, and there's nothing Auburn would like more than to halt Bama's death grip on the National Championship trophy.
MK:
There's a lot on the line this year in the Iron Bowl, and it's easy to see why two guys from the Rust Belt could respect a game which was traditionally played in the Steel Capital of the South. Sometimes the obvious pick is the right one, and I think mine is no less obvious or correct.
Ohio State and Michigan. Always Ohio State and Michigan. Rivalries are at once cultural touchstones—the side someone takes in a given rivalry can tell you a lot about the person, perhaps even more than where he grew up—but at the same time are invisible lines which cannot be crossed.
They separate, but they also unite. In truly great rivalries, each person or team or country is inconceivable without the other—Good and Evil, Rome and Carthage, Hamburgers and Hot Dogs—and the destinies of both parties are intertwined. This is in no way an argument that certain collegiate rivalries are inherently better than others, or some such nonsense as that. It is an argument that I have made before, actually, that there are certain rivalries which have a special significance in American life and culture.
At the level of college sports, I believe that are three rivalries that are instantly recognizable to everyone. While, in a given year, only the people directly involved may care desperately about the outcome of the game, the struggle is almost itself a part of the American national myth. They are Harvard and Yale, Army and Navy, and Ohio State and Michigan.
There are two interpretations that occur to me off the top of my head, if each game represents something in American history. Harvard and Yale could stand for the legacies of the colonial period, Army and Navy could represent the nineteenth century, with its assertive expansionism and national formation, while Ohio State and Michigan would embody twentieth-century American industrial might. Each might symbolize, with some possible overlap, academic, military, and athletic (or, again, economic) prowess. They operate together and live in the same world within the American mind, whether we think about them or not. These games are something bigger than themselves.
The Buckeyes, and in the interest of full disclosure my
alma mater
, enter this weekend undefeated, having already secured a berth in the Big Ten Championship Game and still alive, though not optimistic about their chances, for a shot at the national title. The Wolverines have struggled mightily this month of November, but everything about this game still terrifies and excites me. And while everything about these two teams drifts toward differing poles—right down to the colors—they couldn't exist without the other to hate and to admire in equal measure. I expect Ohio State to win in frigid Ann Arbor this weekend, but I also expect the Wolverines not to go quietly. I would suggest quite the opposite of the clichéd, 'throw the records out the window' when these two teams meet: 1757 combined wins, 156 consensus All-Americans, 108 meetings, 78 conference championships, 34 Rose Bowls, 18 national championships, 10 Heisman Trophy winners, and one game. I don't say any one puts less, but certainly no one game pushes more chips to the center of the table than this one.
2.) In addition to the play on the field, the visual experience of college football is important and takes on a new meaning in a rivalry setting. What's the best rivalry to watch in terms of aesthetics (let's include uniforms, setting, and so on)?
MK:
This is a deceptively difficult question, I should add, because it requires both teams to complement each other while still playing in a significant rivalry game. You might have a game between two teams who wear near-perfect uniforms—say, Boston College and Notre Dame—but together, on the same field, they don't quite jell. I love gold helmets, but not a whole field of them. Who've you got?
BW:
This is a very interesting question. With so many games to choose from on Saturdays, and the advent of high-definition televisions, the look of the game has as much to do with watching it as anything. CBS's picture, in particular, really jumps out, and there's nothing on TV that looks as good today as the SEC game of the week on CBS. Although I do actually love the modern look of Oregon's uniform combinations, I'm typically pretty traditional when it comes to uniform style. Yes, I'm biased, but the Penn State uniforms will forever be unbeatable, as long as they keep their traditional style of blue (just 1 step short of black)/white on white. However, when matching up two rival teams, contrast is key. I'm not a huge fan of USC's uniforms by themselves, but when matched up with Notre Dame or UCLA, the combined look is fantastic. Texas-Oklahoma is another great look, especially considering the play at the Texas State Fair, and the stands are equal Longhorn orange, and Sooner maroon. But for the best traditional-yet-contrasting look, no game looks better than "The Game". I think it has to be the crimson of Harvard matched up with Yale's clean navy blue look. The look is classic and jumps off the field. And adding to that look is the old-time feel of each stadium. Harvard Stadium is the classic horseshoe-shaped stadium, and has now been around for 110 years. Meanwhile, the Yale Bowl has been around for 100 years, and looks like a smaller version of the Rose Bowl. The non-FBS status of each school, plus the academics, and the fact that the two schools do not hand out athletic scholarships give the game a true amateur feel, which makes the game even more pleasing to the eye. Everything about this game is like taking us back through a time-machine. The combination of a classic and contrasting look, along with a venue that temporarily brings us to a different time and place is what makes this game the most aesthetically pleasing in all of college football.
MK:
I agree with pretty much everything you've said, except that unfortunate part about the Penn State uniforms. I'm a Browns fan, so, you know, understated is fine, but the Nittany Lions took that ball and ran just a little too far with it, in my opinion. The home team vs. home team look embedded in the USC—UCLA game deserves a special mention.
It didn't happen for a few years, but UCLA grad and fairly unsuccessful coach Rick Nieuheisel made at least one lasting contribution to the program by resurrecting this outstanding tradition. Utah and BYU, in fact, did the same thing earlier this year, and with the Cougars breaking out their old royal blue tops, this was a treat in HD.
You can see that red vs. blue is a pretty strong draw here. You've mentioned it for USC—UCLA or Notre Dame and for Harvard—Yale.
(The Crimson took down Yale, 34-7, last week, by the way.) It's true of Ohio State and Michigan, which might have deserved more consideration if I hadn't talked about it so much already through one question and if Ohio State would start wearing its normal uniforms for this game again. I'm glad you mentioned orange, though, because I really think this is an underutilized color and one that pairs magnificently with dark blue. One rivalry that, when one of the sides manages to get out of its own way and produce a clean uniform style, that's a pleasure to look at is Virginia and Florida State—and sometimes the game is even alright, too. Like this one, from 1995, when the Hoos defeated undefeated Florida State for their first loss in ACC play in Charlottesville.
Florida State might have the coolest uniforms in the sport, dating back to the '90s, but that's another conversation for another day. So, am I dodging this question? There's really an embarrassment of riches here to answer this. It would feel wrong not to choose a game this weekend, though. How about Notre Dame and Stanford?
A rivalry in its own right, certainly, and—again, if a team gets out of its own way and just goes with their normal look—would be brilliant in the California sun of a late afternoon.
3.) What rivalry lost to conference realignment, which I satirized a year ago in this article, do you miss most?
BW:
I suppose that Pitt-Penn State is the obvious game that should stand out to me here, but it doesn't. Don't get me wrong, I'm looking forward to its renewal in 2016, but I honestly haven't missed it all that much. Maybe my answer would be different had I grown up a few years earlier and remembered the Paterno-Jackie Sherrill feud, or the Dorsett-then-Marino Pitt teams, but the yearly nature of the rivalry was done by the time I was 14, and most of what I remember was Penn State dominance. Instead, the one rivalry I miss involves two teams that I never really cared for. It seems that coaches nowadays have mostly been neutered. But back in the 70s and 80s, there was no person roaming the sidelines more brazen than Barry Switzer. Meanwhile, Tom Osborne was the exact opposite on the sidelines- basically the college version of Tom Landry. It was Oklahoma's wish bone against Nebraska's triple-option. The key to these matchups was that it seemed like every year had this game act as a de facto playoff. Nebraska and Oklahoma dominated this age of college football, and their rivalry was the biggest event college football had to offer. For a 20 year stretch, from 1971-1990, this game featured at least 1 team in the top 10, and in 17 of those years, featured at least one team ranked in the top 5. Seven of those matchups featured both teams in the top 5, and an additional 8 featured both teams in the top 10. The rivalry lost a bit of its zip when the Big Eight dissolved and each team moved to the Big 12 in 1996. While the annual rivalry stopped then, they did have 2 more meetings, in 2000 and 2001, where both teams were in the top 3. The rivalry then dissipated altogether a couple of years ago, when Nebraska left the Big 12 for the B1G. To honor the 50th anniversary of the "Game of the Century", these two teams are scheduled to face in 2021. But the annual battles, and their importance on the college football landscape, are nothing but a memory at this point.
MK:
The answer to this question would almost have to come from the Big XII. The conferences picked over most by the process of realignment have been the Big XII—and its older component parts of the Big 8 and the Southwestern Conference—and the Big East. The Big East, though, was very young and did not quite have the history to match the rivalries from Texas and the great middle of the United States. In addition to Nebraska and Oklahoma, I think we should call attention to two possible answers from the same conference.
The first and the more obvious choice is Texas and Texas A&M. Even though they're both Texas proud, you could not find two college towns and accompanying universities more culturally different than the Austin-based Longhorns and the College Station-based Aggies. The date and time of this rivalry floated a bit in its final years, alternating between Thanksgiving Thursday night and Friday morning, but it was reliably held on Thanksgiving weekend and gave us some outstanding moments: when in 1998 Ricky Williams broke Tony Dorsett's all-time NCAA rushing record, which had stood for two decades, or a year later when in the aftermath of the collapse of Texas A&M's traditional, gigantic bonfire which preceded the game—causing the death of a dozen people—the Aggies upset seventh-ranked Texas.
One of my personal favorites growing up, though, came from the same conference, which was Colorado's annual date with Nebraska. The Buffaloes and the Cornhuskers are varying degrees of down right now—Nebraska is fairly average, while Colorado is downright terrible—but for a few select years when I watched more college football than just about anyone in America, this was a game I always looked forward to, taking the place in mid-afternoon the day after Thanksgiving and often featuring two of the best in the country. And when the game took place in Boulder, you could hardly ask for a more beautiful landscape, which would gave any game we mentioned above a run for its money.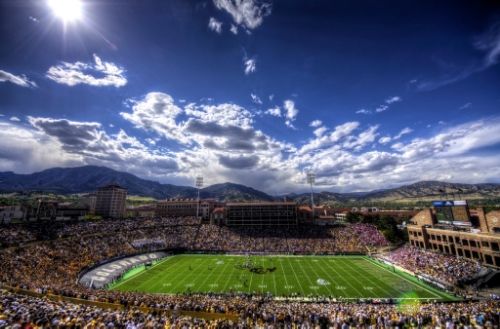 Games were often tightly contested, especially in the series between 1996 and 2004—you know, just between early adolescence and adulthood for me—so watching this game in particular somehow became special for me, and because I hated those juggernaut Nebraska teams in the mid-1990s made me a de facto Colorado fan. I hear they're going to begin playing some home-and-homes later this decade, though, so I hope both programs are back near the top of the heap again by then.
4.) What rivalry, in your opinion, comes with the best or most insane backstory, football- or non-football-related?
MK:
For this one, I'm tapping the Border War between Kansas and Missouri. While military metaphors or allusions to past hostilities are often suggested during a rivalry, I can't really think of any one which appropriates them to a greater degree than the Jayhawks and the Tigers. We have to file this rivalry, at least in football, under inactive for the time being due Missouri's departure for the SEC from the Big XII, but that doesn't mean these two sides don't continue to hate each other. This is a tight series, with Missouri winning either 57 or 56 of the 120 all-time meetings, while Kansas has won 54 or 55 with 9 ties. It's easily one of the most played and most evenly matched rivalries in the history of college football, and though neither team has been particularly great, what separates it from other is the acute inheritance of the Civil War in the territories.
I would expect most of our readers have heard of Bleeding Kansas, which was a series of raids between pro-slavery and anti-slavery factions in the territory to try to influence the outcome of Kansas's entry into the Union after the territory opened for settlement in 1854. Though Missouri had joined the United States as a slave state in 1820—and theoretically, due to the terms of the Missouri Compromise, Kansas's territorial boundaries should have precluded it from becoming a slave state—the territory of Kansas was up-for-grabs, so to speak, after the Kansas-Nebraska Act, which decreed that territories would be assigned slave or free status based on popular sovereignty, and after the Dred Scott Decision which proclaimed that the federal government had no right to regulate slavery in the territories—this came undone and what followed was a series of bloody reprisals by crazy people.
Like this guy. Border Ruffians, as they were called, from Missouri crossed state lines to kill hated Yankees (evangelical New Englanders had flocked to Kansas to influence the territory's future constitutional convention), and in 1856 John Brown (pictured above)—before going on to fame for being executed for trying to foment a slave revolt in Virginia in 1859—and his followers hacked five people to death as a possible settling of accounts for the sack of Lawrence (the future site of the University of Kansas, and an event to be repeated seven years later during the Civil War). An anti-slavery stronghold, Lawrence is today less than an hour's drive from the Missouri line and which pro-slavery Missourians had barbequed.
(That's in the Kansas State Capitol, by the way.) With the first games in the series coming about forty years after the end of the Civil War, a lot of baggage was present at the creation of this rivalry. Apparently, civil war veterans roamed the sidelines and the stands in the early years of the series, and this mentality really has trickled down to the present day. So… try to beat that.
BW:
This was a tough question to answer, because there are so many stories of stolen mascots, and other random pranks between 2 (or sometimes 3) Universities. But there's a tradition from a rivalry that is no longer played on an annual basis that is rooted in complete insanity. Despite not playing annually since 1987, Auburn and Georgia Tech actually have the second oldest rivalry in the Southeast (yes, older than Auburn-Alabama). In 1896, Auburn was about to play its first ever home game when a group of ROTC cadets decided that they wanted to show up the visiting better-known engineers from Georgia Tech. The night before the Auburn-GT game, and in advance of the arrival (by train) of the Yellow Jackets, the cadets decided they would cover the tracks outside of the train depot with pig grease, lard, and soap. They ended up covering roughly 400 yards of track. When the Yellow Jacket train arrived, it hit the grease, and they skidded past the Auburn train station, unable to come to a complete stop until 5 miles down the tracks. The Georgia Tech team had to walk the 5 miles back to Auburn for the game, and were promptly defeated 45-0. When GT found out about the prank, they refused to play Auburn again, until Auburn, then known as API for Alabama Polytechnic Institute, assured expulsion if anyone again tried to pull that stunt. While Auburn never again pulled the stunt, it did result in the starting of the Wreck Tech Pajama Parade, where Auburn students would parade, replete with floats, to the Train Depot where they would hold a pep rally prior to their game with GT. Georgia Tech eventually left the SEC in 1963, but the two schools continued to meet annually until 1987. Since then, the two teams have only met twice, in 2003 and 2005.
MK:
Honestly, I had no idea that that had ever happened, and that is completely awesome.
5.) Our favorite teams are Penn State or Ohio State--who enjoy a healthy rivalry of their own--but which rivalry involving neither of those schools is your favorite?
BW:
Army-Navy, and it's not close. I cannot imagine what this rivalry used to be like when both schools were more successful on the field, but my guess is that it's now even bigger. With the academic, height/weight, and 5 year service requirements, both institutions are now mostly irrelevant on the national landscape. Only twice since 1963 have both schools entered the game with a winning record. But from the pregame marching of the cadets, to the postgame, where the two teams stand side-by-side as the losing team's alma mater is played, followed by the winning team's alma mater, this is an event. My college football bucket list currently involves 3 games. Harvard-Yale, Lehigh-Lafayette, and #1 is Army-Navy. With the game back in Philadelphia in a few weeks, I may just have to make it a point to scratch #1 off my list this year.
MK:
Obviously, I agree that Army—Navy is an outstanding choice, based on my comments above, but I disagree on one point: everything about this question is difficult. There are so many fantastic choices, this week and others, that's almost impossible to pick a true favorite. I'm also trying to set aside my allegiance to Texas Tech when I answer this question, especially at a school like that where the rival is at once everyone and no one. It's kind of difficult to enjoy the Red River Shootout when you really find both teams more or less reprehensible. I'd say the same of the Bedlam Series, which we'll see next week. There are certain games that I'll always make time for. Maybe out of loyalty to how good these teams were when I was a kid, I'm always sucked into the Tennessee—Florida game, and the same is true of Notre Dame—Michigan, a series which will be ending next year due to the Irish's move to the ACC. I don't know that I have a favorite because, I think I've made it perfectly clear, I love all of this stupid nonsense so much. I'll pull the lever for Notre Dame and Michigan, though, because we won't get to talk about it much longer; because I have so many friends who went to Notre Dame; and because my brother went to Michigan; and because I hate and love them both.
And shame on you, Notre Dame. Shame. On. You.
GAMES OF THE WEEK
MK:
Each week of the regular season, we'll be picking about five of the premier matchups on the slate. Instead of picking against the spread, we'll be raising the stakes using confidence points, a common method of scoring in bowl game pools. The more we believe in our pick, the higher the confidence rating. If five games are chosen, five is the highest rating, with one being the lowest. Each number can only be used once. Last week, Brian ran into some tough luck--despite some prescient upset thoughts that failed to make it into the final copy--and I pulled ahead in terms of winning percentage and confidence points, but just barely. This week, there are too many historic rivalries and Top 25 matchups to pass up, so we'll be picking seven games this Thanksgiving weekend.
#3 Ohio State at Michigan
MK:
When John Cooper was the head coach of Ohio State, he famously called Michigan 'just another game' and went 2-10-1 in thirteen years against the hated Wolverines. Since Ohio State hired Jim Tressel going into the 2001 season, the Buckeyes have flipped the script…
…pun intended, and have gone 9-2 in the past twelve years with one vacated win. We both like the Buckeyes to finish balancing the scales tomorrow.
BW pick: Ohio State, 45-24. Confidence rating: 7.

MK pick: Ohio State, 37-27. Confidence rating: 6.
#24 Duke at North Carolina
MK:
You might not know it, but North Carolina is actually surging right now. After a 1-5 start, in which their only victory came against the Middle Tennessee State Blue Raiders, the Tar Heels have reeled off five in a row to get themselves to bowl eligibility in addition to having a chance to play spoiler against hated Duke. The Blue Devils have a chance to wrap the Coastal Division and the opportunity to play against Florida State for the conference title. The Blue Devils, coached by two-time Manning mentor David Cutcliffe, are secretly a power running team, and I like the boys from Durham to ride the running game to a win after their seven-mile trip to Chapel Hill, while Brian likes Carolina to create a possible logjam—should Miami defeat Pitt and Virginia Tech defeat Virginia—of five teams finishing with 5-3 records in the Coastal Division. Good luck figuring who Florida State gets to massacre then.

BW pick: North Carolina, 31-21. Confidence rating: 2

MK pick: Duke, 40-30. Confidence rating: 3.
#1 Alabama at #4 Auburn
BW:
The Iron Bowl
has never been bigger, with both teams entering with a shot at the SEC and National Championship. Auburn is hosting this year's installment, and if there's one thing Bama struggles with defensively, it's a duel-threat QB. Matt is following script with this game, while I'm taking the home dog to pull off the stunning upset, and advance to the SEC Championship game.
BW pick: Auburn, 27-24. Confidence rating: 1.

MK pick: Alabama, 42-30. Confidence rating: 4.
#6 Clemson at #10 South Carolina
MK:
The Clemson Tigers are the most under-the-radar 10-1 team in the history of major college football. A win puts them safely in a BCS bowl, while a loss might relegate them to something like the Peach Bowl or the Gator Bowl. Brian likes Clemson's talented offense, led by once-draft darling Tajh Boyd to put up more points than the Gamecocks can match, but in Columbia I think one of the few remaining solid defenses in the Southeast to keep it close and prevail in the end.
BW pick: Clemson, 33-17. Confidence rating: 5.

MK pick: South Carolina, 24-20. Confidence rating: 2.
#25 Notre Dame at #8 Stanford
BW:
Despite a disappointing loss 2 weeks ago to USC, Stanford was bailed out last weekend with Arizona defeating Oregon. That win by the Wildcats assured Stanford a berth in the Pac-12 Championship next weekend, and a chance at the Rose Bowl. Meanwhile, 3 loss Notre Dame will be looking for a big win over a top 10 opponent to put a stamp on a relatively disappointing season following their run to the National Championship game last year. Matt and I both agree that Stanford will hand Notre Dame their 4th loss.
BW pick: Stanford, 28-14. Confidence rating: 6.

MK pick: Stanford, 38-20. Confidence rating: 7.
#21 Texas A&M at #5 Missouri
MK:
The new annual date to close out the Aggie and Tiger SEC season, we like Missouri to lock up the Eastern Division and earn the right to take on the winner of the Iron Bowl for the conference title in Atlanta next week.

BW pick: Missouri, 34-27. Confidence rating: 3.

MK pick: Missouri, 44-41. Confidence rating: 1.
#22 UCLA at #23 USC
BW:
With absolutely no apologies to Cade McNown, Brett Hundley is arguably UCLA's best QB since the days of Troy Aikman in the late 80s. This makes me wonder how Troy Aikman's career would have turned out had he not transferred out of Oklahoma, and had run the wishbone for Barry Switzer. Anyway, to follow up on a previous question, UCLA is one of the most aesthetically pleasing looks in all of College Football, and this may be the FBS's best looking rivalry. Not that any of this has anything to do with the game, but with UCLA's loss last week to Arizona State, there's not much else to discuss. Although I guess a win for USC would put Ed Orgeron one step closer to a permanent gig at SC. However,both Matt and I agree that UCLA will prevent Ed Orgeron from wielding his sword in conduct detrimental to the band, as UCLA takes its 2nd straight over the Trojans.

BW pick: UCLA, 38-28. Confidence rating: 4.

MK pick: UCLA, 35-19. Confidence rating: 5.
UPSET SPECIAL
MK:
The upset special is an off-the-board pick which must meet one of two criteria: (1) a consensus gap in rankings of at least five places or (2) a point spread of at least a touchdown or greater. Games between ranked and unranked teams automatically qualify. The team cannot cover but must win outright. A correctly pegged upset earns three additional points.
BW:
Well, I was burned by my own second guessing last week, somehow deciding to go with my 3rd choice in Michigan, instead of Georgia Southern or San Diego State. Predictably, both won, with Georgia Southern pulling off a win over Florida, despite entering as a 24 point dog. This week, I'm not going to second guess myself, and I'm going to again ride a big dog. Wisconsin has been great this year, featuring a lights out defense, and one of the best rushing attacks in all of college football. Meanwhile, Penn State will go to Camp Randall boasting a run defense that has struggled significantly this year, mainly due to a lack of depth on the DL, a freshman QB, and a kicker that cost them a win last week by missing an early XP, then missing a 37 yarder in OT. Oh, and Penn State hasn't won a game on the road this year. Meanwhile, Wisconsin needs a win to maintain their outside hopes at a 4th straight BCS Bowl game. Penn State is a 23 ½ point dog, which makes perfect sense. In my mind, so does this pick. PSU has nothing to lose, and I expect Bill O'Brien to open things up and throw all sorts of wrinkles at the Badgers. I'm calling it here.
MY Penn State Nittany Lions 27-26
MK:
If I had written this earlier, I might have plugged the Apple Cup with a Washington State victory over the Huskies, but I took too long to finish and so I disqualified it. Out in the Pac-12, I think Arizona State gets a close shave against the rival Arizona Wildcats, but I don't think the Sun Devils lose. Conference USA could get messy with the right combination of wins and losses, so give me bowl-eligible
Tulane
to win at 10.5 point favorite Rice this Saturday.
OVERALL RECORDS
MK: 14-8 (1-4), 45 points overall
BW: 13-9 (1-4), 43 points overall
LAST WEEK
MK: 3-2 (0-1), 8 points
BW: 1-4 (0-1), 5 points