Fifty two NFL games will be broadcast in primetime (or at least nationally) this season, and fifty one of them have been announced barring alterations due to flex scheduling. The Sunday Night matchup in Week 17, of course, will be determined at the end of Week 16.
Like most of you, I probably haven't had enough FP in my life these last few months, and I definitely haven't had any Top 10/Bottom 5 in it. I will return to
Tailgating
and someone with more time and energy and knowledge will handle this serial's weekly duties during the season. We're two weeks away from the Draft and we finally have a season to look forward to and so I'm trying to forecast the best games we'll all get to see this season. What better way to handle that than in the 10/5 format? It's a shot in the dark and I hope you enjoy it.
Oh, and before anyone says anything…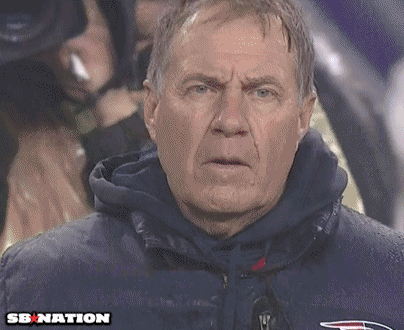 …because there is only one Patriots games on this list, I did not forget about Tom Brady. I looked at all of their other games, saw that they are playing the Colts, Chargers, Chiefs, and Jets on national television, and concluded that they are going to stomp all of them, probably by an aggregate score of about 158-16. (That Jets home game in October will probably be played in some sort of freakishly early Nor'easter, will be so ugly it makes you question why you like football, and come in with a final of like 16-13. Consequently, it will really bring the Patriots' scoring average down in those four games.)
Let's begin.
TOP TEN
1.) Seahawks at 49ers: Thursday, November 27
—Let the rest of the country talk about duels between Manning and Brady, this is a game for the connoisseurs.
2.) Ravens at Saints: Monday, November 24
—Two of the premier franchises of the last half-decade and they only play once every four years due to scheduling rules. Put the game in the Superdome and you've really got something.
3.) 49ers at Broncos: Sunday, October 19
—Just when the weather starts to get chilly. This is just perfect.
4.) Steelers at Panthers: Sunday, September 21
—We get to find out a lot about both of these teams early in the season.
5.) Packers at Seahawks: Thursday, September 4
—Did you really expect the NFL to send anyone else there to open the year? I mean, other than Ryan Seacrest.
6.) Chargers at Cardinals: Monday, September 9
—There were probably better matchups, but think about how many unwatchable nightcaps the NFL has served up in these MNF doubleheaders in Week 1. This year, it's a playoff winner against a ten-win team and I want to register my approval.
7.) Cowboys at Bears: Thursday, December 10
—How much you want to bet both of these two historic franchises are 'in the hunt' and playing more or less an elimination game on a random Thursday night in December at Soldier Field? A treat, as long as you're in your living room and not on Lake Shore Drive for it.
8.) Seahawks at Redskins: Monday, October 6
—I'm not going to lie, I'm not bored by the idea of Russell Wilson and RGIII. A relatively rare meeting and the likely Redskins-in-red factor vaulted this one into the top ten.
9.) Bengals at Patriots: Sunday, October 5
—If the AFC North is tight this season, the strength-of-schedule draw of the Pats in Foxboro could have major repercussions late in the season.
10.) Ravens at Steelers: Sunday, November 2
—Not what it was just a couple years ago, really, but they still match up about right and the experience of spending the whole night rooting for an asteroid to hit the earth is familiar and oddly comforting. Or maybe that's just me.
HONORABLE MENTION
Panthers at Eagles: Monday, November 10
—Can't complain about two returning division champions.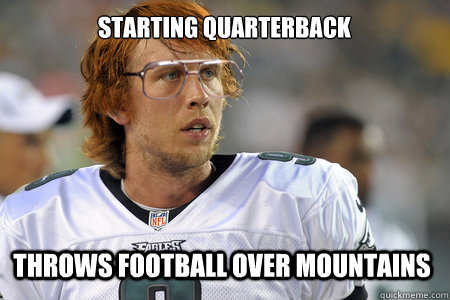 Broncos at Bengals: Monday, December 22
—Last Monday Night game of the season and it could determine who plays whom and where in January.
Packers at Saints: Sunday, October 26
—Like points? Also, you did not have a St. Patrick's Day like Rob Ryan.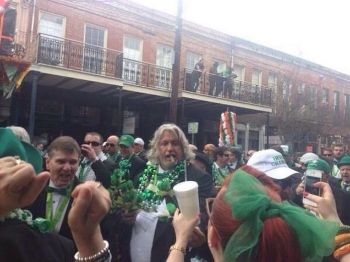 Browns at Bengals: Thursday, November 6
—Homer pick, you say? My rating is somewhere between 'yeah, sure' and 'absolutely.' I can't remember the Battle of Ohio being on in primetime, which probably means that it hasn't been any time since about 1990 or so. Still, these games are usually close and, uh... you can't beat it for orange.
Redskins at Cowboys: Monday, October 27
and
Bears at Packers: Sunday, November 9
—Historic, traditional rivals. Always. I mean, damn it, this is how football is supposed to look.
BOTTOM FIVE
48.) Steelers at Ravens: Thursday, September 11
—One of these is good, two of them is not, and I am not saying anything nice about these teams.
49.) Five-and-a-half NFC East division games
—I know, it's about marketshares and fanbases and at least these teams aren't horrible, but it is not the 1980s any more, guys! I accept that I'll see a disproportionate number of NFC East games every year—the way I accept the flu once it appears inevitable—and one of these is the experimental Saturday game, broadcast (probably) regionally opposite the 49ers and Cardinals. But 80% of the country will see a full half of the NFC East's divisional contests. I'm not complaining about any one game, I'm complaining about all of them every year for the rest of my life.
50.) Bears at Jets: Monday, September 22
—Let us all pray fervently that Jay Cutler does not sustain his annual injury prior to Week 4. Otherwise, we're going to look like this.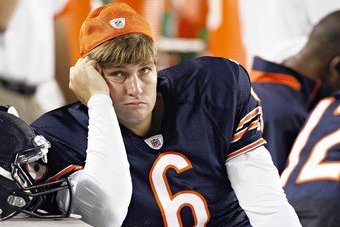 51.) Texans at Steelers: Monday, October 20
, OR
Steelers at Titans: Monday, November 17
—Take your pick. I'm not beating up on the Steelers here, I'm legitimately wondering why we have to watch the Steelers play Houston and that-team-that-used-to-be-Houston twice in a month on Monday Night Football.

52.) Titans at Jaguars: Thursday, December 18
—Everyone's got to play in one, but at least you don't have to watch every one. In all seriousness, the Jags are getting buzz as a team on the rise, but by late December, they'll probably have risen about as high as they will this year. Which is third place.
DISHONORABLE MENTION
Chiefs at Raiders: Thursday, November 20
—I respect AFC West rivalries, where everyone hates everyone else in the same way that we do in the AFC North or they do in the NFC East and North. I also respect the NFL for putting it on a night when I can watch college football instead.
Vikings at Packers: Thursday, October 2
—I get that this is a real rivalry, but this is going to suck.
Dolphins at Jets: Monday, December 1
—God, ESPN, if we just humor you and tell you that we believe this is a rivalry, will you stop putting it on Monday Night Football?