No.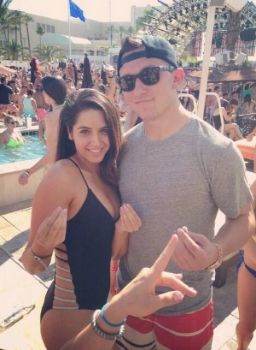 Well, wait. Is he breaking the law?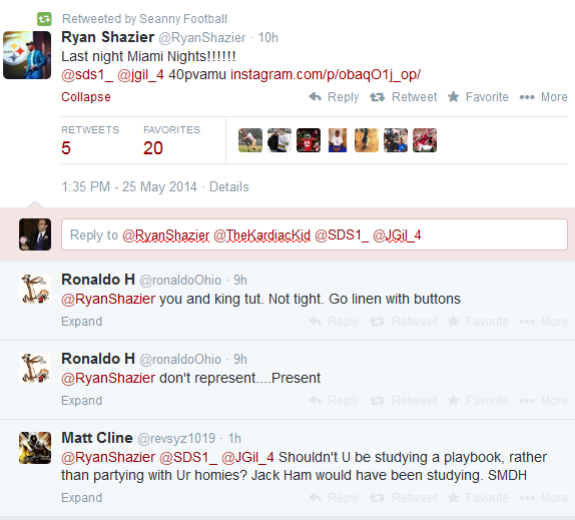 Oh, he's not? That you know of? Well, then, still no. Of course you shouldn't.
I don't really know what Jack Ham would have done over Memorial Day weekend. Odds are, though, that in his eleven years with the Pittsburgh Steelers, when he was not eating lean, protein-rich foods and lifting weights, the only other thing he did was study his playbook. Or go over film. Probably at the same time. He definitely wouldn't have stopped
to take a picture with someone who looks like that/calling herself @steakNstiffarms
. Jack Ham was only interested in eating steak, avoiding stiffarms, and studying.
Of course, Cleveland, Pittsburgh, and many-other-places-I'm-sure are 'blue collar towns,'
which apparently is very important for pro athletes to remember
. A good reminder
from the guy who gave us this photo shoot
in
Men's Health
.
Is this intended as a cautionary tale, Brady? Again, I'm not really sure how any of this applies to the lives of Johnny Manziel and Ryan Shazier and untold others, but I guess it means that we people from blue collar towns will all totally have their backs if the NFLPA ever wants to go on strike, right?
Anyway, talk is cheap. It's easy to say that championships are won during three days in May, especially when you do it from a couch where everyone expects
you
to be.
Now, I've got to do some work, though.
Oh, sorry. I meant...
/puts on BEATS
/...and you can tell everybody... and you can tell EVERYBODY...