MK
: Most weeks,
Brian Williams
--no, not that Brian Williams--and I get together to break down the upcoming college football Saturday in all its idiosyncratic glory. This is not one of those weeks, though, as Brian is a bit under the weather. He should return next week, but this weekend
Tailgating
welcomes guest columnist
Evan Vracar
, whom you may remember from such websites as this one, where he is our resident expert on the NFL Draft. He'll be joining me today to discuss the biggest moments and biggest disappointments of the first week in college football, as well as to evaluate the power conferences and to forecast this pivotal weekend for the Big Ten. Grab a cup of coffee if you haven't clocked out yet on Friday--or a Bloody Mary if it's a true Saturday morning tailgate for you--and let's get started.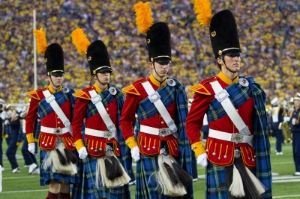 Click here
if, after your first read, you would rather comment in the FootballPros forum interface.
FIVE GOOD QUESTIONS
1.) Evan, you've said you're a fan of the column before and I can't tell you how much that means to me and Brian. Really. You know what's coming up first, then. If you could pick any one college football game to attend this weekend, which one would it be and why?
EV
: First of all let me just say how much of a privilege I consider it to be allowed to pinch hit this week in place of Brian, who I of course wish a speedy recovery to as well. I'll do everything within my power to convince you all that I know what I'm actually talking about.
MK
: I'm sure it will be fine. People seem to think I know what I'm talking about, so there's that.
EV
: As for which game I'd be most inclined to attend if I could only choose one? The Autzen Zoo is bound to be absolutely electrifying this Sunday when the Ducks host Michigan State, but that seems like too obvious a pick to me. So instead, I'm going to go ahead and pick Michigan-Notre Dame for the very last game in their rivalry - for now at least.
MK
:
EV
: It might not necessarily be the most storied or legendary rivalry in the annals of college football history, but these two fanbases really seem to despise each other, and that's good enough for me. I'd be almost as interested in the interaction in the stands between members of the opposing fanbases as I would in what's actually taking place on the field. I mean, have we already forgotten this outstanding display of class?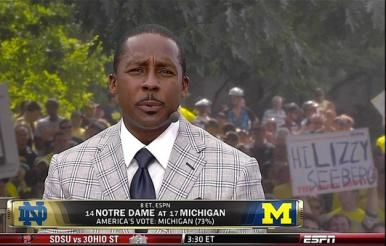 MK
: Oy. That's brutal. One of the things that much of the rest of the college football universe despises about Notre Dame and Notre Dame fans is their insistence that things are somehow different there, that the same problems that plague the rest of college football and the rest of the world somehow stop at the edges of Notre Dame's campus. (The rest of the Big Ten might make the same complaint about Michigan, to be fair. I think we should say here, though, that sexual assault on college campuses is far too common, a national disgrace, and not peculiar to any one institution.) That may have been true once, though I doubt it, and it's obviously not true today, as that awful episode and that time head coach Brian Kelly and the university as a whole had to be investigated for negligence in the wake of a student's death while filming a football practice on a hydraulic lift in sixty-plus mile per hour winds surely prove. I'm not saying this because I want to beat up on Notre Dame or because I'm interested in demolishing myths. History and myth cannot do without each other, and the former would find itself completely soulless if cleaved apart from it but the latter completely baseless.
The story of the Notre Dame and Michigan rivalry is actually one of the most charming in all of college football. As the story goes, Michigan traveled from Ann Arbor to South Bend to teach the Fighting Irish to play football. It began with a letter very much like this one, dated to 1894 and
obtained via the University of Michigan's Bentley Library
.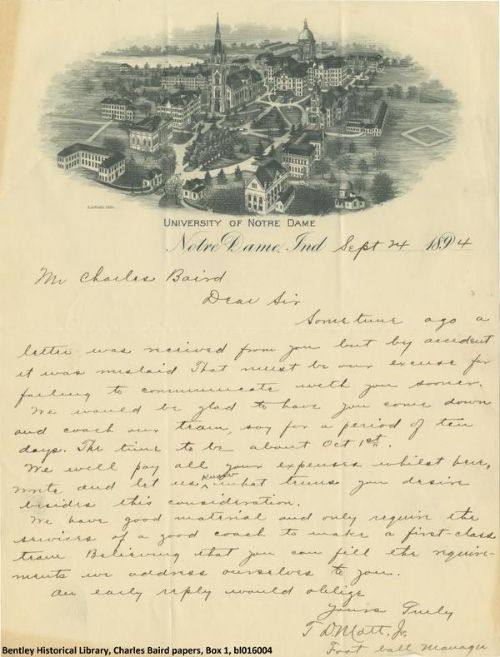 Since reading old handwriting is actually one of my professional skills, I'll do that for you guys. Ahem:

Notre Dame, Ind. Sept. 24, 1894

Mr. Charles Baird

Dear Sir,

Some time ago a letter was received from you but by accident it was mislaid. That must be our excuse for failing to communicate with you sooner. We would be glad to have you come down here and coach our team, say for a period of ten days. The time to be about Oct. 1st.

We will pay all your expenses whilst here, write and let us know what terms you desire besides this consideration.

We have good material and only require the services of a good coach to make a first-class team. Believing that you can fill the requirements we address ourselves to you.

An early reply would oblige.



Yours Truly,
T.D. Matt, Jr.
Foot ball manager

The rest--and the nearly 1800 wins between the two schools since--as they say, is history. And as I said, what started with a letter like is ending, at least for now, because of another letter handed by Jack Swarbrick to David Brandon just before kickoff of their game two years ago, opting out of this series due to their quasi-move to the ACC. And yes, Notre Dame and Michigan will only be meeting for the forty-second time on Saturday night, so it's not as though we're losing the Wolverines' annual tilt with Ohio State or even Notre Dame's date with USC. I dislike both of these teams, but I hate-respect them both and I can't help but feel like I'm saying goodbye to an honorable enemy for the last time, even though both schools will still be there and Ohio State will continue to play one of them and sometimes both.

I don't know where else I'd want to be, I suppose I should pick something. The Michigan State--Oregon game out in Eugene is the other obvious answer this week. In the absence of something extraordinarily compelling, my picks for this don't often venture west of the Rockies, even though Pac-12 football's time has come as a force in the national title chase. This an enormous weekend for the Big Ten, and the Spartans need to come away with a solid showing if a Midwestern side is to have any hope of qualifying for the first playoff in college football history. Plus, as you may have heard, Autzen--despite only having 53,000 seats or so, or about half of what you'd find at Ohio State or Michigan or Tennessee--is still really loud. And the beer is pretty good in Portland, which isn't so far way, too.

2.) I'm really looking forward to this weekend, but I want to jump back to last Saturday for a second here. No matter how the opening weekend looks on the surface, I think we all know we're heading into the Labor Day holiday flying blind. Whose performance made the biggest impression on you last week, and why? MK

: I picked Georgia to win the national championship in our preview last week, so it feels like a cop out--or maybe a bit of self-promotion--to answer this question with the Bulldogs. That said, Georgia and Clemson was one of the best matchups of Labor Day weekend, one of only two featuring top-sixteen teams, and I don't know how you could fail to be impressed by a team that rushed for 328 yards and averaged 8.0 yards per carry

as a team

or with their kneel-before-Zod fourth quarter against the Tigers.
Mason Hutson and Todd Gurley, to me, have a little bit of a Craig Krenzel and Maurice Clarrett in 2002 feel to them. It should be noted, though, that Hutson's 131 passing yards came with a number of Bulldog wide receivers suspended, which is something of an annual tradition in Athens, so he may be capable of more than we've seen so far.
Also,
this allegedly happened
, via Deadspin. A Clemson fan who sent a trash-talking letter to Mark Richt in the offseason received this in the mail a few days ago: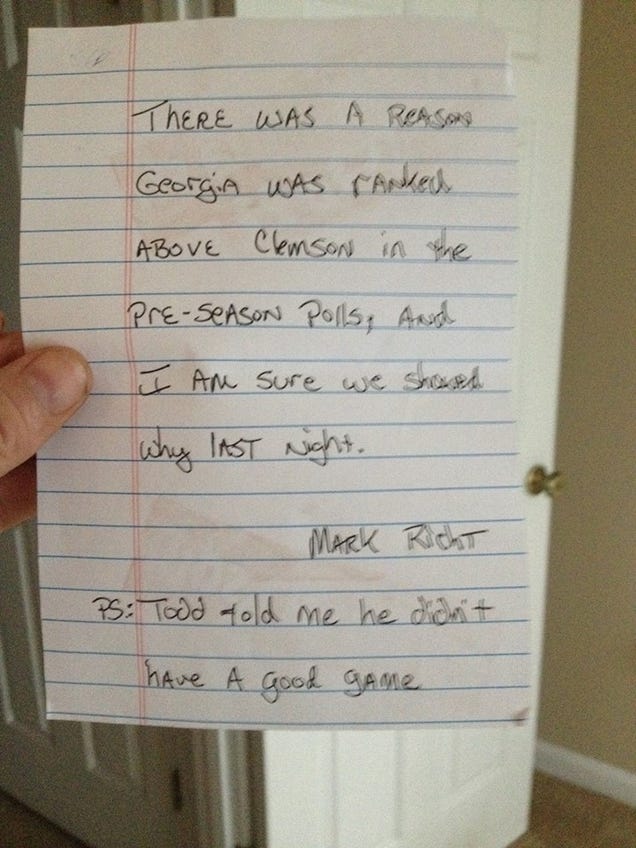 Richt claims that he didn't send this, and I'm inclined to believe him. Not because I think or want Mark Richt to be above this--really, this is so awesome that I want it to be true--but because I've looked at the envelope and seen that it's postmarked from Augusta, Georgia. (It's torn, but you can still pretty clearly make out Augusta in this image.)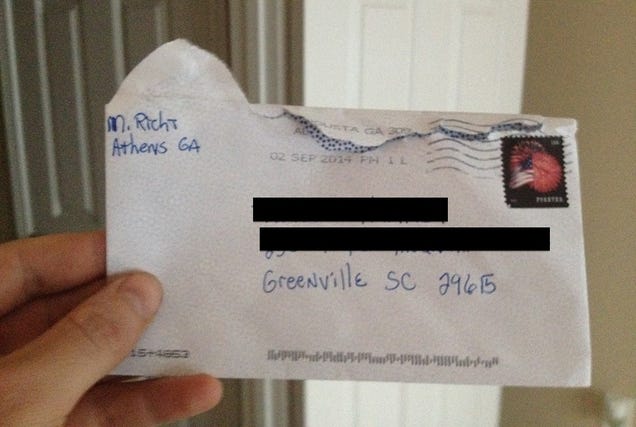 That's two hours away from Athens. I doubt Mark Richt drove all the way to the South Carolina border to mail a letter, but let's pretend that he did anyway.
EV
: As is always the case with the first week of the season, there will be teams who just come out of the gates on full throttle and blow people away. We saw it this week with Texas A&M and USC, among others; and there will also be teams that put up a much bigger fight than maybe we anticipated, such as Oklahoma State. I think that if I had to pick one team that I'd say impressed me the most though, it would be Tennessee. The Vols are still supposed to be in the middle of a rebuilding process, and they wiped the floor with a Utah State team last Sunday that was
really
good last season. Obviously this year's Utah State isn't last year's Utah State, but for their losses the Aggies got back star quarterback Chuckie Keeton. This game wasn't supposed to be anywhere close to the 38-7 laugher it ended up being, and I wouldn't be shocked if Tennessee made a run in what looks to be a muddled SEC East this year.
3.) Looking at the other side of the coin, then, whom are you most disappointed in following the season's first games?
EV
: The obvious pick here is Florida State, but I'm more inclined to say that Oklahoma State might just be a bit better than we thought than I am to say that FSU is worse. You know who I'm pretty sure isn't that good though? Virginia. Which is why I'm picking UCLA as my most disappointing team of the first week. Yes, the Cavaliers are fielding a defense that isn't too shabby at all; but a team that's being led by a future first-round pick at quarterback, and is being considered a dark horse Championship contender, should be able to muster more than one measly, stinkin', offensive touchdown. The good news is that Mike London can use this on his résumé when he's looking for a job this winter.
MK
: I think you're being more than fair to Florida State, although I'm inclined to attribute their poor play to the punishment of the football gods for trading in one of the best uniforms in all of college football, especially among teams that are not hallowed powers who were winning national championships before my father was born (which was in 1954, guys), for these atrocities.
Atrocities may be a bit strong, as they're clearly not the worst things I've ever seen, but their problems are compounded by the fact that their previous red-on-gold looks were just so glorious and beautiful.
Anyway, that's enough about uniforms. Jameis Winston had a fairly humbling night, though not quite as humbling as true believers in karma may have allowed for. What's more, Oklahoma State--and Tyreek Hill, especially--made plays on offense and sustained three drives of seventy-five yards or greater; that doesn't happen to the Seminoles very often in the ACC.
I have to agree on UCLA, though, who struggled mightily against a Virginia team that's bad enough that I was shocked--truly shocked--when Brian picked them to finish fourth in the ACC's Coastal Division. That kind of travel is always difficult on a college football team, as maybe I'm confusing correlation and causation here but I've seen plenty of teams self-destruct when they cross the Mississippi River.
Staying in the top two, I was underwhelmed by Alabama, who played a
de facto
home in Atlanta game against a West Virginia squad I think isn't likely to be very good in the Big XII this season and surrendered a passing yard for every day of the year despite holding onto the ball for nearly thirty-eight minutes. (Seriously, why are all these neutral site games in places like Atlanta and Houston and Dallas in September when it's absolutely insufferable down there at that time of year?) Really, though, the team I'm most disappointed in is Wisconsin. They played the night without their starting quarterback, Joel Stave, but it's inexcusable to take a 24-7 lead in the third quarter and give up twenty unanswered to an LSU squad with uninspired quarterback play. Further, it's absolutely unbelievable that Melvin Gordon only had three second-half touches--THREE! LESS THAN FOUR AND MORE THAN TWO! THREE!--after his sixty-three yard run set up Wisconsin's final touchdown of the night and their seventeen point lead. I mean, why give the ball to the best offensive player in the Big Ten who's not out of the season with a shoulder injury, and maybe the best runningback in the country not named Todd Gurley, when you can roll out your second-string quarterback and have him lob the ball into the teeth of the LSU defense? I'm not blaming Tanner McEvoy, I'm blaming the Wisconsin staff for coaching malpractice costing the Badger players a very winnable game.
4.) Sticking with expectations, last week we gave a rundown of the Power Five. While we're hoping to give little more coverage to the rest of the pack in the coming weeks, how do you rate the five premier conferences right now and what does that mean for this season?
EV
: I'm personally of the belief that the Pac-12 is the best conference in the country this year.
MK
: You hear that, Dixieland? SHOTS. FIRED.
EV
: I think that their sheer weight at the top with Oregon, Stanford, USC, and UCLA (allegedly) is just enough to nudge them ahead of the SEC for 2014 at least. After Alabama, I don't think that the SEC contains another team that's on that same level yet. Georgia and Texas A&M certainly looked impressive this past week, but Georgia still really couldn't pass and A&M's defense still looked exploitable.
MK
: Um...
Yes.
EV
: Maybe they fix up those problems as the season goes along, and maybe a team like Florida or Ole Miss surges to join them, but for now I'd say the Pac-12 is #1 and the SEC is #1-A.
MK
: Even I was saying just a minute ago that I thought Alabama's performance against West Virginia wasn't all that impressive, and somehow despite what you see in the above .gif, South Carolina's pass defense looked even worse than A&M's. (By 'somehow' I mean 'lost three NFL-caliber DBs,' but still...) I still have the SEC in my poll position because of what they've accomplished in the past decade, but the Pac-12 is very close and may overtake them sooner than later.
EV
: After that I would probably say that the Big Ten is the next best of the power conferences. They don't boast the same number of headlining teams as the Pac-12 or SEC, but outside of Purdue their aren't any bottom-dwellers either.
MK
: Ehhhhhhhhhhhhhhhhhhh... I'm a Big Ten guy by my roots, and even I think Illinois is pretty bad.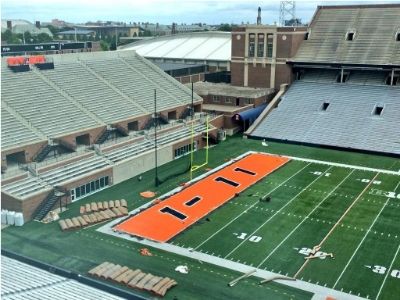 EV
: Heck, even Indiana and Rutgers look like solid, middle-of-the-pack squads this year if nothing else. It's hard to say that any Big Ten teams have legitimate Championship aspirations outside of Michigan State and
maybe
Ohio State or Michigan, but up and down the conference there are no easy wins and any one of those teams could end up playing spoiler.
MK
: To be fair, Rutgers impressed me a little in their win over Washington State last Thursday, but it's a fair question to ask if these teams (who are probably about #10 or so in the conference) can compete with their counterparts in the SEC and Pac-12. That'd put them up against... maybe a Mississippi State or a Missouri, or a Utah or a Washington State? Those are probably competitive games.
EV
: Next, I've got the Big XII closely following the Big Ten, mostly because they lack the same kind of depth that the Big Ten has in terms of teams in that upper-mid-tier where Iowa, Wisconsin, and Nebraska always seem to be located. Baylor and Oklahoma are the obvious teams to watch here, but Oklahoma State also showed their gumption against FSU; and I would personally recommend that you keep an eye on Kansas State this year, mostly because Bill Snyder is an actual sorcerer.
MK
: There's sure depth across the board in the Big XII, even if none of that depth appears to be located on the defensive side of the ball. I renew my objections to Oklahoma on the basis that we're still way too excited about last year's Sugar Bowl. And Bill Snyder is a sorcerer, you say? Did you just
casually drop a Mike Leach reference in here
like it was no big deal? We might have to invite you back, Evan.
EV
: Then there's the ACC in all of its opulent mediocrity.
MK
: A great phrase.
EV
: Thank God that Louisville looks like a formidable opponent again this year, otherwise they might as well have just given Florida State a ticket to be redeemed which takes them straight to the Playoffs. Clemson might not be any good, and unless North Carolina ever decides to make good on their potential then there's really nobody else of note in the conference. Although I will say that one team I think you and Brian may have underrated going into the year is Pitt. Yes, I know, it is Pitt, but they dismantled an FCS opponent like they were supposed to do, and if they look strong against Boston College this week I might be buying in. In fact, I'll predict right now that Pitt wins the Coastal Division. See ACC? This is what happens when you lose Maryland.
MK
: Back when Brian and I were prepping for the season, he said the new Big Ten is where tradition meets this.
Anyway, even the good teams in this league aren't all that much. The most significant victory in Virginia Tech's football history is probably an Orange Bowl win against Cincinnati about five years ago. North Carolina is nothing but potential, but what I find interesting is that you didn't even mention Miami, and the ACC desperately needs them to be good if they want to climb out of the basement of the Power Five. Of course, there's a gigantic structural problem for this, in that Miami and Florida State are in separate divisions yet play each other every year, making it more difficult for the loser to compete for a division crown; it's not a coincidence that, as I said last week, in spite of the fact that the divisions were rigged for Hurricanes--Seminoles conference title game, it's never actually happened. Miami, in fact, hasn't even qualified! It's a pretty accurate indictment of the conference's power that Wake Forest and Duke have made it to the ACC's football championship, yet Miami (and also North Carolina) haven't.
5.) The majority of the best games this weekend involve either Big Ten teams, Pac-12 teams, or both. While the Pac-12's place as at least the solid, second-best conference in the country is almost assured--and, as you argued, possibly the best conference in the country--how much is at stake for the Big Ten this weekend and what needs to happen for the most ancient and venerable of the Power Five to win back its reputation?
EV
: Coming out of the week with a winning record in the three big games on the slate would certainly help. If the Big Ten can take just two wins out of VaTech @ Ohio State, Michigan @ Notre Dame, and Michigan State @ Oregon, then that's something to be proud of. I think it's definitely possible for them to accomplish that too. The worst possible thing that could happen though would be MSU getting walloped by Oregon, primarily if they're made to look slow and sputtering by comparison. It will only add more fuel to the fire of general consensus being that the Big Ten doesn't have the same caliber of athletes as the SEC or Pac-12.
MK
: I think two-out-of-three, as Meatloaf would say, ain't bad. In fact, at the risk of giving away the ending, I think we're both predicting that outcome, we just differ on which two. A game like Wisconsin's last week certainly didn't help, either.
Something that I think is often overlooked about the Big Ten is that it's never been a particularly deep league, at least in terms of football. There's strength across the board in both academic rankings and basketball, but decades ago when the Big Ten actually had ten teams it was referred to as the Big Two and the Little Eight. And I will give all of you three guesses who those two were...
The emerging depth at the lower levels of the conference is good--it's encouraging to see Minnesota and Indiana become relevant--but apart from the initial expansion to Penn State, which at least has produced some conference championships (including even one we're not supposed to forget about), Nebraska has brought very little credit to the league, while most remain skeptical about Rutgers and Maryland. They've gotten the Big Ten Network on more television sets, but I don't see how it's likely to improve the conference's post-season record. Despite how much I complained about Wisconsin, the Badgers are a strong power and they're here to stay, and Michigan State is almost there, too; that's all to the good for the league, especially if the Iowa Hawkeyes keep their heads above water, the Penn State Nittany Lions return from their sanctions without permanent damage done, and the Nebraska Cornhuskers or Minnesota Golden Gophers can provide further balance to the strength of Wisconsin in the West. It's still not good enough, though.
The only thing that will redeem the Big Ten is for Ohio State and Michigan to reassert themselves on the national stage. All of this evil began when, following Ohio State and Michigan's historic Game of the Century in 2006, one was drubbed by USC in the Rose Bowl and the other by Florida in the National Championship Game. Michigan, then-ranked #2 in the country to open the next season, lost to Appalachian State and Ohio State suffered a brutal defeat to LSU in the 2008 National Championship, and the country has forgiven neither of them for it. Ohio State has recovered better than Michigan. The Wolverines have struggled mightily for the better part of a decade now and aside from a solid, 11-2 season in 2011; their recent campaigns under Brady Hoke have produced eight and seven wins each, which are nothing to sneeze at, but those would have been classified as disappointing or rebuilding seasons in Ann Arbor only ten years ago. Ohio State has, since the start of 2009, fought then-powerful Texas to a draw in the Fiesta Bowl only to lose in the final seconds and defeated potent Oregon and Arkansas teams in the Rose and Sugar Bowls, even if one of them has been vacated, but the country still looks at the Buckeyes skeptically. The only thing that will redeem the Big Ten--and I do mean only--is for Michigan to right the ship and get back to winning nine-to-eleven games every season, whether under Brady Hoke or somebody else, and for Ohio State to go into the heart of the South in January and pummel the SEC Champions in a playoff game. (And in the interest of doing this quickly, it makes Braxton Miller's injury all the more devastating this season.) You may be right that the Pac-12 has overtaken the Southeastern Conference, but only the SEC will do here, because the country and especially the South perceives it as the more dominant league.
Sure, the Spartans, Buckeyes, and Wolverines can't strike out this weekend, either, but even if they succeed, it's no cure for what ails the Big Ten.
EV
: Also, relegate Purdue. That would help too.
MK
: ...but who else will provide
a mascot to terrify all the small children east of the Mississippi River
?
Anyway, I'm filing this one away for future use. I'm definitely building a hypothetical regional relegation system for the Power Five in a future week of
Tailgating
.
GAMES OF THE WEEK
Each week of the regular season, we'll be picking about five of the premier matchups on the slate. Instead of picking against the spread, to make things more interesting we will be wagering confidence points, a common method of scoring in bowl game pools. The more one of believes in his pick, the higher the confidence rating. For example, if five games are chosen, five is the highest rating, with one being the lowest. Each number can only be used once. The highest number of points wins, each week and at the end of the season. Despite Brian having the weekend off, he still managed to submit his picks for publication, though Evan will be taking his place in the game capsules and providing his own predictions, as well.

All games listed take place Saturday, September 6, 2014.
#14 Southern Cal at #10 Stanford
3:30 ET, ABC
MK
: The Trojans travel up to The Farm this weekend for a game both of these teams are likely to desperately need down the stretch of their conference schedule. Most preseason publications have the Trojans and the Cardinal each as the presumptive #2 in the South or North Divisions of the Pac-12, and while a loss won't snuff out conference title hopes for either team, it will dim them considerably. Since the Harbaughs massacred the Carrolls in 2009, 55-21, the last four meetings have been decided by a total of points (Stanford 37-35 in '10; Stanford 56-48 in '11 in 3OT; Stanford 21-14 in '12; USC 20-17 in '13). USC's victory last season is also what gave us ED ORGERON WAVING A SWORD!
It figures that this is also the game that we, collectively, are the least certain about. Brian and Evan expect Cody Kessler to the better of Kevin Hogan in this battle of junior quarterbacks, while I expect Stanford to make it five out of the last six for the Cardinal against the Trojans.
EV's pick: Southern Cal, 23-17. Confidence points: 1.
MK's pick: Stanford, 24-21. Confidence points: 2.
BW's pick: Southern Cal, 24-14. Confidence points: 2.
#6 Michigan State at #4 Oregon
6:30 ET, Fox
EV
: The all-time series between these two teams is tied at 2-2, so call this the rubber game!! The last time they met was the opening week of the 1999 season, when A.J. Feeley's Ducks fell to Plaxico Burress's Spartans. I expect the game to be well-fought, but I just don't think that MSU has quite enough to keep up with Oregon in Autzen. If there's any quarterback in college football who can unlock Pat Narduzzi's defense, it's probably Marcus Mariota.
EV's pick: Oregon, 31-21. Confidence points: 4.
MK's pick: Michigan State, 26-20. Confidence points: 1.
BW's pick: Oregon, 33-20. Confidence points: 4.
Michigan at #15 Notre Dame
7:30 ET, NBC
MK
: Just like the first two games, I'm alone on this one and it's starting to make me nervous. This one has gone to the home team in the last three meetings, and the return of Everett Golson, the quarterback of their 2012 national runner-up team, from an academic suspension in 2013 is a welcome one for the Irish faithful. Despite Brian's expectations for Devin Gardner this season, the strength of both of these teams is on the defensive side of the ball, with the Wolverines boasting one of the best units of linebackers in the nation (led by #47, Jake Ryan) and the Fighting Irish contributing an outstanding secondary. Still, we all expect points in this Saturday night matchup in South Bend, and the last installation of Michigan--Notre Dame for the foreseeable future.
EV's pick: Michigan, 31-24. Confidence points: 2.
MK's pick: Notre Dame, 34-28. Confidence points: 5.
BW's pick: Michigan, 27-24. Confidence points: 3.
BYU at #24 Texas
7:30 ET, FS1
EV
: If I hadn't seen him playing last week against UConn, I wouldn't be entirely sure that Taysom Hill wasn't still running all over Texas's defense like it was going out of style. I might have picked the Longhorns to come out victorious here, but that was before it was announced that David Ash would not be playing due to another concussion he suffered last week against North Texas. Even then, Tyroone Swoopes was going to be a tough pill to swallow considering that Charlie Strong suspended both of UT's starting offensive tackles for an "unspecified violation of team rules." The Longhorns will now have an offensive line in this game with a combined four career starts. Hook 'em.
EV's pick: BYU, 31-17. Confidence points: 3.
MK's pick: BYU, 37-21. Confidence points: 4.
BW's pick: Texas, 31-17. Confidence points: 5.
Virginia Tech at #7 Ohio State
8:00 ET, ESPN
MK
: Ohio State, under redshirt freshman J.T. Barrett, sputtered early last week against, before taking over in the fourth quarter and extending the lead to produce a twenty-point victory in Baltimore; despite how close the game was until the final ten minutes, this was an outcome that was bubbling below surface well before then, even though Navy had chances to build a lead and make Ohio State fans sweat. All the same, we should be reluctant to draw too many conclusions about Barrett and the Miller-less Buckeyes this season, as they debuted against Navy and I'll guarantee you that Ohio State will see no team that resembles the Midshipmen in size and system for the rest of the season. In the much same vein, J.T. Barrett threw to wide open receivers all game, and Virginia Tech's outstanding defensive backfield will doubtless be harder for the new quarterback to manage. The Hokies rolled over William & Mary last week, but 6-29 all-time under Frank Beamer against Top 10 teams. Virginia Tech travels to Ohio Stadium, where Urban Meyer still has not lost. Evan and I just see too many weapons in scarlet and gray, while Brian has pulled the lever the upset in Columbus.
EV's pick: Ohio State, 28-17. Confidence points: 5.
MK's pick: Ohio State, 26-10. Confidence points: 3.
BW's pick: Virginia Tech, 22-19. Confidence points: 1.
UPSET SPECIAL
The upset special is an off-the-board pick which must meet one of two criteria: (1) a consensus gap in rankings of at least five places or (2) a point spread of at least a touchdown or greater. Games between ranked and unranked teams automatically qualify. The underdog cannot cover but must win outright. A correctly pegged upset earns three additional confidence points.
EV
:There are quite a few ranked teams that are traveling on the road this week to play some unranked teams, and I think one of them in particular is ripe for an upset. That's why I'm calling my shot and saying that the #24 Missouri Tigers will fall this week to the
Toledo Rockets
by a score of something like 27-23. Mizzou struggled for a while at home last week to South Dakota State; and while SDSU is a really good FCS team that's more than capable of beating quite a few FBS squads, they shouldn't have been able to hang around as long as they did against a team that's as good as Missouri is supposed to be. I predict that Kareem Hunt has a big day on the ground for Toledo and he pushes the team to victory.
MK
: Hey, everybody, Evan is going with
some #MACtion
! I'm tempted to do the same, as I see the Akron Zips--under coach Terry Bowden, legitimate contenders for the Mid-American Conference and with the experience of playing Michigan within an inch of their lives last year--heading into Happy Valley as two-touchdown underdogs against a Penn State team fresh off a last-second victory over Central Florida and trans-Atlantic flight from Dublin! Things are really lining up for the Zips! On the negative side of the ledger, Akron hasn't beaten a Big Ten team since 1894, back when Michigan was still teaching Notre Dame how to play football. I think Akron will petrify Penn State but come up just short again, so give me the experienced and athletic
East Carolina Pirates
, who under the leadership of former Texas Tech assistants Ruffin McNeil and Lincoln Riley, have been running the Air Raid for four years going on five. I like them to exploit the #21 South Carolina Gamecocks' awful pass defense in Columbia and hand the other USC their second straight loss at home.
Brian, by the way, was not as impressed with Tennessee as Evan (or I) was in their performance against Utah State, and is tabbing the
Arkansas State Red Wolves
to upend the freshman-heavy Vols in Knoxville.
OVERALL RECORDS (Games of the Week record; Upset Special record; total points)
BW: 5-0; 0-1; 15 points overall
MK: 4-1; 0-1; 14 points overall
Evan Vracar and Matt Kocsan are both staff writers at FootballPros.com. Evan, our resident Ravens fan, has yet to publicly comment on what exactly Ray Lewis is doing in his new statue outside M&T Bank Stadium, while Matt is wondering how he ended up trading in a Steelers fan for a Ravens fan this week. Brian will be back next week, provided he can show his face here after the Browns humiliate his beloved SteePFFFFFFFFFFFFFFFHAHAHAHAHAHAHAHA, I'm sorry, I couldn't finish it. You can follow us on twitter @roca_star (Evan), @kocsan (Matt), and @FPCommish (Brian).