MK:
This week, at long last,
Tailgating
returns to its original format: five good questions, five games for the week, and one upset special. This week we tackle some regional rivalries and the state of the SEC, while also ranking the best one-loss teams in America and showcasing four magnificent Big Ten runningbacks.
Oh. And listen to Tammy, y'all.
FIVE GOOD QUESTIONS
1.) Our weekly, hypothetical question: if you could go to any college football game played this Saturday, where are you going and why?
MK:
So, I get to lead off this week, and most weeks that don't feature a major state-of-Mississippi matchup this season, I've found myself scrambling to pick something. It's been a great college football season and maybe it hasn't felt this way for everybody, but there have been a number of weeks—especially when I've been picking first—without a matchup that's just jumped out at me and grabbed me and said, 'You have to go here, if given the chance.' Here's how I sorted my options this week.
—
Alabama at Tennessee
: I've always wanted to see a game at Neyland Stadium, so that's nice. Knoxville is a sufficiently nice backdrop, east Tennessee is pretty country, and there's even sailgating—yes, you read that right—due to the stadium's location on the Tennessee River.
Factor in, too, the whole Third Saturday in October (well, fourth, this year) Rivalry between two historic SEC programs and this should be a pretty appealing option. Unfortunately, the most notable thing about this is probably the Lane Kiffin—Volunteer Fan feud, which should be much more entertaining than the game. The Tide look poised to roll over a Tennessee team whose best win came against Utah State and couldn't even beat dysfunctional Florida. I have to pass.
—
Ohio State at Penn State
: I'm sure Penn State fans would make this Buckeye feel very welcome (note: I do not believe that)...
BW
: Absolutely, we would...
MK
: ...but I already played my ridiculous homer card last week. Nah.
—
Wyoming at Colorado State
: I do love me some Mountain West and here's a nice little border war rivalry dating back to 1899. Plus, the Cowboys have a quarterback named Kirkegaard (first name not Søren, unfortunately) and the Rams might be the best 6-1 team you aren't hearing much of anything about.
—
Southern Cal at Utah
: Here's a game with a lot of potential in the Pac-12 South, which might be on its way to becoming the most interesting division in college football this season. Unlike the SEC West, which is apparently full of hegemons who will take over the entire College Football Playoff or something, everyone who could still end up in the driver's seat that I'm looking at here—Arizona, Arizona State, Utah, even Southern Cal—is more or less a dark horse this season. The Utes, though, have a spate of appealing matchups coming in November, though, and I think I might save them for later.
So, send me to Fort Collins for the Battle for the Bronze Boot! Yes, the Wyoming Cowboys are only 3-4, but two of those losses were at Oregon and at Michigan State. Colorado State quarterback Garrett Grayson—and that name does make him sound like the quarterback of Colorado State, doesn't it?—is among the most efficient in the nation, in large part due CSU wide receiver Rashard Higgins, who is second in the nation in receiving yards and touchdowns, while still in the top ten in catches. And, as a lover of the idea of Wyoming, Fort Collins is just a stone's throw (in western state distances, anyway) away, and what's more, looks lovely. Send me there.
BW:
There's no place like home. Obviously, this article is strictly hypothetical, which allows Matt and I to pretty much go wherever we please, but sometimes, the comfort of home is all we need.
MK:
Oh, you're doing that thing I did last week. Not that there's anything wrong with that.
BW:
My view is obviously biased, but there's nothing quite like a college football Saturday in the fall in Happy Valley.
Without rehashing the details, I've mentioned before on more than one occasion that my favorite ever sporting event that I've attended was the 2005 original White Out game between PSU and Ohio State. The atmosphere was unlike anything I can ever remember, and that includes attending an NLCS game at Three Rivers, and the Mario Lemieux-as-owner comeback game where they pulled his number from the rafters prior to taking the ice. Despite all of that, nothing has ever been as electric as when Tamba Hali strip-sacked Troy Smith to seal the win.
MK:
You know, I never actually saw that game. I had a shift that night at the restaurant I worked at during college, and it was a slow enough night that I could bounce back into the kitchen and listen to the radio a bit, but that was about it.
BW:
I will fully admit that I don't harbor much hope for my Nittany Lions this weekend, but I'm allowing myself one home game per year with this question, and this week is that week. I'm drinking in the Big Ten Autumn weather, throwing on my white Larry Johnson throwback, loading up the RV, firing up the tailgate, bouncing to Zombie Nation...
MK:
Yeah, I am really happy I did not choose this Penn State game.
BW:
...and spending my Saturday night hanging out with about 110,000 of my closest friends in Beaver Stadium. Go State! Beat Buckeyes! WE ARE!!!
MK:
Ugh, you know, my high school's rivals did that 'WE ARE!' CLAP-CLAP 'THEIR NAME' cheer, and I always thought it was dumb. Who else would you be?
2.) On the SEC, Part I: why is most of this conference actually a chaotic mess?
BW:
I find myself trying to not overreact one way or the other on the SEC, but it's hard. Thanks to the popularity of college football, particularly in the south, their recent success on the national landscape, and polarizing persona, it is impossible not to have a strong opinion on the SEC.
To answer your question, I think this ad probably sums it all up:
MK:
I don't understand. Are they trying to say this poor woman is like Lane Kiffin?
BW:
I get that Tennessee feels like it should be an SEC power, and that their climb back to the top has taken longer than they had hoped (go Rocky Top!), but shouldn't their anger be directed more at the fools who let Phillip Fulmer go, and less at a Lane Kiffin, who has always had a history of writing checks that he's had no desire of ever cashing.
MK:
And really, shouldn't they just be happy that Lane Kiffin was an abysmal failure at USC and he will unless he goes on to win national championships and Super Bowls—plural, of each—be best remembered for being fired in the most ridiculous, embarrassing, and public way possible?
BW:
Do those people really think that had Kiffin shown a commitment to Tennessee (which would have been a first for him), that they'd currently be a National Title contender? Someone once said that you don't know what you've got till it's gone. Cue the sappy love song and a big fat picture of Phil Fulmer's face.
MK:
OH! OH! I'VE GOT THE PERFECT THING!
BW:
It's not like the rest of the SEC East is much better. The most stable team in that division is clearly Georgia, but they're suddenly dealing with an RB who's all over Instagram, but MIA on the field. Whether or not it's fair that college athletes aren't compensated for autographs/likenesses is one discussion, but it's not like it's a major secret that violating the rules for selling autographs will get you suspended. Here's an idea—follow the rules, work hard, stay on the football field, earn the degree that the nice man in the polo on your sideline extended to you, and earn your keep when the time comes. Will Muschamp is pretty much proving himself to be Ron Zook 2.0. Florida can still get the talent, but without an alpha dog coach to effectively eliminate the stench of even one year of Charlie Weis on that staff, no one needs to take them seriously.
MK:
Yeah, and Tennessee couldn't even beat Florida. Florida, who allowed only 119 yards of offense against Missouri and still managed to give up 42 points to the Tigers. And it's not even the first time Will Muschamp's Gators have given up 120 yards or less and lost a football game.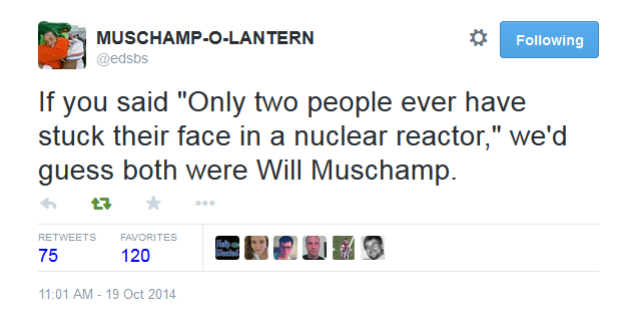 BW:
A&M started the season overrated, thanks to the lingering effects of Jonathan Pigskin, and became even more overrated when the nation watched them destroy equally overrated South Carolina on opening night. At this point, can we even say that beating A&M is a quality win? Somewhere in College Station, there are a couple of co-eds making out to that comment. Those people will make out to just about anything.
MK:
Speaking of making out, I'm pretty Alabama just scored again.
BW:
Speaking of making out, I'm 93% certain that Bill Clinton once took Monica Lewinsky to an Arkansas game. There's also a 78.7% chance that statement is untrue.
MK:
There are so many things I could say, all of them inappropriate.
BW:
Arkansas once thought it was a smart idea to hire Bobby Petrino. They followed that up with John L. Smith. Because Arkansas is Arkansas.
LSU is essentially an NFL factory at this point, and while that's fine, they have so much roster turnover, it's almost like they're becoming to college football what Kentucky is to college basketball. See, Kentucky. Another SEC team. The SEC is the devil.
MK:
Wasn't there a movie called
Devil in a Blue Dress
a few years ago? Maybe during the '90s? SEE WHAT I DID HERE?
3.) SEC, Part II: Does that undermine the credibility of, say, polls that put four SEC teams in the top five? Or does it mask some latent weakness in the SEC?
MK:
Yes and yes. Obviously, if we're in the business of projecting, there's no way this current Top 5 can hold, considering: (1) EGGGGGGGGGG BOOOOOOOOOOWWWWWWWLLLLLLLLL; (2) AAAAAARRRRRRNNNNNN BOOOOOOOOWWWWWWLLLLLLL; (3) Alabama and Mississippi State have yet to play; and (4) Ole Miss and Auburn have a date, too. One of these teams may well have three losses by the end of the season, and in fact it's altogether likely that one of the teams from Alabama will.
Of course, rankings to my mind are primarily a snapshot of the present, and that's fine, but looking at the SEC, their teams are jumping around and up and down through the polls like frogs on hot asphalt. The SEC had eight teams in the preseason Associated Press poll, and I only spy three squads that are within five places of their original rankings: Alabama, Auburn, and Georgia. Whether they're much better—Mississippi State was unranked at the beginning of the year, and they currently sit atop both major poll—or they're much worse than we originally thought—as in the case of South Carolina, Texas A&M, LSU, and Missouri—college football's mandarins have obviously and consistently misjudged the Southeastern Conference.
Granted, I don't think any one of the teams at the top is bad, although I do think Auburn is the weakest of the four by a considerable margin. I do think, though, that a conference that gets the benefit of the doubt now at all times because of its depth should have that depth called into question some and with it the precedence they receive.
BW:
I think we both agree that the two Mississippi schools are properly ranked at this point, and have been the two most impressive teams in the country. It's also really hard to argue against Alabama as a top 5 team, considering their talent pool, their recent history, and the Sabanator.
Four teams is clearly a bit much. Yes, Auburn made a run last year, but I'd argue that last year was a down year for the SEC. How else does a team like Mizzou, and a team in Auburn that was coming off of a winless conference season, including 2 shutout losses, make the SEC Championship? In my mind, in order to rate Auburn highly, you have to also overrate LSU, since that was their most impressive win by far. And really, LSU nearly lost to Florida, so are they even all that good?
MK:
Let's just not get into what this would logically mean for Mississippi State, who's shot up the polls on the basis of impressive wins at LSU (ack!) and at home over Texas A&M (ugh!) and Auburn (argh!).
BW:
The SEC on the whole is becoming a weaker conference than it was a few years ago. I made a basketball comparison in the previous question, and I'm going to take it one step further here. The media, specifically ESPN, gets way too caught up in recruiting rankings when it comes to both football and basketball, and I feel like that's what causes them to overrate some of these teams. Clearly the SEC, top to bottom, brings in more talent than any other conference, in no small part to lax recruiting restrictions that passive-aggressively encourages the unethical practice of over-signing. In basketball, the teams that kill it in recruiting often struggle to find consistent success on the court due to constant team turnover. In fact, since the advent of the one-and-done, we've seen more teams like George Mason, VCU, and Butler make a run in the NCAA tournament, and crash the Final Four party.
Football is not a one-and-done sport, so we often times overlook the impact that losing kids early to the pros has had on various programs. However, football is a sport where experience tends to trump raw ability. To start the year, Alabama was transitioning at QB, lost a couple of kids on the OL, and had only five returning starters on defense. LSU had only five returning starters on offense. Meanwhile, Ole Miss had a very good defense last year, and returned nine starters on that unit. Mississippi State entered the year as the most experienced team in the SEC with sixteen returning starters. Perhaps the constant turnover among the top teams is starting to take its toll, playing a big part in the overall weakening of the SEC, and in turn, is opening the door to some of the more experienced teams in conference.
4.) There are too many one-loss teams to count. Would you like to propose a top ten of only one-loss squads?
BW:
I fully expect that eventually both Mississippi schools will join this list as well…
MK:
If they lose in the same weekend, Tailgating may have to take a week off.

BW:
…but with each of their resumes, I'd be shocked if at least one of them isn't still in contention for a spot in the SEC Championship once that Egg Bowl rolls around. FSU and Marshall are the two most likely to finish the season unbeaten, but while an undefeated FSU is a lock for the playoff, there's essentially no chance Marshall sneaks their way into the Top 4.
There are fifteen major conference teams that currently have exactly one loss. That list doesn't include independent Notre Dame, and Group of 5 schools East Carolina and Colorado State.
Of those eighteen, I think we can safely eliminate four schools from the discussion. Colorado State and East Carolina are both very good teams, and Garrett Grayson and Shane Cardin have both had terrific seasons, but I just can't put either into my 1-loss Top 12 ahead of so many other quality teams (although if I didn't have to go to a high school game next Saturday, I'd totally be heading to Philly to check out ECU against Temple). Let's also eliminate Duke…
MK:
[sobs]
BW:
…for reasons of weak conference and Minnesota from the discussion, although Minnesota has a chance to jump up the rankings in quick order if they close the year with wins over Iowa, Ohio State, Nebraska, and Wisconsin. That leaves fourteen teams fighting over our Top 10 spots.
1.) Michigan State
—I probably shouldn't put them over Oregon, but that game was so last month, and I truly believe they're the best 1-loss team in the country on a neutral field.
MK:
I can't disagree with this that strongly, for reasons that will soon be apparent.
1.) Alabama
—If they lose again, they'll probably be near the bottom of my two-loss team rankings, because I seriously don't believe the Tide cares when the national championship isn't on the line any more.
BW:
Didn't Nick Saban all but admit as much last year?
2.) Georgia
—I love the schedule, I love the defense, and I love them even more if (when) Todd Gurley comes back. Other than the teams from Mississippi, they're the best positioned team in the SEC to finish with 1 loss.
MK:
Ah, I see. You're projecting a little bit more than I am, I suppose, in this, whereas I went with more of a where-are-they-right-now approach. I agree with everything you've written, but I don't put them this high until I see Todd Gurley back in uniform.

2.) Michigan State
—
BW:
Tom Izzo is the greatest.
3.) Oregon
—Marcos Mariota is the best player in the country, and their performance against UCLA impressed me greatly. I'd be shocked if they don't run the table the rest of the way.
MK:
I wouldn't be.
3.) Notre Dame
—Does this, um... rub you the wrong way, Brian Kelly?
BW:
Bill Clinton has chimed in on said "rub"...
4.) Ohio State
—Wait, what? They got caught indoctrinating a new QB against Virginia Tech, and among a wave of negative B1G talk around the country, have become forgotten about. But while you were sleeping, they've avg 56 points per game since that loss, and JT Barrett may earn himself a trip to New York by the time it's all said and done. And yes, I think they beat Alabama and Notre Dame on a neutral field.
MK:
I hate it when we agree.
4.) Ohio State
—[Whistles inconspicuously.]
BW:
Either everyone was too soon to write off the B1G, or we're ripe for Ohio State to lose to Penn State, and Sparty to get taken down by Meatchicken.
5.) Alabama
—THE SEC WEST IS AWESOME!!!! Yes, it's the best subconference in football, and yes Alabama has the history, but their performance over a possibly bad Texas A&M notwithstanding, I'm not sure they're better than Ole Miss, MSU, or Georgia on a neutral field.
MK:
Eggs > Iron, am I right?
5.) Auburn
—I guess this puts them... I don't know, ninth-ish in a real poll?
BW:
Talk to me in 3 weeks.
6.) Notre Dame
—I've never been a fan of the Golden Domers at all, but they impressed me greatly against Florida State. I came away from that game feeling like they may actually be the better team. They're probably slight underdogs against the 4 teams above them on the list at this point. If only the Michigan State rivalry hadn't taken a two year hiatus…
MK:
You and I agree, it
was
pass interference, by the way.

6.) Georgia
—Thank God this isn't like 1993, or there would be so many Gurley Man jokes. If he was playing still.
BW:
And we are so above making any "Gurley Man" jokes. Are those birds chirping?
7.) Baylor
—They may not be able to stop anyone, but I agree with Matt who last week in the comments section talked about how tough that trip to Morgantown is on the rest of the Big 12.
MK:
Only teams that can stop a high school's offense can ride this ride.
7.) Oregon
—I finished this poll at halftime on Friday night, when Oregon Cal by ten. Cal, who gave up 734 passing yards in a game earlier this season. They won, 59-41, but God.
BW:
Forgive me, I was in High School in 1993. Those things were funny back then. Wait, when did we move on to Oregon?
8.) Auburn
—Perhaps I'm exerting a little overcorrection bias, but Auburn doesn't strike me as being nearly as good as last year, and their schedule the rest of the way is brutal.
MK:
That is true. And is Kansas State the best team they've beaten all year? S-E-What?
8.) Big XII Team Who Wears Purple
—Both of these teams are flawed. One of them has Bill Snyder, though.
BW:
Put me firmly in the TCU corner.
9.) TCU
—I'm on record as saying that they run the table and win the Big 12, so I think they're on the rise, and still have a shot at sneaking into a playoff situation.
MK:
I prefer other purples.
9.) East Carolina
—Yeah, I read your intro and I put them here anyway. They're still around, you guys.
BW:
They also struggled with UConn on Thursday night.
10.) Arizona State
—I consistently get caught underrating them, but their dominant win over a team as physical as Stanford last week does enough to get them onto this list.
MK:
And a second time:
10.) Arizona State
—I feel like I'm breaking a rule putting a team that gave up 62 on this list, but they were without Taylor Kelly. Who obviously doesn't play defense, but still.
BW:
Are we both saying that the B1G, at least at the top of the heap, is better than both the Pac-12 and Big 12?
MK:
It wouldn't be the first time.
5.) Speaking of the Big Ten, the conference boasts the four leading rushers in the country as of this writing and the only four thousand-yard backs in major college football so far this season. Of those runners, which do you want on your team?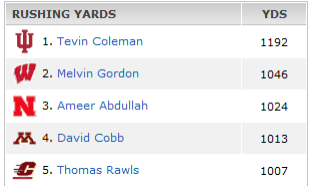 MK:
(Yes, Duke Johnson got to 1000 yards on Thursday night. He plays in the ACC. Not our problem and this question is still valid.)
This is actually an extraordinarily difficult question to answer, because you're dealing with four very different backs playing in four fairly different systems. Here's the quick run-down, though.
Tevin Coleman (6'1", 210) is of a fairly classic build and is the nation's leading rusher with 1192 yards thus far this season, playing Indiana's fast-paced offense. With five remaining games and eight hundred yards to go, he's probably not a legitimate threat to get to 2000 rushing yards. Unlike last year's great college runningback that no one paid attention to until about Week 10, Andre Williams, Coleman has caught seventeen passes, including a big-gainer which set up the Hoosiers' game-winning touchdown and upset at Missouri.
Melvin Gordon (6'1", 207) is of a similar build to Coleman and is blazing fast like Coleman, but plays in a Wisconsin offense which rarely passes to runningbacks. My pre-season pick for Big Ten Offensive Player of the Year after Braxton Miller's season-ending injury in August, Gordon just might be the best back in the country not named Todd Gurley.
Ameer Abdullah (5'9", 195) looks kind of like a small ox, and saved Nebraska's season with a miraculous fifty-yard catch and run against McNeese State early this season, in the midst of the Big Ten's awful, terrible, no-good, very bad weekend when Michigan State, Ohio State, and Michigan got dropped in varying degrees of embarrassing losses. He boasts three 200-yard games this season, but could get more than 45 in over twenty carries at Michigan State, though he is the major college leader in rushing touchdowns with 16.
David Cobb (5'11", 229) is your father's Big Ten runningback. The Golden Gophers play a deliberate, plodding style of football with plenty of double-tight sets and wingbacks and the like under Jerry Kill; they've also given the ball to Cobb 189 times already this season. The senior from Killeen, Texas, is the least flashy by a mile, but he shouldn't be overlooked on this list either.
BW:
Cobb is a beast, and Coleman and Gordon are both speed-merchants, but in today's day and age, I'll take the all-around skills of Ameer Abdullah every day of the week.
Abdullah was basically an afterthought as a recruit, mainly due to his smallish size. He's also the youngest of 9 kids, so he's always had to fight for everything he's gotten, and I say fight in about as positive a way as possible since Abdullah has not had any off-the-field issues of which to speak. He slipped through the cracks of recruiting, but has developed into one of those whatever-it-takes backs with toughness, elusiveness, and some real football speed. Earlier this year, Abdullah passed the great Johnny Rodgers as the career leader in all-purpose yardage at Nebraska.
Abdullah reminds me a bit of one of my all-time college favorites in Warrick Dunn, who always played bigger than his size. He has great versatility out of the backfield, but what makes him stand out is his ability in the open field. Abdullah has a bevy of ankle-breaking moves at his disposal, and has an uncanny ability to maintain his burst as he maneuvers his way down the field. Most of the greatest RBs of all-time weren't necessarily the most talented runners, but had an innate ability to feel the game, and to know exactly what to do to get the necessary yardage. Walter Payton is the all-time example of a guy who had the instinct necessary to allow his production level to surpass his skillset. I'm not sure how Abdullah's game will translate to the NFL (I think he'll be an excellent pro, even if not the prototypical lead back), but in college, he's very much that type of runner. If I need 3 yards, Abdullah's getting 5. If I need a big play, Abdullah's putting the team on his shoulders, and going 58 yards to help salvage a victory. He's a football player in every sense of the word, is a genuine leader, and has become arguably my favorite college player to watch (considering it's Nebraska, that's saying something).
MK:
It's hard to go wrong here, isn't it, and doesn't this ultimately come down to scheme? Personally, I value speed in the backfield, and my head is telling me that I'd be insane not to pick Coleman or Gordon. But to your point about football players, doesn't Cobb just look like a football player that want on your team?
BW:
He's in that Lawrence Maroney/Marion Barber III mold.
MK:
Minnesota is almost sure to beat Illinois tomorrow, and then if they get past Iowa, as you've said they'll close out the year with three huge games against Ohio State, Nebraska (which may very well be for the Big Ten's West Division title, come to think of it), and Wisconsin. There's about a 100% chance I'm going to one of those when it comes around to Question #1 again.
...yeah, it's hard not to take Coleman. Vision, speed, size? Yes, he has a gaping hole on that left side, but look at the way he weaves through the defense and leaves no one with an angle to catch him even though Penn State players start their pursuit within fifteen yards of him. Jesus.
BW:
You had to do that to me, didn't you?
GAMES OF THE WEEK
Each week of the regular season, we'll be picking about five of the premier matchups on the slate. Instead of picking against the spread, to make things more interesting we will be wagering confidence points, a common method of scoring in bowl game pools. The more one of believes in his pick, the higher the confidence rating. For example, if five games are chosen, five is the highest rating, with one being the lowest. Each number can only be used once. The highest number of points wins, each week and at the end of the season.
#22 West Virginia at Oklahoma State
3:30 ET—ESPN
MK:
One-thousand and eighty-four miles separate Morgantown, West Virginia and Stillwater, Oklahoma, and yet that is the distance the Mountaineers must travel to play a conference game this weekend. While I've suggested the newly-ranked squad from just below the Ohio River may have benefited from their geographic position in their home upset of Baylor, I believe Clint Trickett and the sixth-ranked passing attack in the nation have gun and will travel, as the Oklahoma State Cowboys have struggled with some mediocre teams already this year. Brian, however, has sensed the opportunity to call the upset.
BW's Pick: Oklahoma State, 37-34. Confidence points: 1.
MK's Pick: West Virginia, 45-26. Confidence points: 1.
Michigan at #8 Michigan State
3:30 ET—ABC
BW:
When it comes to rivalry matchups, usually all bets are off. Usually. Michigan is coming off a win over Penn State and a bye, but Michigan State has owned the Wolverines since Mark Dantonio took over in East Lansing. Sparty surrendered -48 yards rushing to Michigan in last year's 29-6 beatdown in Ann Arbor. This year's game is in East Lansing, Michigan can't score, and the MSU's offense is among the most prolific in the country. Uh-oh.
BW's Pick: Michigan State, 48-7. Confidence points: 5.
MK's Pick: Michigan State, 33-10. Confidence points: 5.
#3 Ole Miss at #24 LSU
7:15 ET—ESPN
BW:
LSU enters this game on a mini-roll, with back-to-back wins @Florida (30-27) and vs. Kentucky (41-3), and Death Valley at night is a notorious house of horrors for opposing teams. Opposing teams, that is, from outside the state of Mississippi. Don't let the final score mislead you, Mississippi State dominated LSU in their trip to Death Valley last month, and LSU also has a 34 point loss to Auburn on their resume. I do think this is a dangerous game for the Rebels. LSU can control the clock with a very good running game, and they also have an excellent defense. But the Ole Miss defense is even better, and Matt and I both trust Bo Wallace at this point, even on the road, over Anthony Jennings.
BW's Pick: Ole Miss, 33-24. Confidence points: 3.
MK's Pick: Ole Miss, 20-10. Confidence points: 4.
#13 Ohio State at Penn State
8:00 ET—ABC
MK:
This will be J.T. Barrett's first serious road test, as the redshirt-freshman's maturity and the emergence of Ezekiel Elliot at runningback for Ohio State have impressed both of us in these last few weeks. Penn State, meanwhile, has only played two game in the past month, but lost both them in ugly contests against Northwestern and Michigan. Still, a night game in Happy Valley should probably scare us a little more than it is in our predictions.
BW's Pick: Ohio State, 37-17. Confidence points: 4.
MK's Pick: Ohio State, 41-30. Confidence points: 3.
#20 USC at #19 Utah
10:00 ET—FS1
BW:
Following 2 straight road victories over UCLA and Oregon State, Utah heads home for a crucial battle in the Pac-12 South against the Trojans. The Utes have played only 3 conference games, and their next 5 games are against USC, @Arizona State, Oregon, @Stanford, and Arizona. With USC already sitting at 4-1 in conference, the Utes can't afford a loss this week if they want to maintain their outside shot at a surprise berth in the Pac-12 Championship. Utah has been great at stopping the run, and lead the nation in putting pressure on the QB with 33 sacks, but face a stiff test against QB Cody Kessler and RB Javorius Allen. Kessler is on fire, putting up 7 TD passes last week, and an 18-1 TD/INT ratio this season. Meanwhile, following benching Travis Wilson for their matchup last week against Oregon State, the Utes are going back to Wilson for this week's game. While Matt likes the Utes at home, I feel that the ineptitude of the Utah passing attack is the difference in this game as USC pulls off a huge road victory.
BW's Pick: USC, 27-20. Confidence points: 2.
MK's Pick: Utah, 23-20. Confidence points: 2.
UPSET SPECIAL
The upset special is an off-the-board pick which must meet one of two criteria: (1) a consensus gap in rankings of at least five places or (2) a point spread of at least a touchdown or greater. Games between ranked and unranked teams automatically qualify. The underdog cannot cover but must win outright. A correctly pegged upset earns three additional confidence points.
BW:
When a traditional power with a new coach gets off to a slow start, it's easy to go a bit over the top and write that team off for the rest of the year. It's in our nature to kick a team when they're down, and that's exactly what happened early on with Texas this season. However, the Longhorns have quietly started to play much better football, and while they haven't pulled off Charlie Strong's first signature win, they have come close vs. UCLA and Oklahoma. The Texas offense has shown signs of life over the past couple of weeks, thanks to an OL that is getting a little better week by week, a solid corps of RBs, and the improving play of Soph QB Tyrone Swoops. The Longhorns take on Kansas State, who's coming off an emotional 1 point win over Oklahoma last week. The Wildcats are in 1st place in the Big 12, but have a very difficult schedule ahead. This could be a bit of a trap week for K State, and Texas is too talented to not take advantage. Charlie Strong finally gets that signature win as the
Texas Longhorns
shock the #11 Kansas State Wildcats in Manhattan.
MK:
That, and you were really optimistic about Texas at the start of the year and (like all of us here) are kind of stubborn and you still want to jam that square peg in the round hole. It goes without saying that I have not been very good at calling these this year, and while I see a lot of potential candidates out there, I'm very reluctant to pull the trigger on, say, Maryland over Wisconsin or South Carolina over Auburn. I'll float over the very mediocre ACC and tap
North Carolina
, whose university and athletic department have just had a disastrous week with that whole fake-class thing, to go up to Charlottesville and knock off the Virginia Cavaliers. This, incidentally, will probably be the last time I pick against any group of Cavaliers for the next decade. Ish.
Matt Kocsan and Brian Williams are staff writers at FootballPros. They do this every week. Follow them on twitter @kocsan (Matt) and @FPCommish (Brian).