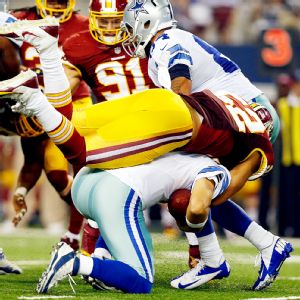 We're back again this week, with another jaunt around "The Week That Was: NFL Week 8".
Denver 35, San Diego 21
- its very hard to beat Peyton Manning. Its even harder to do it in Denver. Manning took advantage of a banged up Chargers defense and hooked up with newcomer Emmanuel Sanders for 3 TD's. Sanders is only 106yds from having his best year of his career, and its just week 8. Phillip Rivers simply couldn't keep up with Manning, tossing 3 TD's but 2 interceptions. It's Manning's 16th season with 20 or more touchdown passes.
Detroit 22, Atlanta 21
- it had to be an uncomfortable flight home for Mike Smith and the rest of the Atlanta team, blowing a 21 point lead to a Megatron-less Detroit team. It tied for the biggest blown lead in Atlanta Falcons history. The Falcons have just been getting killed in the 4th quarter of their last 6 games, being outscored 70-7. Detroit finally got a kicker to seal the game for them, with Prater hitting the game winner as time expired. They almost weren't so lucky though. Prater missed the kick initially, but was able to kick it again after a controversial delay of game penalty on Detroit gave him a second chance.

Cincinnati 27, Baltimore 24
- great back and forth game in Cincinnati. The Bengals controlled much of the game, but like the first game in week 1, they gave up the lead late to Baltimore. And like the first game in Week 1, Andy Dalton and the offense responded by getting the lead back. On the Bengals game winning drive, 5 starters on offense were watching from the sidelines. Baltimore came into the game with the #1 scoring defense. Joe Flacco is now 7-7 all-time against the Bengals, throwing 18 interceptions to just 13 TD passes with a passer rating of 69. His two interceptions Sunday were key in the loss for the Ravens.
Buffalo 43, New York Jets 23
- When Kyle Orton throws 4 TD's in one game, you know your team is in trouble. The saving grace for the Jets had been their defense, but even that's faltering. On the flipside, Geno Smith threw 3 interceptions. So naturally you turn to Michael Vick...who added three turnovers of their own. Sorry Jets fans, there seems to be no light at the end of this tunnel. The Bills in the meantime are 5-3 and in the thicket of the AFC playoff race.
New England 51, Chicago 23
- the Bears were embarrased, and should be embarassed. This team has far too much talent to be playing like it has lately. The Patriots just keep rolling, having been dominant in 4 straight games. Gronk is back and is a monster. Brady tossed 5 TD's to 3 different receivers.
Miami 27, Jacksonville 13
- give the Jacksonville defense credit, they played well, and have played generally well all season (they are #2 in sacks, #1 in redzone defense and #11 in run defense), but 2 Blake Bortles INT's were returned for touchdowns, which was the difference in the game. Ryan Tannehill and the Miami offense struggled on the day, but ultimately made less mistakes than Jacksonville.
Seattle 13, Carolina 9
- something is wrong in Seattle. They won this week, but they did it in very unimpressive fashion. Neither offense was impressive in this defensive struggle. If there's one bright spot for the Panthers, it was the return of Jonathan Stewart who had a solid day. Kelvin Benjamin also turned in another fine performance. Russell Wilson led his team down for the game winning FG, but it never should have come to that against a Carolina defense that has struggled much of the season.
Minnesota 19, Tampa Bay 13
- nice win for the battling Zimmers who at this point are just trying to make it through the season. So too are the Bucs, who have pretty much their entire team on the trade block. Fitting for a Zimmer coached team that a defensive struggle was decided by a defensive TD in overtime
Houston 30, Tennessee 16
- Houston was paced by Arian Foster who had a big day on the ground with 151yds and 2 TD's. Foster also added a TD reception from Ryan Fitzpatrick. Zach Mettenberger had a decent enough debut for Tennessee. About as good as you could realistically expect, 27/41 299yds 2 TD's and 1 INT, but he got no help from his running game or defense. It will be interesting to see how the Titans handle the QB spot going forward.
Kansas City 34, St. Louis 7
-Alex Smith was his usual efficient self (24/28 226yds) and got a bunch of help from his RB's, with Jamaal Charles and Kniles Davis combining for 3 TD's. St. Louis, was St. Louis. Austin Davis was sacked 7 times on the day and didn't get a lot of help on the day. Davis struggled throwing the ball downfield on the day, going just 2 for 7 for 56yds and an INT on thros over 10yds in the air.
Arizona 24, Philadelphia 20
- Philly's defense let them down again when it mattered most. The Cardinals defense on the other hand continued to show they are one of the best in the league. Foles was pressured on 6 of his final 7 dropbacks, going just 1-6 on them. Carson Palmer completed less than 50% of his passes, but connected with his WR's on two deep touchdowns that was enough for the victory
Pittsburgh 51, Indianapolis 34
- Ben Roethlisberger turned in a career day as the Steelers upset the Colts Sunday. Ben was 40 for 49 for 522 yards and 6 touchdowns while no interceptions. It was truly one of those "in the zone" days. The Colts defense couldn't get any pressure all day, and their secondary struggled to cover. It didn't help that they lost their best CB in Vontae Davis on the day, but I'm not sure it would have mattered. Andrew Luck didn't have a bad day, but hurt his team with 2 interceptions and a safety. He did however throw 3 touchdown passes and was 4 of 6 for 107yds on deep throws. He simply couldn't keep up with Ben on this day.
Cleveland 23, Oakland 13
- like a few other games we saw on Sunday, this was a game that no one really was all that interested in winning. Oakland blitzed Hoyer on 43% of his dropbacks, and Hoyer handled it well got 9 for 12 for 101yds and a TD. Cleveland has to be concerned about losing Jordan Cameron to another concussion however. Their offense had already become shaky after losing Alex Mack. They can't afford to also lose Cameron, who is currently their best offensive weapon. Cleveland had been relying on their running game much of the year but managed just 39 yard on 25 rushes. Incredibly, Matt Schaub threw his first pass of the season on a fake punt...and it was intercepted. It's been just that kind of season for Oakland. Darren McFadden averaged 4.9ypc but only received 12 carries.
New Orleans 44, Green Bay 23
-Drew Brees arguably had his best game of the season going 27/32 for 311yds and 3 touchdowns. All 3 touchdowns came while being pressured. Aaron Rodgers was lighting the Saints up early (203yds in 1st quarter), but he injured his hamstring that slowed him down and he just didn't seem right the rest of the game. He was picked off twice in the game and the Packers 4 game win streak came to an end. The Packers struggled defending the play action pass on the day. Brees was 6 for 6 for 142yds and 2 TD's.
Washington 20, Dallas 17
- Washington went into Dallas and emerged with a victory, in part because Tony Romo missed time due to injury. At one point we saw Brandon Weeden vs Colt McCoy, which must have made Browns fans squirm. For some reason the Cowboys didn't ride DeMarco Murray like they have been all season. He had just 19 carries, despite the fact he was averaging 7.4ypc on the night and passed 1000yds in just the 8th game of the season. Colt McCoy was calm, cool, and efficient on the night going 25/30 for 299yds and an interception. It was the highest completion percentage ever for a Redskins QB who threw at least 30 passes in a game. Romo did return late in the game which was a controversial move. Romo clearly wasn't close to 100% and had already been sacked 5 times. Brandon Weeden had led the team to 10pts to tie the game while Romo was out of the game.
What Stood Out To You This Week FP?