This column has been appearing weekly during college football season for over a year now, and we're proud of the work that we do here and have built up a quasi-institutional vocabulary and set of topics we love. The Egg Bowl (EGGGGGGGGGGGGGGGG BOOOOOOOOOOOWWWWWWLLLLLLLL!!!!!!!!!!) wasn't our first love, and while we're thrilled CBS will be picking up the game this season and putting it on national, network television this year, we love the esoteric and the obscure in the sport as much as the obvious and the grand.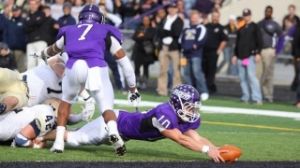 Last year,
in an answer to our traditional, hypothetical first question
, I elected to go to a Division III college football game between the Mount Union Purple Raiders and the John Carroll Blue Streaks. The two small-school, northeast Ohio football powers, who both entered the game 9-0, played a barnburner ending in a Mount Union victory, 42-34. In a battle of second-year coaches, Tom Arth leads his Blue Streaks back to the scene of the crime in Alliance, Ohio, to take on Vince Kehres's Purple Raiders. Much of what I wrote about last year's game still rings true:
Originally Posted by
Matt Kocsan
I'll be rooting for the Blue Streaks again this year, for reasons of patriotism, and think Mark Myers and his crew from the Jesuit university of some 3,000 undergrads may just pull it off this year. Next weekend, we'll visit the Ivy League for one of our Games of the Week, and may treat with some of the lower-division playoffs in addition to our usual and comprehensive coverage of major college football.
This week's
Tailgating
is divided into two pages, in an effort to be more user-friendly, require everyone to scroll a little less, and let readers jump to topics which interest them. We welcome reviews of the format.
On Page 1 (this one), you'll find our first three questions. We take on where we're going this weekend in college football if time and money were no object, the race for the Big Ten West, and the futures of Bob Stoops and Les Miles. On Page 2, you can read our short take—we promise!—on TCU, Baylor, and the Big XII's place in the upcoming College Football Playoff as well as our assessment of the Florida State—Miami rivalry, past and present, and our weekly pick 'em contest.
We hope you enjoy it as much as we do bringing it to you. Grab a beverage, adult or otherwise, and settle in. We'd love to hear from you.
FIVE GOOD QUESTIONS
1.) Brian, you get to lead off this week. If you could go to any college football in America this weekend, where are you heading and why?
BW:
There are certain games on a college football schedule that jump off the page. Sometimes, those games are obvious from the very beginning, and sometimes, they manifest themselves as the season progresses.
This week, we have one such game that stands above the rest. Although it feels like it's been forever, this is only Nick Saban's 8th year in Tuscaloosa, and it's only been 5 years since Nick Saban won his first championship with Alabama. Over the past 5 years, Alabama has become the gold standard of college football, winning 3 titles in a 4 year stretch from 2009-2012. This year, despite a late loss to Ole Miss, Alabama is priming themselves for a spot in the playoff, and a run at his 5th championship (one shy of Bear Bryant), and 4th with the Crimson Tide.
As Urban Meyer's former QB coach and OC, Dan Mullen is no stranger to Nick Saban and Alabama. He's also no stranger to National Championships. Mullen was the OC at Florida for their championship runs in 2006 and 2008, the latter featuring the Tim Tebow-led team that beat Saban's undefeated Tide in that year's SEC Championship. It was following that game that Mullen was hired at Mississippi State with high expectations. Six years later, Mullen's teams have had some success—they've appeared in bowl games the last 4 seasons and have won 3 of them, but this year's 9-0 start is certainly uncharted water for the Bulldogs.
Mississippi State enters this game ranked #1 by merit, but Alabama is the favorite, and the team most feel is actually the best in the country. While this is not a 1 vs 2 matchup by name, it certainly has that feel. The atmosphere inside Bryant-Denny is going to be off-the-charts. Whether Mississippi State, who survived Death Valley earlier this season, is up to the task is anyone's guess, but with the winner being the odds-on favorite to represent the SEC West in the conference championship game, and almost certainly represent the SEC in the initial playoff (no matter what happens in the Egg Bowl, should MSU win), the stakes are way too high for me to even consider passing on Mississippi State's trip to Alabama.
MK:
Well, you've already picked out what, by any rational standard, has to be the best game of this week, and it's not for lack of competition. Mississippi State's first big road test since their ascent through the polls, and their first game against a powerful opponent since their tilt with Auburn in Starkville over a month ago? If there's a place with a chance for a big moment—a Heisman moment, perhaps?—anywhere in college football this weekend, it's in Tuscaloosa, where the Bulldogs will be trying to clear college football's hegemon of the last half-decade in a place they haven't won since 2006. Well-chosen.
I'm torn, because while I think Ohio State's trip to Minnesota may be the most interesting—at least potentially—of the games on the schedule, this space isn't an excuse for Buckeye homerism from me. I can do that when I make my picks, after all. I will be staying in the Big Ten, though, as I'm heading to Madison to watch the Wisconsin Badgers play host to the Nebraska Cornhuskers. This is a deceptively strong matchup, featuring two of the best runningbacks in the country and two elite defenses; what's more, with Nebraska and Wisconsin both at 4-1 in the Big Ten and this game should go a long way toward setting the tone for the Big Ten's West Division these next weeks, and may even determine who represents that half of the conference in the Big Ten's Championship Game on December 6 in Indianapolis.
Camp Randall is an impressive venue, too. It is not only imposing and inhospitable for visitors and boasts a stirring, evocative legacy the state's history. The site of an army camp where Wisconsin's Union Army troops mustered and were trained before participating in the American Civil War. The stadium itself is quite a modern design, but you'd be hard pressed not to feel at least some amount of connection to the past and what the place meant.
Forecast calls for about thirty degrees at kickoff and a chance of snow. I'd better bring a coat.
2.) Speaking of the Big Ten West, is that division, against all odds, about to become the most exciting in the country to watch in the month of November?
MK:
Well, so far this season, the main divisions for excitement have the SEC West and the Pac-12 South. The four-headed monster of the State of Mississippi and the State of Alabama have kept things tight and interesting throughout the year, but at the end of the day Mississippi State just has to take care of business against Alabama on Saturday and they should more or less be in the clear to represent the division in Atlanta. The Pac-12 South, too, could become a crazy circus of contingencies if Arizona State loses one of their remaining games, but not before then.
Exciting is a relative term, I guess. Can I sell you on some heavily-used but durable old-timey running games and some punishing defenses? Or, very probably, lots of announcers talking about corn-fed offensive lines? What about three of the best runningbacks in the country? I've got something for you, then.
We have three teams at 4-1 in Big Ten in this division, with 3-2 Iowa lurking behind them and still with a role to play in all of this. Observe:
| | | | |
| --- | --- | --- | --- |
| Schedule | #16 Nebraska | #20 Wisconsin | #25 Minnesota |
| November 15 | @ Wisconsin | Nebraska | #8 Ohio State |
| November 22 | Minnesota | @ Iowa | @ Nebraska |
| November 29 | @ Iowa (Fri.) | Minnesota | @ Wisconsin |
As you can see, the three teams in contention—and the fourth, Iowa, is very much in the rear view mirror—can't really discuss who has it easier or harder as they all have to play each other down the stretch in quasi-playoff games with conference title hopes on the line. (Minnesota, we must concede, has things considerably harder with the Ohio State Buckeyes coming calling this weekend, but there's still plenty of opening for the Golden Gophers to earn a probable rematch against Urban Meyer's crew even if they can't spring the upset at home.)
Things got started in earnest last week with Minnesota's 51-14 boomsticking of the Iowa Hawkeyes at home, but there's a lot to watch in this half of the Big Ten, but there are a bunch of fun stories to watch here. First, Wisconsin's Melvin Gordon—whose backfield from Madison rushes for 325 yards per game—leads the nation with 1501 rushing yards, and with three games to go and a possible fourth in a conference title game, he's the only back in the country with a legitimate shot at 2000 yards for the season. He does stuff like this, a ghost of Big Ten Championship Games' Past (.gif above).
Bo Pellini's Huskers are 10th in scoring offense (40.4 points per game) and 16th in scoring defense (19.7 points per game) and have only lost to a very good Michigan State team but still have habitually been passed over by the College Football Playoff Committee. Minnesota may be the weakest of three on paper, but they have to be the easiest to root for, as they haven't even won a share of the conference title since 1967 and haven't won it outright since 1941. Also, their coach, Jerry Kill, who's overcome epileptic seizures to build a solid program at Minnesota, does stuff this like after wins.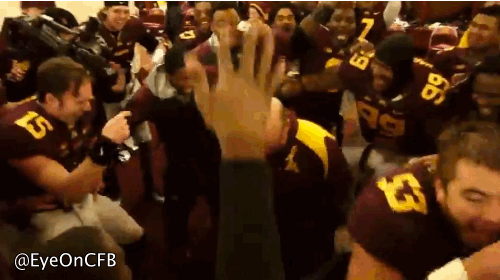 Finally, all of this is happening without Bret Bielema at Wisconsin, who bolted for the greener pastures of the SEC and has yet to come through with a conference win in thirteen tries at Arkansas. Maybe he gets one, but eat your heart out, boyo.
Sorry, I'm not sorry.
BW:
Yeah, thanks for that…
Obviously we're both Big Ten homers, so I greatly appreciate your relative fervor with regard to the Western Division, but I've got to go with the glass half-empty approach.
MK:
Wait, what? Maybe I should have mentioned this.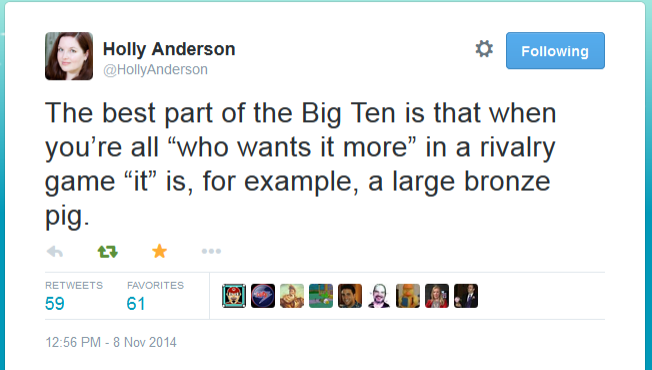 BW:
My hope is that one of the three teams you mentioned sets themselves apart, but I'm not confident in that happening.
Minnesota plays first on Saturday, and while they're clearly the underdog in this whole scenario, it's really tough to get fired up for a team that provided Illinois with only its second conference win since Ron Zook departed following the 2011 season. The win over Iowa was impressive, but one of two things is going to happen on Saturday. 1.) Minnesota loses at home, saddling them with a 2nd conference loss. Even if they would then go on to beat both Wisconsin and Nebraska, both on the road, in consecutive weeks, they'd then have to face Ohio State again in the Big Ten Championship. Considering their (hypothetical) loss to the Buckeyes, Ohio State's faint playoff hopes would be all-but dashed without a potential blue (or at least turquoise) chip opponent in the Big Ten Championship game. And even if Minnesota pulls off the unthinkable and wins the B1G Championship, they still wouldn't get to play in their first Rose Bowl in over 50 years, thanks to the Rose Bowl hosting a national semi-final contest. 2.) Minnesota upsets Ohio State on Saturday, further proving the national storyline of the "dumbification" of the Big Ten, no matter what else happens from here on out.
Nebraska is the team with the most to gain, both for themselves and for their conference. And yes, college football fans everywhere should be excited by their matchup with Wisconsin this weekend. The Abdullah-Gordon matchup is what likely decides the game, and could very well be a battle to see which of the two gets to represent the RB position in NYC for the Heisman ceremony. Even with just 1 loss, it's pretty clear that for all intents and purposes, Nebraska has no shot at making the playoff. But it certainly can play a large role, assuming it can maneuver its way past Wiscy, and ultimately into becoming the West's representative in the B1G Championship. Nebraska is the one team that can give Ohio State a boost, and a 1-loss Husker vs. 1-loss Buckeye showdown would be a major saving grace for the conference. But this is also a Nebraska team that looked severely overmatched against Michigan State. That said, a Nebraska win on Saturday, coupled with an OSU win, is clearly the most exciting option for the conference, and would bring some real life to their matchup @Iowa to close the regular season.
Wisconsin is probably the best team of the group as of right now, but that's more reality than perception. The Badgers lost their true viability when they fell to Northwestern. That was QB Joel Stave's first game of the season, following missing the month of September due to the "yips", and he played pretty terribly with 8 completions and 3 INTs in just 19 attempts. The Badger defense is quietly the #1 total defense in the land, yielding less than 3 yards a pop on the ground, and under 50% completions. They are also in the top 5 in rushing, led by the sensational Melvin Gordon. If they win these 3 games, they'll creep up the rankings a bit, and potentially give Ohio State a quality opponent in the B1G Championship. It's just really hard to get the taste of their early season struggles out of my mouth.
3.) Who is more likely to have a new job next season: Bob Stoops or Les Miles?
BW:
I guess I can start by saying that I find it to be unlikely that either of these guys has a new job next year. But the answer is Les Miles.
Despite the Sooners not meeting expectations this year, Stoops' teams find themselves consistently at the top of the Big 12 standings, and any discontent with the fans is misplaced, and only temporary. Stoops has shown no indication in the past that he wants to leave, despite being one of the most sought-after commodities in the game, and I don't see that changing this offseason. Stoops has been in Norman for 15 years, but is still only 54 years old, so a change of scenery in the near future isn't entirely out of the question. Considering his ties to the University of Florida, I'd expect that
if
the Gators move on from Will Muschamp, Stoops would be at the very top of their short list. But what incentive would Stoops have to go to Florida? Is that even a lateral move for him at this point? If he wants a challenge, the NFL makes the most sense for him, but I can't see that happening either. Bob Stoops is going nowhere.
As for Les Miles, he's not nearly as entrenched at LSU as Stoops is at Oklahoma. He's also dealing with a fan base and Athletic Department that I'd guess would be less tolerant than what Stoops deals with at Oklahoma. Stoops is easily the most successful coach in the Big 12, while Les Miles is clearly lower on the totem pole in the SEC than Nick Saban. Plus, at 61, Miles is not on the NFL radar, and time is starting to run out on his ability to make that one final big move.
Plus, Miles is a bit of a flirt.
MK:
Phrasing...
BW:
I have it on good authority that Les Miles showed late interest in the Penn State job when Bill O'Brien was hired a few seasons ago. Miles wasn't seriously considered, mainly because his interest wasn't shown until after PSU had narrowed its list of candidates to a final 3, but some level of interest was definitely there on his end. Miles has also been linked on multiple occasions to the Michigan job, a job that will be open once again within the next month. Miles is a Michigan grad, with ties to both Bo Schembechler and Lloyd Carr, and considering where the program currently stands, would be considered a savior in Ann Arbor. Getting out of the shadow of Nick Saban, along with the challenge of rebuilding a storied program while facing old-foe Urban Meyer, a rising Penn State, and reclaiming the throne within the state that has recently been stolen by Sparty, could be the catalyst that finally causes the mad-hatter to make that leap.
MK:
Yes, it's unlikely that either coach will be relieved of his services after this year, since these two coaches have a combined total of four seasons in which they haven't won ten games at their current institutions: two each, if we don't count Stoops's 7-5 season in 1999 when he first took over the job because it was a mulligan, so let's not. Anyway, he won the national championship the next year, an amazing feat in and of itself considering the shape Oklahoma's program was in when he arrived. Rationalism, however, hasn't prevented a
recent spate of articles
about how it may be time for a change in Norman or how Bob Stoops himself may benefit from moving on.
This is baseless speculation on my part, but the program I wonder about is the one you mentioned in conjunction with Les Miles: Michigan. Miles's connection to Michigan, insofar as I can figure is overplayed. He's linked to Lloyd Carr, but he's reputed to be despised by him, too. The events of the end of the 2007 college football season and two-loss LSU's miraculous ascent to the National Championship Game may have prevented us from getting any real sense of the situation, since coaches simply don't walk from the chance to win a national title. That's a career-maker. Stoops's connection to Florida is an obvious one, and if that job becomes open--as I tend to think it should--then he would fit in there very nicely and he could give the impression of coming home. Still, a lot of people overlook the fact that Stoops was born and raised in Youngstown, Ohio. A product, like Bo Pellini, of Youngstown's mid-size football powerhouse, Cardinal Mooney, Stoops played his college football at Iowa. He makes an obscene amount of money at Oklahoma (over $5M per season), but if there's any program that could be desperate enough to match that kind of offer, at this point it has to be Michigan.
I'm not sure Stoops listens, but he's turned around a grand dame who's aged badly before, and with remarkable speed. Many coaches who've done that believe they're entitled to never have to do that again, and they're right. If Stoops wants to leave Florida, there will be easier, softer landings. If Michigan had Stoops and Stoops had a quarterback, though, all the sudden the Wolverines would be very dangerous. That's all.
Les Miles, meanwhile, is never getting that Michigan job. He's successful enough at LSU that he's not in real danger, but his team was blown out twice this year, he's lost a lot of headscratchers, and I'm not also sure he really cares about having good quarterbacks on his roster. (Note: I was not a Mettenberger fan, either, and if that's the best you can do, well, wow.) Also, this, because we have to post it:
Y'all just got Lane-Kiffined, Les.
CLICK BELOW AND TO THE RIGHT TO GO ON TO PAGE 2