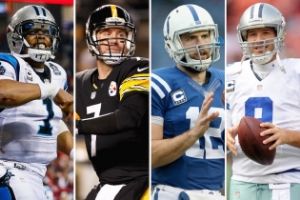 This week, Team W&L is going to pick all four games along with, for the first time, all four over/unders. This should be interesting. We have an intra-division rivalry game, a losing team against a team starting its third string quarterback, the freaking Lions inept offense stomping into big D, and a Bengals team hell-bent on revenge at Lucas Oil Stadium. Time to make fools of ourselves.
Arizona @ Carolina (-5.5), o/u 38
RG:
I hate this line. Simply put, though, I cannot trust a bad quarterback on the road in the playoffs. The ATS stats do not support my pick here. The Panthers didn't even cover in two of their final four wins they needed to reach the playoffs. Arizona was 11-5 ATS overall, the best mark in the NFL. Stanton is likely to be out for this game after missing Wednesday's practice. I think some fluke things are likely to happen when two defenses face somewhat suspect offenses (Arizona's stinks and we never really know what Carolina will give), so I expect some turnovers, a weird score of some sort and a close game before the Panthers put it away. If you can get the Cardinals at +6, take it.
Pick: Panthers, Over
PS:
It is hard to accept the Panthers as five and a half point favorites considering how stout the Cardinals' defense has been. Perhaps this is something of a mirage, though. PFF grades the Cards' D out at (-21.2) which is just 22nd in the league. Screw it. The wiseguys are far better at this than me.
Pick: Panthers, Over
MK:
The Panthers have gotten hot mostly by playing wretched teams--or at least teams that are performing that way--down the stretch, and unfortunately that is exactly how Arizona looks right in the opening game of this season's playoffs. The Cardinals, despite this stretch, still have the fifth ranked scoring defense in the league. I have major questions about Carolina's receivers' ability to get open that secondary, and while Jonathan Stewart's return has been a boon for the Panthers' rushing attack, this is an excellent defense against the run. Something just feels off about this game to me, as way too many people are all over a seven-win team, Ryan Lindley or not.
Pick: Cardinals, Under
Baltimore @ Pittsburgh (-3), over/under 46.5
RG:
The Ravens offense will be trying to find a way to keep up with the Steeler passing game that now supports the #1 offense in the league. The concerning thing that prior history points to a close game. Seven of 11 games have been decided by a field goal or less between these squads. The loss of Le'Veon Bell looms large and Joe Flacco has played well in big games before. If I was really betting this, I would stay away from the line and go for an over/under pick.
Pick: Steelers, Under
PS:
Same here, Rich. The Ravens team that showed up in the second half last week might be able to score some against a Steelers defense that is shockingly mediocre. The Ravens, on the other hand, have Pro Football Focus' second overall ranked defense and its best pass rush grade (+65.5). They should be able to harass Big Ben and maybe force a couple turnovers.
Pick: Ravens, Under
MK:
I'm not so sure, Pat. The Ravens lost to Case Keenum and were one bad break away from losing to Connor Shaw. I don't see them suddenly coming up huge against Roethlisberger at Heinz Field at night. If there was a dangling half-point here, I'd be worried, but there isn't and I'm not.
Pick: Steelers, Under
Cincinnati @ Indianapolis (-4), o/u 49
RG:
I think the Colts are vulnerable at home. The Colts pass rush has not been as impressive in the second half of the season. I can't ignore Andy Dalton's history or the fact that the Colts were 10-5-1 ATS during the season, but I like 4 points a lot more than 3 points in this game. I think the Bengals are a better team and could win outright, so you also take the points in that spot.
Pick: Bengals, Under
PS:
The Bengals have been running the ball much more effectively since the ass-whooping they took at the hands of the Colts in week seven. I think that makes a huge difference as they can play ball control offense and keep Andrew Luck on the sidelines. I do have concerns about A.J. Green. As of this writing Green has not practiced all week and is still under the thumb of the NFL's concussion protocol. If Green does not get the OK to play, this pick may change.
Pick: Bengals, Under
MK:
For all the talk about how the Colts may be vulnerable, they haven't lost to a team that's won fewer than ten games all season. I get that those are the teams you run into in the playoffs. Remember when the Colts shut out the Bengals 27-0 during the regular season, though?
Pick: Colts, Under
Detroit @ Dallas (-7.5), o/u 48.5
RG:
That extra half point is a jerk. A jerky jerk jerk. If Biggie met that half point, I would tell him to punch it instead of Jim Harbaugh (inside joke, folks, pay no mind). I have seen this at seven in places, but we go with the most common Monday/Tuesday lines, so this game might be easier to pick if you waited until now before deciding who you like. Personally, I hate the Lions offense more than I hate the Cowboys defense. I am showing a lot of trust in the Cowboys offense, though. They may have the best offensive line in the playoffs.
Pick: Cowboys, Over
PS:
I am interested to see how well this Lions defense travels in a big game. I am not interested to see how poorly the offense does not.
Pick: Cowboys, Under
MK:
The second-ranked rushing offense in the league meets the top-ranked rushing defense in the wild card round. In fact, Detroit only surrendered over 100 yards rushing last week for the second this season last week against Green Bay. We all hate the Lions' offense, though, and specifically the running game, which is among the worst in football. Dallas is exceedingly likely to control the clock, and we all know that time of possession is a worthless statistic until you run into one of those games where you've only had the ball for about eighteen minutes and had to kick a few field goals.
Pick: Cowboys, Over
Beer
Founders Brewing Company Dark Penance Black Ale
is a thing of beauty. Dark, hoppy and a little sweet thanks to a nice blend of Chinook and Centennial hops. This brew is not easy to find. So when you come across it, buy it.
Gametime Grub
MK:
Two weeks ago, I gave you all a fairly ornate take on chili, so this week I'm going incredibly simple. Here's
Black Pepper Crusted Pork
in brown butter. Pork, and pork tenderloin especially, is an excellent and cost-effective way to feed a lot of people, so you;ll want to consider this one for a party, if you're going for something slightly better than chili or sliders. You may think I'm phoning this recipe in until you make it. This one, believe it or not based on how uncomplicated this looks, deserves a hat-tip to a couple of friends in New Orleans, so I'll do that now and say, 'Thanks, Alix and Sarah.' Here's what you need, though:
1 Pork Tenderloin (or equivalent amount of pork chops--not sliced too thick)
2+ tbsp Butter
Kosher Salt
Black Pepper
First things first, season the pork. There's not a whole lot going on here, so it is absolutely imperative that you salt the pork very liberally--yes, all of it--and cover the meat in black pepper. (It doesn't have to fresh ground pepper as much as it should be black pepper.) You should know there's plenty of salt, but someone should look at the pork and say, 'Wow, that's kind of a lot of pepper.' Got it? Okay.
Take a good, broad, flat pan--enamel, cast iron, stainless steel, it doesn't really matter--and place it on your biggest burner and crank the heat to medium/medium-high. Add your butter to the pan, and allow it to melt completely. (You may consider adding just a drop or two of olive oil to the pan. Olive oil burns at a much higher temperature than butter, and as this will cook at sustained, high heat for a bit, you may want to be careful about that.) As the butter melts, make sure the bottom of the pan is completely covered with it. Once the melted butter begins to form bubbles and starts to turn brown in the pan, add your pork to the pan, cooking it on each side for roughly four minutes each on top of the stove at medium-high. (For instance, a pork tenderloin here will usually four sides for our purposes. Chops two. This will give you a nice, moist, yet-still-adequately-cooked piece of meat. You can cook each side for five minutes each if that makes you more comfortable.)
The most important thing while you're cooking, though, is not to touch the meat. I repeat: do not touch the bastard. Unless the pork somehow catches on fire--it shouldn't--don't touch it. Do not turn down the heat, either. (Turn on your vent if there's a little smoke.) Not screwing around with or moving your pork is the difference between a beautiful, brown, crunch of a crust and a drab, grey, limp and lifeless exterior. If you want to do this justice, leave the meat alone in the pan.
Serve however you like. I've always had good results with roasted vegetables--carrot, onions, mushrooms with garlic and thyme is a good standby. Rice or potatoes will do, if you like a starch. It does not require it, but a pan sauce is easy to make, too, with the residual grease after a deglaze with red wine, some more butter, rosemary and thyme, more salt and pepper, and a bit of flour to thicken it and some fresh parsley to finish it.
Or, for football party mode, you could also slice it thin and serve it on French bread with an aioli or a very good mayonnaise. The choices are all yours, as long as you don't touch it while it's in the pan.
STANDINGS
RG: Last Week: 4-4-0, Overall: 56-52-0
PS: Last Week: 3-5-0, Overall: 50-58-0
MK: Last Week: 2-6-0, Overall: 45-63-0