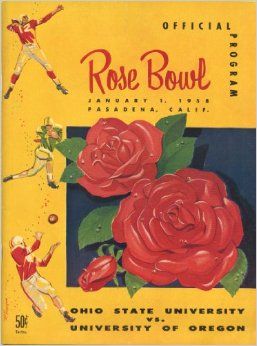 MK:
With both bangs and whimpers, one last game and one last tailgate for this season.
THE LAST GOOD QUESTIONS OF THE SEASON
1.) New Year's Day 2015 was, by any rational standard, a truly historic day for college football. What image of that day is going to stay with you, or most neatly captures the spirit of that day?
BW:
The lasting image for me is the Winston fumble that officially opened the floodgates for Oregon.
MK:
That's what I thought you might take, and is probably one of maybe five or so acceptable answers to this question. Here it is, in all its glory: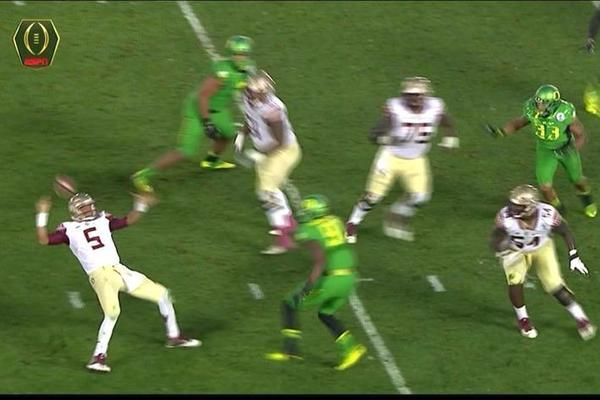 BW:
All year long we've known that FSU was a fractured team and that it was only a matter of time, and that was the moment it all came to fruition. To be fair to Winston, up to that point, his will was the only thing keeping them in that game, but that play symbolized the downward spiral, and led to some fantastically tempestuous moments captured on the sideline courtesy of Jimbo Fisher toward his highly touted QB.
MK:
...and the interwebs had so much fun with it, too. I can't remember too many other times when America was so united in the belief that it would be moral and just for one team to drop seventy on another college football team, and this moment symbolized all of that. Players fumble all the time. The ball has slipped out of a quarterback's hand for no apparent reason in big situations before--I'm sorry, Tony Romo, I'm sorry--but this doesn't usually happen with it:
Or this:
Or this:
Thanks to the
Houston Chronicle, by the way, for pulling all these out
so I don't have to spend like fifteen minutes in Photobucket making them presentable for the front page. There's plenty more where these came from, and more than that, too.
BW:
The other image that sticks in my mind is Ezekiel Elliott, roughly 20 yards from any Alabama defender, cruising into the end zone. Prior to that play, I think many were expecting Alabama to come up with the big play and find a way to pull that game out. When he broke through and scored, it was at that moment that full realization set in that the Tide were done, and Ohio State was going to the championship.
MK:
You're not wrong about that, but I'll have some more thoughts, as you might expect in a moment.
BW:
The moment that struck me the most was right before kickoff of Oregon--Florida State. In college football, there is no more important historical venue when it comes to big postseason games than the Rose Bowl. At that point, we had been hearing about the playoff for months, and I (we) was (were) one of the ones sort of scoffing at the NCAA and ESPN for the weekly orchestrated hype, but as soon as the championship games ended and the playoff field was announced, we knew it would be big.
MK:
You know, it's very difficult to actually find a picture of this, and I think I'm okay with that. I know exactly what you mean: everyone in full regalia, the western, California sun with all of its promise peaking out on your television between two windows showing the waning of a cold, winter's day back east.
And everyone takes a deep breath. I get it. (Did you happen to notice that, during the game, Kirk Herbstreit happened to describe watching the Rose Bowl in Ohio during his childhood in more or less
the exact same way I did last year?
And did above? Stick with us, guys and gals. We know things. Maybe not important things, but things.)
BW:
For one year, it was so nice to see some actual importance and urgency return to New Year's Day, so I think that the most memorable moment for me was the anticipation leading into the opening kick of the Playoff Semifinal at the Rose Bowl Game. The BCS made the end of the college football season anti-climactic in many ways. With the New Year's Eve appetizer (for this year, anyway), followed by the main course the next day, I thought it was about as perfectly put together as the NCAA could have hoped for. Plus, it's eliminated the year and a half gap between the conference championship games and the National Championship.
Of course, for the next two years, in perfect NCAA fashion, that's all set to change. With the Rose Bowl Game and Sugar Bowl both locked into their traditional New Year's Day prime-time slots, the 2015 and 2016 National Semifinal matchups will be the appetizers, each taking place on New Year's Eve.
MK:
Wait, what? That is the dumbest goddamn thing I've ever heard of in my entire life. It's, like, fifteen times more dumb than the league that wins the All-Star Game having homefield advantage in the World Series in Major League Baseball, and that is one of the top-five dumbest rules in the history of sports.
BW:
Who wants appointment television from 4:30-Midnight on NEW YEAR'S FREAKING EVE???? I'm going on record right now and saying that my moment from next year is the committee working their tails off to give us the best darned tootin' playoff matchups imaginable, and NCAA screwing it up by putting it on the wrong flippin' day. GIVE ME JOHN L. SMITH OR GIVE ME DEATH!!!!
MK:
I want neither to have my New Year's Eve plans--which typically include hanging out with old friends from high school and making fun of those year-in-review shows and New Year's specials--nor to have John L. Smith (nor death, for that matter). When I write about the past, which is what I do for, you know, a living, I like to discuss images because they're fun and rich and, while they are to some extent in the eye of the beholder, they're saying something very specific to people who speak the language the artist--or, in this case, the photographer--is using.
I think the Winston fumble is a huge moment on an enormous stage, and one that signaled a flood--the turning of the tide against Florida State, who's played so well and who's enjoyed so much good luck these last two years in the course of their thirty-game winning streak--as destructive as it was irrevocable and irreversible. If it leads to a national championship for Oregon tonight, it may go down as something like the Saints' onside kick in the Super Bowl XLIV. Perhaps Tracy Porter's pick-six of Peyton Manning later in the game is more appropriate. Not so much because it was in any way daring on the part of Oregon, but because it was a jerk you out of your seat moment against one of the game's current greats. (Just a reminder: no column has been more critical of Jameis Winston's behavior than we have. He's still been an amazing college quarterback on the field.) Oh, and I did this with it: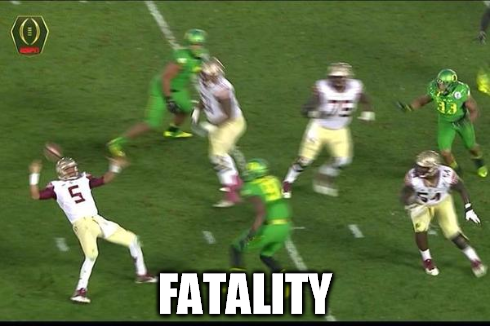 Since you mentioned meltdowns and blocked field goals and Michigan State (by invoking John L. Smith), it's worth mentioning one of my favorite moments of the day came in the Cotton Bowl, when Michigan State trailed Baylor, 41-35, with under two minutes to play despite having scored the game's previous two touchdowns. The Bears lined up for a field goal to go up nine and ice the game. The Spartans, though, managed a partial block of the kick and the deflection floated into the arms of a defense back, who took off running. Baylor's kicker Chris Callahan recognized the danger of an impromptu, jailbreak return right away; he followed his shot and took off running toward the ball. Despite his best efforts, he didn't quite have the right angle, and as the Spartan special teamer took the corner, he turned to pursue further, only to be on the receiving end of a devastating (and entirely legal) block that looked something like this (with my editorializing):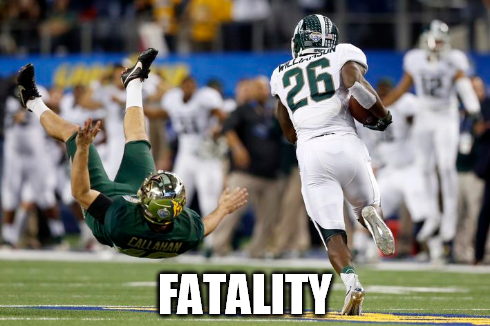 I don't mean to pick on, as I exhorted my family to watch the replay, 'the poor son of a *****' who took that hit, which had to feel like a collision with a freight train and which must have been exponentially harder than any crack I ran up against playing football in junior high. Michigan State still had to complete the comeback by scoring a touchdown, and that was a close-run thing, too, but it happened in the aftermath of Wisconsin's comeback victory over Auburn and the day after the State of Mississippi's desolation in the Peach and Orange Bowls, and it gave me a feeling that maybe--just maybe--the breaks were going to go the Big Ten's way that day and that night...
2.) Which is a nice segue into our second question: even for a program as storied as Ohio State, who entered the game as a nine-point underdog, where does the Buckeyes' Sugar Bowl victory over Alabama rank among the all-timers?
MK:
...because this is the real answer to the image I'll most remember from January 1, 2015.
Because every Ohio State fan I know was this guy. We were all nervous wrecks before kickoff, trying to convince ourselves that we'd been here before (and, in truth, we had, in more ways than one); we all had our heads in our hands as we had the ball inside Alabama's five yard line twice and failed to score a touchdown either time, and allowed easy touchdowns to the Crimson Tide following awful turnovers; we were relieved to get to halftime with the game at virtual tie after responding with two scores in the final three minutes of the first half; we were surprised to see that we had outgained Alabama by almost two hundred yards in the first half; we were delighted to take the lead on a deep pass to Devin Smith early in the third quarter; but it was right here--and I do mean right here, at this moment, even though I couldn't tell you the exact play that transpired before this shot of the crowd that's gone viral--that all of us rolled back our heads, let out a cry of joy, and finally said aloud that we just might win this game.
I'm a fan. I like to think I'm fairly detached and realistic--or at least as detached and as realistic as can be expected--when it comes to my own teams. I'm not sure quite how this stacks up against Texas's victory in the Rose Bowl over USC in 2006 or even Boise State's win in the Fiesta Bowl over Oklahoma in 2007. Would you believe me if I told you Ohio State was a bigger underdog, according to Vegas, than either of them? (They were. The Trojans came in minus-seven and the Sooners seven-and-a-half, while the Crimson Tide laid nine against the Buckeyes. For some perspective, in the 1984 Orange Bowl, which we profiled earlier this season, Nebraska gave ten-and-a-half to the Miami Hurricanes.)
Ohio State got down early, but rallied to score twenty-eight unanswered points. They had second-half touchdowns of 47 and 85 yards--the second being the clincher you already mentioned--as well as a touchdown pass on a perfectly thrown ball by a wide receiver coming off a reverse and a nearly fifty-yard return by a defensive lineman for a score. Ohio State had a cold war threatening to turn hot at any moment with Alabama's freshman punter, JK Scott, who kept the Buckeyes pinned deep in their own territory for almost all of the fourth quarter. We haven't even mentioned Urban Meyer's daring--and puzzling and quite possibly stupid--decision to heave it deep instead of run out the clock, or Alabama's late charge to try to tie the game and send it to overtime.
I don't know exactly where this fits on the all-time wins list, either for Ohio State or for college football at large, but I know these things. Programs like Alabama and Ohio State only meet once in a great while, and other than Florida State and Oregon earlier in the day, no two had met in exactly this fashion or with this much at stake. (At least in a literal sense.) What might set this game apart, though, is the way that it fits so neatly into the nearly decade old war between the Southeastern Conference and the rest of college football. As the SEC West's other top teams fell, if Alabama held on, there could still be some claim to primacy, or that they had been right all along, anyway. Teams like LSU, Alabama, Auburn, Ole Miss, and Mississippi State did not suddenly become bad teams. The SEC West is still quite possibly the best division in college football. A win, though, could have salvaged some of the conference's mystique, which dates to Florida's demolition of Ohio State in 2007. The symmetry!
You probably didn't really need to read my thoughts to know that, though. It's hard to explain the emotional energy Ohio State must have expended in this game, or at least the emotional energy I expended watching it. I'm concerned about whether the Buckeyes can hit the ground running against a very, very good Oregon team with a quarterback who, if he's playing well, can pick apart any defense in the country. (I think they will, with eleven days between games and having come so far, but it's impossible to know for certain.) Let's talk about something else. Or you talk, you still need to do that. One or the other, anyway.
BW:
For the first time, the #1 team in the country entering the bowl season is not playing for the national championship. That alone gives the Ohio State win some major historical significance. I feel like this is all a matter of perspective. Is it a good thing that the top seed is not playing in the first national championship to be decided by a playoff? The answer to that question has to be yes, otherwise, why have a playoff?
It also helps that the game was a legitimately great game, accomplished against the vaunted SEC's most storied team, and was pulled off by a team from this season's most heavily scrutinized conference, led by its 3rd string QB. We have to be careful not to take this out of its proper context. Ohio State's win was great, but will only be made more important by then beating Oregon tonight. If they lose, while the Sugar Bowl win will still be remembered, it will almost certainly drop a notch in importance.
A game does not have to be a championship game to live in infamy. The United States' win over the USSR in the 1980 Olympics occurred in the semifinals. It's interesting to think how the significance of that win may have been impacted had they then lost to Finland in the Gold Medal Game. In 1991, Duke faced an undefeated and nearly unbeatable UNLV team in the semifinals of the NCAA Basketball Tournament. The year before, UNLV beat Duke by 30 in the National Championship Game. With essentially the same teams playing the next year, Duke pulled off one of the most famous upsets of all time, beating UNLV in the semis before beating Kansas in a game few remember to win the National Championship.
In fact, the game doesn't even have to lead to a championship to have historical significance. In 1992, the Atlanta Braves won what has become one of the 5-10 most memorable games in the history of baseball, winning game 7 of the NLCS over (my) Pittsburgh Pirates with a 9th inning rally capped by a play at the plate. The Braves went on to lose the World Series that year, but all anyone remembers from that season is that one game.
Maybe Ohio State's win over Alabama will be the lasting image of the initial playoff no matter what happens tonight. If that's the case, then all-time, it will rank very highly, though I feel like it will rate somewhere behind those games I just mentioned. I also can't see how we can rank it ahead of the great "true" national championship games, especially games like Penn State--Miami in '87 or USC--Texas in 2006. But yes, I feel like this year's Sugar Bowl was a game that will ultimately stand the test of time.
CLICK BELOW AND TO THE RIGHT TO CONTINUE ON TO PAGE 2.