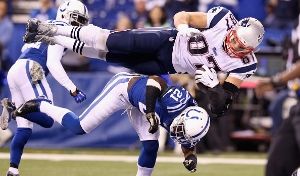 RG:
Unfortunately, it seems like the best is now behind us. I have always thought that the Divisional Playoff weekend is the best one of the entire season. Last weekend did not disappoint. The rest of the season often leads to boring affairs and blowouts in the biggest game. Yes, we have had good Super Bowls in no less than 7 of the last 10 years, but I can only hope that is the new normal and not a blip on what will soon be a 50 game radar. My boring pre-season picks almost went 4 for 4 for this juncture. For all the talk of parity around the NFL, the truth is that if you start your AFC playoff predictions with Indy, Pittsburgh, New England, Denver and Baltimore, you are off to a great beginning. In this round, I had Denver losing to New England (in Foxboro), which was denied by either old age or two torn quads. In the NFC, I had Green Bay losing in.... Seattle.
Let's take a look at this weekend.
SUNDAY, JANUARY 18, 2015
Green Bay at Seattle, 3:05pm-
Pick: Seattle 8-1
BW:
We start out this week with a rematch of the opening game of the season. I ended up watching that game in a way that everyone should be envious of-- on about a 13 inch TV screen in a hospital bed, hopped up on drugs thanks to some surgery from earlier in the day (thanks to what we refer to in the FP offices only as "The Great 2014 Tobasco Incident"). Perhaps my eyes decieived me on that night, and I know that I picked Green Bay, but I'm fairly certain that Seattle won that game rather handily.
Following that game, the Seahawks proceeded to lose 4 of their next 9 games, including a loss at home to the Cowboys, as well as on the road to San Diego, St. Louis, and Kansas City. This really wasn't a huge deal, except that at that time, I believe it left them sitting 7th in the NFC field, and they were looking a bit vulnerable. Since then, however, they've hit their championship stride, finishing the regular season with 6 wins, allowing less than 10 points in 5 of those 6, and less than 250 yards in each of those 6 games.
Green Bay obviously rebounded from that opening night loss and finished the season nearly as hot, winning 7 of their last 8, averagine 33 points per contest en route to the NFC North title and the #2 seed. Eddie Lacy was a big reason for their late surge, topping 100 total yards in every game during that stretch after reaching that total only once in his first 8 games. Of course, Aaron Rodgers has been as great as ever, with Jordy Nelson providing big plays, and Randle Cobb playing the role of a very explosive Mr. Reliable.
The Seahawks were actually outgained last week against Carolina, and I remain convinced that Carolina has the proper blueprint to beat them, the just made too many mistakes. Not that I can blame them, as that was the 10th time this year Seattle has forced multiple turnovers. For all the talk of Richard Sherman, Kam Chancellor was the best player on the field last week, not only with his intimidating presence, but also with his back-breaking pick 6 to close the show. Of course, none of this mentions the Seattle offense, and while Marshawn Lynch is clearly unstoppable, Russell Wilson's diverse game creates a nightmare for opposing defenses in and of itself.
The Packers beat Dallas, and their offense looked very good in the process despite Aaron Rodgers' infamous calf injury. The problem I see is that Green Bay had little shot at slowing down the Cowboys, getting worn down by DeMarco Murray, and allowing Romo to be about as efficient as we've ever seen from him in a big game. If not for the reemergence of that quirky catch rule that really needs to be addressed in the offseason (I have my thoughts), Green Bay very likely loses that game. Yes, the ref ruled correctly in overturning the catch, but common sense knows that Dez Bryant possessed that ball.
Anyway, I enter these things looking for a way that the underdog can win. Especially with Rodgers' limited mobility, I'm having a really hard time coming up with a reason that Seattle will lose. They're the best team in the league, and while Green Bay is an efficient offense, Seattle's specialty is forcing inefficiency. How does Green Bay stop Seattle's offense consistently? I can't find that answer, and despite GB being my preseason pick as the NFC representative in the Super Bowl, Seattle is playing the best football right now of anyone in the league. Give me Seattle, 31-20.
RG:
Let's talk about the catch in Green Bay. Yes, by rule, the play was ruled correctly. I will not lose sight of this, but it is clear that the catch rule is broken. For one, the idea of a "move common to football" is not defined while the language is specific for controlling the ball through contact with the ground.
Here is what I saw: Dez Bryant, one of the most athletic receivers in the league, caught a ball in good coverage. He got two feet down. He twisted in the air in such a way that the angle of his head saw the pylon. He was able to thrust his body toward the pylon. He realized he was going to be short, tried to secure the ball and it popped out when his momentum finally hit the ground. Yes, he
could
have just put a knee down at the three and we might be talking about something different this week. It seems to me that the only reason a catch didn't take place is because of the best players in football tried to score a touchdown after satisfying all the rules that make your eyes say it was a catch. That's wrong.
How do we fix it and prevent a bunch of fumbles? First, I am not sure if we need to do that if we keep the "football move" language and then define it as a few things: 1) A third step, 2) Goes out of bounds 3) Turns up the field 4) Dives.... whatever. It's not easy to define or fix, but there has to be something better than what we have now.
BW:
I wish there were a way to simply rule a catch based on common sense, but then that would eliminate the replay element, since there evidently can be no gray area when it comes to replay. I agree that the extremely vague "football move" language should be defined more clearly, and should give the benefit of the doubt to the receiver, but I'd even be fine with the receiver needing 2 hands or a knee/elbow/shin/etc, while maintaining possession through first contact, whether with the ground, or with the defender.
And while we're at it, why is the receiving of a punt governed differently than the receiving of a pass? A punt returner can catch a punt, be immediately hit, go to the ground, and if the ball comes free, it's dead. If the same rules applied as with a catch, shouldn't that technically be a muff, since the returner never completed the catch? But I digress... Please, continue.
RG:
With the game itself, I have a tough time coming up with something very innovative here. The season has come full circle. On the NFL's Opening Thursday, Seattle beat Green Bay 36-16. The game was played in Seattle. This game is played in Seattle. Why would the game be any different without some sort of unlikely flurry of turnovers for the Seahawks.
There are a couple of differences on Green Bay's side of the ball, though. Two are good and one is bad. First, Derek Sherrod is probably not going to be needed to fall on a fumble that leads to a third quarter safety. Eddie Lacy will probably do a bit better than 12 carries for 34 yards before leaving with an injury. The bad one is the torn/pulled/whatever calf of Aaron Rodgers.
Seattle isn't as good against quarterbacks who can run the ball. Normally, this puts Rodgers in a good position to be able to be successful against the Seahawks. Still, Rodgers did not have a good game while healthy during the "Fail Mary" nor during this year's game. He is 49-72 with a touchdown and an interception while averaging 5.2 yards per attempt during those two losses in Seattle. That YPA is a full three yards below his career average. He normally throws a touchdown every 15.4 attempts; an incredible number. In those two losses, he was sacked 11 times with his full mobility. What happens if Seattle can get to him?
Seattle is a much bigger threat to consistently bring a pass rush than Dallas was. If Seattle is able to bother Rodgers at all, then a few things will happen. Now, Green Bay will not have Rodgers under center very often, trying to buy him as much time as possible. If he is under center, Seattle will be looking to stop the slant, jump routes for a big play and will bring Cam Chancellor up closer to the line. Those things will also happen if Rodgers is unable to get the time to throw down the field. Of course, these are the types of things that the Seahawks did during the previous two games between them.
What happens when each team has a lead? It looks a lot better for Seattle than for Green Bay. The Seahawks gave up just 3.4 yards per carry overall (2nd in the league), but were more vulnerable to the read option plays; something the Packers will be unlikely to run. Eddie Lacy had less than three yards per carry before leaving the previous game between them. Meanwhile, the Seahawks are the best rushing team in the league; and it isn't close. They average 5.3 yards per carry, are the best at producing first downs on the ground and are third in time of possession. Green Bay has middling stats in all of those areas, topped by the 4.3 yards allowed per rush, a number in the bottom 12 of the league.
Is Aaron Rodgers and his receiving corps so good that they could pull off a win in Seattle? Yes. Can I see it happening
this weekend
without wonky circumstances? Not really. Seattle is a bad match-up for the Packers in their current state. Green Bay's defense relies on turnovers too much and are playing a team that has given the ball up just 14 times in 17 games. Seattle is built much better to protect a lead if they get it. I expect it to play out very similarly to the first game where the Packers kept it close until the end of the third quarter. Seattle 31-16.
SUNDAY, JANUARY 18, 2015
Indianapolis at New England, 6:35pm-
Pick: New England 8-1
RG:
I really hope that Peyton Manning can finally exercise his demons against Tom Brady. They don't have much of a running game, a pass rush that comes and a goes and an average special teams unit outside of Vanderjadt. Manning has to be sure that he doesn't completely go away from the running game as he has done in some playoff losses. Dominic Rhodes should not be forgotten.
BW:
(whispering)
RG:
Wait, what? This isn't a game from 2005? We are a full ten years beyond that? Where the heck have I been? Look, I saw that Reggie Wayne is still alive (in spirit) and I assumed. Sue me.
So, this Andrew Luck kid is pretty good. Forgetting about what anyone believes about the version of Peyton Manning playing for Denver, the Colts coaching staff must be commended for their game plan last weekend. Good coaches are able to identify weaknesses during the week and adjust their scheme to them. Some coaches will just rely on play calling and the scheme they normally run. In Denver, the Colts took a lot of the concepts from the Super Bowl and applied them to the field. Still, even Pagano and Co. could not have known that Manning's pass arcs would look like the deep frowns on the faces of all Broncos fans at the end of the game. Indianapolis' coaching staff had a good day and was able to overcome the few mistakes that Andrew Luck made. John Fox paid with his job for being out-coached in another big game. Fox's best years are probably behind him and we are a full ten years removed from the year of his best coaching job. I think it may be "buyer beware" time for prospective employers of him.
Like the above game, I am having hard time coming up with a lot of reason to believe in the away team here. I do think the game will be closer than the 43-22 drubbing that Andrew Luck took in Foxboro last year. He is a better quarterback and Pagano is growing as a coach. Still, the Colts are woefully out-manned in this game. Despite a relatively easy win on the road last week, Luck still threw a couple of interceptions. Sure, they were deep third down passes that amounted to punting a down early, but that doesn't mean there was anything particularly good about them. I find it interesting that the Pats clinched the game with a disguised coverage against Joe Flacco on a deep ball that I could see Andrew Luck falling for.
Earlier this season, New England went into Indy and beat them again, 42-20. They used the same power running tactics that they used during the playoffs last season. The games were eerily similar. In the playoff game, former-now-current Patriot, LeGarrette Blount bullied for 166 of the team's 234 rushing yards while scoring four touchdowns. During the regular season, Jonas Gray scampered for 201 of the team's 246 rushing yards while scoring four touchdowns.
Ultimately, it comes down not just to where the game is being played and the coach/QB pairings. I like Luck and Pagano a lot. I have sung their praises. They are not Darth Hoodie and Brady. I could see Belichick coming out with the exact same game plan and seeing the team execute it to perfection. He could have called John Moxon during the week and learned the Oop-De-Oop. He might run the single wing. Julian Edelman might start the game at quarterback. Gronk might star in an adult movie during the game. I dunno. It could be crazy.
I see this game to have a lot in common with the NFC Conference Championship in that one team is at home and has a good history along with a good match-up with the other team. Pats 35-24.
BW:
I'm actually inclined to give Chuck Pagano and Andrew Luck some credit for the 2 INTs in that game. My college roommate and I may or may not have spent copious amounts of hours playing Madden at the expense of going to class back in the day, and one of our running jokes after every INT was always "just as good as a punt". Well, my biggest criticism of Chuck Pagano early on was that he seemed way too happy to be punting the football. He's been given a Ferrari of a QB, and yet, after they got Trent Richardson last year, it's like they kept wanting to rely on a beat up Ford Taurus, then punt. Eventually Richardson was so bad that he relented and finally gave the keys to Luck, and that's when they took off. But to see them on 3rd down and long decide to take a shot down field I thought was smart. The first INT was on 3rd and 12 from their own 12, was intercepted on the Denver 47, and returned for 2 yards, essentially a net of 39 Yards. The second was on 3rd and 13 from their own 39. The ball was intercepted on the Denver 24, a net gain of 37 yards. Pat McAfee avg 42.8 net yards per punt this year. For a very minimal loss, Luck took a chance on a big play. I think that's smart football.
I'm actually much more bullish on the Colts' chances to win this game. Their offense is playing as well, and is as diverse now as at any point in the past 3 seasons that Andrew Luck has been under center. They had absolutely no running game in that Sunday Night affair 2 months ago, gaining only 19 yards, as that was the game that Bradshaw broke his leg. They were also missing Dwayne Allen that night. Allen is one of the most unheralded, yet best all-around TEs in the league, not only a very reliable receiving threat, but also an excellent blocker. His health is a huge reason for their offensive success so far in the playoffs. They are running the ball much more consistently now, relying on Dan Herron, have 2 excellent weapons at TE in Allen and Coby Fleener, and have some real depth at WR. TY Hilton was shut down that night, but he's one of the most dangerous weapons in the league, and suddenly Hakeem Nicks, who seemingly shrunk from about 6'2" with the Giants to about 5'10" with the Colts, is showing some signs of life. I love this Colts offense, and think they can make it a game.
I'm also liking the development of their defense. Yes, the Patriots have destroyed them with Blount last year, then Gray this year, but while it wouldn't surprise me to see Blount find success, I don't think they'll give up 150+ with 3+ TDs. They're a better unit now than they were even a month ago, and seem to be coming together similarly to how the 2006 Colts defense came together in the playoffs en route to a Super Bowl. Baltimore's defense is very good, but the Patriots won because they were able to exploit the Ravens' deficiencies in stopping the slot WR and TE, then used that to come up with a few big plays on the outside.
New England doesn't have the talent at WR that will cause Indy fits, but they do have Gronk, and he's ultimately the reason why I feel like the Pats will pull this one out. The Colts are prone to being destroyed by elite TEs, even getting run over in the preseason by Jimmy Graham. They have no answer for Gronk, who's a decent bet to put up about 150 and 2 in this game. Indy keeps this close throughout, but in the end, New England's ability to pound the ball with Blount, avoid turnovers, and make a few splash plays with Gronk are the difference in this game. New England wins 28-24.
LAST WEEK:
3-1
SEASON:
171-92-1 (65.0%)