MK
: As you may have heard, the NFL has a draft every spring and the league has managed to turn every facet of it into a media-saturated, revenue-producing frenzy. While we look forward to the next two-and-a-half months of individual college pro days and hearing about which players have sufficiently large hands or disturbingly skinny chickenlegs, the NFL Scouting Combine is still the gold standard, come-to-Jesus Saturday for draft obsessives and the site creating the most cited and relevant information about prospects. (Well, I mean, you know, other than the stuff they did on the field in college.)
As a result, we didn't want FootballPros to be totally left out of the party, so two of us put our heads together to give you a primer on the ongoing party in Indianapolis and suggest who we think might be worth a closer look. Evan Vracar, one of our resident draftniks and our lead writer on the subject of scouting, is teaming up with me, a simple college football nerd, to give us a first look at the players invited to Indianapolis, and some record of our thoughts before we look at 864 mock drafts and read all this nonsense about the strength of whoever's ankles.
Anyway, we have some scouting acumen facing off against the joy of college football, in an edition of what I'm thinking might be called
Draftniks v. Academics
. In any case, let's get started. You'll find offensive position groups on Page 1, and defensive position groups on Page 2.
I once had a coach, back when I played football in junior high, who said everybody's an All-American in shorts. I think there's a lot of truth in that. Except when there isn't.
OFFENSE
The format for this is pretty simple. Evan and I will each give a general breakdown of the position group, trading the lead voice with each bloc. Then we'll identify a single player we think might be at least somewhat overlooked before the start of the Combine, as a player you might want on your football team, based on our backgrounds as writers for this site. On this side of the ball, we'll tackle quarterbacks, runningbacks, wide receivers, tight ends, and the offensive line (as one group).
QUARTERBACKS
EV:
This year's quarterback class isn't as bad as 2013's was simply due to the presence of clear, top talent like
Marcus Mariota
and
Jameis Winston
, but after those two guys? You might have a hard time differentiating between that year's and this year's. There's a pretty good chance that you'll be able to count the number of QBs drafted during the first two days on one hand, and once you get past the top five it's almost a total crapshoot; full of projects, small-school guys, and underwhelming seniors. It will be interesting to see how far needy teams are willing to reach for a signal caller this year, and it almost guarantees that someone will give Brian Hoyer way too much money in free agency.
MK:
As much as I'd like to highlight some of the differences between the ways the two of us process and sort football information, I kind of have to agree here. Even for lunatics who love football on Saturday, there are only a handful of guys coming to Indianapolis this weekend who move the needle for me. Speaking of giving Brian Hoyer way too much money, I'm try to talk myself into a mid-round quarterback for the Browns, and I'm with guys from Mike Leach and Texas Tech offshoots, like
Connor Halliday
from Washington State (who set a new NCAA record by tossing for 734 yards against Cal earlier this year) and
Shane Carden
from East Carolina (an undersized, three-year starter who had the Pirates knocking on the door of the top ten in October). Still, my favorite dark horse in the class might be
Garrett Grayson
out of Colorado State, who throws well and accurately around and down the field, and led the Rams to ten wins this season.
THE GUY TO WATCH
EV:
Some scouts were excited about him prior to the start of the 2014 season, but I was unconvinced. My humblest apologies then to Garrett Grayson of Colorado State, who put together a strong breakout in his senior year and vaulted himself up Draft boards across the country. If he impresses at the Combine and in workouts, he could build up enough hype to be the third quarterback selected this year.
MK:
See, I thought you were going to go with
Sean Mannion
here. At 6'6", and a long career as a starter in Corvallis, the Oregon State Beaver threw for over 13,000 yards, he has the size, build, and arm that a scout might fall in love with. I wouldn't buy it, but I'd believe it could happen.
RUNNINGBACKS
MK:
This is the position group where there was a true embarrassment of riches in college football this year, and that should translate into this season's Draft class, as well. By now, everyone's heard of
Todd Gurley
and
Melvin Gordon
--and has one of them listed atop their positional board and the other coming in second--while
Jay Ajayi
(Boise State) has established himself as a strong #3.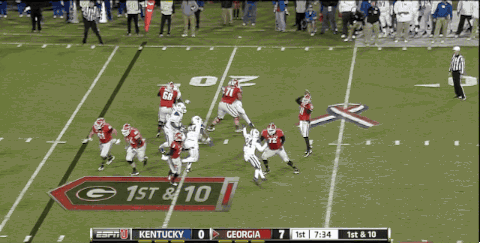 An extraordinarily deep field, we might see as many as seven, eight, nine, or ten serviceable professionals come out of the college ranks this year. How this group grades out for each team beyond that point should have more to do with strategic needs and injury concerns than significant differences in quality.
EV:
As much as we bemoan the death of the modern runningback's value, it's easy to forget that as recently as 2012 there were three RBs selected in the first round. Teams are still willing to pony up for these guys as long as the talent is there, and this year there's no doubt that it's there. Even beyond the guys at the top like Gordon, Gurley, and Ajayi, Day Two of the Draft should be littered with accomplished names such as
Duke Johnson
,
T.J. Yeldon
, and
Ameer Abdullah
. In 2012, when three RBs were taken in the first round, there were only four more RBs picked in the next two rounds combined. This year we might not only see three first-round RBs again, but perhaps double the number of Day Two RBs taken.
THE GUY TO WATCH
MK:
Brian and I were writing about the stable of Big Ten runningbacks throughout this season in
Tailgating
, and I think that's exactly the place to look. While Melvin Gordon is at the top of the heap and Tevin Coleman (one of my favorite players for speed and vision, and who rushed for 2000 goddamn yards at INDIANA!) won't run at the Combine, there's still Ameer Abdullah and
David Cobb
. In the tradition of Minnesota backs who are bowling balls made of butcher knives, make sure not to sleep on Cobb, who went from 65 career rushing yards in his first two seasons in Minneapolis to 2,828 in his final two.
EV:
One of the biggest home run hitters in all of college football, Tevin Coleman was going to be my guy here, but since you already mentioned him I'll go a little deeper and sing the praises of
Javorius Allen
out of USC. He's one of the quickest and most agile runningbacks in this year's class, and he's a pretty talented receiver out of the backfield as well. He might not profile best as a starter, but I think he has the potential to be a high-end #2 RB.
WIDE RECEIVERS
EV:
Amari Cooper
is almost assuredly going to be a top-ten pick, perhaps even top-five, and most people agree that
DeVante Parker
and
Kevin White
are #2 and #3 in some order after him. The wide receiver class this year has a ton of depth past them though, and there are as many as twenty different prospects at the position that I could see potentially going in the first three rounds. An abundance of options will be available for teams searching for weapons, such as the Chiefs and Seahawks are likely to be doing, to the point where we might see one of the highest recorded figures for number of wide receivers drafted in one year. There were 34 WRs selected last year, the highest total since 2009, and I think we see more than that in 2015.
MK:
While Amari Cooper appears destined NFL stardom—and really, in my opinion and with all due respect to Marcus Mariota, was the best individual player in college football this season and it wasn't that close—I'd like to look down the ticket a bit, past White and Parker, to a couple of Pac-12 receivers. While we were all justifiably impressed with Amari Cooper's 1600+ receiving yards this season, Washington State's
Vince Mayle
hauled in 1,483 himself this season alone and managed sixteen touchdowns over his two-year career in Pullman. Given his size—a reputed 6'3"—that's larger than Mike Leach's most highest-drafted professional product, Michael Crabtree, and might be an excellent value. In the land of 'big, physical receivers,' Arizona State's
Jaelen Strong
is a fun a candidate, who managed consecutive 1,100+ yard seasons and seventeen touchdowns, including a glorious, joy-filled Hail Mary to defeat USC earlier this season.
THE GUY TO WATCH
EV:
It's a pretty obvious answer, but
Dorial Green-Beckham
is going to be the guy getting a lot of questions and attention this year. By the time the Draft does arrive, it'll have been nearly a year and a half since he played in a college football game. He's been arrested twice for marijuana-related incidents, and was dismissed from the Missouri Tigers football team following a domestic dispute in which he allegedly pushed an eighteen-year-old woman down a flight of stairs. Despite his file, he's likely to go at some point during the second day of the Draft; provided that he performs well during interviews at the Combine.
MK:
That's a really good observation, because Green-Beckham wasn't even on my radar. I'm assuming his situation will be further complicated given the tumultuous year for NFL player conduct, and that this case seems to include some of the worst elements of the Ray Rice and Josh Gordon sagas both. Anyway, I'm going to play homer here and pick
Devin Smith
(Ohio State), who—once you get past Cooper—might emerge as the most productive, big-play receiver to come out in this class.
TIGHT ENDS
MK:
One of the less well-represented position groups in Indy, if you're looking for either the top prospect or the one who's the most fun to watch, the answer in either case is
Maxx Williams
(Minnesota), who did this in the Golden Gophers' bowl game on New Year's Day against Missouri:
Beyond Williams, college fans ought to remember the much-discussed and often-utilized underneath (and as an H-Back)
Nick O'Leary
, one of Jameis Winston's favorite targets at Florida State, as well as
Jeff Heuerman
from Ohio State.
EV:
It was a bit of a surprise when Maxx Williams announced his intent to declare for the Draft this year considering that he was only a redshirt sophomore this past season at Minnesota, but he became the best tight end available this year once he did so. After Williams there are a couple of guys who could end up being strong starters, but most of this year's prospects project more to be low-end #1's or reliable backups. Take a guy like
Jesse James
out of Penn State, for example. He's not a great athlete or natural receiver, but he's tenaciously strong and an impressive blocker. It's not glamorous, but teams will spend a mid-round pick on a guy like that.
THE GUY TO WATCH
MK:
I think a couple of answers make sense here, but the most familiar college player with the most to prove going into this weekend has to be
Blake Bell
. The Oklahoma quarterback--the so-called Belldozer, who continued to run a goal line package after Trevor Knight took over as the starter in Norman--has converted to tight end, and at 6'6", 254 lbs., he was an atrocious passing quarterback but is a surprisingly gifted runner and potential asset in an NFL passing game on the receiving end.
EV:
I already spotlighted Jesse James a bit, but here I want to shine some light on
Clive Walford
; one of several Miami Hurricanes who project to go in the first few rounds of the Draft. After Williams, he's one of the few tight ends available who has the talent and ability to become a real asset down the line. He's drawn comparisons to Dwayne Allen, a guy I really liked coming out who has since become a very talented and versatile player for the Indianapolis Colts. Walford can block and he can catch; plus, I mean, his name
is
Clive.
OFFENSIVE LINE
EV:
2014 was a remarkably down year for offensive tackles with only seventeen being selected total, but this year should see it getting back up the average of twenty OTs selected each Draft over the last five years.
Brandon Scherff
is the consensus top tackle available, and will likely be a top-ten pick. Conversely, last year was a very strong year for guards with nineteen being selected and the average being fifteen; though again this year figures to be closer to the average. This will, however, probably be the first year since 2009 where there is no guard selected in the first round.
A.J. Cann
, the consensus top guard, is likely an early-to-mid second-round prospect. The first round of the 2009 Draft was also quite unique for the fact that two centers were taken during it; Alex Mack and Eric Wood. That's not going to happen this year either, although
Cameron Erving
could sneak into the back end of the first night.
MK:
Barring a really outstanding individual talent, I'll cop to not being able to track the six hundred or so individual offensive linemen—or even many of the really good ones—at any one time. I tend to collate information about lines around the unit, and that leaves me out in the cold and exposed when try to bluff my way through this section of our preview. I can, however, discuss some lines I like and suggest a couple players who might be worth checking out. You've already mentioned Iowa, which has been an offensive linemen factory for some line, but very good things are happening in Durham, where David Cutcliffe has lines equally at home in pass- and run-blocking, and so I'm curious to see how
Laken Tomlinson
(OG) grades out after this weekend. Florida State boasts an astonishing four invitations to Indianapolis and Oklahoma has a nearly-as-impressive three, meaning the teams share more than just a disastrous end to their seasons.
THE GUY TO WATCH
EV:
At one point thought to be the one to continue the succession of offensive tackles from Texas A&M who get taken really high in the Draft,
Cedric Ogbuehi
's star has lost a lot of its luster since the start of his senior season. A former top-ten pick now turned mid-round prospect, Ogbuehi will be looking to stand out and catch people's attention; he's has a tall mountain to climb though in this top-heavy class of tackles.
MK:
I'd say
Jake Fisher
(OT, Oregon), a converted tight end, might be the most interesting player going forward. He's quick and versatile, and I wonder if there's a bit of Joel Bitonio in him.
Click to advance to page two