Rich Gapinski:
This article is a simple concept. All of us are going to give our thoughts on the possible resolution to the DefalteGate investigation. I'll start us off.
RG:
I ask everyone to please not be the person that starts talking about Tom Brady's legacy and how he compares to ARoid, Lance, Rose and others. If you are a person that doesn't believe that every top team and top athlete are always looking for an edge, then you might not understand sports very well. The problem here is that Roger and Co. got mad because it was the Patriots (again) and that Brady withheld information from the investigation. While it was within his right to do so, it gave logic to idea that Brady held his own smoking gun.
The worst thing about the whole process is that the league and Roger Goodell continue to try to do something that they are clearly bad at. Part of insanity is repeating the same thing over and over again and expecting different results. The league may have asked for an independent investigation on this but then they still decided on the punishment. Again, they are trying to act like a legal system while instilling too much power in certain areas and acting incompetently in others. Of course, the portions of the process where the league is most inefficient are only the
the most important parts of the process:
punishment and precedent.
Here's a quick NFL formula for you: PEDs = DeflateGate = Texting = 2 x summer 2014 Domestic Violence.
How does that even make sense?
Systems can only be as strong as their leaders and Roger Goodell is a great example. While he has his job in order to shoulder a lot of the blame owners would normally get, he is mostly responsible for the bulk of the bad PR the league has gotten during the last year or so. The main reason? Ruling with emotion and ruling without following precedent or written rules. Why do you think the league has lost some recent appeals? Well, maybe it's because the rulings put forth didn't make any sense.
Goodell really has to stop making it so easy to bash him. Since the investigation stated that either (a) the ball boys (I refuse to call them anything different) did it on their own or (b) Brady knew about and directed it; I find it weird how the league could come down about as hard as they did on a team that was trying to intentionally injure players (BountyGate). Of course, in that case, a few people came clean. No one did in this one. That means at least part of the ruling is based on emotion. Managers who continually let their decisions be run by emotion either make big mistakes, lose their job or just don't become as successful as they can be. The punishment from yesterday screams "See?! I can punish the Patriots, too!" and "How dare you defy me!" with a dash of overreaction. Those are all emotional responses.
Finally, I found it hilarious how much these Pats employees hated Tom Brady. It is pretty clear that these hourly guys tend to do their thing and often are able to get gifts from the players to sell so they can supplement their slightly-better-than-the-cheerleaders hourly wage. Even though it is likely that these guys made thousands of dollars on the side from Brady and/or other players giving them things to sell, they still hated him! If Tom Brady is willing to embrace his villain role, I think he should start walking around with a t-shirt of a naked Gisele on it. The text? "Yeah... I do."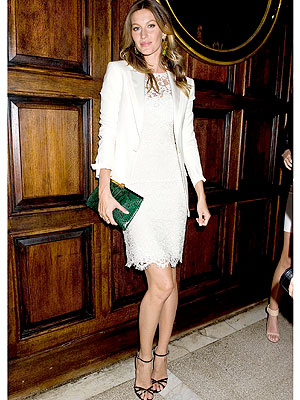 Patrick Sullivan:
Let's look at this another way. The deflation of footballs is worth the Spygate punishment plus $250,000 and a fourth rounder plus the loss of the Super Bowl MVP for 25% of the regular season.
Say what? Seriously?
This is so outrageous as to be laughable. There are many, many netizens out there yammering on about the coverup being worse than the crime. What crime? The genesis of this thing has been brought into question. How does the league engage in a sting operation against one team? How do they not use at least the most basic unbiased comparative analysis? They could have done an impromptu check of the footballs being used in the NFC Championship game. They didn't. How do they not have
even a rudimentary system for calibrating the P.S.I. gauges used to check the footballs?
This is so simple. There are precision instrument outfits all across the country with the capability to calibrate even the simplest P.S.I. gauge. Yet, the multi-billion dollar entity that is the NFL does not bother to ensure they have the capability to properly gauge the inflation - or lack thereof - of a damn football.
This is pathetic. No properly documented crime, no investigation. No investigation, no supposed coverup.
Simple.
What is Tom Brady's next move? Well, I hope he goes nuclear. You hear me, TB12? Take all four of your Super Bowl rings, stack them all on your right middle finger, and proudly and loudly extend said finger while wearing a t-shirt bearing the words "Suspended? Really? Deflate this. I'm retired." Squeeze your lovely wife into the frame, have someone else take the shot, post it on Facebook and break the internet.
Out (for now).
Brian Williams:
I'm still trying to figure out what right the NFL has to punish Brady for not turning over his phone. Minus a police investigation that includes a search warrant, innocent or not, I am not handing my personal phone over to my employer. End of story.
This whole thing really does feel like much ado about very little, doesn't it? Rich hit on it at the very top of his comment— seemingly every player and every team in the history of ever look for an edge. Sometimes that edge is very much behind the line of acceptable, sometimes it toes the line, and often it inches past the line. There have been wink-winks and nod-nods and wink-nods going on since the beginning of time.
Obviously, we're now in the information age, which brings with it an overreaction about EVERYTHING when it comes to the media trying to out-scoop itself. (Can we start a fantasy scoop game where you get 5 points if your reporter gets a scoop, and 3 bonus points if ESPN has to reference on the bottom line that one of their reporters have confirmed said reporter's scoop?) The days of chuckling over sandpaper falling out of Phil Niekro's glove are gone, and the days where sports entities are forced to go above and beyond to make sure that they will never be caught tolerating inappropriate behavior is here to stay.
It's because of this mindset that it seems that the owners want a commissioner who's willing to be the heavy, who's willing to overreact if need be, even in the face of public criticism. Enter Roger Goodell, who has made a living going above and beyond when it comes to discipline. And if there's one thing that's been made clear, while the public sentiment may be strongly aligned against Goodell, the owners have been thrilled with his reactionary ways. In today's society, in order to protect their brand, they've decided that it's better to go over-the-top with regard to discipline than to end up looking bad. We've seen this with players being suspended randomly over the sudden advent of an ethical code, along with the discipline levied regarding things like Spygate, Bountygate, Ray Rice, sideline texting, artificial crowd noise, and a myriad of other examples I'm likely glossing over.
But what I keep coming back to in my head is the point that this is all exactly what the owners, INCLUDING BOB KRAFT, want. Kraft has been one of Goodell's biggest supporters over the years, publicly supporting the continual reactionary and arbitrary stances that he's taken. Now, suddenly, Kraft has a problem with Goodell doing EXACTLY WHAT THE OWNERS ARE PAYING HIM TO DO! Is it an overreaction? Of course! But in this day and age, if there's even a thought that the integrity of a game may have been compromised, even over something as stupid as over-inflated or deflated balls, the owners have made it clear that they want their commissioner to react in an over-the-top manner.
If you give the QBs a chance to dictate grip, stuff like this is going to happen. I'm not sure why anyone in the NFL would be surprised/appalled by this. Easy solution- mandate one ball size, use a standard gauge, keep the balls in the hands of league officials at all times, and be done with it. Otherwise, if you give flexibility, QBs will use that flexibility to its fullest, and then some. But since the Patriots were caught, the NFL was forced to react. Had this been the Colts, Packers, Steelers, or anyone else, I have a funny feeling that Bob Kraft would have fully supported the commissioner. And if we go by previous precedent, maybe the Pats got off easy. Sean Payton had no knowledge of the bounty system being used by his DC, yet was told that he was accountable for the people under him, and was suspended for a year. If that's the standard, shouldn't Bill Belichick, who I firmly believe had no knowledge of any of this, also be facing his own accountability?
Does anyone else miss the days of ignorance?
Evan Vracar:
I like to think that I'm still living my life as ignorantly as possible, thank you very much.
The part that most disturbs me about all this, and has been touched on by pretty much everyone else already, is that the public at large is now applauding Goodell for handing down punishment to the supposed "Golden Boy" in Tom Brady and making a clear statement that nobody is untouchable, regardless of stature in the sport. People were going to applaud no matter what the punishment was, just as long as there was one and it made Tom Brady miss games and paychecks. It could have been two games, four games, eight games, or even a whole season; and honestly none of those options would have particularly surprised me as Goodell's ruling because it's been established that everything is being made up as he goes along and past rulings don't seem to matter.
Doesn't anyone else think that suspensions in the NFL shouldn't be treated like the points in an episode of "Whose Line is it Anyway?" I thought we were getting closer to that point, but this seems to have reversed things completely as Goodell gets praised for being the iron fist of justice while once again pulling a punishment out of his posterior that he alone gets to have say in. It isn't even just fans this time either; I've seen several current and former NFL players on social media agree with the ruling and give props to Goodell for putting Brady in his place. It's unsettling to see the wind switch directions with such unanimity, but yet here we are.
It probably doesn't help either that since "Deflategate" became a thing in the first place months ago that I couldn't bring myself to see it as a serious issue. Not even getting into the science of whether or not using a deflated football actually does provide any advantage to an offense, it all just seemed so silly even at the time. I felt vindicated too after a couple of weeks passed and the story started to fade out of the news stream; eventually being forgotten about almost entirely for months until Ted Wells released his report on the investigation he undertook to get to the bottom of things. Meanwhile the Browns' General Manager is sending text messages to the coaching staff
during
games and it hardly manages to register as a blip on most people's radar. The Falcons too - for piping in crowd noise during games, though I will always firmly believe anytime a team gets caught doing that that it's really just more sad than anything else. I know, Tom Brady makes for a much easier target, but his "crime" is also arguably the least impactful of the three examples.
Plus there's the fact that Aaron Rodgers freely admitted that
he likes to have his footballs over-inflated
, something he said to Jim Nantz and Phil Simms weeks before the AFC Championship Game and was then repeated on air by the broadcasting duo. They even quoted him as saying that Rodgers will "even go over what they allow you to." Not a single eyelash was batted on that day or on any other subsequent days. I'm by no means saying that Rodgers deserves some kind of punishment, but just that we can't just pick and choose when to punish and when not to for the same damn thing.
RG:
Over the last couple of days, I have become increasingly amused at how the rest of the league is reacting to this. It really feels like the inner-workings of the league are nothing more than a microcosm of a bad high school TV drama. The other players and teams sound like the nerds basking in the glory of something bad finally happening to the cool kids in school. Tom Brady is the head cheerleader who just got bad acne for the first time. In short, the other teams are cheering for Goodell because he was able to act out their spite. It's hilarious.
All of this is going on despite the base fine for the offense in question being $25,000 and that so many former quarterbacks have come out to say that this type of stuff is common practice. Obviously, it always stinks to be the team that got caught. The lesson here I think is that if you are the Patriots, you
definitely
don't want to get caught.
Yes, I thought that Tom Brady deserved some sort of punishment and I thought that he would get extra tacked on for not disclosing any of his records but this seemed like overkill. Why wasn't Julian Edelman suspended for enjoying his life after the Super Bowl? With the evidence put forth, he's just as guilty as the rest of the team.