MK:
You probably know this by now, but Tom Brady may or may not have been involved in a vast conspiracy to moderately affect the air pressure within these things called footballs during the AFC Championship Game, and as a result has been suspended by the NFL for the first four games of the season. Oh, you did know that? Well, I'm glad we're on the same page. I mean, I suppose people on the internet have been talking about it.
The responses have been funny
1
...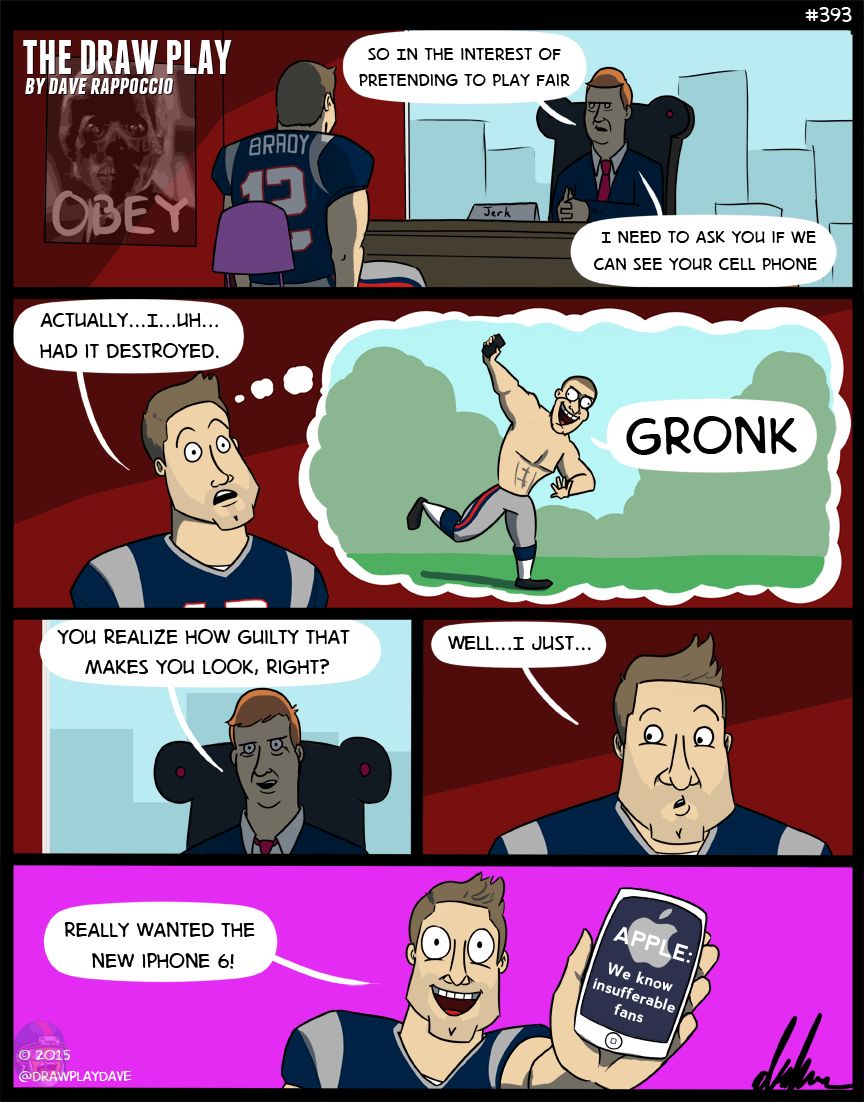 ...and sometimes philosophical
2
...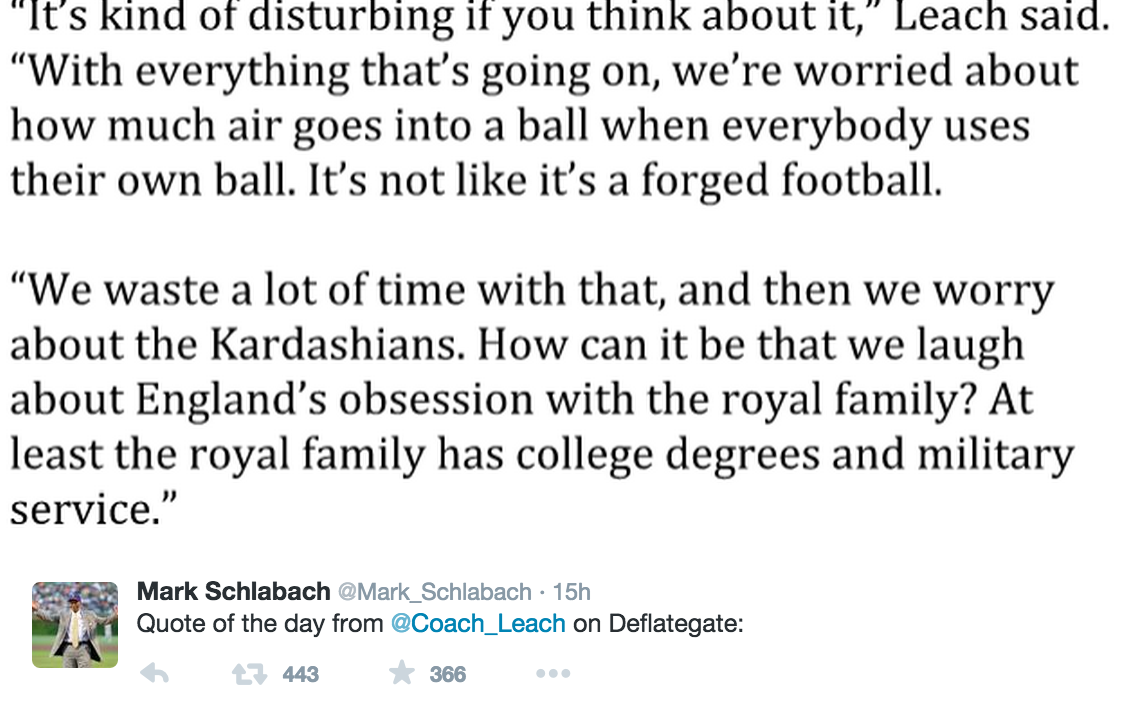 ...but mostly they've been your garden variety MY TEAM RULES, YOUR TEAM SUCKS takes that we all know and love so much.
We're just as tired of this story as you are, so we're going to get all of it out of our system now, once and for all. With Brian pinch hitting for the Big Man this week, Rich and I have put together a very special, extraordinarily snarky edition of
Wagers & Lagers
, in which we provide early picks for the first four games of the Patriots' season, which at least as of this writing will be played without quarterback Tom Brady, and give you what will doubtless be our worst gametime grub and libation suggestions we ever publish.
I really hope these picks aren't used as some sort of tie-breaker when we end up knotted up around the Super Bowl.
WEEK 1: Steelers at Patriots
Thursday, September 10, 8:30 ET
RG:
Alright, I'll get this party started. I assume that we are making picks based on the idea that Brady will miss the first four games of the season. I want to state my current feelings on the whole DeflateGate matter before moving on to the picks. I am disgusted by the whole thing. The incident itself was small. The process to decide it has been bloated, emotional, and big. I am mad at everybody for decreasing my excitement over the upcoming season. Instead, I have to continuously complain about a guy who is in an office too big for him (Goodell). I have to complain that even though Tom Brady is guilty of
something
on a day we could have been talking about the first female coach in the league and the return of Eric Berry. I give these short messages to each side of the DeflateGate case:
Tom Brady Apologists:
Sorry, the dude is guilty. Of what? Not sure. Did it help him much? Not sure. My gut says it probably did not help him very much. I've thrown a lot of footballs in my life. Decreasing the air by 7% isn't going to do a ton. It would, however, make it slightly harder to throw a spiral. Is it possible that Hoodie and Brady are crazy enough to figure out the exact PSI needed so Brady is most efficient in the offense? Maybe. Still, I doubt it is much more than a comfort thing. Tom Brady is no different than any other athlete. There is always an edge and everyone who is elite will try to obtain an edge in an attempt to separate themselves from the pack. TB12 is guilty of being an elite athlete and guilty of doing
something.
The supposed lack of information provided was one smoking gun in this case. We knew that on May 12. It is hard to refute the cell phone report. It is also hard to explain how Brady still had the phone he used before the one he eventually destroyed. My source on that is the 20 page letter released by the NFL yesterday. Don't worry, though. Aaron Rodgers, Peyton Manning, Drew Brees, Tony Romo and all the rest of the quarterbacks in the league are doing something as well. We just don't know what it is.
Tom Brady Haters:
I'm not sure what I can tell you. You are happy as larks. Still, if you have a favorite team, I'll remind of this: Someone on your team is cheating. I must warn you, though, an angry Belichick doesn't seem like a fun guy.
League Bashers:
Harumph. This whole thing is a joke. A pointless mountain out of a molehill.
As for the game itself, I hope that everyone gets reminded that weed is only half as bad as a needle. Anyway, even though I don't personally root for the Patriots, I am expecting this to be some sort of middle-finger-in-the-air tour for the gents from New England. In this contest, the Patriots will win by trading for Darrelle Revis before the game for a bag of mattress warning labels that the Patriots weren't supposed to remove. Revis shuts down the entire Pittsburgh offense on his own while Bell misses the game for getting popped for buying a bag of oregano from a Pats staffer before the game. New England rolls 31-3. People write for days about what the Jets can use the mattress labels for before Manish Mehta reminds everyone that they are the Jets.
PICK: Pats
BW:
MATTRESSGATE!!! I smell scandal. Rule 73.35 clearly states that the illegal removing of mattress tags, for any reason, results in an Eleventy Million dollar fine, the loss of one 1st round draft choice for five consecutive seasons, immediate franchise relocation/stadium implosion, public toenail hanging of owner/coach/quarterback, and the forfeiture of one game. Pittsburgh wins, 2-0.
It really is a shame that this game won't be played as scheduled, mainly because the Steelers have only won 2 games in Foxborough since 1979. One of those wins came in OT in 1997, which was the difference in giving the Steelers home field over New England for what turned out to be a scintillating 7-6 victory in the division round of the playoffs that season. The other came in the form of a 2008 33-10 beatdown, when Matt Cassel was filling in for Tom Brady, who in the first game that season, illegally thrust his knee into the helmet of Bernard Pollard, and was subsequently suspended for the entire 2008 season. Pittsburgh won the Super Bowl that season.
PICK: Steelers
MK:
Like Rich, I too would like address some core constituencies in the I-Care-Way-Too-Much-About-Deflategate/Ballghazi/Whatever-We're-Calling-It:
University of Michigan Fans:
Perhaps if your football team was actually good again, you would be able to do something more rational than defending some guy who split time with Drew Henson at quarterback at your school fifteen years ago because it's an essential part of your identity.
Fans of NFL Teams with Bad Quarterbacks:
Perhaps if your football team was actually good again/ever, you would be less butthurt about other teams having good quarterbacks. (Note: I know I certainly would be.)
People Who Want to Compare Every NFL Suspension:
We've all done this in our heads. We know it doesn't make sense. I mean, I guess you can still do it, as long as you don't act like this is some unique factoid that you've discovered, which is the impression that I get from the people talking about this a lot. It also works better when you don't compare the suspension for someone doing something truly awful to someone who got suspended on your favorite team or when the player is someone you clearly adore.
The fact that Le'Veon Bell is suspended for the opener makes this slightly less than a slam dunk, but Pittsburghers should consider this one last, enduring gift from former Steeler runningback LeGarrette Blount, who—come to think of it—is now a New England Patriot. When Bill Belichick said the other day that the Brady suspension had already been planned for, he obviously meant that he anticipated opening the season against the Steelers and colluded with Blount, using him to conduct a black ops mission to get Bell suspended in the interest of keeping this game competitive.
Still, has anyone thought about how fun this will be? The Patriots get to open the season at home, celebrating their Super Bowl title, and is Tom Brady even allowed on the sidelines? For those of us who don't particularly enjoy Boston fans—and who does, really?—this is like five pounds of lobster meat for free. The drawn butter, of course, will be watching Bill Simmons periscope his personal meltdown before, during, and after the game.
The awful thing is this game is actually could go a long way toward determining home-field advantage in the playoffs. Don't overthink this, though.
PICK: Steelers
WEEK 2: Patriots at Bills
Sunday, September 20, 1:00 ET
RG:
Before the game, the Patriots release a whole slew of new foot fetish videos. In awe; and unable to look away, Rex Ryan forgets to make defensive calls for the entire game. E.J. Manuel tries to call plays from the actual playbook on the field when he doesn't understand the calls coming in. The playbook is stolen by Dont'a Hightower before Gronk hides it for good. The Pats win 35-6. Two months later, a new edition of the Gronk romance novel series features a young lady stripping off parts of a Buffalo Bills playbook. The movie is made and "based on a true story." It makes $300 Million at the box office. The author donates a portion of her rights fees in order to pay for "any current and future fines incurred by the New England Patriots Football Club."
PICK: Pats
BW:
Citing the brisk mid-September Buffalo weather, Jimmy Garoppolo is equipped with a ski mask to start the game. Just after the opening kickoff, Bill Belichick animatedly calls Referee Earl Hebner over to the sideline to complain about a possible sideline infraction by the Bills. As the other officials also find their attention drawn to the NE sideline, Garoppolo breaks out what appears to be a needle, quickly deflating each of the Patriots' game balls. Completely oblivious to the situation, Hebner returns to the field, and the game continues with Garoppolo on absolute fire, looking Brady-like in completing his first 12 passes for 160 yards and 2 scores, giving the Pats an early 14-0 lead. Following the 2nd TD, the sounds of Jay-Z's "Public Service Announcement" can be heard throughout the stadium. As the song fully kicks in, "Allow me to re-introduce myself, my name is HOV!" CBS special guest announcer Jim Ross screams into the mic, "Wait, isn't that… that's TOM BRADY'S MUSIC!!!" However, Brady never appears.
At the start of the 2nd quarter, Garoppolo finally throws his first incompletion, a pick 6 off a catchable ball that was surprisingly dropped by Rob Gronkowski. Following the play, an animated Garoppolo is seen berating Gronk on the sideline. In the ensuing scrum, Gronk drags Garoppolo out to mid-field, finishes him off with "The Gronkinator", then rips off his helmet and ski mask to reveal his real identity—TOM BRADY! Gronk then rips off his own jersey to reveal a Bills jersey as a cackling Rex Ryan joins him at midfield, raises his arm, and the 72,000-plus at Ralph Wilson stadium erupt and the home team pours it on, 42-14.
PICK: Bills
MK:
I, um… am starting to get the feeling that I'm the only person who's making the picks seriously. Legitimately, that Bills defense is good, and Rex Ryan—whatever his faults—is very good at getting a team up to play the Pats. I do believe that New England will be favored in this game, though, even following a loss to the Steelers and in spite of the traditional three-points-to-the-home-team Vegas typically grants.
Again, seriously, I would like to predict a really terrible, self-pitying Dan Shaughnessy column to follow this result.
PICK: Bills
WEEK 3: Jaguars at Patriots
Sunday, September 27, 1:00 ET
RG:
Despite a lot more talent on the field for the Jaguars than in previous years, Bill Belichick orchestrates a classic game plan of his to confuse Jacksonville's young quarterback. A particular set of stunts are found to work well for the Pats defense. Blake Bortles is sacked four times and struggles, going 13-30 for 156 yards with two interceptions. On the other side of the ball, a potent running game lightens the load for Jimmy Garoppolo. New England controls the game, rushing over 40 times on their way to an efficient 21-10 victory.
PICK: Pats
BW:
With Bill Belichick and Tom Brady now suspended for life, and Gronk now playing in Buffalo, Josh McDaniels has taken over for the LA Patriots (forced to relocate following MattressGate). Jacksonville travels to the StubHub Center in Carson in the midst of a 16 game road trip, caused by the continued fallout from the massive summer storms/sharknados that swept through the East Coast, destroying every major city from Washington D.C. to Orlando, Florida. Despite some massive jet lag, the Patriots have no chance, getting pounded 38-3, as the NFL has now assigned former David Stern henchman Joey Crawford to ref all remaining Pats games.
PICK: Jags
MK:
I mean, I know I just picked the Bills, but have we adequately considered that in two of these four games, Jimmy Garoppolo may still be a better quarterback than what the opposition is fielding? He could be, and maybe this is also an opportunity to remind New England fans of just how many of them were calling for Jimmy to get a chance to start in the aftermath of Tom Brady's abysmal performance on Monday Night Football last season against the Kansas City Chiefs. (Pro-tip: if you go to twitter, and search NFL PLAYER NAME + BENCH, you're going to get a lot of insufferable people talking about their fantasy football teams.)
I'm expecting that kind of pass-rushing game out of the Bills at home, and while the Jaguars have been quietly building a sound defensive line to get after the quarterback, I do not have faith in Blake Bortles. I do, however, have faith in the Jaguars' mascot, but he does not play actual football.
Pick: Patriots
WEEK 5: Patriots at Cowboys
Sunday, October 11, 4:25 ET
RG:
Before the game, New England trades for Tim Tebow. Chip Kelly and the Eagles get a new wave heart transponder thing-a-majig that shows exactly how fast a team with little talent can find itself in the basement of their division. The joke is on Chip, though. Hoodie and the gang sends him nothing more than a treadmill with a microwave attached to it. Inspired by a trip to one of the largest churches in the world, Tebow throws like Job (the Bible mentions his terrific arm). The former Bronco-Patriot-Jet-Eagle has the game of his career, combining for seven total touchdowns (4 passing, 3 rushing). The Cowboys offense is a worthy opponent all game, trying to keep up. Amazingly, the Cowboys lose when Dez Bryant is ruled to not catch a ball on a play eerily similar to the one against Green Bay in last year's playoffs. New England wins 49-45. The next day, Tebow retires and takes over Joel Osteen's congregation.
PICK: Pats
BW:
Leading into this game, Jimmy Garoppolo is suspended after it is revealed that he didn't wear the proper league-mandated bandage for an in-grown fingernail. With the Pats now forced to start 3rd stringer Matt Flynn, Dallas coasts to a 24-0 lead thanks to 3 Tony Romo-Dez Bryant TD connections. Early in the 4th, Romo throws a pick 6, which along with the 2-pt conversion, cuts the Dallas lead to 24-8. Romo's next dropback is déjà vu, and suddenly the Pats are within one score. With under 2 minutes remaining and the Patriots out of timeouts, Romo attempts to execute a kneeldown, but fumbles the snap, which the Pats return for a TD. Following another conversion, the score is now tied at 24. As Phil Simms discusses how ridiculous it is to put the blame on Romo, his next pass is intercepted. Joseph Randle makes a game-saving tackle, but the Pats have the ball inside the Cowboy 25. Just when it seems that not even Joey Crawford can prevent this victory, the Pats lineup to attempt the game-winning FG, but Greg Hardy, in his first game back from suspension, busts through the line, blocks the kick, and returns it to the house as the clock expires for a 31-24 final.
Pick: Cowboys
MK:
OH GOD. After Hardy scores that game-winning touchdown, right, and is celebrating on the field, the game producer would need the wisdom of Solomon to choose between the appropriate shot to juxtapose with it. Is it:
(A) Jerry Jones's luxury box, hideously backlit and possibly showing him seated with Roger Goodell, as Chris Christie goes in for the hug
(B) Tom Brady, similarly backlit, with Giselle, Kraft, and—I'm assuming—a bottle of Sauternes in the picture
In all seriousness, Dallas is good. I could see a 1-3 start out of the Patriots. Of course, the Dolphins and the Bills aren't really any better than 7-9, no matter what anyone tells you they see in Ryan Tannehill, and the Jets are one of those teams that even Browns look at and be like, 'Well, at least it's not that.' So, after that start, they win the division and still get a home game on Wild Card weekend, probably stomp the Colts in the divisional round, and set up AFC Conference Championship date with a team, like, say, Pittsburgh at Heinz Field. I'm just spitballing here.
And that's why this both does and doesn't matter, just like... WAIT FOR IT… a controversy over whether footballs were properly inflated during the AFC Championship Game.
Pick: Cowboys
DON'T GET FAT, TOM
I don't know, probably some grilled chicken, I guess? That's healthy, I think.
EXTENDED VACATION COCKTAILS
MK:
The extended vacay cocktail of choice, I think, in light of recent revelations about Tom Brady's phone destruction, is the Kriegerita, brought to you by FX's comedy, Archer, because I wanted to write about something I actually like in this column. That's more or less a Margarita—five ingredients: tequila, Cointreau, lime juice, ice, kosher salt—except…
Okay, I'm done, I think.
__________________________________________________ __________________
1
You can read this comic at
thedrawplay.com
, or follow the artist
@DrawPlayDave
on twitter.
2
Hat-tip to
@LostLettermen
for screenshotting this gem from
Tailgating
/American hero, Mike Leach, via
@Mark_Schlabach
.
Rich Gapinski, Brian Williams, and Matt Kocsan are Staff Writers at FootballPros. Next offseason, they will begin filming a re-make of
The Three Amigos,
in which they ride flamingos instead of horses. None of them, however, has improperly deflated, or conspired to improperly deflate, balls. You can follow them on twitter at @PguyPodcast (Rich), @FPCommish (Brian), and @kocsan (Matt).