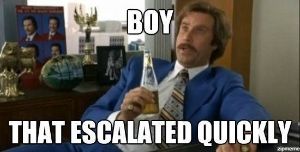 It's that time of the year again. Your team stinks! The sky is falling! Our pet's heads are falling off!
For one day per year, you get a reprieve. Here's your place to vent. Tell us why your season is officially over. You know, after one game and all.
You get one shot. Speak now, or forever hold your peace. Until week 1 next year, of course.
Remember, you're not overreacting, you're just reacting more than you need to.