MK:
On September 18, 1998, the #1 song in America was 'I Don't Want To Miss a Thing,' by Aerosmith—from that July's mindless action movie,
Armageddon
, which was apparently enjoying a late charge after Brandy and Monica's duet 'The Boy Is Mine' dominated that summer—and the highest grossing movie in America that weekend was
Rush Hour
, a classic of modern cinema, obviously, starring Chris Tucker and Jackie Chan. That weekend, though, also featured one of the most pivotal contests in the last two decades of college football, as Phillip Fulmer's Tennessee Volunteers hosted Steve Spurrier's Florida Gators on the banks of the Tennessee River. On Page 1 (this one) of this week's edition of
Tailgating
, we're discussing our plans for the weekend, the charms of Lubbock, and Tennessee's upset victory over Florida in that game in 1998. When we're done there, you can
turn to Page 2
for our votes in polls that we don't have as well as our predictions for upcoming week.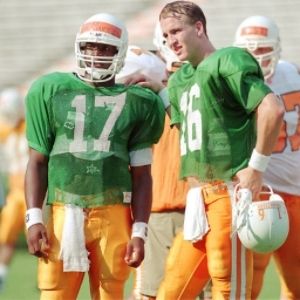 THREE GOOD QUESTIONS
For those of you who are new here, each week, Brian Williams (hereafter BW) and I (MK) write up a column on the insanity, hyper-regionalism, and idiosyncrasies that make up the sport of college football. We also occasionally discuss, you know, football. We answer five good questions (give or take one or two), pick a few of the best games of the weekend, and call one upset. The first question is always the two of us arguing about where we would go if we had an unlimited budget and could travel to any college football game we wanted this weekend. That, and the fact that we don't ever write anything that's short, is about all you need to know.

More than anything, we appreciate our readers. We're glad you're here and we'd love to hear from you.
1.) Well, Brian, you lead us off this week, and my guess is that you're looking west this weekend. If you could go anywhere in America to watch a game this Saturday, where are you going and why?
BW:
The SEC currently has six teams in the Top 25 of the AP Poll. In something that not all that long ago would have seemed unfathomable, none of those teams are named Florida or Tennessee. Now in their third season under Butch Jones, Tennessee is a team generally considered to be on the rise in the SEC, with many considering them the toughest challenger to presumed front-runner Georgia. That Florida is 3-0 and unranked shows exactly how far the program had fallen under Will Muschamp. Muschamp has taken his suddenly Charlie Weis-sized stink to Auburn, and Florida is now led by Nick Saban disciple and former Colorado State head man Jim McElwain. It will likely take McElwain a few years of turning his players into (Frankensteining) MEN before the Gators will be competing for SEC Championships again, but a win over the Vols would give the team a 2-0 conference start, and a leg up on the rest of the SEC East. But while this game should be close and carries with it a great deal of nostalgia (of which we'll get into in a bit), I can't waste my pick on a game between two middle-of-the-road-at-best SEC teams.
Yes Matt, as the questions suggest, I'll be taking my talents out west. And by talents, I mean that I'm really good at eating and watching football games.
MK:
I'm pretty good at those things, too. I like to think I have other skills, but who am I kidding, honestly...
BW:
While many of the Power Five are mired in the mostly lame portion of their non-conference season, with the exception of Colorado's scintillating matchup with Nicholls State, the Pac-12, which heading into this weekend was the only conference in America with all 12 teams over .500, has hit conference play in full force. The under-the-radar game is in Washington where Cal and the Huskies will battle to show us which team we should take seriously for at least one more week. USC is looking to rebound from last week's loss to Stanford, but have to travel to Arizona State to face a dangerous Sun Devil Team that lost early to Texas A&M, and was once considered and still may be a contender in the Pac-12 South. However, there are two large ranked on ranked matchups that are drawing the bulk of my focus.
Much like Ole Miss last week, there is perhaps no team that is in position to gain more this week than Utah. The Utes are 3-0 and now face a gigantic road test in Autzen Stadium against Oregon. Utah was able to hang with Oregon last season through 3 quarters, but the Ducks eventually pulled away. Autzen is always a great atmosphere, and it will be very interesting to see how Utah handles their first true road test. I've thought long and hard about picking this game, but at the end of the day, who am I to disagree with
Gameday
.
MK:
...you mean, you're not going to watch Kansas play Rutgers?
BW:
My choice this week is to take the trip to Tucson for the matchup between the hometown Arizona Wildcats and the UCLA Bruins. Tucson is tucked away between 5 mountain ranges, and as fall kicks into gear this weekend, there are worse places to choose than a city that has sunshine 350 days a year. I'm sure there are a hundred nice things I could say about the area, including that there are apparently still Dude Ranches in existence. After growing up a moderate fan of the
Nickelodeon
show
Hey Dude!
, visiting an actual Dude Ranch would probably be a lot of fun. But I'm more nuts and bolts this week. There's no nostalgia, no sentimentalism—I'm just here for the game. UCLA is one of the most talented and experienced teams in the country with the exception of one area. All World Freshman QB Josh Rosen is a future star, but has struggled mightily since getting off to a great start against Virginia. With this trip to Tucson being his first real road test, he'll need the UCLA running game, led by Paul Perkins to step up. This is especially true considering that Arizona All-American LB Scooby Wright is set to return to the Wildcat lineup. Wright led the country last year in tackles and forced fumbles, and is worth the price of admission alone. It's a shame that his counterpart in UCLA LB Myles Jack won't also be on the field, but it was just announced a few days ago that he's been lost for the season due to a knee injury. UCLA is one of my playoff picks, and just last year, Rich Rodriguez led Arizona to a major upset over Oregon in a similar spot. Simply put, this is the most intriguing game of the week, so this is where I'll be.
MK:
You're absolutely right that it's a monster weekend for the Pac-12, and it's hard to argue with your choice. The inside track for supremacy in the conference's southern division is on the line in Tucson, where the Wildcats and the Bruins will play, but given the expectations heading into this season for either's cross-state or cross-town rival, we might have expected that showdown to be taking place in Tempe, where the USC Trojans will take on the Arizona State Sun Devils. As big as it is in any case for the Pac-12, this Saturday could have shifted
Tailgating
's allegiances from the State of Mississippi to the State of Arizona. It might have prompted meditations from me on such subjects as my love of Sparky, my affection for the late '90s Arizona State football team, and how much fun Jake Plummer-led 1996 squad was; it might even have produced a lengthy discussion of the place of the Shootout at the O.K. Corral in western history and American identity, but at the very least it would have provided a great paragraph about how much I love the movie
Tombstone
and Val Kilmer's portrayal of Doc Holliday.
Seriously, Todd Graham, get your team's s—— together. I want to write this column around Thanksgiving, when you host Arizona for the Territorial Cup and possibly play for a division title, like we thought you might this year. (And you want, dear readers, want to read it, too. Okay, you possibly want to read it. Maybe. To get away from visiting family members. Whom you love dearly, of course.)
Still, there are options away from the Copper State and the Pacific Northwest. In the early window, the twentieth-ranked Georgia Tech Yellow Jackets are visiting Wallace Wade Stadium and the Duke Blue Devils, pitting the teams that have combined for the last three year ACC Coastal Division championships against each other. This year, they'll vie for the right to be the best chance of keeping Miami out of the conference's championship game for yet another season. The other noon kick with so much potential is Brigham Young's visit to Michigan. The Cougars have a chance to pick up a victory that should accumulate value as the season goes on, helping to solidify their status as the Non-Power Five team best-positioned to win a bid to a New Year's Six bowl, while the Wolverines have a chance to enter the Top 25 just in time for Big Ten play to begin. And if I'm stuck on late-'90s nostalgia, as I often am, there's always Gainesville, where the Florida Gators host the Tennessee Volunteers. I might get enough of that in just a minute, though.
This week, I'm staying in the here and now by—somewhat counterintuitively—going to a place where I used to live, and that is Lubbock, Texas. Logistically, this one wouldn't really be that hard for me if I attempted it in real life, but that's never the point of any of this. The undisclosed sacrifices that I have made to the college football gods have, I think, so far worked. The result is that Texas Tech has something vaguely resembling a defense this season, and can hang its on something other than the fact that it's always exactly five o'clock on Kliff Kingsbury's face. Did I just make this weird?
Anyway, Lubbock, all things considered, isn't so bad. With a start just before four o'clock, local time, that's plenty of opportunity to hit one of my favorite haunts on 34th Street—the Lone Star Oyster Bar—before walking through Tech Terrace up to campus and to the game. I'll probably conclude the night at one of my favorite dives in Texas, Bash's, but in between I expect to see good football. The TCU Horned Frogs, with all the subtlety of Lizzie Borden, dropped eighty two—80! Plus! 2!—points on Texas Tech in Fort Worth last year, but I've already mentioned my offseason offerings; even I hadn't, the universe has a way of evening things out when something like that happens. If you're unconvinced by pagan rites or a sense of cosmic balance or even by Texas Tech's impressive victory at Arkansas last week
1
, tune in to see Texas Tech's Patrick Mahomes play quarterback, whose structure and scat with the football is like listening to Miles Davis's
Sketches of Spain
for the first time in a while. I kid you not. If the Red Raiders can stiffen up in the red zone and force a few TCU field goals, they have a real chance in this one.
Lubbock it is. I'll
toss some tortillas
on the field and say hello to the Masked Rider for you.
2.) Another season has come and it's another year that we're basically ignoring Tennessee and Florida. With Peyton Manning on what appears to be his farewell tour in the NFL, now is exactly the right moment to review one of the best rivalries of the 1990s and Tennessee's ultimate triumph the year after he left Knoxville. What happened when Florida visited Tennessee September 18, 1998, and why does it color everything we think about this game almost twenty years later?
MK:
I couldn't stay away from the late '90s the whole article, you know. So much of what we know and appreciate about sports is autobiographical—in just the most obvious ways, where you live and how old you are when something happens has a fairly serious impact on what you think or how much you know about a given anything, and sports are no exception—and I was thirteen in 1998, which made me of course an angsty, pubescent mess at exactly the right moment to appreciate not only this game on its own terms, but the five years that built toward it. As perfect as that setup is, I was also a Catholic kid on Cleveland's west side at the same time, and on the night in question I ended up at a high school football game. Afterwards, I proceeded to a pizza parlor called Papa Nick's, which made—makes?—a decent, if doughy slice, but only had one black-and-white television with bunny ears on the premises. It was in its kitchen.
I bugged the kitchen staff throughout the meal, and they were indulgent enough to tell me that Tennessee had beaten Florida, 20-17, but I hadn't though to tape it home, and so the game itself was all pretty new to me.
2
I'd watched the previous three years, of course, or at least portions of those game, and I knew that Peyton Manning—before anyone outside of Cleveland paid much attention to Bill Belichick, who was then best known for releasing local hero Bernie Kosar and getting fired just before the Browns left for Baltimore—had never beaten Steve Spurrier. The first overall pick in that year's draft had struggled mightily against the Florida Gators in the previous three seasons; the Volunteers built an early, 30-14 lead in his first start against Florida in Gainesville in 1995, but things fell apart in a driving rainstorm in the second half, and Manning's team ultimately got boomsticked to the tune of 62-37. Peyton became the starter in Knoxville in the middle of the 1994 season due to injuries, but apart from one loss to Alabama his freshman year, the Volunteers only lost three Southeastern Conference games when he was the starter, and they all came against Florida. The closest he ever really came to beating them was that sixteen-point lead in 1995.
BW:
If I may jump in here for a minute, this of course was the start of the rumors that Manning could not win a big game. To be fair to Manning, he did win the Gator Bowl after his freshman year. He also won the Tennessee...errrr...Citrus Bowl two times. Of course, he ended his career in the Orange Bowl with an outside shot at a National Championship had Michigan, who had a Sophomore backup QB named Tom Brady, lost in the Rose Bowl. Michigan won, and Tennessee lost to Nebraska 42-17. Brady didn't play, but I'm sure his spirit had something to do with that result. Anyway, please continue...
MK:
Following Manning's graduation, Phillip Fulmer's Volunteers were defending SEC Champions in 1998
3
and remained the best challenger to Steve Spurrier's Gators in the Eastern Division, and hosted them in a night game at Neyland Stadium on September 18, 1998, with the Gators ranked second in the country and the Volunteers ranked sixth. The #1 team in the land was Ohio State, who had begun the season ranked in the top spot and would hold that position in the polls until they lost to Michigan State in November. Florida State, the team that would play Tennessee in the BCS's first ever national championship in the Fiesta Bowl, was ranked eleventh, following a loss to NC State. Sean McDonough had the call for CBS, with Terry Donahue, the former head man at UCLA, on color commentary. A very young Mike Mayock worked the sidelines on a steamy, sticky night in Knoxville. McDonough's voice is the same as ever, and he's aged surprisingly well, but it's really hard not to hear Mike Mayock as a prospect evaluator and draftnik when he starts talking about Jamal Lewis during pregame, Tennessee's sophomore runningback. Lewis had gained over 1300 yards the previous season as a true freshman and was widely considered the key to the Tennessee offense as the Volunteers adjusted to life after Manning. Mayock was on the ball throughout the game, but was most in his element relaying a story about Lewis getting into a weightlifting competition with one of his teammates. It culminated bench press contest the previous summer, where the two participants, surrounded by hooting teammates, were matching each other up to 460 lbs. At that point, according to Mayock, the coaches intervened and stopped them, announcing them both—and I'm quoting Mayock here—'plenty strong!' and that they couldn't have anyone getting hurt over this. It was vintage Mayock before that was even a thing.
BW:
I had forgotten that Mayock was a sideline reporter in a previous life, and I must admit that in rewatching this game, he was quite good at it. Overall, CBS has always nailed their college football coverage, and this game was no exception.
MK:
In terms of other future pros in the game, you might have expected more out of the second- and sixth-ranked teams in the country. The most prominent beyond Lewis, without question and among the guys seeing the most of the field, is Florida's Jevon Kearse, who went on to a long career in Nashville with the Titans, but played a somewhat uneven game, really popping in the first half and becoming less visible in the second. If we're searching for others, Peerless Price had a respectable career with the Bills, but made some of the most memorable plays of his career in that 1998 Tennessee campaign, including the game-sealing touchdown in their national championship victory over Florida State.
BW:
Other pros of some note include Tennessee LB Al Wilson, a five-time Pro Bowler in eight years as a Bronco. Also, Florida LB Mike Peterson had a 14 year career with some really nice seasons in Jacksonville, and WR Darrell Jackson finished his career one reception short of 500, plus had three 1000 yard seasons with the Seahawks. Florida's best offensive player in this game was Travis Taylor, the 10th overall pick of the 2000 draft by the Ravens, but he never panned out. Oh, and Jesse Palmer was the 5th "The Bachelor", so there's that.
MK:
Talk before and throughout the game, though, centered on the quarterbacks. Tennessee replaced Peyton Manning with Tee Martin, a junior who was making his second career start that night. To give you an idea of just how low the expectations here were, no one even mentions when the stats are laid over the screen in pregame that his completion percentage had been 40% in the previous game against Syracuse, whom the Vols had beaten at the Carrier Dome on a field goal in the closing seconds, 34-33. Manning's empty chair and Tennessee's five-game losing streak to Florida really hang over the opening kickoff like a dark cloud. McDonough and Donahue are discussing Fulmer's squad's inability to pull off a win against Florida just about every other play in the early going, and they return to it regularly throughout the rest of the night. They're seriously posing the question of whether Tennessee, psychologically, is equipped to beat Florida.
BW:
This game obviously took place prior to the decree that was sent from on high that Manning should never be even remotely implicated in anything that may resemble a public disparagement. Even the AFLAC trivia question (the answer to which I totally nailed, by the way) was set up as a dig against Peyton. The question was, "Who was the last Tennessee QB to defeat Florida?" The answer- Heath Shuler and his odd-looking #21 jersey. That happened in 1992. Anyway, I promise that's my last interruption.
MK:
I don't know why you're apologizing, I do this with impunity to you all the time.
BW:
Seriously, tell us about the game.
MK:
Okay, even almost two decades after the fact, it's obvious immediately after kickoff how big this game was. Tennessee received the opening kick, ran Jamal Lewis off tackle three times after being set back by a false start, and promptly punted away to the Gators, who would have problems of their own. The crowd of some 104,000 was loud—yes, very, extraordinarily loud and by any rational standard—and had a major impact on the outcome of the game. Florida was plagued by procedural penalties the entire night and was constantly behind the chains in spite of the fact that they could move the ball through the air with relative ease. Florida suffered pre-snap penalties in spades and had enough problems with playcalling that they were forced to use all three of their first half timeouts by the time there was 4:43 remaining in the first quarter.
Florida's choices in this respect alone are almost worthy of an article by themselves. Steve Spurrier rotating quarterbacks and having a quick hook with them is something of a truism, but in this game he rotated quarterbacks
every single play
. Instead of signaling a wide receiver or a quarterback, or using a rotation of wide receivers to run in plays—you know, like every junior high and high school football team in the country did—the Head Ball Coach would tell his quarterback the play and what to do with the damn ball on the sidelines before running him out for the next snap. It's unbelievable and kind of amazing, not just because of how much of a control freak you would have to be to do this, but also because of how well it worked. Florida could not get any push in the running game throughout the night and would finish the night with negative rushing yards, but Spurrier routinely had open receivers for Jesse Palmer and Doug Johnson to hit in stride, and they usually did, throwing for over 350 yards. That wasn't bad in 1998.
It's easy to forget how much everyone hated Spurrier in the late 1990s. He's something of an institution in college football now, and everyone loves his press conferences today—maybe especially because he's just as likely to point his guns at his own team—but he was really ahead of his time. His personality is much better suited to today than it was the 1990s, when he really had Florida rolling and let everyone know it, publicly taunting and mocking his opponents, who simply couldn't beat him. Between the end of October 1994 and the beginning of October 1997, Spurrier's Gators lost three games and tied once, and they all came to either Florida State or Nebraska. I can't decide if it's fitting or a shame that his South Carolina teams aren't good enough to get him the air time he had in Gainesville. I don't think I overstate this, but Spurrier really is one of the authentic geniuses of his generation, and his effect on the culture and pace of the college game really cannot be overestimated. If Peyton Manning's nemeses are Spurrier and Belichick, then he's chosen wisely.
And that, in the end, is what this is really about. It wasn't so much a great game as it was the closing of a chapter in the SEC East and the beginning of new one in college football as a whole. Florida was consistently a step ahead of Tennessee, and probably would have won the game by a comfortable enough margin had they only turned the ball over three times instead of five; those turnovers, too, usually came on unforced errors, like fumbles on the goal line or interceptions on underthrown passes that ought to have been touchdowns. Tennessee's scores, too, came not because of sustained drive but unlikely big plays. In the first quarter, Shawn Bryson's lumbering, 57-yard fullback dive became a touchdown and accounted over a quarter of his rushing yards for that entire season. Later, after a Florida punt deep in their own territory, Martin struck for a touchdown on a 29-yard jump ball to Peerless Price after a vicious, juke-you-out-of-your-shoes double-move on a stop-and-go. A missed kick in the first overtime cost Florida the game, but you could tell it just wasn't their night. While Fulmer would stay on at Tennessee until 2008, within two years Steve Spurrier would leave Gainesville for the Washington Redskins, following a long line of college virtuosos chasing validation in the pros. Their assistants moved on, too, as Bob Stoops—who is never mentioned but as Florida's defensive coordinator is frequently shown on the sidelines signaling to his unit—accepted his current position at Oklahoma at the end of that season and won a national title two years later. David Cutcliffe, who coached Peyton at Tennessee, took the head job at Ole Miss and convinced Eli to come with him and play for his dad's
alma mater
. And as much as we want to talk ourselves into this game every year and it's sometimes been fun, it hasn't really been the same since.
One of the things that really drives this home—and is just good fun—is looking at the score updates that appear periodically throughout the game. (Yes, young readers, there was a land before crawlers.) On the one hand, you can see things like that the #13 Syracuse Orangemen, led by Donovan McNabb had smacked Rutgers, 70-14. At least some things never change. Kentucky, and, yes, Tim Couch, overcame six turnovers to beat Indiana, 31-27, and Akili Smith's Oregon squad massacred San Jose State, 58-3.
More than satisfying a morbid curiosity with the top three picks in the next April's NFL Draft, those details can help you recapture and piece together time and place in a way that the rest of the broadcast just can't. For instance, Miami was playing Virginia Tech at the same time as this game. Both teams were unranked, and the last score I saw on the update bar that pops up was a 20-20 tie; the Hurricanes would lose 27-20 in OT at the Orange Bowl, but this is maybe a candidate for a full-scale breakdown on its own. This was Michael Vick's redshirt season at Virginia Tech, but Butch Davis was at work at Miami, and Santana Moss and Reggie Wayne both caught touchdown passes that night. The next Saturday, #4 UCLA, led by Cade McNown, was scheduled to go to Miami to play, but the game will be canceled because of Hurricane Georges, a category four storm that hit the Florida Keys on September 24-25. They later rescheduled for December 5, the same day as the conference championships. Miami defeated then #3 UCLA in epic shootout, 49-45. Had the game stayed canceled or had the storm skirted left of the Keys is one of the great what-ifs in college football history.
I have no doubt that if UCLA played Miami on September 26 of that year, the Bruins would have been ahead of the Canes and were likely to have won the game. Instead, already Pac-10 Champions, UCLA had to travel across the continent to Miami for one last audition for a spot in the Fiesta Bowl. Undefeated Tennessee had held the #1 ranking since Ohio State's loss to Nick Saban's Michigan State Spartans, and would play the late game that night for the SEC Championship in Atlanta against #23 Mississippi State. Heading into the day, it would have been safe to assume that Kansas State should have been their opponent. The Wildcats were undefeated entering play on December 5 and had finally slain Nebraska—seriously, 1998 was the first time Nebraska lost a Big XII regular season game, only having lost to Arizona State and Texas (in the conference title game) in 1996 since the formation of the conference in 1995—but fell to Texas A&M in overtime. It would have opened the door for UCLA, but the Bruins had already been beaten in Coral Gables. Instead it allowed one-loss Florida State, sitting at home and now forced to play their backup quarterback, due to injury to twenty-six year old Chris Weinke, to sneak through the door just ahead of Ohio State. The preseason #1, the Buckeyes ended up at the Sugar Bowl because we all know teams playing backup quarterbacks are at no disadvantage in college football's post-season.
Tennessee finally prevailed that September in overtime, of course, and went on to take home the first Bowl Championship Series national title, winning the Fiesta Bowl 23-16 over the Seminoles It not only closed the book on Manning and Spurrier, but it happened on a night that foreshadowed the rise of Virginia Tech and Miami, and showcased a defensive coordinator who would bring Oklahoma back to college football's elite in record time. It would be the SEC's last undisputed national championship—with all due respect to Nick Saban's 2003 LSU team—until the Florida Gators pounded Ohio State in the same venue in 2007, restarting the college football world's fascination with the Southeastern Conference, but on a very different basis.
BW:
Great stuff, Matt. I just want to hit on a few more points, but you pretty much nailed the jist of everything.
I'm glad you mentioned the periodic score updates, because anytime I'm watching a game like this from many moons ago, one of my favorite things to do is to check out the ticker. Penn State beating Pitt while sacking the Panthers ten times and forcing three TOs immediately brought a smile to my face. I'm guessing LaVar Arrington created some serious havoc at old Pitt Stadium. The other interesting note came when they showed the score of the Oklahoma-California game. They mentioned that it was John Blake's first 2-0 start as HC of the Sooners. Cal ended up winning the game 13-12, the Sooners finished 5-6, and Blake was fired and replaced by Florida DC Bob Stoops.
Also of note, CBS was set to premier
The King of Queens
on the following Monday night, placing it directly between
Cosby
and
Everybody Loves Raymond
.
MK:
Apart from the awful things we've learned about Bill Cosby in the interim, I was just kind of shocked that he had a show on the air in 1998. I know it was
Cosby
and not
The Cosby Show
, but still.
BW:
The 9:30 program they were debuting that evening?
The Brian Benben Show
, because that show was clearly set up for success.
MK:
Yeah, I guess I at least knew that Cosby's show once existed.
BW:
It apparently lasted four glorious episodes, though they created five additional episodes that went unaired. Oh to get my hands on a set of those lost episodes...
You're 100% accurate in the importance of this game jumping off the screen from the second the broadcast started. The Tennessee crowd was fantastic that night, but it was also clear that it was nervous energy that could be popped at any moment. Therefore, the most important play in this game occurred at the end of Florida's first drive.
MK:
I know where you're going with this, and you're probably right.
BW:
The Gators drove the ball down the field with relative ease, and after a sideline pass to RB Terry Jackson nearly ended in a TD, on the next play, Jackson fumbled as he was headed into the end zone to give Florida an early 7-0 lead. That accelerated the crowd, and despite Tee Martin responding with an INT on the ensuing possession, when Tennessee then held Florida to only a FG despite another 1st & Goal, the tenor of the game had officially been set. And when Shawn Bryson busted through for his 57 yard TD, 12 rushing yards more than Tennessee had gained in their previous contest with Florida, it was game on.
Watching Spurrier rotate between Doug Johnson and Jesse Palmer on literally every play was surreal. Even when Florida was forced to use a TO, he'd have the other QB go back into the huddle. That it mostly worked showed both the idiosyncrasy and genius of Spurrier. The best example was toward the end of the first half when, with the clock running, Jesse Palmer came to the sideline, and Doug Johnson took the snap and spiked the ball to stop the clock (which didn't count due to an illegal formation). Palmer then threw a TD pass on the next play.
At some point in these older games I always end up noticing the difference in interpretation of the catch rule.
MK:
You mean, like, before instant replay kind of ruined the sport?
BW:
Don't get me started on instant replay. Anyway, to close the first half, Florida hit their TE, last name Edge, for a big gain inside the 10. He caught the ball, was hit almost immediately, and when he hit the ground, the ball came out. Terry Donahue pointed out that the officials made the correct call because the ground cannot cause a fumble. However, as we now know, the ground can certainly cause an incompletion. A few plays later, Travis Taylor "caught" a TD pass, though he never established his feet prior to being hit by the defender, and the ball was ripped out before he even got to the ground. Both plays were ruled as receptions, and allowed Florida to tie the game heading into the half.
True to form, Spurrier also had two kickers that he would use for Extra Points. When it came to the game-tying FG attempt in OT, Spurrier called on the veteran Collins Cooper over Freshman Jeff Chandler. Cooper missed the kick. Perhaps if he had also rotated his kickers for FGs, the results would have been different.
This was not a great game by any means, but it was a very interesting game that helped to shape the first season of the BCS. Prior to watching this game, I actually probably remembered Tennessee's 34-33 win over Donovan McNabb-led Syracuse in the Carrier Dome a bit more. I also remember the greatness of LaVar Arrington (of course), and being particularly impressed with UCLA and Cade McNown. UCF was a team that was a lot of fun to watch, thanks to QB Daunte Culpepper, and were on ESPN or ESPN2 quite a bit as a result. But the game I most vividly remember from that season was the UCLA-Miami matchup that Matt alluded to above. With Hurricane Georges forcing the game to be moved all the way to championship weekend, the battle to see who would play in the first BCS championship was epic. Matt is correct in saying that UCLA almost certainly wins that matchup had it taken place in late September as was originally planned, but it's not like Miami looked like a lock to take down the Bruins. The previous week, Miami lost to Syracuse in the Carrier Dome 66-13. I don't know if that result played a role psychologically on either end, but the 49-45 win for Miami, behind a huge 305 yard rushing effort from Edgerrin James, slammed the door on what would have ended up being a UCLA-Tennessee championship. With UCLA out of the picture, Tennessee finished their business while Kansas State blew a fifteen-point 4th quarter lead in eventually losing in double OT to Texas A&M. That opened the door for Florida State to crawl into the National Championship ahead of Kansas State, who ended the season ranked #3, and thought they still had a strong case to participate in that game (K State QB Michael Bishop was a fantastic college football player, by the way, and finished 2nd to Ricky Williams in the Heisman voting). Instead Kansas State, losing their automatic BCS bid to Texas A&M, was forced to take their #3 ranking with them into the Alamo Bowl, where they lost another high-scoring affair by 3 points to Purdue and Sophomore QB Drew Brees.
As you said, Tennessee went on to win the championship 23-16 over Florida State in a game that was noteworthy simply for being the first "true" national championship, since for the first time, the Big Ten and Pac-10 weren't tied exclusively to the Rose Bowl. However, that Tennessee was the team to win it, the game was arguably even more noteworthy at the time because of who wasn't there. Without Peyton Manning leading the way, Tennessee was able to become more diverse, setting up the pass by running the ball more consistently with Jamal Lewis, and playing really tough defense. That Manning became the dangling participle to their season was likely unfair, but Tennessee's win helped to facilitate a stigma that lasted with Peyton Manning for years, and in a sense, still lingers to this day.
__________________________________________________
1
We thought about discussing great feuds between coaches this week, given the shots across the bow fired by Kliff Kingsbury at Bret Bielema after last weekend's game. We ultimately left it on the cutting room floor, but if you're curious what Kingsbury was reacting to, specifically, I'd recommend Travis Hale's
excellent piece via SI on Bielema's remarks and Texas high school football
.
2
If you'd like to watch this game yourself,
it's available in full on YouTube
.
3
Despite Tennessee's loss to Florida in 1997, the Gators would lose to LSU and Georgia. They did manage to ruin Tennessee and Florida State's bids for national titles that season, though, as Nebraska and Michigan finished undefeated and split the championship in Tom Osborne's final year.
CLICK HERE FOR PAGE 2, WHICH INCLUDES A TOP TEN FROM EACH OF US AND WEEKLY PREDICTIONS.