MK:
This week, we're telling the ACC and the Big 12 to stop trying to make fetch happen. We also talk a little bit about football. We're glad you're here. Grab a cup of coffee this morning and get ready another college football Saturday with us.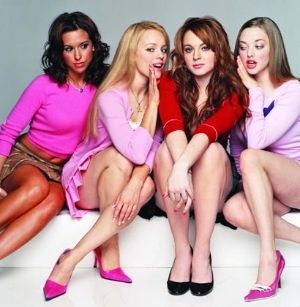 FIVE GOOD QUESTIONS
For those of you who are new here, each week, Brian Williams (hereafter BW) and I (MK) write up a column on the hyper-regionalism, idiosyncrasies, and insanity that make up the sport of college football. We answer five good questions (give or take one or two), pick a few of the best games of the weekend, and call one upset. The first question is always the two of us arguing about where we would go if we had an unlimited budget and could travel to any college football game we wanted this weekend. That, and the fact that we don't ever write anything that's short, is about all you need to know. We're glad you're here and we'd love to hear from you.
1.) Well, Brian, the same question as always: if you could go to any college football game in America this weekend, where are you headed, and why?
BW:
In almost any other year, a Saturday with both Oklahoma-Texas and Florida State-Miami would have been considered one of the best weekends of the year. However,
as we first reported last year
, FSU vs. The U hasn't been the same in well over a decade, and while the Texas State Fair is one of the most awesome things in the history of ever, there's not much that could make me choose to sit through a Texas game at this point.
After three consecutive weeks of compelling matchups, this week feels like an opportunity to take a bit of a deep breath. That usually means that something big and unexpected is about to happen. There are two ranked-vs-ranked games this week, and both could serve to validate the underdog if either are to escape with a road victory. The first of those matchups is taking place in Ann Arbor between #18 Michigan and #13 Northwestern. Northwestern enters undefeated but an underdog to the Wolverines, who haven't lost since losing to a really good Utah team in week 1. Neither team gives up many points (they've combined for four shutouts), and a defensive struggle in perfect Midwestern autumn weather is usually something that I can't pass up. Except that I mentioned that Utah is really good, right?
Forget Michigan-Northwestern, and especially forget Florida State-Miami, I'm headed to Salt Lake City, home of the REAL "The U". The venue may be only 40% of the size of the Big House, but it's home to this season's fastest rising team. #5 Utah is the Pac-12's only representative in the top 15 of the polls, and this week plays host to the conference's only other undefeated team in the surprising 23rd ranked University of California Berkeley Golden Bears. The Alma Mater of Kyle Boller (and some guy named Aaron Rodgers), Cal once again boasts arguably the top QB in the country in Jared Goff. Goff is the leading passer in the Pac-12, and has already led the Bears to road wins over Texas and Washington, but this will clearly be his toughest test to date.
The Bears are not likely to remain undefeated for too long. After this week, they play @UCLA, vs. USC, and @Oregon, and still have to make the trip to rival Stanford as well. But this is also a great test for Utah, whose schedule is suddenly appearing to be more manageable by the week. In what should be a supremely fun game (not to mention an aesthetically pleasing one) and a great atmosphere, Cal has a chance to prove they are for real while Utah can further legitimize their potential playoff viability. A wise man once mentioned this to me, and who am I to argue?
MK: I think just about any time you can watch a good football game and look at mountains at the same time, that's a pretty good decision.
You couldn't be more correct, and I'm all in. Have the band strike up a little Blues Brothers, sit me next to the "Crazy Lady", and send me off to Rice-Eccles Stadium.
MK:
With Cal's visit to Utah off the table, the obvious choice becomes a trip to Ann Arbor. It pits two evenly matched teams against one another in a pivotal, October conference game, but there are complications. I've been wrong before, but if you put it to a vote and asked the public whether it would rather its football team be coached by Pat Fitzgerald or Jim Harbaugh,
the result would look something like an election in North Korea
. Second, as impressive as Michigan has been, the Wolverines have made their living trouncing one-dimensional offenses. Oregon State and UNLV truly could not pass their way out of a wet paper bag, and BYU cannot run the ball to save their souls; the Beavers are ranked 117th nationally in the passing game, while the Rebels are 115th and BYU is 114th on the ground. The exception to this, so far, is Maryland, who unfortunately can neither run nor pass. Northwestern, despite impressive wins against Stanford and Duke, brings an outstanding rushing attack and—wait for it—the 119th-ranked passing offense in the country to the Big House.
I think I know how this is going to go. Besides, I've got first pick next week,
and I'm pretty sure I'm going to go to a game in Michigan then
.
It's not an inspiring weekend for college football at its highest levels, so I'm setting my sights on the lower divisions for a critical matchup in Football Championship Subdivision—the Artist Formerly Known as Division I-AA—in the Missouri Valley Conference. The Illinois State Redbirds, ranked fourth nationally and the division's runner-up to North Dakota last season, will take on Bo Pelini's #7 Youngstown State Penguins in the heart of the old Steel Valley.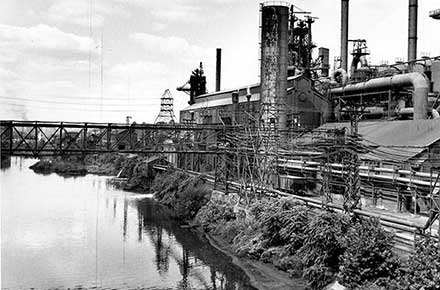 The blast furnaces may be out, but the football here is as good as it ever was. Each team has lost to a Power Five opponent and has survived an overtime scare, but the seven o'clock kick in Mahoning County has plenty of promise, provided Bo Pelini has spent the week drilling the Penguins in practice and not prank calling the entire University of Nebraska administration and reminding them that he never lost to Illinois (link: Bo Pelini—SB Nation thing). The Redbirds have been offensively limited this season, if balanced, while Youngstown State has run all over its three same-division opponents to the tune of 222, 302, and 143 team rushing yards. You can check it out on ESPN3 your own self, if you want.
2.) One game we haven't really mentioned is Miami—Florida State. The game just doesn't have the same juice it used to, but there's a bigger problem here: the ACC is in desperate need of divisional realignment. How and why should the conference do it?
MK:
We've written about
this more than once
, but the problem isn't just that Miami is down or maybe that the rivalry between the Canes and the Noles
is actually somewhat overrated
. The ACC's divisions, bluntly, make absolutely no sense, unless your sole goal in creating them was to contrive conference championship games between Miami and Florida State. You would have done this, presumably, because you thought you could make a lot of money, but you obviously didn't think this through because it's never happened. It's not just that Miami hasn't been very good since joining the league—and they've yet to win their division—but it's also because the loser in this game is at inherent disadvantage in their own division every season. Even if both teams are good, they retain each other as permanent rivals.
A much better solution would be to follow the Big 12 (former) South and Big Ten East models, placing Miami and Florida State in the same division—like Oklahoma and Texas, or Ohio State and Michigan—making the game a bellwether for a divisional title instead of chasing a conference championship date that hasn't happened in a decade. Furthermore, does anyone even know who's in the Atlantic or the Coastal Division? They're almost old enough to vote, and I help write a college football column that I take fairly seriously, and I don't even know. Isn't it time to burn this, start over, and write new divisions?
BW:
The current big dogs in the ACC are Florida State and Clemson. Since the best option for realignment would probably involve splitting those two schools into separate divisions anyway, why don't we have some fun with this and turn the realignment of the ACC into a draft. We'll make Florida State and Clemson the team captain with me taking charge of the Florida State division and you picking for Clemson. We may have just created the highest rated program in the history of ESPNU.
MK:
I would totally watch. Let's make this a pretty simple draft. You can have the first pick, since it's your idea and since it would kind of obliterate the entire object of this exercise if I got to pick first as Clemson and took Miami. Anyway, in compensation, I'll make my first and second round picks back-and-back and we'll rotate normally from there. You're up.
BW:
With the first pick of the 2015 ACC Realignment Draft, I've got to go with Miami. The ACC is perpetually stuck in the enormous shadow of the SEC, and need a massive rivalry to spice things up for the conference. Miami-FSU has always been meant to be the cornerstone of the conference to the point and, as you said, they attempted to extract a few championship games out of that rivalry as well. As we all know, that's been a colossal failure, as Miami's next championship game appearance will be their first. In an effort to build some juice to the rivalry, we'll put Miami and Florida State in the same division, which is probably where they should have been all along.
MK:
With my back-to-back picks, I'm taking Georgia Tech and Louisville. GT is a charter member of the ACC, probably the strongest historical program in the league, with nearly 700 wins you can count on them to compete, and they've been Clemson's permanent rival since divisional play started. Also, this.
With Louisville, I'm projecting a bit more, and perhaps that will surprise people who would think VT is the obvious choice here, but it's hard not to be impressed with what the Cardinals have built in the last twenty five or so seasons, including more BCS bowl victories in that span than any team in the league not named Florida State or Miami.
BW:
Good picks. I thought Georgia Tech was the clear number 3, but would rather avoid having to play that unconventional offense every year. Louisville is the wild card in this whole thing, as I feel like they could eventually become a legit power. Trading Maryland for Louisville was unintended genius on the ACC's part.
I'm a little torn on this next pick, and I was considering going for a doormat to guarantee a win every year, but FSU should be afraid of no one, so let's look at resume-building schools. The best on the board is Virginia Tech, and they had an interesting rivalry with Miami back in their Big East days, so I'll go ahead and grab them.
MK:
I think Virginia Tech is the right pick here. The Hokies and Miami go together, and they also played Florida State for a national championship back in the days of the Vick Dynasty and Beamerball. It's a strong, coherent start on your side, and an homage both the old Big East and the Bowl Championship Series.
I have a few ideas of where I might go with this, but the pick that helps me keep my options open is North Carolina. Another breakaway member of the Southern Conference, along with Clemson and Georgia Tech, the Tar Heels underachieve a little in football, but have been coached by Mack Brown and have produced Lawrence Taylor and Julius Peppers. With a strong athletic program in Chapel Hill, again there's so much potential here.
BW:
By taking Louisville, you've prevented the incredibly boring (yet logical) pairing of the ACC originals in one division, with the Big East plus FSU in the other division. That would make way too much sense, and for the ACC, making sense would be the most illogical thing imaginable.
I'll jump on the sleeping giant here. If Pat Narduzzi is as good as we all think he is, Pitt could be taking the conference, as well as the nation, by storm in very short order. Give me the Panthers.
MK:
I think some continental drift toward ACC and Big-East Divisions makes sense and is really unavoidable. Pitt trends that way, too, and they're a nice selection, even if it's hard to see them ever becoming a true behemoth again, considering they're stuck between giants like Ohio State and Penn State, even though they've solid talent into the NFL throughout the past decade. Still, they fit with Virginia Tech very well, and I wonder if their ability to recruit Florida would increase with an annual trip to either Tallahassee or Miami, guaranteed.
Cultural and geographic pull is an argument in favor of this pick, but I'm following up North Carolina with Duke for other reasons, too. Keeping the the rivalry between these two schools is important enough to merit a draft pick at this stage, and furthermore David Cutcliffe has managed to turn Duke into a fairly reliable program, winning six, ten, and nine games in their last three seasons. The Blue Devils are a perfect resume padder at this point; they're not yet good enough to beat Clemson or any elite program at this stage, but they take care of business out of conference and win enough games to be a respectable line. If they become more, so much the better.
BW:
Duke was the logical next choice in many ways, especially including securing the rivalry with UNC. On the heels of all that, I'll resist the temptation to seize a Carolina school of my own and capitalize on solidifying another pretty nice rivalry by taking Virginia to pair with the Hokies.
MK:
Virginia is a pretty good get at this stage of a draft. They've been pretty abysmal under Mike London, but they were solid for decades under George Welsh and Al Groh, and yes—a good rivalry, great colors, fun nicknames. I'm trying to think of who'd go tenth in each of the other conferences, but I need to stop. Virginia pairs as nicely with Virginia Tech as it does with Florida State, honestly. We forget how, despite Florida State rolling through the whole of the ACC in the 1990s, Virginia was the first program to beat them.
Right now, this is a game of chicken to see if either one of us will change things up and go away from where this draft is taking us. It's almost too late to not produce two really coherent, logical divisions. Sigh. North Carolina State, please.
BW:
I strongly considered playing chicken with Virginia for one more pick and grabbing NC State, but I had to solidify that rivalry, and I am really hoping that Mike London figures things out, because I like that dude. And yes, in 1990, when Georgia Tech won the national title, one of their wins was over a Virginia team somehow ranked #1 in the country at the time. They eventually imploded, but Herman Moore was awesome.
Seriously though, we're more creative than this, right? I guess not. Give me Boston College.
MK:
I guess I have to take Wake Forest at this point, don't I, and I can't grab Syracuse? Oh, and do these divisions have names?
BW:
And I end up with Syracuse by default, though with the direction of our draft, there really was no other way to end it. I'm certain there's some sort of copyright that prevents me from just calling this division "The Big East". To prevent Villanova and St. John's from having a conniption, maybe we can just name my end of things the Bowden Division?
MK:
Maybe Clemson will be generous and name the division for Georgia Tech's former head coach, John Heisman.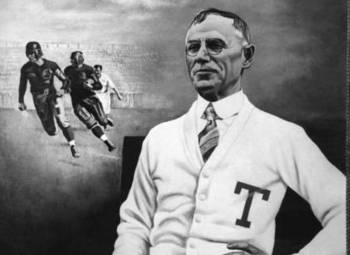 Are we retrying an idea that didn't work in hockey? Here's how our divisions line up.
| | | | |
| --- | --- | --- | --- |
| | Bowden | | Heisman |
| | | | |
| 1. | Florida State (captain) | | Clemson (captain) |
| 2. | Miami | | Georgia Tech |
| 3. | Virginia Tech | | Louisville |
| 4. | Pittsburgh | | North Carolina |
| 5. | Virginia | | Duke |
| 6. | Boston College | | North Carolina State |
| 7. | Syracuse | | Wake Forest |
I think this is a more compelling alignment than what we currently have, in all honesty. It's logical, in that it basically maintains the integrity of the old ACC—albeit with the notable absence of Maryland, but what can you do?—and the core of the Big East, as well as it preserving both the conference's most traditional rivalries and the games we came to appreciate and expect some time after 1980. I, for one, believe putting Miami and Florida State in the same division should raise the play of both and gives the game a new meaning in the new context of the College Football Playoff, as well as allowing new powers to emerge in the opposite division.
2a.) What it's not, though, is all that fun, so I'm taking another crack at it. If you had a mulligan, Matt, how would you rewrite them?
MK:
Since the geography and the intersection of rivalries in the ACC can make splitting things up kind of a mess, I'm looking at another fault line with a slightly neater division: academic reputation. It's not like any of these schools are bad, honestly, but anyone working at any American college or university will tell you that, fairly or unfairly, there are always going to be haves and have-nots in prestige. A very wise professor of mine was right on the money when she said that academic culture was basically the same as
Mean Girls
.
Allow me to explain.
So, judgments embedded in questions like, 'Oh, you got your Ph.D at Florida State?' existed in academia and in the public eye even before the methodologically regrettable
U.S. News & World Report
rankings became a thing, because God, Americans love lists and rankings. So, I present to you, as anyone who's applied to college in the last twenty years or so will recognize, two coherent, plausible divisions for the ACC: the Safety Schools and the Long Shots.
| | | | |
| --- | --- | --- | --- |
| | Long Shots | | Safety Schools |
| 1. | Virginia | | Florida State |
| 2. | Duke | | Miami (Fla.) |
| 3. | North Carolina | | North Carolina State |
| 4. | Wake Forest | | Clemson |
| 5. | Boston College | | Louisville |
| 6. | Georgia Tech | | Virginia Tech |
| 7. | Pittsburgh | | Syracuse |
Sorry, Syracuse. There's some injustice for you in this—based on both academic reputation and the teams you have to play football against now—but them's the breaks. We could structure this, too, like a tenure-review and have each program present credentials every six or so years to see if anyone should be promoted into the Long Shots or shunted off to the Safety Schools, because that's basically what we academic mean girls do.
BW:
That is undoubtedly the most pretentious answer in the history of TG. And every last bit of it is complete beauty. Well done.
CLICK HERE TO CONTINUE TO PAGE 2, WHERE WE'LL TACKLE THE BIG 12, RECOVERING FROM LAST WEEK, MARYLAND'S WOES, AND GIVE OUR PREDICTIONS FOR THIS WEEK.