MK:
You'll be glad you read this week. I promise.
On Page 1 (this one), I'm recasting
The Usual Suspects
using Big Ten coaches and we assess the legacy of Steve Spurrier. On
Page 2
, we'll talk about the Pac-12, including USC's coach vacancy and Utah's prospects to finish the season undefeated, as well as make our picks for the week.
FIVE GOOD QUESTIONS
For those of you who are new here, each week, Brian Williams (hereafter BW) and I (MK) write up a column on the hyper-regionalism, idiosyncrasies, and insanity that make up the sport of college football. We also occasionally discuss football. We answer five good questions (give or take one or two), pick a few of the best games of the weekend, and call one upset. The first question is always the two of us arguing about where we would go if we had an unlimited budget and could travel to any college football game we wanted this weekend. That, and the fact that we don't ever write anything that's short, is about all you need to know. We're glad you're here and we'd love to hear from you.
1.) This is a hell of a weekend, so if you could go to any college football game in America, where would you spend it?
MK:
At the risk of giving away too much of the process and destroying the magic around here, I've spent way, way too much of the last thirty six hours or so—not continuously, obviously—sitting around trying to come up with an angle from which to attack this intro. The answer this week has always been obvious, but I've had no idea what the starting point should be, and maybe that's a clue. I'm obviously going to Ann Arbor. There are two SEC matchups featuring Top 10 teams this week, but it's hard to get terribly excited about Florida visiting LSU without their starting quarterback and it's hard for me to believe at this point that A&M has the kind of counterpunch necessary to take down Alabama.
Really, this is a much bigger weekend for the Big Ten. It's not simply because we've grown accustomed to seeing highly-ranked SEC squads take the field against each other, although that has seemed to happen with alarming frequency this past year and a half; if this column has made me consider anything, it's that great powers come and go in college football, so I'm not bored with any of this. Ohio State, of course, takes every opponent's best shot every weekend, which is a staple of ESPN's promotional campaign for college football and has the benefit of being the literal truth. Everyone, as they say, wants their shot at the champ. Penn State, who really, really hates us—yes, us—will have theirs this weekend, in one of the most undersold 6-0 vs. 5-1 matchups between programs of this caliber in recent memory. (Presumably, that is because the one loss was to Temple.) Iowa and Northwestern are playing a critical game in the Big Ten West, with control of division probably on the line for the rest of the season, but the real reason to go see Michigan State and Michigan is for considerations beyond this year.
When Michigan hired Jim Harbaugh, everyone knew that it was a question of when they would be back and not if. I don't really know whether they're back. Don't get me wrong, three shutouts in a row is pretty great, and everyone is justifiably impressed with the turnaround under Harbaugh, considering what we all watched with Brady Hoke for several years. Michigan, though, will be back, whether the bandwagon is weighted with too many supporters or not, but the team with the most at stake in this game and in the pace of their return to prominence has to be the Spartans.
Mark Dantonio has done great work at Michigan State over most of the past decade, turning Michigan State from some kind of sick, cosmic joke whose punchline was delivered in every big fourth quarter into a legitimate national power. If the Wolverines win at home today, Jim Harbaugh may well have accomplished in seven games what it took Dantonio seven years to build. If Michigan wins, they have a shot at the division and the playoff if they can take down (currently) undefeated Ohio State; if Michigan State loses, they lose everything.
Those are the kinds of stakes I want to see. What have you got, Brian?
BW:
I'm trying here, I really am. Matt has made a great choice in taking the most clearly compelling matchup of a pretty terrific weekend. That leaves the next logical game choices for me in the SEC, with two separate top-10 matchups. The problem is, I've already seen A&M twice this year, so as interesting as their matchup against Alabama is supposed to be, I'm not interested in making a return trip to Kyle Field at this point. The other Top 10 SEC matchup features LSU playing host to Florida. Obviously, getting to see Leonard Fournette against the stingy Florida defense would be a major plus, but with Florida in the process of a QB change thanks to the calendar year suspension of Will Grier, I'm seeing some tough sledding for the Gators. Night game in Death Valley does sound a bit like a winner, but I'm going to put this game on hold for a second.
Big Ten weather, or as we like to call it, college football weather is officially in full gear. It has been 10 years since mid-western powers Notre Dame, Ohio State, Penn State, Michigan, and Michigan State have started a season a combined 27-3. The specific date was October 15, 2005, ten years ago Thursday, when Brady Quinn/Charlie Weis-led Notre Dame hosted peak USC, while Penn State-Michigan and Ohio State-Michigan State were the two games of the day in the Big Ten. For Michigan and Penn State, that day featured a moment I'd rather forget, as a Chad Henne to Mario Manningham walk-off spoiled Penn State's surprising national title hopes, a week after the Nittany Lions had taken down Ohio State in a White Out.
For Michigan State this weekend marks the 10 year anniversary of a game against Ohio State in which… wait… IS THAT JOHN L. SMITH'S MUSIC?!?!
That same weekend marked the unofficial beginning of the end of the Charlie Weis era at Notre Dame. It's easy to forget now, but Notre Dame had high hopes in Weis' first season. Led by Brady Quinn at QB, the Irish started the season 4-1 and ranked 9th, beating 3 ranked opponents, and losing only to Michigan State in OT. This was the USC team that had won the championship two years running, and hadn't lost since September of 2003, when they lost to Cal and some sophomore QB named Aaron Rodgers. Eventually USC would lose to Texas in the National Championship game, but before that, they played a pretty memorable game at Notre Dame Stadium now known as the "Bush Push". With a late 31-28 lead, USC got the ball back deep in their own territory with just over a minute and a half left, drove the field, and on the final play, Matt Leinart received some help from Reggie Bush to get into the end zone for the win.
USC is undergoing a coaching change this week, and while I expect the Trojans to give Notre Dame a real fight, I've already been to South Bend once this year, and I don't feel the need to go back. LSU-Florida also remains enticing, but this is a Big Ten weekend. Penn State isn't fully back to full strength coming off of their sanctions, but according to ESPN, 4 of the top 12 recruiting classes for 2016 lie in the Big Ten East, with Ohio State at #1 and Penn State at #4. Recruiting rankings are always a crap shoot, but it's clear that the 4 powers in the Big Ten East are beginning a collision course that could last for years, and may ultimately catapult that division into the best in all of college football. Ohio State is favored by nearly 3 TDs at home, but while a Penn State win is unlikely, I'm getting a sense that much like last year, something special may be going down in the Horseshoe this weekend. As I said at the top, I'm trying, but I just can't stay away from the Big Ten this weekend. Call me a homer, but while most eyes are focused on Michigan, I'm following the NFL scouts to the Buckeye state for a prime time matchup between the Buckeyes and my Nittany Lions.
2.) As our choices make clear, it's an enormous weekend for the Big Ten and probably the most important component of the change in the conference's fortunes is its outstanding group of coaches. That includes their personalities. If you could re-cast any movie using the Big Ten's head men as your players, which would it be?
MK:
Well, I mean,
obviously
we were going to do one of these stupid questions about the Big Ten this week, right?
College football doesn't happen without the players, and we all get that, but the thing that gives college football its life, its vitality, and its distinctive character is the cast of coaches. They manage to synthesize being economic powerhouses for their programs, generals on a battlefield of sorts, and characters in a weird, unending drama. College football is cinematic. Especially once a game has aged a few years, the old tape looks like it's been shot through some sort of amber filter on a Hollywood back lot and delivers a twist of an ending that only celluloid can provide. So, that's where we're going this week.
I think the best movie for this Big Ten season probably isn't the throwback to the Golden Age of Hollywood most would expect, but a newer classic that draws on a number of the same themes:
The Usual Suspects
.
Produced in 1995, most everyone has seen this crime, semi-noir drama, told entirely through flashbacks as Verbal Kint, a handicapped, small-time con artist played by Kevin Spacey, awaits his release from custody, having concluded a deal with prosecutors in exchange for immunity in the aftermath of a massacre aboard a ship apparently smuggling cocaine docked in Los Angeles. Verbal gradually introduces the rest of the film's five major characters—Fenster (Benicio del Toro), McManus (Stephen Baldwin), Hockney (Kevin Pollak), and Keaton (Gabriel Byrne)—all of them serious, hardened criminals from New York, who had been rounded up for a lineup in connection with an alleged hijacking some months earlier. Almost all of the film's action proceeds through flashbacks, as Kint explains the events leading up to shootout on the dock to a customs agent named Kujan (Chazz Palminteri), who always manages to bring the story back to Keaton, whom he believes to be the prime mover in the gang and about whom is fairly obsessed, as Keaton was once a corrupt cop on the New York police force. If you've seen the movie you already know all this, and the film is taut, moving along briskly and entertainingly until one name is mentioned: Keyser Söze, who according to Kint's story orchestrated the entire lineup to extort and coerce the five criminals into working on his behalf. Of course—and here be spoilers, if you haven't seen the movie, but since it's twenty years old that kind of feels like your fault—the trick of the movie is its fascination with a faceless, ruthless, and apparently Turkish crime-lord, who no one has ever really seen or is even sure exists, only to reveal that the pathetic, simpering Verbal Kint has fabricated the entire drama using advertisements and other pieces of ephemera tacked to the bulletin board in the office. Kujan only realizes this as Kint walks away, gradually losing his limp, lighting a cigarette, and entering a limousine to be driven away by one of his henchmen. It's one of the greatest twists in cinematic history, really, and it manages to incorporate it into the film in a way that's not destructive to rest of the movie, the way that might happen in, say, anything by M. Night Shyamalan.
So, I present you with my cast:

Pat Fitzgerald, as Fenster
: This is admittedly the weakest connection, but as the head coach of Northwestern, he makes sense given the Wildcats' early and unexpected prominence this season. We don't really know Fitzpatrick all that well, and we never really got to know Fenster, but he was the first of the group to die and Northwestern is first serious contender eliminated in the Big Ten race this season.
Mark Dantonio, as McManus
: He's certainly the risk-taker in the group, whose connections lead the five deeper and deeper into Söze's web. McManus's partner in crime was Fenster, and since Northwestern and Michigan State play the Wolverines in back-to-back weeks, it seems to work here.
Jim Harbaugh, as Hockney
: He's the most cold-blooded and short-fused in the group, right? And he's brutally funny. The film wouldn't be nearly as delicious without his savage one-liners, just like the Big Ten season really isn't the same without a good Michigan team.
Urban Meyer, as Keaton
: He's the presumed master criminal at the heart of all of this for the entire film, someone Kint likes and idolizes and looks up to as much as Kujan reviles. This
is
Ohio State football. Also, there's this fantastic moment film, during the supposed heist on the docks, when the group is communicating through walkie-talkies, and wasting an entire gang of Hungarian smugglers, Keaton realizes that they've all been had, screaming in a moment of realization, 'THERE'S NO! F——ING! COKE!' I kind of just can't get the image of Urban Meyer doing this out of my head, I won't lie.
Kirk Ferentz, as Verbal Kint
: He's pathetic, he's a cripple, and he's oddly protected in his position by unknown powers. Why Kirk Ferentz has never been fired at Iowa makes considerably more sense once you realize that he's actually Keyser Söze. Oh, and aren't we going to spend the entire rest of the Big Ten season chatting up the East Division, talking about Ohio State, Michigan, and Michigan State, only to have Iowa crap all over this season for us? They are, aren't they?
BW:
It is a weekly joy of mine to see where your mind takes things. My creative genes are currently sapped for one reason or another, and there's nothing coherent that I could possibly add to whatever you've just done. I can see a bit of a
Pulp Fiction
twist, with Harbaugh as Butch ("Zed's dead, baby"), Meyer as the Wolf, Jerry Kill being complimented for his coffee, and Kyle Flood chawing on a morning Big Kahuna Burger, but that's about as far as I've gotten. My mind just doesn't work like yours. All I can say for sure is that the transformation of the Big Ten is officially underway. Kirk Ferentz may be Keyser Söze, but Meyer is the current alpha dog and the upcoming seasonal battles between Urb, Harbaugh, Dantonio, and James Franklin both on the field and on the recruiting trail will make the Big Ten East the most compelling drama in college football for the next decade.
3.) Steve Spurrier retired, effective immediately, on Monday. A few weeks ago, we partially took on the question of Spurrier's legacy, but where does the Head Ball Coach rank among his contemporaries, and even the greatest of all time?
MK:
I'm not going to look them up right now, but I'm going to guess that there have been roughly a thousand pieces written on the legacy of Steve Spurrier. I'm not sure we need another one, but it's a testament to what a fascinating figure the Head Ball Coach is that most of the college football world dropped it was doing mid-week write couple-thousand word retrospectives on a seventy year old man who resigned in the middle of 2-4 season. I wrote quite a bit on the legacy of Spurrier and what he meant to the sport just a few weeks ago, and I'm glad I did, but the question of where his place exactly is in the pantheon of college coaching legends is an even thornier question.
It is not simply a question of the number of wins, because there Steve Spurrier—with 228 of them—is lodged between Hayden Fry, the long-time coach of Iowa, and Woody Hayes. Hayden Fry was an excellent coach, but would anyone seriously put him above Spurrier or Hayes? Hayden Fry managed to take the Hawkeyes to two Rose Bowls, losing both of them, but logged 89 losses in just his time at Iowa—to say nothing of his years at Southern Methodist and North Texas—and Steve Spurrier only lose 89 times in his entire coaching career. It's a superlative record. Of his contemporaries, the closest are probably Mack Brown and Frank Beamer, who each began their coaching careers in the mid- to late-1980s. Spurrier's star obviously rose earlier and more spectacularly than either of theirs, but each currently leads in the all-time wins standings. Beamer, of course, is still coaching, but the achievement of turning Virginia Tech into a legitimate power notwithstanding—or even Brown's rehabilitation of Texas after years of neglect, regardless of how it all ended for him in Austin—doesn't rate next to Spurrier's achievements.
The most apt point of comparison for Spurrier, I think, is LaVell Edwards.
The legendary coach of Brigham Young and quarterback whisperer, he's sixth all-time on the wins list behind the guys who rode their dinosaurs to work or whatever. Edwards took over in Provo in 1972 and retired in 2000, but between 1976 and 1994, his true legacy is that nine BYU quarterbacks led the nation in passing yards in a given year. As an early adopter of the horizontal passing game, which has come to be known as the West Coast Offense and which dominated the NFL nearly two decades, Edwards made 4000-yard passing seasons commonplace in college football, and made the old Western Athletic Conference synonymous with western shootouts as his opponents raced to score enough points to keep up.
In spite of Edwards's national championship season in 1984, I would credit Steve Spurrier with bringing the passing dominant offense to major college football. It's hard to separate Spurrier from other currents in college football in the late '80s and early '90s flowing in the same direction, especially in the state of Florida, where Bobby Bowden's Seminoles were drifting toward a shotgun, pass-heavy attack and Miami enjoyed such excellent quarterback play for a decade it became utterly cliche. Spurrier, though, brought the fun-and-gun, as it was called in those days, to the heart of the SEC, and it's one thing to be a power dominating an historically poor football conference like the ACC with the passing game, and another—especially in the era before the spread became the default offensive alignment for college football—to be using it to dominate the likes of Alabama and Tennessee.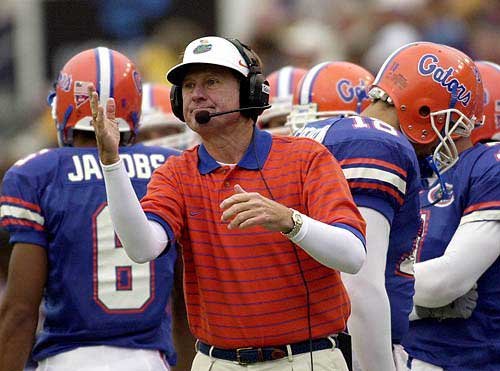 Godspeed, OBC.
BW:
Steve Spurrier has always been good for a quote and great at needling his closest rivals, labeling Florida State as "Free Shoes University", attacking Tennessee and Peyton Manning for their annual Citrus Bowl appearances, and constantly targeting Dabo Swinney while at South Carolina. His appearance at SEC media days became legendary, and he is the one most responsible for making the visor a coaching fashion statement. He was also one of the most finicky and quirky coaches in the history of college football, frequently battling with his own QBs, and rarely settling on just one.
In many ways, that legacy tends to overshadow his accomplishments on the football field. Turning Duke into a winning team was impressive enough, but at Florida, he replaced Galen Hall at a program that had undergone two separate sets of sanctions from the NCAA in a 6 year stretch. The Gators were banned from a bowl game in 1990, his first season, yet he got that team into the top 5 at one point that season, and managed to jump into the top 5 in the country in each of his 12 seasons. Florida finished in the top 15 in every season, and finished inside the top 10 in 10 of his 12 seasons, including the national championship in 1996. He led them to 5 Sugar Bowls, 2 Orange Bowls, 1 Fiesta Bowl, 2 Citrus Bowls, and a Gator Bowl, while finishing 9-2 in his first season, the year they were ineligible for a Bowl game. Never did his Gators finish below 9 wins nor lower than 2nd place during his tenure.
He took over for Lou Holtz at South Carolina, and while he was never quite able to get the Gamecocks over the hump, he did lead them to an SEC East crown in 2010, and led them to 11 wins in 3 consecutive seasons, from 2011-2013. In the prior history of the program, South Carolina had only had as many as 10 wins once.
Make no mistake, Spurrier is one of the true legends of college football. It's tough to say exactly how he rates historically due to the reasons that Matt mentioned. However, he is the coach that helped bridge the gap in the SEC, laying the groundwork for what it takes to be a successful coach in the modern version of that conference. Considering his success and his role in leading the transformation of the SEC, I'm comfortable in saying that he's at least a top 3 all-time SEC coach, right alongside Bear Bryant and Nick Saban.
CLICK HERE TO CONTINUE TO PAGE 2.