This week's W&L slate features the NFL's first ever intentional international webcast game (from London), the once promising Saints @ the once-even-more-promising Colts, the Iggles rolling south into undefeated Carolina, a battle of the birds in Arizona and, of course, the Jets talking smack about the Patriots.
Rich still has the overall lead. Matt and I are in dogged pursuit. Time to crank it up.
Bills (-4.5) vs. Jags (London)
RG:
Okay, no Kyle Williams. No Tyrod Taylor. No Sammy Watkins. Percy Harvin is missing. Despite all this, the London Jaguars are still getting points. Recently, the Jaguars have been pummeled by much better teams, losing 31-17 to Dallas last season. Before that, the Niners crushed them 42-10 back when people still thought Colin Kaepernick was good. Quite frankly, the NFL International Series (as it is officially called on their site) has not seen a lot of good, close match-ups. The average margin of victory has been 14.91 points and 8 of the 12 games have been decided by 7+ points. How are we sure Londoners really like American football? The city is bigger than Los Angeles in population and has recently built things like a huge Ferris Wheel just to give them something else to do. I still want to know how the NFL is getting around international labor laws if they ever try to get a home team for London. Would their official base of operations sit in the states while simply being named for London? I dunno, but I do know that I am starting to waiver on my idea that Blake Bortles might develop as a quarterback. He has some terrible interceptions and his one with 7 seconds left in the half last week left him basically shaking his head at himself. Then, in the second half, he did it again! So much for my love of his games in the preseason. I like the Bills defense and running game in this one.
PICK: Bills
PS:
Two teams with entirely different approaches to a game across the pond. The Bills have been in London for several days. The Jags have been there since Friday morning. There are sleep specialists
suggesting we all bet the farm on Buffalo.l
That's a tough ask. WTF were the Jags thinking? Either they know something we don't or their internal data suggests their travel plans were affected by cash considerations, right? Shad Khan has not been a penny-pincher in his time as Jags' owner. Right?
PICK: Jaguars
MK:
When I got to Spain in April, I showed up on a Tuesday morning at eight o'clock. I was completely exhausted and slept all day, got up in time to grab dinner at nine o'clock at night. I went back to my hostel after a few beers and a few hours and slept again. I didn't feel particularly human or really comfortable until I'd been in Iberia--I took a night train to Portugal overnight on Wednesday for a conference--until that weekend. I wasn't with a professional football team and having my day and work planned for me, but I'm not sure that would have made it better. I'm with those sleep experts.
PICK: Bills
Saints at Colts (-5), o/u 52
RG:
With a loss here, Andrew Luck and the Colts could fall to .500 outside of their division during his career. I am quite sure that these defenses aren't very good and the skill of the teams overall makes me think that the 3-4 extra days for the Saints to prepare for this may not matter since they don't tend to stop any offenses in general. They stand equally bad in pass defense and pass rush in PFF's rankings, clocking in at 30th overall. The Saints have just 13 sacks and 10 QB hits all season. This game seems like a track meet where Pagano may not even have to try a fake punt, probably saving several heads from exploding this weekend.
PICK: Colts, Over
PS:
Two top-flight quarterbacks versus two ridiculously terrible defenses? Let's ride the home team and bet up the total.
PICK: Colts, Over
MK:
We deserve an under in this game just to see what that would look like, but even a fairly conventional 28-24 basically gets us to the total. There have been times when overs haven't hit with these two teams this year, but they've been in things like division games, when either played legitimately good defenses or without their starting quarterback. The Colts are 0-4 ATS as favorites this year, so I'm grabbing all the points I can in both places.
PICK: Saints, Over
Jets at Patriots (-9.5)
RG:
I get that the Patriots tend to come into a lot these match-ups with a chip on their shoulder that goes back to the Mangini Jets days, but how in the world are the Pats going to stop the Jets defensive line? Revis is going to take one target out of the game and the Jets are very good at limiting tight ends. Against New York, tight ends have 10 catches for 116 yards and one touchdown this season. That's on 22 targets. Teams are leaving tight ends to block against the monstrous front seven. How about running backs? Before last week, backs had 10 catches (15 targets) for 66 yards and a score all season. Then Washington tried to throw to the backs.... a lot. Redskin backs caught 8 of their 12 targets, but gained just 45 yards and did not score. Jay Gruden clearly thought what I did about how to attack New York and had minimal success. Plus, of course, the Jets boast what might be the best run defense in the league over the last year and a half. The Pats do have the best and smartest offense in the world, but the Jets are a tough match-up. We did not do the over/under on this one, but I really like the under 48 play as well.
PICK: Jets
PS:
The Jets' defense only allows opponents' offenses a 16.9% score per possession rate. The problem? The Browns, Colts, Eagles, Dolphins and Redskins are not - maybe combined, mind you - the Patriots. But 9.5? Damn. That's a big number. Screw it. You go big or you go home. The NE defense will be the hero in this game.
PICK: Patriots
MK:
Don't overthink this: never lay a number that big in a division game under any circumstances, provided the key players for the dog are all healthy.
PICK: Jets
Eagles at Panthers (-3), o/u 46.5
RG:
I called a let-down game for Carolina in this week's
Blitz Picks
, so I am putting my money where my mouth is. Remind me about this game when I lose my Wagers & Lagers crown by one game this year.
PICK: Eagles, Under
PS:
It's time for the NFL's undefeated to start dropping games. Iggles are starting to fly.
PICK: Eagles, Under
MK:
I see Patrick's point when it comes to hedging here, but it's hard to pick a team you just don't believe is very good in a night game on the road, especially in a stadium that doesn't get to see too many of them. The Panthers have won five in a row in Charlotte dating back to their division championship run last season, and I tend to treat spreads of three or less as straight up picks. Meanwhile, the Eagles have hit the under in five of their last six games, while the Panthers have had the over succeed in four of five games this year. Vegas has been setting Carolina's totals in the high 30s and low 40s, though, and with it creeping up a few points, I think a Carolina victory bodes well for the Eagles' trend to hold.
PICK: Panthers, Under
Ravens at Cardinals (-7.5)
RG:
This half point really bothers me and it probably shouldn't. Other than a garbage time back door cover by a Flacco bomb, I have no doubt that the Cardinals will dominate this game. The Ravens just don't have a good offense under Marc Trestman. With three games of 77 yards or less and two 180+ yard games, the run game is boom-or-bust so far. Sure, one of those big games was against the worst run defense in the game (Cleveland). Baltimore doesn't have a single balanced offensive performance with 200 yards passing and 100 yards rushing. That sounds like an offense that Arizona can prey on. The line seems big because the Ravens, despite all of their flaws, still have been in every game, not losing once by more than 6 points. In fact, they have lost by a combined 22 points in their five losses. The Ravens rush defense allows just 3.6 yards a carry, but the more interesting part of the match-up is the Ravens intermediate and deep passing defense. Palmer is 50-66 for 788 yards with 7 scores and a pick on throws 10-19 down the field. He is only 10-34 with 9 yards per attempt on throws over 20 yards. He will have to try them to obtain what should be a somewhat easy victory because Baltimore's deep passing numbers are Clark Griswold
"Holy --it"
bad. Mike Vick and Peyton Manning went 0-6 on deep throws against the Ravens. Everyone else is a combined (McCown, Kaepernick, Dalton, Carr) 15-25 for 671 yards and five scores. That is 26.84 yards
per attempt
. I trust the Cardinals to figure this one out.
PICK: Cardinals
PS:
The Ravens are 0-5-1 ATS. This is a prideful squad. They have to snap out of it sometime, right? Too bad this game will not take place in Baltimore.
PICK: Cardinals
MK:
I watched the 49ers some on Thursday night. The Ravens gave up 25 to that team. The half-point should not scare you, Rich.
PICK: Cardinals
BEER OF THE WEEK
RG:
In honor of the London game, it's time to bring up a favorite of mine that is an acquired taste. Last week, I gave you a meal in a bottle. This English Pale Ale is much lighter in color and ABV, clocking in at about 5.6%, or about what Budweiser used to be before they slightly lowered the ABV to sell more water. It starts sweet and finishes dry; leaving an aftertaste of toffee. If that's not your cup of tea, well, you probably won't like England since they really like tea as well. The good news is that pubs in England sell things from the United States. However, you will have a much better time if you are willing to try some bitters, ciders and light ales with interesting flavors.
GAMETIME GRUB
MK:
Keeping with Rich's suggestion, I've tried to think of an iconic English dish to serve up for our London episode of
Wagers & Lagers
. I'm not just going to copy and paste someone's recipe for Bangers and Mash into here, though, and any idiot can fry fish and chips, given enough oil. Some of the best English food, though, is actually Indian in origin, as nineteenth-century bureaucrats and soldiers served the Empire and, when they returned home, still wanted the flavors of the sub-continent.
Those spices followed them home, but unfortunately, I haven't gotten very good at cooking Indian food yet. I made one attempt at Vindaloo that turned out less than great, so I'll reprise a Thai curry that's a
W&L
favorite from a few years back for this week.
Massaman Curry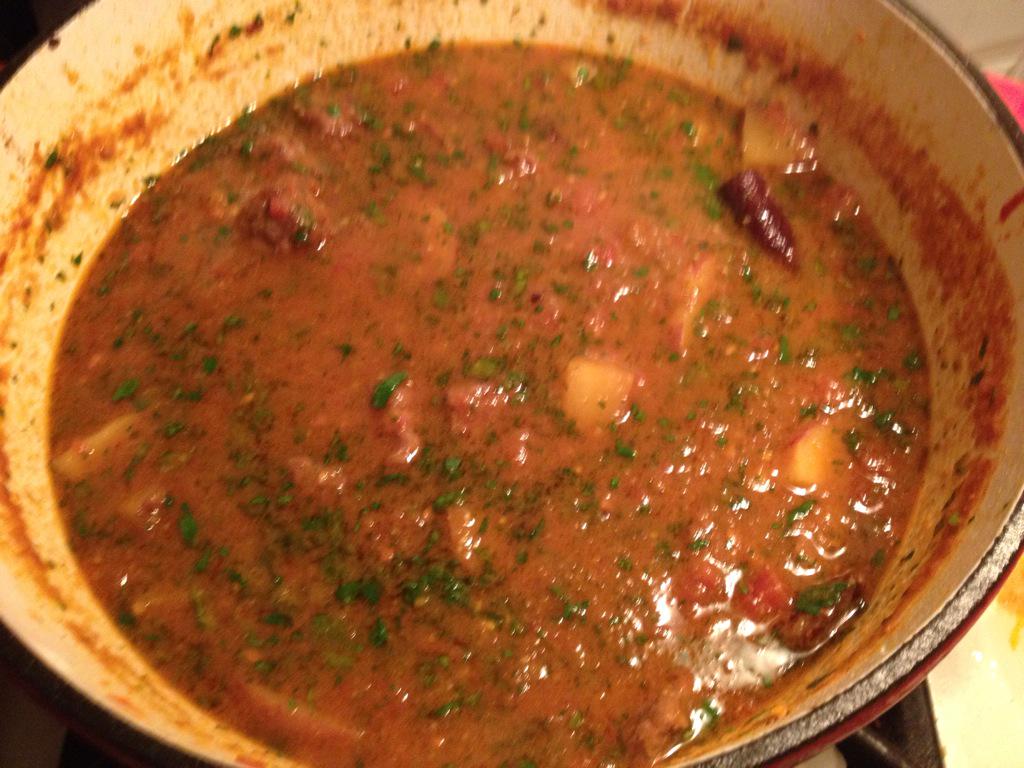 2 lbs. beef sirloin or stew meat, cut into cubes of, say, 3/4 inches or so
1
1 lbs. potatoes of your choice, peeled and chopped (I like fingerlings or redskins)
1 white or yellow onion, peeled and quartered
4 cloves garlic
3 Serrano peppers (resist the urge to remove the seeds, unless you really can't handle the heat--add another if, like me, you love it)
1/2 cup water
2 tsp. cumin
2 tsp. coriander
2 tsp. turmeric
1 cinnamon stick
1/2 tsp. sugar
14 oz. (1 can) coconut milk (or light coconut milk)
14 oz. (1 can) crushed tomatoes
salt and pepper, to taste
Half a bunch cilantro, chopped
Remove the paper from your onion and garlic and the tops from your serranos, and place in a food processor or blender. Add water, and pulse until smooth. Set aside.
After seasoning your beef with plenty of salt and black pepper, brown in a casserole or stainless steel pot in the cooking oil of your choice. Reserve in a bowl. Add your spices--cumin, coriander, turmeric, and the cinnamon stick--to the oil and stir, cooking for about a minute.
Add your peppery-garlicky-oniony slurry to the casserole. There will be enough acidity in this to scrape the bottom of the pan free of that delicious brown stuff living in the grease. Do so, using a wooden spoon.
Add the sugar, coconut milk, and crushed tomatoes. Stir together, and adjust your salt and pepper and a dash or so more of each spice (except the cinnamon--we have enough of that).
Return your beef to the pot and add your potatoes. Again, add a bit of salt and pepper and spice. Simmer for an hour or until the potatoes are fork tender, then turn off the heat and add your cilantro. Serve over white rice.
RECORDS
RG: 3-4-0 last week, 24-19-0 overall
PS: 3-4-0 last week, 22-21-0 overall
MK: 4-3-0 last week, 18-25-0 overall
Please note: This column is worked on throughout the week by our staff of writers. The lines used for the games are the most common lines from Tuesday morning. Line movements during the week are difficult for us to manage within the context of the process. That's why our lines may be different than the one you see if you on the line at the MGM in Vegas.
__________________________________________
1
A word about the name and the use of beef: You might be surprised to see beef in a curry, as we tend to associate the term with Indian food and so often with Hinduism, which typically means abstaining from consumption of beef. What we think of as curries, though, are of course common throughout south Asia, and this Thai curry derives its name from the local word for Muslim, who often prepared this dish for themselves (and who, despite dietary restrictions of their own, have no problems with beef).