MK:
Every year, there's at least one of these big Thursdays that requires us to make a push and publish the week's edition of
Tailgating
before the usual Friday evening or Saturday morning. With pivotal conference games in the ACC and the Big 12, this is one of those weeks. On Page 1 (this one), we're taking advantage of the occasion and posing a question centered on one of the horror classics of our time and giving our annual breakdown of the World's Largest Outdoor Cocktail Party. If you skip
ahead to Page 2
, we'll be offering our own unique twist on the Pac-12 South being one step away from
Survivor
and what, exactly, is going on with the Miami Hurricanes. We hope you join us early and often this weekend, as we'll be microblogging—is that what we should call it?—in the comments section throughout the next couple of days.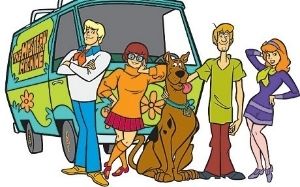 Trick or treat.
FIVE GOOD QUESTIONS
For those of you who are new here, each week, Brian Williams (hereafter BW) and I (MK) write up a column on the hyper-regionalism, idiosyncrasies, and insanity that make up the sport of college football. We also occasionally discuss football. We answer five good questions (give or take one or two), pick a few of the best games of the weekend, and call one upset. The first question is always the two of us arguing about where we would go if we had an unlimited budget and could travel to any college football game we wanted this weekend. That, and the fact that we don't ever write anything that's short, is about all you need to know. We're glad you're here and we'd love to hear from you.

A note from the writers: to get this published early enough for the Thursday games, we finalized topics and questions early in the week. As a result, Seth Russell was officially declared out for the season and Jerry Kill retired after work began on the column and it had reached a point of no return. As Baylor have the week off and Minnesota's football program will likely still exist next week in spite of their encounter with Michigan on Saturday, we expect to touch on those topics next weekend.
1.) Well, it's a weekend without any great matchups, but it's surprisingly full of interesting ones, considering Ohio State, Baylor, LSU, Alabama, and Michigan State—or half the top ten—has the weekend off. If you could go anywhere in America to watch a college football game this weekend, where would you go, and why?
MK:
You know, I've noticed that in the last almost-three years writing this column, I've never chosen to go to a military academy to watch a game. A few weeks ago, when I was looking through the schedule for potential options down the road, I was really hoping that Army would be playing a home game this week. A Saturday afternoon at West Point in late October—especially on Halloween—seems like just the right thing. Considering that the Academy is only about forty minutes up the Hudson from Tarrytown, I could have had the perfect answer here for football, foliage, and some sort of Washington Irving walking tour, or a hayride over covered bridges of the Catskills, because the Disney cartoon version of the
The Legend of Sleepy Hollow
was always mandatory viewing for me every year of my childhood about this time of the year. Alas, the Black Knights are off this week, so that answer will have to wait until next year, it looks like.
So, as you well know, Brian, and as anyone who's dropped in and read this column more than twice has to have picked up, I am a total Mike Leach fanboy and my relationship to him is somewhere between role model and personal hero. Most weeks, I try to at least pretend that I'm not just a total homer for Ohio State and for Texas Tech and all things Air Raid, but this weekend, I'm going to the Palouse to watch
Stanford
play
Washington State
. Stanford was
a pre-season Playoff pick for me
, and while the Cardinal have really come into their own the last few weeks and look to be a major contender not only in the Pac-12 but in this season's New Year's Eve festivities, the Cougars are somehow the only team other team in that division that control their own destiny. I don't expect Washington State to win this game, but I think it's one of most compelling matchups of the weekend and that this will be a truly interesting measure of how far the program has come under Leach.
Everybody was basically ready to bury Leach after his team's opening weekend loss to Portland State and that game prompted myriad meditations on the nature and size of the coach's buy-out. He's obviously righted the ship, though. The Cougars are 5-2 and a few bad breaks away from being 7-0. It's fair to point that three of their wins—at Rutgers, at Oregon, at Arizona—are by a score or less as well, but they're winning close games on the road. Luke Falk, the team's 6'4", sophomore quarterback, got some experience last year when Connor Halliday went down last season, as has Washington State a win away from bowl eligibility in October—the last time they even had five wins in this month was 2006—and
is putting up legitimate Heisman-style numbers.
(Right, what Leach quarterback hasn't, and of course he has no shot to win the thing, but still, he was a walk-on last year.) The game against Stanford is their biggest test, and they might get killed, but this is Leach's fourth year at Washington State. Starting next year, every player in the program—including the fifth-year seniors—will have been recruited by Leach, practiced with him and his staff every day, broken down film together and the same way, and run his offensive system for the entirety of their college careers. For a program without the advantages of an Ohio State or a Florida or a Texas, the value of that kind of stability cannot be overstated.
After you've passed out Halloween candy this Saturday, stay up and watch this game. It starts at 10:30 on the east coast, but we gain an hour this weekend anyway.
BW:
So for this week, the epicenter of the college football world is…
TEMPLE
? That still doesn't sound right, but sure enough, the Owls somehow managed to secure home dates with both Penn State and Notre Dame this year, and after a 7-0 start to their season, including a 27-10 win over Penn State that represented their first win over the Nittany Lions since 1942, the Owls are ranked #21 and ready for their shot in the spotlight.
In 68 seasons of Division 1 football, Temple has appeared in a total of four bowl games, including a 20-14 loss to Tulane in the first ever Sugar Bowl in 1934.
MK:
Roll. Wave.
BW:
The Temple coach that year, and for a total of six seasons from 1933-1938 was Pop Warner, who spent the last of his forty two years in coaching as Temple's Head Coach. Temple has finished ranked in the AP Poll exactly one time- at the conclusion of the 1979 season. Temple can also credit current Arizona Cardinals HC Bruce Arians as a former head coach. Arians finished 27-41 in his time at the school from 1983-1988.
While Temple has a nearly seven decade history of being a true bottom-feeder, Notre Dame of course is the exact opposite. The Golden Domers are the most storied of all college football programs, and if they can manage to win their remaining games, are a good bet to land a spot in this year's college football playoff.
I'm harboring few expectations for Temple to actually take down Notre Dame, but coach Matt Rhule has Temple believing that this is a special year, and a win over the Fighting Irish would put Temple in prime position to play in a major bowl game for the first time since an appearance that inaugural Sugar Bowl. It's not too often in today's day and age that we get a true David vs. Goliath matchup, but that's exactly what this weekend's matchup will be. Matt Rhule's motto for the team this year is, "What's Next?" This week, the answer could be something that was previously inconceivable.
I don't know if I'm buying what he's selling, but for this weekend, I'm all-in. Yes I'm taking a prime time trip to Lincoln Financial Field. It's Halloween night and anything is possible.
MK:
Well, maybe if the Headless Horseman shows up and plays for Temple...
2.) This Saturday is Halloween, so we thought we'd get into the spirit of the holiday by talking about one of the classics of the horror genre: Scooby-Doo, obviously. What college football coach would make the best villain in an episode of the show?
BW:
Not to unveil too much, but Matt came up with the premise for this question at the beginning of the season, and while we've wanted to attack it for a few months, decided a while ago that it would be best saved for Halloween weekend.
MK:
It actually came out of that exchange with Evan, if you remember, about Will Likely and his personal quest to ruin my upset special when Bowling Green was playing Maryland. Fortunately, he did not, and somehow, no other group of college football writers has tried to take this question on in the six weeks since then.
BW:
Just after the beginning of the new year, our protagonists have decided to take a vacation into the heart of North Texas. Whilst the rest of the gang is preparing to grill up some hot dogs and eat around a campfire, Shaggy and Scooby are unsuccessfully attempting to put up a tent. As they sit down to eat, off in the distance they hear the howling of a bear.
MK:
...do bears howl?
BW:
As they investigate further, they see a shadowy outline of a black bear carrying an unspecified tote. Off in the distance, we can hear a ghostly voice telling the gang it's best that they leave. Shaggy and Scooby are all for grabbing the food and leaving, but undaunted, Fred declares, "We have a mystery to solve."
While Fred makes a plan that is destined to fail, Shaggy and Scooby happen upon a practice field where the Ohio State Marching Band is playing, apparently practicing for a gig. They return to the gang to report their findings, but no one believes them, and they continue wasting time with Fred's predictably terrible idea.
Fred finally gives up, and still wanting to take credit for every idea, gives the suggestion that they split up and look for clues.
MK:
God, Fred is the worst.
BW:
As they split up, the black bear manages to kidnap Daphne, stowing her inside his oversized tote. While Shaggy and Scooby are busy chawing on some Scooby Snacks, Velma finds what appears to be a deflated football in the woods. As Shaggy reaches for his emergency air pump, the gang hears a large rumble from what appears to be a large lighted area off in the distance. Scooby, shaken by the rumble, jumps into Shaggy's arms. At that moment, the bear is seen, along with a mysterious second horned figure, and they begin to chase after him. After about thirty seconds of one of the great chase scenes in cinematic history, the black bear and his horned accomplice mistakenly fall off a cliff, cling onto a ledge, and start calling for help while bitterly arguing among themselves. The gang gathers the villains in and reports to the authorities.
As the authorities arrive, we learn that the College Football Championship game is about to begin, and all of the footballs have been stolen from AT&T Stadium. Inside the tote happens to be the entire supply of footballs. Fred then walks over to strange looking horned frog-like creature and rips a mask off to unveil TCU coach Gary Patterson. Velma then pulls the mask off of the hog-tied black bear to unveil the mastermind: Baylor coach Art Briles.
MK:
[EVERYONE YELLS IN UNISON]: ART BRILES!
BW:
The police quickly unravel their master plan to sabotage the National Championship Game, while Briles laments that they would have gotten away with their plan "if not for those dastardly kids". Shaggy then makes a bad joke, Scooby accentuates the punch line, and they both gorge themselves with more food as the rest of the gang belly-laughs at the absurdity of the situation.
*ZOINKS!*
MK:
You know, Art Briles is a really great choice, because he looks like he cuts his own or something, giving the effect that a gigantic bear's mask has just been ripped off of his head basically at all times.
The only way that this answer somehow gets better, I think, is if the Texas State Fair is still set up in Dallas but is, for some reason or another, abandoned, so you have the whole creepy amusement park thing going on. Trying to prevent the National Championship Game, though, is a really nice touch. Usually, I'm the one who shows off on these questions, but this week I don't think I get to play that role because I'm going to have a hard time topping that one.
The Big 12 is really just full of great choices, too, and not like the lowest-hanging-of-all-the-fruits-in-the-history-of-the-world choices like Nick Saban and Lane Kiffin, because a lot of B-level villains are just typecast anyway. I mean, in the rare event Oklahoma loses a football game, Bob Stoops has the this expression of disgust and disbelief on his face that makes him appear as though his involvement in some sort of plot has been exposed, so he'd be a great choice, but he's got to be behind Mike Gundy. He's an obvious choice and ironic tie-in for an episode where the gang has heard local legends about the Fountain of Youth, which they've come to search for only to discover that others who've done the same have been kidnapped. After one of the gang disappears and Mike Gundy is exposed, he shouts about those meddling kids and gives new meaning to one of the most famous press conference meltdowns in recent memory.
This weekend might be the perfect occasion for that, considering Gundy is visiting Lubbock this weekend to take on the ruggedly handsome and astonishingly youthful Kliff Kingsbury, although good luck finding some sort of fountain near Lubbock. It's especially appropriate, considering Texas Tech more or less accuses the Pokes of
stealing the Masked Rider and Guns Up
—not to mention the Air Raid offense—from them over the course of the last thirty years.
The other really outstanding candidate for this has to Mark Dantonio, who probably would have stolen the wings from Michigan's helmets—actually, this is a legitimately great plot for a Scooby Doo—and would have been hiding out in an abandoned factory somewhere in the state of Michigan. It should happen the week before the Ohio State game and with a trip to the Big Ten Championship on the line, and while the gang spends the whole week reassuring worried Wolverine fans that they'll find them in time for Saturday's game, they spend the entire week questioning Urban Meyer. Because reports of a large figure sneaking into the Michigan at night late Thursday, they believe that Meyer conspired with either Brutus Buckeye or quarterback Cardale Jones, who seems kind of bored now that JT Barrett is starting, to take Michigan's iconic look away from them. Eventually, though, they realize that the oversized footprints they found outside the Michigan locker room couldn't have come from Cardale Jones, because Mark Dantonio chose to raid the locker room wearing the Sparty suit.
Mark Dantonio already stole a football game from Michigan, though, so...
3.) The Florida-Georgia rivalry is—or has been—commonly referred to as The World's Largest Outdoor Cocktail Party. If this year's game was an actual cocktail, what would it be?
MK:
We took this question on
last season for a Florida—Georgia game
that featured a blundering, atrocious Will Muschamp Gator team that did this.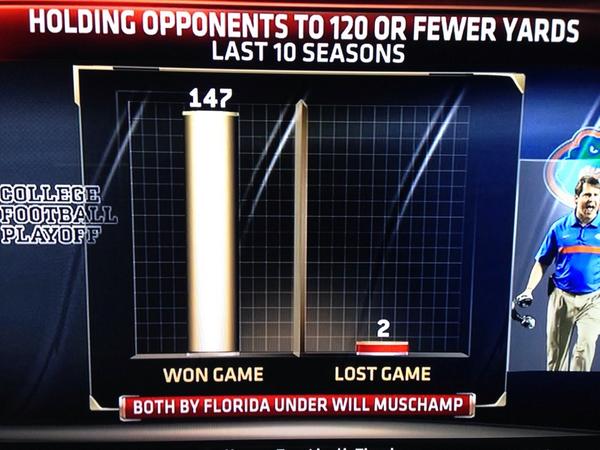 It's worth noting that in the second of those games, they also managed to give up forty two points to Missouri. Georgia had just had Todd Gurley suspended for a month because he received cash for things that belonged to him, or whatever, and the game looked as utterly putrid as a warmish, pre-bottled Michelada served at just the worst brunch ever full of the most annoying people you could possibly imagine. That's probably how Georgia fans remember the game, too, because they somehow lost that day. This year, the game doesn't look great or anything, but it doesn't look quite as bad as all that promised to be. Sure, Florida's starting quarterback recently got himself suspended for a full season and lost a year of eligibility, and Georgia is suffering through another of one of those years where everybody on the entire team somehow gets injured. A new year and a new set of circumstances calls for a new cocktail, though, and that's just what we're doing here.
This game might be a cocktail party, but given the holiday this weekend—which we've only mentioned like a hundred times at this point, I guess—I think it makes sense to consider this one a fairly awkward Halloween Party. It's at Florida's house this year, I guess, and the Gators recently went through a breakup and want to let you know just how great they're doing. Georgia is coming to the party, but does Mark Richt really seem like the kind to go in for a costume party, you know? He might not wear a costume, or more likely he has this one costume that he bought from a store in like 1995 and it's what he wears every year. It still mostly fits, and every year everyone expects it and has a small laugh when he shows up as a pirate.
Anyway, what this game should be, right, is a warm, cider punch, where you take a good, soft and full-bodied apple cider, and heat it on top of the stove like a mulled wine: with a cinnamon stick, some star anise, cloves, and ginger, along with a few orange slices and some Granny Smiths, and finished with a whole bunch of rum and poured into a large, hollowed out pumpkin for serving. Instead, I think Florida got a little too involved with the costume and picked up a case of Strongbow. I guess that'll have to do.
BW:
For the record, my costume of choice is a tribute to the Arsenio Hall version of Bill Clinton. It features a Clinton mask that I found on clearance a few years ago at a Walgreens, complete with sunglasses, suit, and tenor saxophone. (A word of advice: when purchasing a mask on a whim at a drug store, make sure you don't decide to just wear it into the house without proper warning. That day, I was glad my wife didn't own a gun, and my daughter is still freaked out by it.)
MK:
Noted.
BW:
Anyway, that feels like the absolute perfect costume for a Halloween cocktail party.
I like my drinks ultra simple, like a rum and coke, hold the rum. Georgia always seems like a logical choice as a contender in the SEC and for a possible championship run, but something always derails their efforts. The sum of the parts is impressive, but the end result is something that just leaves a nasty taste in your mouth. Kind of like a dessert cocktail. In this case, with Georgia involved, I have to go with a Bourbon Peach Cobbler cocktail, promised to be laced with a fresh Georgia peach. However, like with many drinks that try to do way too much, when you get it, it's not quite mixed correctly, there's a little too much sweet, and the peach ends up being pulled from a can.
I really like Mark Richt, and think that he's mostly done a really good job with the Georgia program. Having a career winning percentage of 74% in a place like the SEC is awfully impressive, not to mention winning nine of fourteen bowl games in a fifteen year career. But something's never quite right, and Georgia just can't quite get over the hump. While some may be watching the potential of Florida on Saturday, I'll be fixated on another Georgia team that couldn't quite live up to its lofty expectations.
CLICK HERE TO CONTINUE TO PAGE 2 FOR OUR THOUGHTS ON THE PAC-12 SOUTH, THE MIAMI HURRICANES, AND OUR PREDICTIONS FOR THIS WEEK.