MK:
It's noon. Let's go.
FIVE GOOD QUESTIONS
For those of you who are new here, each week, Brian Williams (hereafter BW) and I (MK) write up a column on the hyper-regionalism, idiosyncrasies, and insanity that make up the sport of college football. We also occasionally discuss football. We answer five good questions (give or take one or two), pick a few of the best games of the weekend, and call one upset. The first question is always the two of us arguing about where we would go if we had an unlimited budget and could travel to any college football game we wanted this weekend. That, and the fact that we don't ever write anything that's short, is about all you need to know. We're glad you're here and we'd love to hear from you.
1.) You've got first pick, Brian, on the first weekend we'll have matchups with some serious hype surrounding them in weeks. Where are you headed, and why?
BW:
As we'll discuss a bit later, the initial playoff rankings came out this week, and were pretty much exactly as expected, which is nothing more than a contrived hour-long television special meant to provide conversation fodder and act as an hour-long commercial for the CFB Playoffs. That these games will be taking place on New Year's Eve is a different story for a different day, but there were a few interesting nuggets to take from the rankings which helped add to the intrigue of a few games this weekend.
MK:
I don't know. LSU—Alabama and TCU—Oklahoma State strike me as pretty important regardless of where each team falls in the rankings, and Ohio State and Clemson—as talented as both of those teams are—will have a hard time surviving a loss unless everyone else has one, too. It's a pretty big football weekend.
BW:
Memphis has reached some rarified air in catapulting into the top fifteen of the initial rankings. Boise State is obviously the non-Power Five darling that's usually reserved for that type of status, but we've also seen Utah and TCU parlay their consistent rise in the polls into a gig in a Power Five conference.
MK:
To be fair, those schools, along with Boise State, have had extraordinary stability on the coaching staff. Justin Fuente is rumored to be a candidate for every vacancy within a thousand miles of Memphis, as Chris Petersen was at Boise State before he took the job at Washington, but those schools rose because—after Meyer left Utah for Florida—Kyle Whittingham, Gary Patterson, and Petersen all stayed. Granted, Boise State had some fairly serious churn in the decade before that, with Houston Nutt leaving for Arkansas, Dirk Koetter for Arizona State, and Dan Hawkins for Colorado, but you can't expect that kind of ability to replace coaches anywhere, except maybe Miami of Ohio in the mid-twentieth century. In any case, this is the most rapid rise for a program in one year since Meyer's 2004 Utah team, when the Utes became Fiesta Bowl champions in his second year in Salt Lake City. It's taken Fuente four years to get here, and I suppose Houston is nipping at his heels, but it's still fairly impressive.
BW:
Clearly the committee is impressed with their win over Ole Miss, and considering they still have to make road trips to #25 Houston and #22 Temple in consecutive weeks, Memphis has an outside shot at rising all the way into the playoff if things break their way. This week, the Tigers play host to 6-1 Navy, whose only loss was at Notre Dame. While Memphis features one of the best players in the country in Paxton Lynch, Navy has a pretty outstanding QB themselves. If you are an annual viewer of the Army-Navy game, Keenan Reynolds is probably a name you're familiar with. If he remains healthy, he'll become one of the few QBs for the Naval Academy to start all four years against Army. In 2013, Reynolds became just the fourth player to rush for 30+ TDs in a season, and with one rushing TD on Saturday, Reynolds will become the NCAA's all-time leader in rushing touchdowns—his 77 are currently tied with Wisconsin's Monte Ball, and are 18 TDs ahead of Nevada's Colin Kaepernick and former Nebraska Heisman Trophy winner Eric Crouch for most among QBs. With so many big games this weekend, Memphis—Navy will be stuck in the shadows, but the QB battle alone will be worth the price of admission.
MK:
I really want to pick this game, but…
BW:
In other games that are on my radar, Oklahoma State plays host to TCU in the weekend's only battle of unbeatens. Both teams have not faced the toughest of competition to this point, and while TCU is rolling of late, Oklahoma State hasn't exactly been dominant, which is why the Cowboys are currently stuck behind five one-loss teams and Memphis. While TCU will follow up their trip to Stillwater with a trip to Norman to take on the Sooners, and then close the season by hosting Baylor, Oklahoma State gets to host all three of those schools, with only a road trip to Ames, IA mixed in.
MK:
Yeah, since we're not going to talk about it this week, can we discuss what a glorious disaster Texas had last weekend, going to Ames and being shut out by the 103rd-ranked defense in the country, and then the coaches and players arguing all week about whether or not that was embarrassing?
BW:
Since the start of the season, all roads have been set up to lead to Fort Worth on Black Friday, but as I said in our Big 12 preview, the one team that could foil those plans is Oklahoma State. This weekend, they'll get their chance.
But no, I'm not attending either of those games, nor many of the other worthy candidates, including newly appointed #1 Clemson in their biggest remaining test against Florida State. This isn't a weekend for other divisions, and as much as I like the prospects of Memphis-Navy, or even Air Force-Army, it's not about anything outside of the power conferences. For those of you who follow us, you know that Matt and I try our best to avoid any type of SEC bias.
MK:
I mean, they have some really good teams down there…
BW:
But for this week, it's undeniable that the game of the week is in Tuscaloosa. Alabama has managed to anger the masses again by somehow being ranked in the top 4 despite their loss to Ole Miss, and while that standing is flawed at best, a win over unbeaten LSU would certainly justify it. The Crimson Tide feature the nation's 9th leading rusher in Derrick Henry, and he'll be looking to gash the nation's 4th leading rush defense in LSU. However, the matchup that we'll be most looking forward to is Leonard Fournette, the nation's top rusher, matching up with the 3rd stingiest rushing defense in the country. While Fournette has tallied over 1300 yards and nearly 8 yards per rush through seven games, Alabama has allowed less than 700 yards rushing, and only 2.6 yards per carry.
For two teams that fancy themselves as national title contenders, there is a whole lot of shakiness to go around at the QB position. Jake Coker has been relatively solid over the last month, but has had a tendency to give the ball to the other team, tossing 7 INTs so far this season. For LSU, they mostly try to hide Brandon Harris. He's not thrown an INT this year, but he's also been forced to throw the ball more than 20 times on only one occasion. The Tide have forced 12 INTs this year, and in a game that's likely to be a tight, low-scoring affair, that matchup is the one that will probably decide the game.
LSU's last win over Alabama in Tuscaloosa was a 9-6 OT victory in 2011 that set up a rematch for the BCS championship that Alabama won 21-0. Last year in Baton Rouge, Alabama kicked a FG with 3 seconds remaining to force OT, and eventually won 20-13. And I haven't even mentioned that this is Nick Saban vs. Les Miles, and for those who are unaware, we love us some Saban v. Miles around here. For all of the high-scoring affairs around college football this year, I'm looking forward to catching a good old-fashioned defensive struggle that's almost certain to go down to the wire.
MK:
We do love Saban and Miles, but here at
Tailgating
we can't pick the same game. I mean, sure, we can both talk about how we want to take the same game—like we typically do when Ohio State plays Michigan, because more realistically our readers could accuse us of a Big Ten bias—but we can't actually choose the same one, right? You've given such a thorough accounting of the weekend, though, at least at the top of the heap, that it's hard to find much else to talk about. Sure, there's the return of Cardale as King in the North, at least for a weekend, which is fun, and that Minnesota—Ohio State game will probably preoccupy me a bit more than I'd care to admit during the Cayenne Pepper and Houndstooth Festival in Tuscaloosa tonight.
I mentioned Texas's egg against Iowa State, and their date against Kansas tonight, which anyone in America who's not watching LSU—Alabama, Minnesota—Ohio State, Navy—Memphis, or Michigan State—Nebraska can watch, because it's so necessary that we have a Longhorn Network. (Seriously, ESPN, you kept Longhorn Network and shut down Grantland?) I can't recommend going to Austin, though, either for reasons of football or personal safety. Texas is either going to play angry and vaporize the Jayhawks, or they'll bumble around and somehow lose, and Texas fans and alumni will probably slow down time and trigger some sort of massive explosion using only the power of their own combined rage, like in
Carrie
…but different. We're not picking on or persecuting you, Longhorns, we just don't like you. (Well, maybe Brian likes you. I don't, though.)
In any case, and speaking of dislike, I've searched high and low for a credible alternative to this, because I deeply dislike basically every team in the Big 12 not named Texas Tech—except for the relatively harmless Iowa State Cyclones—but the game this week has to be TCU's trip to Stillwater. I'm saving myself and my Ohio State home game for later in the season and speculating a bit, but Trevone Boykin to Josh Doctson has been one of the most electrifying connections in all of college football this season. With Baylor's Seth Russell out for the season and true freshman Jarrett Stidham—about whom more in a moment—replacing him, this game at least might turn into the
de facto
Big 12 Championship Game we were all promised, only a few weeks earlier than we expected it.
2.) So... what the hell happened last week?
MK:
Very little, at least in the world of sports, roils me more than when former player or a journalist, sitting in the comfort of a studio and going over the day's highlights, announces to America that this game is 'a microcosm' of this or that team's season. It happens at least a couple times per year in just about every sport, and what it basically means in the parlance of our times is that a bad team made a bad play or had a bad game, or a disappointing team—read: a team that particular analyst or journalist thought would be good—had a disappointing one. That's sort of what a microcosm is, but not exactly. Microcosm comes from smashing together two Greek words—μικρος and κοσμος—the first meaning small and the second meaning world or universe. It isn't simply a small manifestation of a big thing, though, or something that has symbolic for a whole, because κοσμος implies an order of or to things. Maybe I'm an elitist—read: I definitely am, but whatever—but I don't see all that in a play which a quarterback a spots an open receiver only to fumble the ball while cocking his arm, leading to a defensive touchdown.
This past weekend was probably the most insane in the history of college football in which nothing really happened. On Thursday night, favorites more or less held serve; Pittsburgh may have been expected to win in this column, but for the most part America neither knows nor cares about the ACC's Coastal Division, while TCU boatraced visiting West Virginia and Oregon won a ridiculous, triple-overtime game on the road at Arizona State. On a night to honor Pat Tillman, Arizona State finally looked like the Sun Devils. They wore a modified version of their kits the '90s and put Sparky back on the helmets after over three years in exile, but perhaps most importantly their offense finally hummed. It was supposed to look like this all season, but they stubbed their toe or stepped on a nail or whatever on the first Saturday of the season and haven't looked right since. They ran 108 plays for 742 yards and they lost. They lost to an Oregon team that ran a half dozen irredeemably idiotic trick plays in the last five minutes of the game and in the overtimes, including on a two-point try that might have mattered if the game hadn't ended on an utterly unnecessary Mike Bercovici throw intercepted on 2nd & Goal from the 3.
BW:
One of my random favorite moments from the season thus far has to be the ridiculous scramble late in the 3rd quarter by Trevone Boykin. Up 37-10, Boykin somehow avoids four different West Virginia defenders in the backfield, picks up a first down, and calmly steps out of bounds after a pickup of about 10. He happens to meet up with WVU head coach Dana Holgorsen on the sideline, and all Holgorsen can do is give a sheepish grin, stick out his hand and give Boykin a high five. Especially on the college level, there's something appealing about seeing an opposing coach that can appreciate greatness when he sees it.
MK:
On Friday, Louisville managed to avoid the ignominy of losing to Wake Forest and the Mets managed their only victory in the World Series, while I looked forward to a Saturday during which Ohio State had the week off and could cause me no stress. Of course, we woke up to the news that JT Barrett had tried to avoid a DUI checkpoint near Ohio State's campus and subsequently refused a breathalyzer, incurring a suspension for the Buckeyes' game the next week at Minnesota. This was before we found out that Meyer is set to suspend Barrett's scholarship for the summer term, potentially costing him $18,000 to stay in Columbus and work out with the team, which is fairly amazing. Still, the early games passed more or less without incident, and we settled in for the kicks at 3:30. Texas Tech jumped on twelfth-ranked Oklahoma State in Lubbock and owned three different seventeen point leads throughout the first half, but surrendered a punt return for a touchdown off a weird bound off the turf, four touchdown drives totaling 297 yards on only thirteen plays, and an exclamation point of an interception returned for a touchdown on the desperation drive in the final seconds to close it out at 70-53. Something similar happened with an NC State team that challenged Clemson for about three quarters, but the Tigers took over late. If you're lucky, you didn't notice that Georgia—Florida game.
BW:
I enjoyed the 2nd half of each of those games while on the Halloween trail. Texas Tech was my upset pick, so I had some interest in following that game helplessly slip away from the comfort of my phone. It was great to see Georgia and Florida grace us with a home vs. home uniform look, but that was the only pleasing part about that game. Mark Richt is apparently on the hot seat, but I still think getting rid of him would be a colossal mistake.
MK:
We had four games that night, though, that explain so much of what we love and what we hate about college football. Michigan's game at Minnesota kicked off at roughly the same time as Miami's at Duke and finished within a few minutes of each other, as well. The Hurricanes controlled their game, leading by two scores for most of the second half, while the Wolverines let an early lead evaporate but managed to take another one just inside of five minutes to play. The home teams suddenly caught fire. The Golden Gophers, wearing some truly drab grays in honor of recently retired coach Jerry Kill, began a thirteen play, 74-yard march that survived a crushing block-in-the-back penalty on its first play, converted a 3rd & 17 and a 4th & 5, and saw the Gophers score a touchdown on a corner route falling toward the end zone inside of one minute to play. At nearly the same time, Duke had trailed the entire game but just completed a 75-yard drive to pull within five and forced Miami to go three-and-out. Aided by three pass interference penalties, the Blue Devils reached the goal line at nearly the same time as the Golden Gophers, as each team's quarterback slammed into the line of scrimmage—one after a scramble, the other on a sneak—but only one entered the end zone. Well, one probably got in, and the other one definitely didn't.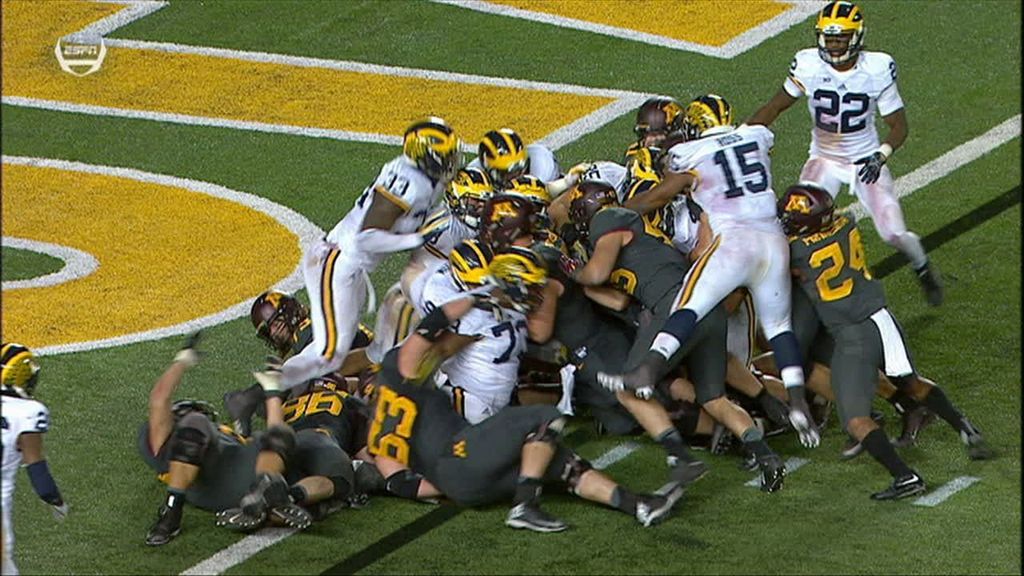 It was Halloween, and maybe you go the feeling that something weird was happening—and yes, Duke and Minnesota marching for game-winning scores simultaneously against Miami and Michigan, in most years, would have been enough to make it weird—but you probably weren't expecting an eight-lateral kickoff return for touchdown involving enough missed penalties and improper use of replay review to get
an entire ACC officiating crew and a replay official suspended for two games.
You might have thought the weird was coming later, if you read this column. Temple met Notre Dame in Philadelphia at eight o'clock, while the Washington State Cougars took on Stanford at half past ten, in the two games we basically told you that you had to watch this week. The Irish would outgain Temple by 172, by virtue of four long scoring drives, but the Owls forced them to punt after three plays on three separate occasions and managed two interceptions, allowing them to hang around for the whole night. When they took the lead for the first time that night with less than five minutes left in the game, Notre Dame responded two minutes later with another devastating march down the field for a touchdown. The ensuing possession for Temple had jerked forward and backward, on big plays and penalties, and ended with an interception. Washington State, too, went the full fifteen rounds with Stanford, but what was most surprising about the game wasn't that it was close, but why it was close. The Cougars splattered the vaunted Stanford offensive line, hemming in Christian McCaffrey and forcing the Cardinal to rely on Kevin Hogan, who threw for only 86 yards and was David Shaw's leading rusher for the night. Two bad replay reviews and Washington State's struggle to capitalize in the red zone kept Stanford in it, and you couldn't help but feel for Erik Powell, who was a perfect 5/5 on the night before missing the game-winning field goal as time expired.
Miami had probably played better in a hotly contested game than the opponent, but it's also hard to say that any of the four victors really deserved the win. Duke may have been an underdog in Vegas—the Blue Devils were a consensus eight-to-ten point favorite over the Hurricanes—but few would look at the two teams and tell you that Miami, even without its starting quarterback, is upon the whole less talented than Duke. After burying the lede under more than one thousand words, that is the rub. Four more talented teams went into other people's houses on Saturday night and came away with wins. That's impressive enough and yet, while difficult in any sport, not that rare. Though other sports can provide that—and hilariously bad officiating, if that's your thing—apart from the NCAA men's basketball tournament, no one forces the Davids and the Goliaths to play each other with as much at stake as college football does. You simply don't see disparities in talent or differences in the way teams are constructed anywhere else, which is why in college football and college basketball it is something of a moral obligation to root for your team(s) and then to root for chaos.
BW:
And the prospect for chaos is exactly what made this night so much fun. There is something to be said for a marquee weekend like the one we're about to experience, but the idea that Temple, the 8th most successful historical program in the AAC, had a chance to stamp its greatest season with a Halloween night home victory over a program like Notre Dame, the program with the 2nd most wins in history, is something that makes college football so randomly special on any given weekend. I'd have loved to have seen Temple pull off that upset, but three-plus hours of them standing toe-to-toe with Notre Dame will go down as some of my favorite hours of this season.
MK:
That, in the end, is why college football is so compelling. Even if the College Football Playoff has allowed teams not to be perfect and still stay alive—as, say, Notre Dame and Stanford both are—its regular season is still very, extraordinarily dangerous. It's why one semi-random weekend at the end of October can sweep you up and make you root desperately for teams you don't really care about, so that even if you're a fan of one of those blueblood programs—cough, Ohio State, cough—you'll end hoping that a Temple or a Washington State might hold on. A school like Minnesota isn't in the bad old days of unlimited scholarships, but the deck is still stacked against them at every stage of the competition against a school like Michigan. We root for those underdogs because they're competing not just against great or historic powers, but against the basic unfairness of everyday life. I'm not great social problems, which certainly exist, or anything like that. I'm talking about the myriad, small injustices we all see and sense and feel, but don't do anything about because it's simply not worth rocking the boat or because we're restrained by circumstances or conventions or manners. College football, every week, is the one great rejection of all of those things that sits squarely within and still embraces that world of archaic and esoteric rules and traditions.
That
is the essential tension of college football, that tradition and hierarchy and pomp are as indispensable as the great rebellions against them, and that authority and insurrection compete for our loyalties from week to week, game to game, and minute to minute. So, we root for the Texas Tech Red Raiders or the North Carolina State Wolfpack not in spite of the fact that they might lose their nerve, but because of it, and because unlike Georgia—the third winningest program in the history of the SEC and the eleventh winningest program in the history of college football, discounting the Ivy League—last week, they had some. That Minnesota, Duke, Temple, and Washington State seem destined to lose, and then don't, and then do, and then the universe's response is...
...what was I saying? Right. It's the
jolie laide
—a French term, because, sure this needed another bizarre reference to a foreign language, basically meaning 'ugly beautiful'—of college football.
I won't call it a microcosm of anything, still, though. In spite of all that, I'm still glad Ohio State didn't play last week.
CLICK HERE TO CONTINUE TO PAGE 2 (FOR OUR THOUGHTS ON THE COLLEGE FOOTBALL PLAYOFF, BAYLOR WITHOUT SETH RUSSELL, AND THE BEST AVAILABLE JOB IN THE BIG TEN).