Normally, Brian collects his stray thoughts during the college and professional football weekend and posts them here on Tuesday morning. He has escaped his cel... I mean, is on vacation this week, so I agreed to fill in, and hopefully not destroy his weekly readership.
—This is a week that was mostly full of competitive and mostly entertaining games. Of the eleven games played on Sunday, there were three that made it to overtime and another five that were settled by one score.
—The sneaky great game of the day that wasn't on my radar at all was Tennessee's visit to New Orleans. Sometimes firing a coach has the short-term benefit of re-energizing a team—out of concern for their jobs, or because a great weight has been lifted off of them, or because Ken Whisenhunt is actually terrible, or something—but Marcus Mariota might have had the best day by a rookie quarterback in a long time. He went 28/39 for 371 passing yards with four touchdowns, zero interceptions, and zero sacks. That's a hell of a day, even against the New Orleans Saints, who are the 31st ranked scoring defense in the league and have allowed more passing yards than any team in football.
—Oddly, I'm most impressed with the zero sacks thing. The Saints are not a great pass rushing team, but they're not a bad one, either; their nineteen sacks put them squarely in the middle of the road, tied for fourteenth in the league with Minnesota and Philadelphia. Rob Ryan, whatever his faults, will bring pressure on opposing quarterbacks. The last time I sat down to watch Mariota was in Week 2, when the Cleveland Browns confused him for an entire day and sacked him seven times and forced him to fumble three times. That's a big step forward.
—If you're wondering, the Browns have fifteen sacks on the season, so they had almost half of their 2015 total in Week 2. That's some serious progress out of Mariota.
—The Raiders are an extremely fun team to watch. Defensively, they pretty much have Khalil Mack and then, I assume, some cardboard cutouts on segways, so that's kind of bad, but the offense traveled across the country and moved the ball basically at will against Pittsburgh. The Steeler defense, admittedly, is also pretty not great, but Amari Cooper and Michael Crabtree are great complementary parts in the passing game, and they ought to remind you more than a little bit of Larry Fitzgerald and Anquan Boldin. Really.
—It's easy to forget how talented Michael Crabtree is. It's disappointing that he's only had a single 1000-yard season since being drafted tenth overall in 2009, but in fairness to him, his teams in San Francisco ranked 21st, 22nd, 31st, 31st, 32nd, and 29th in pass attempts in the NFL. Eight games into this season, he has 591 yards and has caught five of Derek Carr's nineteen touchdown passes, and in Oakland's offensive outburst since the bye has coincided with Carr has targeting him 32 times in the last three weeks.
—Some of the credit for this has to go to Amari Cooper, who might have been the surest thing in last year's draft.
—I know, I know, how am I not talking about Antonio Brown? He's really good. You knew that already.
—Ben Roethlisberger missing a nebulous couple of weeks with a foot sprain is a fairly serious problem. I'm guessing that Landry Jones and DeAngelo Williams can probably do enough against Cleveland's deplorable defense—the highest paid defense in the league, by the way!—to win a home game, but I'm a little more skeptical about a trip to Seattle. The Seahawks aren't the force they once were, but I think they can handle a backup quarterback and will manage to restrict Antonio Brown to fewer than 17 catches and 284 yards.
—The Browns, by the way, should start Johnny Manziel for the rest of the season. It came up in
Blitz Picks
last week that many fans of pro ball that don't watch the college game don't understand the fascination with Manziel and are annoyed with the amount of attention the media gives him. The second, at least, is a fair complaint, if your metric for how much a media should cover a guy is based on his production in the NFL. The idea that the book has been written on this kid, though, is nonsense. He made his fourth career start on Thursday. Maybe the hype made everybody forget that he was not a finished product coming out of college, but the reality is that he's 22, and yes, he needs to learn to play better within the pro game, but there is obvious talent here.
How many quarterbacks in the NFL have the speed, the arm, the improv skills, and the moxie to make this throw? (It was a dagger touchdown to give Cleveland one of its only two wins this season, by the way.) The answer is less than ten. You're telling me that you don't want to see if this guy can clean up his game so you can play Josh McCown?
—Josh McCown has had a pretty good season statistically, of course, but passing stats in the NFL are all but useless. Here's an example. Here are two quarterbacking lines from Sunday:
Player A: 26/39, 299 yards (7.7 YPA), 2 TDs, 1 INT
Player B: 25/38, 299 yards (7.9 YPA), 3 TDs, 1 INT
Tell me which one of those belongs to possibly the greatest quarterback of all time and which one is the property of Matt Cassel.
—If Mike Pettine is fired this offseason, and he probably will be, he will deserve it and it will have nothing to do with Johnny Manziel. The Browns' defense, which has received the lion's share of both draft picks and free agency acquisitions in recent years, is embarrassingly bad at every level. They have no serious pass rush—recall from earlier that, apart from the Tennessee game, they have eight sacks this season—and they allow 147 rushing yards per game. Schematically, they are a mess. On the Bengals' opening possession last Thursday, Jim O'Neil—Cleveland's defensive coordinator—employed a package on 3rd & 11 that called for Armonty Bryant, who is a 265 lbs. pass rush specialist, to cover Marvin Jones, who ran a 4.46 forty at the Combine and was probably laughing the entire way as he gained 29 yards due to Cleveland's incompetence.
—Returning to the greatest quarterbacks of all time, there had to be things thrown in league offices on Sunday when Peyton Manning fell three yards short of breaking the all-time passing yards record in Indianapolis on Sunday. The NFL could not have set up the story any better if they had planned it—and if the last year or so has proven anything, I don't think the NFL is competent enough to have done that—but the day was spoiled because Denver kept committing idiotic penalties in the final minute of the game.
—There are going to be a lot whatever the football equivalent of thinkpieces are about how the Colts have possibly turned the corner on this season. I'm not sure. A team that's not really not very good, with a bad offensive, old playmakers, and an injured quarterback, beat a team that had a loss coming to them anyway, really, after the last six weeks of the season. The setting was poetic, though.
—In a kind of poetry of its own, I thought the Rams would beat the Vikings on Sunday, and they probably should have. I forgot that this was a game that St. Louis needed to lose if Jeff Fisher was going to return to 8-8 or 7-9 this year. Fisher has finished with seven or eight wins nine times in nineteen full seasons as an NFL coach. They say death comes for us all, but I'm sure Jeff Fisher will figure out a way to go .500 against it.
—There are worse things than going .500, though. It looks like Miami, after two weeks of teasing us, is exactly what we thought they were after their first four games. They are 0-4 in their division and have given up an average of 179.8 rushing yards in those games; it would be much worse if New England, who beat them 36-7 two Thursdays ago, had actually cared about running the ball and got more than 95 yards on the ground. Buffalo gashed them for 266 on the ground on Sunday.
—A friend of mine pointed this out to me, but some time we have to talk about how the AFC East is easily the most incestuous division in the NFL. I understand that, over the course of their careers, everybody has worked for somebody, but this cannot be normal. Look at the head coaches and starting quarterbacks of each team just from the last twenty or so years that have been either head coaches or coordinators (or, you know, quarterbacks, for that other thing) with another AFC East team prior to their stint as head coach or starting quarterback.
Buffalo Bills: Rex Ryan (NYJ), Drew Bledsoe (NE)
Miami Dolphins: Chad Pennington (NYJ)
New York Jets: Pete Carroll (BUF), Bill Parcells (NE), Eric Mangini (NE), Todd Bowles (MIA, interim), Ryan Fitzpatrick (BUF)
New England Patriots: Pete Carroll (NYJ), Bill Belichick (NYJ)
—That's why I feel fairly comfortable predicting, based on no real evidence whatsoever, that Josh McDaniels is going to be the next coach of the Miami Dolphins.
Unless Tom Brady and Bill Belichick simultaneously announce their retirements after this season.
—I think they'll be in the game against Tampa Bay, which will hopefully be Dallas's last without Romo, but the Cowboys have played five games in a row either on national television or on what amounts to national television, and we have all suffered because of it. The only game they truly had no chance in was against New England, but as someone who's watched a team with a good offensive line and not much else for the last half decade, I can tell you that losing frustrating, one-score games is exactly what these kinds of teams do. This period of darkness, though, has an expiration date on it, and in order to make the playoffs all Dallas really had to do was win one division game and maybe steal another one. I don't even know if they'll do that.
—Cris was talking about this on Sunday Night Football, but it bears repeating. Philadelphia's riff on the zone read is actually really nifty. Let's do some chalk talk.
Here's your basic zone read at the college level, which is a simple read option. I'm going to call this Play A when I refer back to it here.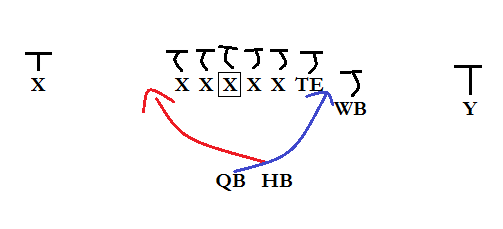 It's basically the veer or the wishbone option turned inside-out, putting the quarterback in the shotgun. The basic principle here, as you probably know, is the quarterback needs to read the (in this case, weak side) defensive end and determine if he's going to attack the dive. If he does, he keeps and carries it around the opposite edge. (Or up the middle. This is 'the dive' in traditional option terminology. Remember, these are zone blocking assignments, so the gaps a little fluid and cutbacks are encouraged. I have these drawn up with the quarterback and runningback both going off tackle because I have based our zone read on the veer option and simply to make them easier to read.)
It looks a little more like a wishbone if you add another halfback and run this triple option wrinkle off it.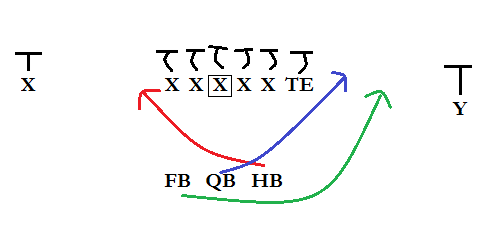 I have it drawn up as a triple option in which the first read goes to the halfback and with the pitch track going to the fullback, but you can flip that, if you prefer. Our first read throughout these is in red, the quarterback carry (usually the second option) is blue, and the final pitch (or handoff) is in green. I haven't watched enough of Philadelphia this year to see how often they've lined up Murray and Matthews together in the backfield and put this to use. Here's another look that inverts this and incorporates elements of the old single wing, which Ohio State ran against Minnesota a bunch on Saturday night.

With Braxton Miller (#1) in motion and Ezekiel Elliott at halfback (#15), the Buckeyes ran this play all night. Cardale Jones (#12) had the option of giving to Elliott (as in a conventional zone read, or in A), or of shoveling it to Miller (to go around the edge, as in B). Instead, the roles are reversed, though, with Miller getting the first read and Elliott as the last resort. We're also bringing a guard around the edge and imitating Power O action on this play.
In the fourth quarter, though, Ohio State flipped the script to ice the game. With Miller sidelined with a possible concussion, the Buckeyes ran something less busy. This is basically the play that won Ohio State the national championship last season, with the pulling guard coming across the play in support of the read to Elliott. That pulling guard is the only substantive difference between this play and Play A. Ohio State iced the game against Alabama with this, and when Minnesota saw it, they sprinted to the edges of the defense and the whole middle of the field opened up, allowing Jones to rumble for thirty eight yards—through that the pulling guard left—and put the game away at 28-14.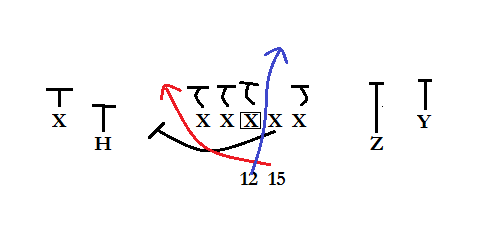 Anyway, so what did Philadelphia do, which is where this started? As Cris said, you probably don't want Bradford carrying the ball, so the solution is to turn it into a pass.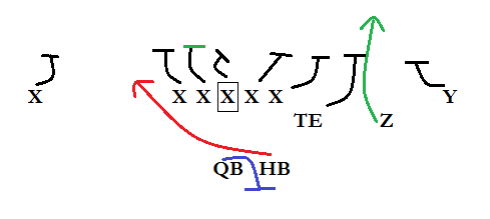 It's nifty. The quarterback reads the dive key, but if he pulls it back he goes from pitch track to just-pass-it out into the flat. It's also probably based on this option out of the slot.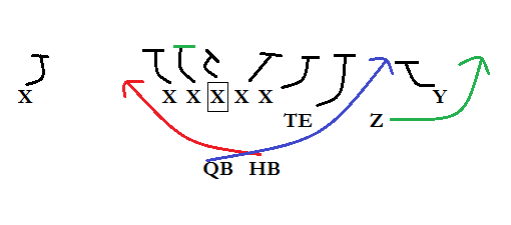 You lose the inherent numbers advantage you gain with the option by having a running quarterback, but the theory of the play is still the same. If you're watching the Eagles, I wouldn't be surprised to see Play B above turned into a flare pass off the read.
Or, if you turn that into a lateral, it could be a halfback pass. I'm just saying. The beauty of all this that it is is all the same play, and it's all based on the initial mesh point between the quarterback and the runningback. We can even draw up a conventional pass play off this. Let's do a Waggle.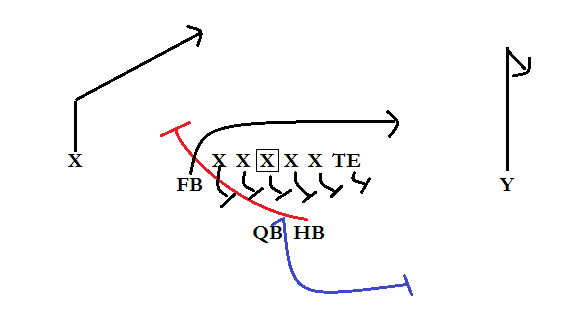 This one of the most basic of the playaction passes, that rolls out the quarterback and gives him looks for a short, intermediate, or long gain. The mesh point is our playfake—and, if you wanted, you could call this a run-pass option in the huddle, and if the quarterback wants to let the runningback take the yards on the ground, he could give it to him—and there we have our fullback on a crossing route, a hook some ten or twelves yards down field, and our home run ball on the skinny. Or, in this case, the quarterback on the move can take the yards himself.
—This is why you should watch college football. I know, I know, the NFL still plays the game from the pocket, but football wasn't frozen in carbonite around the invention of the west coast offense. Most of the innovative football being played right now originated in the college ranks, as much as the 'pro football is serious business' crowd wants to tell you that college is just a frivolity and a distraction, coaches in the NFL are poaching from the Mike Leaches and Urban Meyers of the world on a weekly basis.
—It won't be Mike Leach or Urban Meyer, but there's probably going to be a college football coach hired by an NFL team this offseason. No, I don't mean Jim Harbaugh. Someone who runs a spread will get a head coaching job.
—Cam Newton, for instance, is an MVP candidate who quite possibly doesn't exist without the spread, but here we are with a quarterback who's completed 53% of his passes and scored 19 total touchdowns, and he might be leading the best team in the NFL right now. (There, I said it.)
—The Packers scored enough late to make it look respectable (ish?) on Sunday, which is more than they did against Denver, but the lowest Carolina's win probability got on Sunday after the 8:59 mark in the second quarter was 76%, and that was with three minutes left in the game. I'm not saying anything bad about Aaron Rodgers, and maybe should all just relax, but if the Packers have to win a game against a good team away from Lambeau—and, at this point, isn't even certain they'll win their division?—they're probably in trouble.
—It might be time to rebuild in San Diego. I thought the Chargers would be pretty good this season and were legitimate contenders in the AFC West. Granted, the Broncos have managed to squeak through all but one of the many close games they've played and won, and the Raiders have been much better than anyone anticipated. I get that there are tons of injuries in San Diego, but I really expected more from Melvin Gordon this year. He's a serious talent, and the fact that he's making no real impact might say more about the rest of the team than about him.
—Does Kevin Sumlin as head coach of the Chargers just make sense to anybody besides me, by the way?
—Oh, by the way, the College Football Playoff committee will unveil their second week of rankings tonight. It will be awful and, if you want to like college football or maybe ask it out on a date or see if it wants to become your sidepiece, that is not where you start.
—Clemson should stay on top, following an emotional win against a great name in Florida State. I won't disparage backup quarterbacks, because, you know, one won a national championship for Ohio State last season, but Clemson's two best wins have come against teams without their starting signal caller.
—Alabama might jump them, because Derrick Henry was the monster that everyone expected Leonard Fournette to be on Saturday night. He entered the game in Tuscaloosa with 1352 yards and a chance to wrap up the Heisman Trophy that night, barring major injury, and he got held to 31 yards on nineteen carries. It's not like this is the first good run defense Fournette saw all season, either. Henry is still over a hundred yards behind Fournette on the season on about thirty more carries, but his seventeen touchdowns and counting, along with the extra contest he may get to play in the SEC Championship Game, might yet him king.
—Ohio State should stay in the Top Four. They were solid if unspectacular against Minnesota, whose five losses have been to TCU, Northwestern, Michigan, Nebraska, and Ohio State; the Nebraska loss looks ugly, but the other four have a combined record of 31-5. That's a nasty, physical team that is not fun to play, and the Buckeyes played them without JT Barrett. Cardale Jones was a touch off here and there, and Ohio State missed a big play or three by a couple of inches each time. A couple more inches of air under two or three balls—I'm not talking about inflation—and this game ends up about 42-7. It didn't, though, and that's football and that's why voters have been unhappy with Ohio State's offense this year.
—The fourth spot—or at least the fourth team in the Top Four, anyway—is a toss-up. It could be Notre Dame, Baylor, Oklahoma State, or Stanford. Assuming LSU falls fairly significantly, Notre Dame didn't do anything to allow people to jump them. Did Ohio State do that, though? Or did Oklahoma State do enough to jump ten spots?
—Like I've said, none of this matters until Thanksgiving.
—Which is in two weeks, so… how are we cooking our turkeys, by the way?
—Anyway, Brian will be back next week. I hope you enjoyed this.