MK:
Brian Williams has the week off, and I'm joined by the knowledgeable and pithy Evan Vracar to bring you this edition of
Tailgating
. This weekend, we're talking about the best runningbacks in college football in the aftermath of Leonard Fournette's thirty three yards against the vaunted Alabama defense, as well as discussing the rash of bad officiating, the haunting similarities between the Big Ten West and the SEC East, and the family resemblance between the Floyd of Rosedale...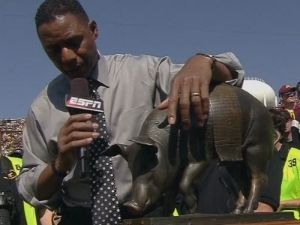 ...and Bret Bielema. They're both
Whole Hog
.
Get it?
FIVE GOOD QUESTIONS
For those of you who are new here,
Tailgating
is a column on the hyper-regionalism, idiosyncrasies, and insanity that make up the sport of college football. It also occasionally discusses football. This week, Evan Vracar (EV) and Matt Kocsan (MK) will answer five good questions, pick seven of the best games of the weekend, and call one upset. The first question is always the two of us arguing about where we would go if we had an unlimited budget and could travel to any college football game we wanted this weekend. That, and the fact that we don't ever write anything that's short, is about all you need to know. We're glad you're here and we'd love to hear from you.
1.) Well, Evan, it only seems fair that you get dibs this week. If you could go to any college football game in America this weekend, where are headed and why?
EV:
Allow me to indulge in a bit of schadenfreude here, if you please. I know that typically this is a place designed to celebrate the wonders of the college football atmosphere; full of vitality and ambition, but I have something else in mind. That's why I'm packing my bags and taking a trip to Jordan-Hare Stadium to watch Georgia and Auburn fight each other like two rabid wild dogs over the last piece of meat. There's a decent enough chance that this takes places in the crowd as opposed to on the field, by the way.
MK:
The only way to improve this situation is for a third power to intervene, like, say, Will Muschamp.
EV:
It's hard to identify two teams in FBS this year that have been more disappointing than Auburn and Georgia have been, so really this is just going to be total despair for at least one fanbase; possibly both! And this is even a noon game on CBS! I didn't even know that CBS did noon games. Above all else, I imagine that Steve Spurrier would endorse this pick.
MK:
Considering we have at least two marquee matchups this Saturday in Starkville and Waco, it would seem a little weird if we both lowballed this weekend. Then again,
this is the weekend
that I typically talk up
John Carroll's annual, quixotic attempt to take down the Mount Union Purple Raiders. Losers of every game in the series since 1989, the Blue Streaks enter the contest with a less potent team, at least statistically, than in recent years, but Tom Arth's 8-1 team is peaking at the right time and hasn't surrendered more than fourteen points since October 3. Then again, Mount Union has only allowed twenty four points all season—24, as in, combined—and hasn't scored less than forty two in any game this year. Did I mention the Purple Raiders have won their 102 Ohio Athletic Conference games?
So, would you say that John Carroll or Mississippi State has a better shot on Saturday? Dak Prescott has quietly had one of the best seasons by a quarterback in all of college football, and enters Saturday's contest completing exactly two out of every three passes he attempts and with a touchdown-interception ratio of 18:1. As the Crimson Tide have risen in the rankings following their loss to Ole Miss—and as well as Alabama has played since then, we do kind of all collectively pretend that the game in which the Tide gave up 43 points never happened, don't we?—the Bulldogs, who are 7-2, have been fairly anonymous; their schedule is frontloaded and backloaded, but they've cruised through the doldrums of Troy, Louisiana Tech, Kentucky, and Missouri to land in a spot where victories over Alabama and Ole Miss at home might just land them back in the New Year's Six.
As for Oklahoma and Baylor, as much as I love the Big 12, I can already see a scenario unfolding where every team gets left out of the College Football Playoff for a second year in a row. The Sooners lose Saturday night to Baylor, giving them two losses effectively eliminating them, but get the advantage of playing one-loss TCU away from Fort Worth—where they're simply not that great—and handle the Horned Frogs in Norman, and a second defeat puts the final nail in TCU's coffin. Oklahoma State gets Baylor at home, and Jarrett Stidham picks the worst moment possible to have that true freshman game everyone's got in them and it gets ugly in Stillwater, but the Pokes turn around and lose a stupid game in Bedlam because of course they did. Oklahoma only leads the series 84-18-7. (That is not a misprint.)
So, send me to Stark Vegas this week. Prescott is one of the most underappreciated stars in the sport, but I suppose that can happen if you're anonymously great in middle of nowhere Mississippi. He'll finish the season with over 3000 yards passing and 700 rushing yards and 35 total touchdowns and probably not even get invited to New York for the Heisman Trophy presentation. The Bulldogs will probably lose, but I'd hate to miss it if he and Dan Mullen throw one last haymaker together.
2.) There's a truly outstanding group of runningbacks nationally, but almost all of them have lived in the shadow of LSU's Leonard Fournette. After his 33 yards on nineteen carries against Alabama, he still leads Division I in rushing, but it seems like a good moment to take stock of the top ball carriers in the sport and ask who the meaningful challengers are for the title of best back in the major college football.
MK:
Now, this isn't to say that Leonard Fournette isn't, you know, still the best back in America right now, or that Alabama's run defense isn't very, very solid—I said we all like to pretend, once they start playing well, that their clunkers never happened, but they only gave up 92 rushing yards against Ole Miss in that game—but we can at least talk about Fournette like he inhabits the same planet as every other runningback in college football. Fournette's build and running style remind me more than a little bit of Darren McFadden, who was a truly great runner at Arkansas. We all seemed to agree that he was human, though.
Clearly, Nick Chubb would be in this conversation if he hadn't suffered an awful-looking knee injury at Tennessee, but there are more fun runningbacks in college football this season than we could name if we had unlimited time and we felt like writing forever. (Like I said earlier, though, Brian has the week off.) So, in addition to small-school wonders, like Wyoming's Brian Hill—a sophomore, he only trails Fournette by 56 yards for the lead in rushing yards nationally, but has done so on a very bad football team and only has one carry of greater than 50 yards on the season, meaning he's racked up those yards the hard, plodding way—and New Mexico State's Larry Rose III—another sophomore on bad team, gashing opponents for 7.5 yards per rush—I'll just name a couple of the leading candidates.
One has to be Ezekiel Elliott. He burst onto the scene last year with an absurd postseason for Ohio State with 708 yards from scrimmage against Wisconsin, Alabama, and Oregon last season en route to a national title. How many people can say they rushed for 230 yards against a Nick Saban defense, by the way?
He's rushed for at least a hundred in fourteen games consecutively, usually because he's willing to pound away at a defense and take four or five or six yards at a time until he finally break one or two well past the second level for touchdowns in the second half. He's also a hell of blocker.
I'd be remiss if I didn't mention Derrick Henry, the Alabama runningback who had the game that everyone expected out of Leonard Fournette last week, or Dalvin Cook, Florida State's cheat code. It's also a dirty little secret of last year's Sugar Bowl that if Lane Kiffin had remembered to give the ball to Henry, that game might have had a different result. I'm going to let you talk about them and anyone else you've got on your radar this season, though, Evan.
EV:
I really appreciate you only going with lesser-known guys so that I still have plenty of big and flashy names to work with. Truly.
Well since you mentioned four of the top five leading rushers in the nation already, it seems fair to round that out and bring up Royce Freeman of Oregon, who has averaged at least five yards per carry in every game so far this season except for the Ducks' loss to Michigan State early on in the year. I'm pretty sure he's had multiple games this year where he's racked up over 100 yards after contact; that's not too surprising considering he's 230 lbs. and at 5'11" is only a couple inches shorter than demigod Leonard Fournette.
And of course I'm going to hype up Christian McCaffrey, who is as menacing as any non-demigod back I've watched this season. He's the nation's current leader in all-purpose yards, and it isn't even close. He leads second-place Tyler Ervin of San Jose State by 230 yards (2,174 to 1,944), and only one other player in the country is even over 1,800 yards (Jakeem Grant of Texas Tech, if you were curious). He's sort of been the driving force for Stanford considering that Kevin Hogan is basically excelling as a game manager, and might very well be the engine that gets them into the Playoffs if things break well for the Cardinal.
One last name I want to throw into the ring is Shock Linwood, who has seen his carries pretty sharply reduced this year at Baylor but is still on pace for a career high in yardage anyway. He's averaging nearly eight yards per carry, and while he's not as much of a big play threat as Dalvin Cook (but really nobody is), he's had a run of at least twenty yards or more in seven of Baylor's eight games this year.
Oh and shout-out to Devontae Booker at Utah, just because upper echelon runningbacks who are seniors are a dying breed these days with most jumping to the pros before that point.
3.) So, about Bret Bielema...
I'm trying to come up with a question for this, but I still need to work on the phrasing.
EV:
Is it too easy to say that we aren't the only ones who need to work on phrasing?
MK:
EV:
Look, I love me some BERT. He is one of my favorite college football things. He described a dominant performance against the Texas Longhorns' offensive line one time as something close to erotic. I can think of no man better suited for the title of "Head Hog" at Arkansas than Bret Bielema, who is perhaps the closest living thing on the planet to a human embodiment of an actual hog. Also, he'll probably fight you. You and all those other pretty boys like Kingsbury with your high-tempo offenses better stay woke. Bret Bielema doesn't know who did those donuts in your front lawn, but he's offended that you'd even suspect him.
MK:
Oh, if they were neighbors, he would totally jack up Kliff Kingsbury's fence and then ask him if he needed help fixing it.
EV:
Now all that being said, Arkansas has also kinda been a disappointment this year. Not to the same extent as Georgia and Auburn, but this was supposed to be a big year for the Hogs under Bielema and wellll that hasn't quite materialized. They did just beat Ole Miss, but I honestly don't know exactly how much that means at this point. Personally, I'm just looking forward to the offseason when he'll finally have time to pursue his true dream of
hosting his own cooking show.
MK:
Is there any way that Bret Bielema's cooking show isn't called
Whole Hog
—maybe every once in a while there's Freudian slip there, too, if you're picking up what I'm putting down—and that it doesn't include a catchphrase like, 'And that's how you go
Whole Hog
!' Can you imagine him on Food Network, though? The greatest thing about it would be the feud that would develop between him and probably everyone, but I'm assuming that at one point he'd do a crossover episode with Guy Fieri, get righteously annoyed, and ask him where the hell Flavortown is anyway while hitting him a sack of flour.
To be honest, I don't remember him talking with that twang when he was at Wisconsin, but on the whole I think it's an improvement. He doesn't land zingers the way that Spurrier can, which isn't surprising, considering the gap in charisma between the two is about as vast as Grand Canyon. Still, you can't ask much more out of BERT than he gives you, as a fumbling oaf you get to shout 'PHRASING!' at during press conferences and as a head coach who's built a football team whose personality—and, uh… girth?—matches his own. Almost every Arkansas game against a decent opponent this season has been entertaining as hell, though, and as much as I've enjoyed rooting against him dating back to his time at Wisconsin, the sport really wouldn't be as much as it is without him. I hope he starts walking around wearing the amount of his buyout around his neck suspended by a gold chain.
4.) You might have heard, there has been some pretty awful officiating this season in college football. Do the referees this season remind you of any fictional characters or historical personages or Darwin Award candidates or anything like that? (I need to clean this up, but you get the idea.)
MK:
Referees this season have sort of been like the incompetent henchmen for something like Bond villains and I suppose I could imagine a world in which Dr. Evil wants to ruin certain teams' college football seasons. David Cutcliffe looks like the kind of guy who'd be the perfect mark for someone who spent four frickin' years in evil frickin' medical school, but Mark Dantonio looks more like a guy who should be working for him. The worst part of the College Ref Experience ©, though, has to be the way they awkwardly and badly explain their improper rulings on the field of play to the crowd and the millions watching at home. Have you noticed that these refs are never confidently wrong? They don't even fake it well and it's as if they know that someone, at any moment, may emerge from behind a curtain and expose them as frauds.
All I hear when a referee comes back from a replay review these days, though, is this, but at least Sir Bedivere sounds like he knows what he's talking about.
If we're going to get officiating this awful, this is the referee we deserve.
EV:
It almost feels like it's some sort of secret competition at times, doesn't it? That the referees from each conference are all involved in some kind of high stakes game where whichever faction generates the most absurdity wins the whole pot at the end of the season. Except, if it is supposed to be a secret, they aren't doing a great job about being subtle.
There was a game earlier in the season where Texas (or their fans at least) got very upset about some calls and made claims that the officials willfully tried to screw them over. Let me just reiterate that.
Texas
thought they got screwed over by Big XII referees, when in fact I'm fairly certain that at this point the Big XII only exists as a marketing campaign for the Longhorns and their chic television network. I feel like that's a pretty good indicator of public unrest when it comes to officiating this year.
That being said, which conference takes the cake in terms of sheer officiating madness this season? The ACC and Big Ten seem like they're making real runs at it, but will it be enough to topple the Pac-12 referees, who at this point I think could be considered a dynasty with the number of recent years that they've probably won this hypothetical championship? My money is probably still on the wily vets of the west coast.
5.) Let's close with a question about conference strength. Florida wrapped up an SEC East championship last weekend, and Iowa can do the same with two wins or a win and a loss by Wisconsin at any time for the rest of the season. The relative strength of the SEC East pales in comparison to the SEC West and the Big Ten East is currently stronger than its Western counterpart. Which division, though, between the SEC East and the Big Ten West is better right now?
EV:
So I'm going to take a top-to-bottom approach to this and try to go team by team to determine which division I think packs the bigger punch right now.
I feel pretty fine saying that Florida is probably better than Iowa, even though the idea of Iowa crashing the Playoffs party and throwing everything into madness is one I wholeheartedly endorse.
MK:
As I've said before, this is a virtual certainty
and something that, as an Ohio State alumnus, scares the living s--- out of me. It's probably not rational and we may not even get there, but I fear Iowa in the Big Ten Championship Game at this point far more than I do Michigan State or even Michigan right now. I say that with no disrespect intended toward the Spartans or the Wolverines.
BW:
Where things get interesting is after these two though, because by standings it would be Wisconsin and Georgia. I propose, however, that Georgia is not actually the second-best team in the SEC East, and that it's actually Tennessee. The Vols are 5-4, but each of those losses has been by seven points or fewer, and at least a couple of them required some incredible collapses to get chalked up as losses in the first place. If you put Tennessee up against Wisconsin on a neutral field, I'd be tempted to go with the Vols.
MK:
I actually think this is about a field goal game on a neutral field, which is exactly why I'd probably take Wisconsin.
Then you've got Georgia and I guess Northwestern as the third best teams in their respective divisions? That feels like a push, but with health I'd go with Georgia.
MK:
Georgia? Healthy?
EV:
Then the SEC East goes into a pretty bad tailspin after Georgia. Kentucky, Vandy, Mizzou, and South Carolina are all varying degrees of mediocrity, whereas the Big Ten West actually boasts some mid-level depth with teams like Illinois, Nebraska, and Minnesota. Purdue is in quarantine.
MK:
Hey, Purdue beat Nebraska. I don't think Vanderbilt could beat Illinois.
EV:
So the SEC East has the edge at the top, but in most of those it's not by very wide margins. So if the question is which division is better on the whole? I think the depth of the Big Ten West is the difference maker and I'd give it to them.
MK:
The cool thing is that we might actually get to see some of these matchups. Florida and Iowa feels like the perfect game for the bowl season, but if by some miracle Iowa doesn't upset the Big Ten East's representative and claim a spot in the Final Four—provided that actually is Ohio State—they'll go west to Pasadena, which they'll deserve, for their first Rose Bowl appearance since 1990. If Ohio State loses and Iowa can't beat either Michigan or Michigan State, though, a Citrus Bowl between the two becomes very plausible. Northwestern and Georgia, at least, though, really does have Outback Bowl written all over it, doesn't it?
I'm a little less bullish on Florida than you are, and I think I might give the edge to the Hawkeyes this year, especially without Will Grier. Iowa might have the best three-man backfield in the country, and I think it would translate in the SEC East, and even in the Big Ten East. So, while Florida and Iowa are probably interchangeable in terms of wins and losses, I don't see another SEC East team that could roll through the Big Ten West, like the conference has alleged most of its teams could in the past several years; the reserve, though, is equally true, with the possible exception of Wisconsin because I just can't get a read on the Badgers. These might be the two most even divisions, placed side by side, in college football.
GAMES OF THE WEEK
Every week, we pick at least five of the best games in college football. Instead of picking against a point spread, we use confidence points—a common method of scoring in bowl game pools—to create separation in the weekly standings. The higher the number of points allocated to a game, the more the certain we are of the outcome. Results do not always agree with us. Each number can only be used once. Brian has the week off, but to keep our pick 'em current, he is submitting choices anyway.

We also include a brief capsule to go along with each game. All times Eastern.
#2 Alabama at #20 Mississippi State
3:30, Starkville, Miss.—CBS
MK:
If you only have time for one game this weekend, I'd make it this one, because nothing that could happen at this point could create chaos in the sport like a loss for Alabama. It would re-open the possibility of a two-loss SEC Champion in a playoff format that looks like to exclude anyone with more than one defeat. What's more, Mississippi State has gradually transformed itself from a run-heavy, spread option team to one that passes for nearly 300 yards per game and is still possessed of a quarterback in Dak Prescott who can make plays on the ground.
MK's pick: Mississippi State, 25-21. Confidence points: 1.
EV's pick: Alabama, 28-20. Confidence points: 4.
BW's pick: Mississippi State, 21-16. Confidence Points: 2.
#21 Memphis at #24 Houston
7:00, Houston, Tex.—ESPN2
EV:
If you get the chance, treat yourself to this game and watch two of the best quarterbacks in college football go to work. Greg Ward is one of the most dynamic dual-threat passers in the nation, and Paxton Lynch is a potential first-round pick in the NFL Draft if he were so inclined to declare following the end of this season. The most fun thing to me about this match-up though, even with it being between two ranked "mid-majors" and Houston still technically vying for a Playoffs spot, is that Navy probably still ends up winning this conference.
MK's pick: Houston, 39-34. Confidence points: 4.
EV's pick: Houston, 38-32. Confidence points: 1.
BW's pick: Memphis, 41-34. Confidence Points: 3.
Arkansas at #9 LSU
7:15, Baton Rouge, La.—ESPN
EV:
Last season, LSU lost to Alabama and then the next week had to play against Arkansas. LSU lost that game to the Hogs by a score of 17-0. So, in that sense, I guess there's a precedent for Arkansas winning this game. I don't see history repeating itself this time though. After the way he was bottled up against the Tide, Leonard Fournette is going to be maaaaaaad. Sorry Bert.
MK's pick: LSU, 22-19. Confidence points: 5.
EV's pick: LSU, 34-21. Confidence points: 5.
BW's pick: LSU, 24-9. Confidence Points: 6.
Oregon at #7 Stanford
7:30, Stanford, Calif.—FOX
MK:
Stanford is one win away from clinching the Pac-12 North and that result seems likely on Saturday evening. The Ducks are winners of three in a row, and runningback Royce Freeman has quietly rolled up almost 1300 yards on the ground this season. Oregon, though, carries the 117th-ranked scoring defense in the nation into this one, and Christian McCaffrey and the Cardinal ought to run all over them.
MK's pick: Stanford, 50-31. Confidence points: 7.
EV's pick: Stanford, 38-27. Confidence points: 7.
BW's pick: Stanford, 33-19. Confidence Points 7.
#12 Oklahoma at #6 Baylor
8:00, Waco, Tex.—ABC
EV:
Oklahoma lost to Texas *stifles giggles* but ever since that game, they've basically been a war machine. They've outscored their last four opponents 232-50, and granted that Texas Tech was the only halfwat-decent team among those four, but I get the feeling that this might be the kind of blood orgy that Bob Stoops has been waiting for. This is when we see what Jarrett Stidham is really made of and if Baylor has any chance at all to legitimately contend for a title with him at the helm. But if I had to guess? I'd say Boomer Sooner.
MK's pick: Baylor, 56-46. Confidence points: 3.
EV's pick: Oklahoma, 35-31. Confidence points: 2.
BW's pick: Baylor, 44-33. Confidence Points: 4.
Minnesota at #5 Iowa
8:00, Iowa City, Ia.—Big Ten Network
MK:
As I said,
I have to mention somewhere that the Floyd of Rosedale
is on the line this week and that all other struggles in college football and traveling trophy series pale in comparison to this one.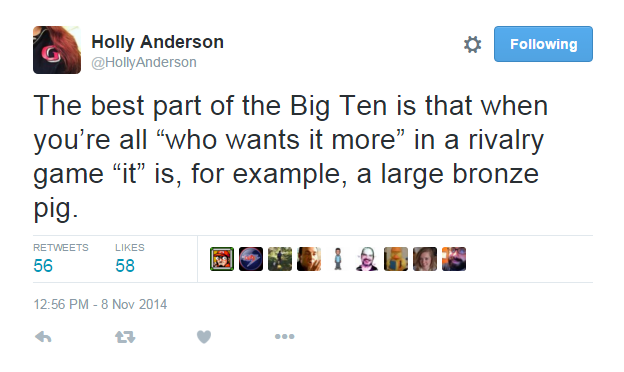 Iowa brings brutal, perfect balance to the contest, averaging 205 yards rushing and 207 yards passing per game, while Minnesota has suffered a near-miss against Michigan at home and fought back to tighten up a game that had already probably been lost against Ohio State on the road. The Golden Gophers need to win two of their last three to qualify for a bowl game again this year, which feels at least somewhat unjust as they're the only team in the Big Ten West required to play both the Wolverines and the Buckeyes. This one should stay tight, though, and it's a shame that Iowa alumnus Bret Bielema will be busy and unable to watch this slugfest in the trenches.
MK's pick: Iowa, 17-12. Confidence points: 6.
EV's pick: Iowa, 23-20. Confidence points: 3.
BW's pick: Minnesota, 22-17. Confidence Points: 1.
Washington State at #23 UCLA
10:45, Pasadena, Calif.—ESPN
MK:
A Mike Leach quarterback leading the nation in passing yards is old hat at this point, but for my money, Luke Falk and the Cougars are playing as well as any team in the country outside the Top 10 right now. After a brutal, last-second loss to Playoff darling Stanford, the Cougars fell behind by two touchdowns at home to Arizona State; they refused to crumble, though, and outscored the Sun Devils 38-10 the rest of the way. UCLA, meanwhile, has managed a troika of devastating injuries to control their own destiny in the Pac-12 South. (It's worth mentioning that Utah and USC do as well.) Averaging nearly 500 yards of total offense a game, this ought to be the Bruins' best challenge since their three-touchdown loss to Stanford in mid-October, but a victory for Wazzu may finally punch this team's ticket into the Top 25.
MK's pick: Washington State, 45-37. Confidence points: 2.
EV's pick: UCLA, 41-31. Confidence points: 6.
BW's pick: UCLA, 44-27. Confidence Points: 5.
UPSET SPECIAL
The upset special is a weekly, off-the-board pick. In order to qualify, a game must meet at least one of any of the following criteria: a point spread of one touchdown or more; a consensus gap of five places or greater in national polls between the two teams playing, with ranked-versus-unranked matchups automatically qualifying; or, an FBS-versus-FCS showdown, which features no line. Any correct upset special earns three points. The other, final thing you need to know about this column is that Brian always wins this stupid thing.
EV:
If Florida State thought that losing to this shambling mess of a Georgia Tech team was going to be the low point of their season, then they've got another thing coming!
Wolfpack is back, causing mass destruction!
I believe in Jacoby Brissett, Matthew Dayes, and Mike Rose enough to ride them to victory this week over the Seminoles. Also, this would be a very NC State thing to do to ruin everything for someone else while not exactly doing anything meaningful for themselves. NC State, 26-24.
BW:
Following a 58-0 loss at the hands of Clemson, and the subsequent firing of Head Coach Al Golden, Miami has pretty much fallen off the map nationally. However, other than that whitewash, the Hurricanes have actually not played too terribly as of late. No, they should not have been credited with the winning TD against Duke, but in many ways, that result was just, as Miami outplayed the Blue Devils for much of the night in Durham. North Carolina has a chance to clinch the Coastal this weekend, but they've come up short too many times over the years to fully believe in them. The Heels could be caught looking ahead, which is a dangerous proposition against a Miami team that is playing with house money, is every bit as talented as the Heels, and has an experienced QB in Brad Kaaya that won't be negatively impacted by the environment and will be able to keep the Hurricanes in the game. There is no way the ACC Coastal Division will be won this easily. Give me the
Miami Hurricanes
to take down North Carolina 38-34.
MK:
Well, with the two good ACC choices off the board, I'm going with the best trash talk I've ever seen in my life.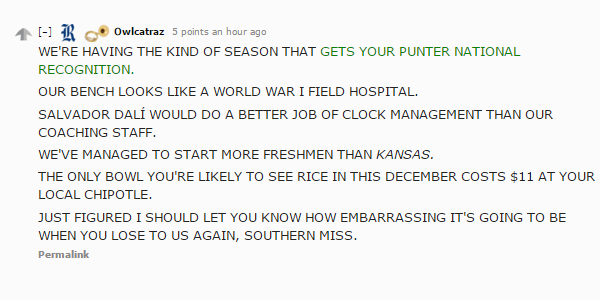 I can't breathe. The Salvador Dalí thing really gets me.
Rice Owls
are 4-1 all time against Southern Miss—and, uh,
undefeated against Alabama, if you're interested
—and their five losses include dates against Texas, Baylor, Western Kentucky, and Louisiana Tech. Give me the smart guys.
OVERALL STANDINGS
MK: 40-25 (4-6), 182 points; 5-2 (0-1), 22 points (last week)
BW: 38-27 (4-6), 174 points; 5-2 (0-1), 17 points (LW)
Matt Kocsan and Evan Vracar are staff writers at FootballPros. They recognize that, in a breakfast, the chicken has a stake, but the pig is committed. You can follow them both on twitter @kocsan (Matt) and @roca_star (Evan).