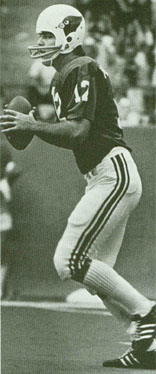 -I have absolutely no idea what the NFL Network is trying to accomplish with these new Thursday Night Football ads, but if it's to make me long for an endless loop of Fanduel and Cialis commercials in its place, then they've succeeded.
-That said, kudos to NFLN for finding the world's only Jags fan that isn't paid by the team.
-Is there anything more NFL than to come up with the idea for color on color Thursday Night matchups, only to have it completely backfire when the two colors chosen double as the most common form of color-blindness? Can you imagine the look of Roger Goodell when that note came across his desk?
-It's not too often that a game will feature 447 yards of total offense in a 1st half with 450 of those yards coming through the air. At halftime, the Browns had 144 yards passing to -6 yards rushing, while the Steelers had 306 passing and 3 on the ground.
-Thanks to a mid-foot sprain suffered last week, coupled with a still-healing MCL sprain in his left knee, Roethlisberger was expected to sit out this week despite being listed as the #2 QB. However, at the end of his first drive, Landry Jones suffered a foot injury of his own, and Roethlisberger entered a game in relief for the first time since the 2nd week of his rookie season. The Browns clearly came in with a defensive gameplan to shut down the Steeler running game and force Jones to beat them. Unfortunately, they didn't adjust their strategy when Roethlisberger entered.
-Big Ben is starting to compile a very interesting list of accomplishments in what has been an extremely successful career. Last year, Roethlisberger became the first player to throw for 500+ yards in more than one game (Drew Brees matched that feet two weeks ago against the Giants), and became the first to throw for at least 6 TD passes in consecutive weeks. This week, Large Benjamin surpassed Wade Wilson's 1990 record for most passing yards in a relief effort with 379 yards passing.
-Granted this is arbitrary, but for his career, Roethlisberger is now in the top 15 all-time in passing yards and passing TDs, and is top 10 in passer rating and YPA. He's the only player in NFL history who can claim that quartet of accomplishments. He's also a guy who had significant leadership/maturity issues early in his career, but has completely transformed into one of the best leaders, and most prepared QBs in the game. If he plays 5 more years, he will have a shot to reach the 60,000 yard plateau with around 350 TDs. Add in his 2 Super Bowl wins, and 3 appearances (to this point), and while Ben won't retire on the Brady/Manning level as one of the apex QBs in NFL history, he'll be just one notch below, and firmly inside the Top 10 conversation.
-I'm convinced that new Steelers KR Jacoby Jones is a mole planted by the Ravens. How else can we explain his fumble on one return, and nearly botching another only to have it deflect off the pylon for an automatic touchback? His way of payback to Mike Tomlin for interfering with his return a few years ago is to sabotage their season from the inside.
-I'm kidding… probably.
-By the way, there's still a lot of growth that needs to happen, but Johnny Manziel looks very much like a legitimate NFL QB. There is less than zero reason that Josh McCown should start another game in Cleveland, barring an injury to Manziel.
-At what point are we finally allowed to openly discuss how well Eli Manning and Jay Cutler are playing?
-If records are that important, perhaps the Broncos should let Peyton Manning play next week in an effort to match Gary Keithley, formerly of the St. Louis Cardinals, who in 1973 became the only QB in NFL history to post a 0 rating in consecutive weeks.
-Peyton Manning- from Brett Favre to Gary Keithley in the same game.
-Look, I hate to pile on the guy, and it was just revealed that he tore the plantar fascia, but Peyton Manning now has a QBR of 45, which ranks 30th in the NFL, and is more than 2 points lower than Colin Kaepernick's QBR. Manning is obviously an all-time great, but he now has 12 TDs and 23 INTs in his last 13 regular season games. He's not the first player to post a 0.0 rating (both Eli and Archie have "accomplished" the feat as well), but he is the first to do it in the game in which he also broke the NFL's all-time passing yardage record. Manning has earned the right to play if he wants to play, but I'm sure he's embarrassed about how all of that went down. But if the plantar fascia in his foot was torn prior to the game, and was affecting his ability to move/throw, was he being a gamer by trying to tough things out, or was he being selfish in hurting his team's chances to win by trying to play through it?
-Seriously, what is the point of the injury report, anyway? Teams continue to make a mockery of it. Either the NFL needs to grow some stones and start inflicting real penalties, or they need to eliminate it altogether. Or, they could go the route of the NHL and call everything either an upper-body or lower-body injury.
-What is a catch again?
-Kudos to the Cowboys for managing to go 0-7 in Tony Romo's absence. Way to tread water, fellas!
-It took Devante Adams 21 targets to amass 79 yards. I get that the Packers lost Jordy Nelson, but it's not like they're completely devoid of skill-position talent. Where's Randall Cobb? What about Mr. All-World QB and his legendary chicken soup-making capabilities? Maybe this is just a lull, but their offensive explosiveness is all-but non-existent, and despite Detroit's best efforts to hand them that game in the end, they just got beat by a now 2-win team that hadn't beaten them in Green Bay since the early days of Barry Sanders.
-Rule #47.526 in the NFL handbook reads that any team that allows 47 points and over 500 yards of total offense to the Redskins, while simultaneously failing to force a TO out of Kurt Cousins, must immediately fire their defensive coordinator. Sorry Rob, but rules are rules.
-Can the NFL please start holding their officiating crews accountable for directly impacting the outcome of games? When the officials incorrectly upheld Miami's return against Duke a few weeks back, the ACC responded by suspending all officials from that game for 2 weeks. Will the same happen to Pete Morelli and his crew for not calling the Jags for a false start as they desperately (and unsuccessfully) attempted to get set for a last-second snap? And what is the point of replay if we can't use it at the end of games to fix egregious errors such as that one?
-Be that as it may, can someone explain to me exactly what Elvis Dumervil was thinking?
-Even after an 8-0 start, primetime is primetime, and the Bengals once again prove that they are still the Bengals.
-Finally, a big thank you goes out to Matt for filling in for me last week while I was hanging out with my family in the most magical place on earth. In a related story, if one more person tells me to have a magical day…