MK:
We're putting together a streamlined edition of
Tailgating
this weekend. We're discussing college football in baseball's best venues and the true strength of schedule across the Power Five. Let's just get to it.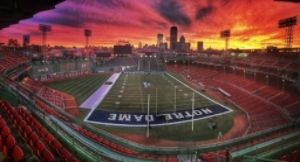 FIVE GOOD QUESTIONS
For those of you who are new here, each week, Brian Williams (hereafter BW) and I (MK) write up a column on the hyper-regionalism, idiosyncrasies, and insanity that make up the sport of college football. We also occasionally discuss football. We answer five good questions (give or take one or two), pick a few of the best games of the weekend, and call one upset. The first question is always the two of us arguing about where we would go if we had an unlimited budget and could travel to any college football game we wanted this weekend. That, and the fact that we don't ever write anything that's short, is about all you need to know. We're glad you're here and we'd love to hear from you.
1.) Welcome back, Brian. I hope you can run all your weekend before half past three on Saturday afternoon, because this college football gameday is monstrous. If you could attend any one of the games on the schedule today, which one would it be and why?
MK:
First things first, I'd like to thank Evan one more time for stepping up last week and taking on Brian's duties in
Tailgating
. Our regularly scheduled programming, I think, is pretty cool, but it's nice that we have a deep enough bench around here that we can plug and play a bit with our writers when necessary. As of this writing, though, I'm kind of regretting not asking Evan to pinch hit again this week, as I've been in New Orleans for some absurd combination of work and the bachelor party of one of my best friend's from college. While most of the activities for the weekend are, naturally, classified, the group has five Ohio State fans, two Michigan fans, and an Alabama fan, and I honestly don't think we've gone more than four hours this entire weekend—which began on Thursday afternoon—someone screaming at another person about college football. Anyway, like an idiot, I decided to still write this column and make all of these idiots gumbo this afternoon while we stay in for a least a bit.
Networks executives, for some reason that is completely unclear to me as yet, have crammed almost all the games you might want to watch into the 3:30 window—well, except for those Big XII games, but I can't see how anyone can be sure of what Baylor or TCU team we're actually going to see in those contests—as the biggest Big Ten, SEC, and Pac-12 games have all aligned in the second interval of the broadcast day, so there's no point in strategizing, and acting like you might want to go here and have access to a television for later in the day or anything like that. There really isn't any point, either, in pretending that I'd even consider going anywhere other than Columbus, Ohio, this weekend.
Had Indiana managed to hold on against Michigan last weekend, the matchup between the Spartans and the Buckeyes would have automatically become a Big Ten East title game, with Ohio State's date in Ann Arbor next weekend being relegated to simple rivalry considerations and the chance—possibly—for Michigan to play spoiler to Ohio State's hopes for the College Football Playoff. The Wolverines managed a victory, though, and an Ohio State win today would turn the Buckeyes and their most cherished enemy into a game where the winner would take the conference—at least potentially, because I expect Iowa will have something to say about this—since 2006.
It's been too long, and college football deserves to see that kind of showdown again. What's more than that, if Ohio State loses tonight, I am going to have to take such a river of s--- from these other guys.
BW:
Thanks Matt, it's good to be back. Plus, my side job with the marching band is done for the season, so it's the first time since really early in the season that I get to dive head first into a full day of college football. You know, it's interesting that this is such a huge weekend, and yet the SEC is playing nothing more than a small role in the mayhem. With Alabama and Florida set to meet each other in a few weeks, both are set up with cupcakes this week, as Florida gets Florida Atlantic, and Bama gets to host Charleston Southern. That leaves LSU's trip to the Grove to take on Ole Miss as the only ranked vs. ranked matchup in the conference this weekend. And despite my love for the Rebels, there's no way that's going to be my choice.
A look into the ranks of the FCS also delivers some of the purest rivalries in the sport. After finally deciding to check out Army-Navy last year in Baltimore, an experience that far exceeded my expectations even before the opening kick, my college football bucket list now consists of 2 specific matchups—Lehigh-Lafayette and Harvard-Yale. In this spot last year, I took my hypothetical trip to Yankee Stadium to catch Lehigh-Lafayette's 150th all-time matchup. They are playing on the campus of Lehigh this year, and just a couple of hours later, Yale will play host to Harvard. Someday I'll be making my trip to the Yale Bowl. It's just not going to be today.
I'm also not heading to Tulsa this weekend, but I am certainly keeping my eye on Navy, who is seeking its best start since 1963, when they were led by some random QB named Roger Staubach. As of right now, it's the Midshipmen who would be receiving the Group of Five at-large bid into a New Year's Six bowl game, and how great of a story would that be? I was also hopeful that Memphis-Temple would mean a little more this weekend, and there is always Notre Dame's trip to Fenway to take on Boston College.
With the Pac-12 battling it out for seemingly nothing more than conference bragging rights, and the SEC and ACC each with one showcase game left during Championship weekend, the next two weeks are all about the Big 12 and Big Ten. After last week's featured attraction in Waco, the Big 12 continues their 3-week showcase tour in the state of Oklahoma, by sending TCU to Norman to take on the Sooners, and Baylor to Stillwater to take on the Cowboys of Oklahoma State. While all year long the focus has been on Baylor and TCU, with TCU struggling with injuries to many of their top weapons, and still some uncertainty surrounding the Bears and their true freshman QB following last week's home loss to Oklahoma, the best case scenario for the conference is clearly for the home schools to hold serve in preparation for Bedlam next weekend. With so much still to be decided, and next week guaranteed to provide the biggest matchup of all, whether in Fort Worth or Stillwater, for this week, I'm going to enjoy the Big 12 games on TV and let everything sort itself out.
It is officially time to become inundated with playoff talk. But while ESPN has forced this talk down our collective throats over the past couple of weeks, and frankly, with it becoming such a prominent focus all year (including inescapably within the walls of TG Headquarters), I've decided that I'm going to take one final break from the mayhem and head back to a familiar venue. I'm not going to apologize for periodically bringing a little homer into this article. What makes TG so much fun, at least in my opinion, is that Matt and I are authentic, and enjoy getting caught up in the craziness of fandom. Sometimes that involves appreciating and experiencing fandom from an outsider's perspective, and sometimes it involves going back to our roots. In this case, it was the right thing for Matt to grasp onto his roots and head back to Columbus, and while not quite as obvious, it's the right thing for me to do the same and head back to Happy Valley.
One of the things we frequently hit on here is the atmosphere on the many campuses around the country on a gameday Saturday. No matter how big the playoff is, or the conference championships are, regular season college football will always be largely about the atmosphere and the pageantry. As far as pregame atmosphere, I'll go on record and say that it is impossible to top the festivities that lead into the Army-Navy game, capped by the dueling flyovers of Army's Apache Helicopters and Navy's Blue Angels. Experiencing it live is something I'll never forget. But as far as in-game atmosphere is concerned, there is nothing quite like a White Out at Beaver Stadium. While prime time is fun, there's something about a Big Ten Noon kickoff during the dead of Autumn. There is still a scenario where Penn State could win the Big Ten (beat the Michigan schools, have both Michigan schools beat Ohio State—so you're telling me there's a chance!), but obviously that's not happening. While Michigan does still have a lot to play for this year, this game is much more about the future of the Big Ten, as it attempts to reclaim its perch atop the college football landscape. Ohio State and Michigan State are the established powers, and that doesn't look to be changing any time soon. Obviously the addition of Jim Harbaugh has piqued the hopes of Michigan fans, and his somewhat unexpected early success has made their interest grow even greater. In the midst of all of that, Penn State has become somewhat forgotten in the whole equation, but this is also a program set for a meteoric rise. The focus this year has been mostly on Christian Hackenberg and his inconsistencies causing him to fall a bit in the eyes of the pro scouts. While I'll fully admit that the fit between Hackenberg, a Bill O'Brien recruit, and James Franklin seems less than ideal and often frustrating, considering the lack of depth that still permeates the program despite last year's lifting of the final sanctions, I'm hoping that his drop in draft status will cause Hackenberg to come back and give it one more shot next season with an even deeper and more talented group around him. However, most importantly, this game represents Penn State's final home game, making it senior day. The 5th year seniors are the final group to have been around during the Joe Paterno era, and have obviously been through a lot in helping keep the program afloat, and ultimately begin the process of future regrowth. They've worked with 4 different head coaches, and have shown a great deal of character in sticking with the program even through the most difficult times. Tomorrow will be an emotional day in Happy Valley, and it's a scene that I just don't want to miss. The playoffs will still be there waiting once this game has come to an end.
2.) College football games in Major League Baseball's parks aren't the novelty item they once were, but it bears mentioning because of the teams and the venue involved that Notre Dame is playing Boston College at Fenway Park this Saturday night. Are we over the whole college football in baseball stadiums thing, or is there a hypothetical pairing of teams in a particular venue you'd still love to see?
BW:
I just don't get how this game is being played in Boston, yet Notre Dame gets their name in each end zone.
MK:
For some reason, I can't wrap my head around this, either. Typically, when you get one of these 'neutral site' games, it's a theoretical road game for the major power and it's in a stadium that's located in a city that yield friendly ticket sales for them. It's upside down here.
BW:
I want to make sure to give you some credit here as I pull the curtains back a bit, but when you first brought up this question, I had a definite answer come to mind. As you emailed me your thoughts, they happened to match mine to a T, so while I am the one leading with the answer to this question, I want to make sure everyone understands exactly how much of the same page we are on.
MK:
Fair enough.
BW:
As a general rule, yes I am over putting college football games in baseball stadiums. But when we put the right teams in the right place at the right time, I'm all for it. Notre Dame and Army played many games at Yankee Stadium, including the "Win one for the Gipper" game, so when they decided to play the first ever football game at the new Yankee Stadium in 2010, it was very cool.
MK:
Well, I mean, it was okay. Army isn't good anymore and, let's be real, is that actually Yankee Stadium? It feels kind of like an impostor to me.
BW:
For the most part, I think the idea is best saved for special occasions to celebrate the purest and most traditional rivalries of the sport. And in FBS, there really isn't much need for the better rivalries in the sport to move their game to a neutral site when there are many more seats, and much more revenue to be made simply by sticking with the home and home model. The one possible exception to this could be keeping the Georgia-Florida, Texas-Oklahoma neutral-site model in mind, and moving the Apple Cup in Washington to Safeco Field. We could call it the world's most snootiest coffee break, or something.
MK:
Yeah, I'm trying to think of major rivalries that might make sense for this model. Cal and Stanford would be a good choice, but for some reason, the the San Francisco Giants' AT&T Park--one of the most beautiful venues in all of Major League Baseball--seems to lose so much of its charm when it hosts a football game, as it did when hosted the Fight Hunger Bowl for about a decade.
It's not an historic park in the same way as Wrigley or Fenway or Yankee Stadium, or a stunningly good-looking one like PNC Park in Pittsburgh or AT&T in San Francisco, but a really nice local tie-in might be moving the Missouri-Kansas game to Kauffman Stadium in Kansas City; it's a natural neutral site, a very nice place to watch a game, and (since the Royals are good again) people probably remember where it is now.
BW:
Beyond that, I think focusing on the great rivalries of the lower divisions makes sense. Immediately, my mind goes to last year, when Lehigh and Lafayette decided to move their 150th meeting to Yankee Stadium to give the game some added juice. Initially, the organizers only expected to sell the lower level of tickets, but when those quickly sold out, they decided to open up the entire stadium, and that too sold out rather quickly. So if we're going to hold a football game at Fenway, why not feature Harvard-Yale instead? The tradition of that rivalry mixed with Fenway's atmosphere would be absolutely perfect for a one-time event.
MK:
This was my original thought, as well. With Harvard Stadium's capacity at about 30,000, I'd expect that you could generate more ticket sales at Fenway, too, so I'm not entirely sure why this hasn't happened yet.
Another thought I had, because it's such a pretty park, is moving the Army--Navy Game to Camden Yards. I know these games always sell out NFL-sized football stadiums and could probably generate enough gate receipts to sell out a building the size of, say, Ohio Stadium or Neyland Stadium, if the game were to be played off the eastern seaboard. Camden Yards, with its dimensions and its aesthetic appeal, has a lot of potential, but the game I've picked outsizes the novelty value of a football game in a baseball park.
Maybe a Maryland--Penn State game could happen there in a season when the Terps get to play host?
3.) Are we giving Oklahoma far too much credit for beating a Baylor team with a true freshman quarterback making his second career start?
MK:
Yeah, kind of. No matter how great a prospect any quarterback is, a true freshman is still a true freshman. We've taken it as a matter of course because of the repeated success of Art Briles's offense that the Bears can simply plug in any player of at least sufficient talent into this system, and they'll just keep on rolling. That's difficult to achieve, even when you have two weeks to prepare a kid for Oklahoma before his twentieth birthday.
BW:
There seem to be certain teams that for whatever reason, many of us tend to discredit. One of the biggest examples of this is probably Oklahoma, especially considering a nation seemed to join as one in their cackling when they lost to Texas earlier this year. There is no denying the damaging nature that loss has on Oklahoma's resume, especially considering the fact that Notre Dame, one of their closest playoff competitors, beat the Longhorns by 5 TDs. To their credit, the Sooners have since rebounded in the most impressive way possible, forcing their way into the playoff discussion by soundly defeating their past 5 opponents by an average score of 55-17, and holding prolific scoring offenses like Texas Tech and Baylor to much lower numbers than they had previously averaged.
I'm going to differ with you on this one Matt and say that no, we are not giving Oklahoma too much credit. In fact, we may not be giving them enough credit. Baylor entered that matchup with a 20 game winning streak at home, and...
MK:
To be fair, a not insignificant number of those teams came against Baylor's really impressive non-conference schedule, so...
BW:
...while it's still a relatively small sample size, Jarrett Stidham has performed at a level even higher than what Seth Russell had been producing when he was lost for the season. While Stidham's ratios will likely come down a bit with more snaps, the Baylor offense has proven over the past 5-6 years to be as plug-and-play as any in the country. And let's not forget that Baylor is averaging nearly 300 yards per game on the ground at 6.3 yards per tote, yet the Sooners held them to 159 and 3.6, while also holding them to 21 points below their season average. The Oklahoma defense was playing well coming into the game, they played well last week, and there's every reason to believe they'll continue to play well this week. To discredit them simply because they played a (highly touted) true freshman QB is unfair. Oklahoma may not yet be one of the four most deserving teams of a playoff spot in the country, but they are certainly playing like one of the four best teams.
MK:
I'll agree that Oklahoma has been a very solid since their loss to Texas, and in my writeup to that game, I told everyone that Baker Mayfield was a Heisman Trophy candidate that no one had really heard about yet. That looked awful at the moment but ended up weirdly prophetic. To my mind, though, whether the Sooners are good is something of a different question from how impressive their victory over Baylor is.
4.) Is North Carolina a contender now, and if they are, why did the committee ignore them for so long?
BW:
They're still a long way out, considering they stand at #17, one spot behind a one-loss Group of Five school in Navy , but I think they're a fringe contender. The committee is clearly penalizing them for two factors. One, they started the season with a home loss to South Carolina, which is being looked at in a similar vein as Oklahoma's loss to Texas. Second, two of their wins are over FCS competition in North Carolina A&T and Delaware, who has a 3-7 mark this season. They have beaten a solid-if-unspectacular group of ACC teams, and they've done so in a very impressive manner, but the committee appears to be rightfully hung up on their early-season performance.
As long as they keep winning, the Heels will certainly rise, but they do not have an easy task to close the season. This week, they get to travel to a tough environment in Blacksburg that will be made even tougher thanks to it being Frank Beamer's final home game at Virginia Tech. Should they survive this week, they close the regular season in another tough spot by traveling to Raleigh to take on rival NC State. The problem is, while those will be high quality wins, they're just not going to register with the committee. Considering the number of top teams facing each other over the next two weeks, UNC will have a chance to climb into the Top 10 even prior to a potential matchup with Clemson in the ACC Championship. However, even with a win over the Tigers, they're not getting in over even a one-loss Big Ten champ, one-loss SEC champ, or any of the big three in the Big 12, provided one of them wins out. They're not passing a one-loss Notre Dame under any circumstances. There's also a really strong chance they wouldn't pass 2-loss Stanford or Utah. Realistically, their ceiling is probably a ranking of about 6 or 7, with only a chance at the playoff if complete chaos unfolds.
MK:
Like you, I'm not ready to call North Carolina a contender, I just think we've reached a point where the Committee can no longer ignore the Tar Heels. While I think the Playoff Committee has done a decent job of not overreacting to the ebb and flow of a normal college football season--with its weird, unexpectedly competitive conference games and the like--but there does seem to be a critical mass in both media attention and performance where the junta can no longer pretend a team doesn't exist. We've reached that point with North Carolina, and I'm wondering if we're getting near to that point with Houston, as well.
5.) If Ohio State or Michigan State wins this Saturday and goes on to win the Big Ten Championship Game, would either team's best three victories—against the other, Michigan, and presumably Iowa—be the best trio of wins among any of the College Football Playoff contenders?
BW:
We're getting really close to being able to once again include Oregon as a part of this discussion when it comes to Michigan State.
MK:
Sure, but it's not like Oregon was playing anywhere near that level when Michigan State actually played them.
BW:
I think the one argument that could be made against is if Oklahoma State wins out. Wins over an undefeated TCU with Trevone Boykin and Josh Doctson both on the field, a Top 10 Baylor that still features some of the best offensive firepower in the country, and sizzling hot Oklahoma would prove to be very strong. If Oklahoma State is the team to win out, considering the timing of their TCU win, I think a legitimate argument could be made that all three of those teams were superior to Michigan and possibly Michigan State at the time of defeat, and Oklahoma and Baylor are both probably favored over Iowa on a neutral field. Oklahoma is hurt by the timing of playing a depleted TCU this week, but road wins over Baylor and Oklahoma State, especially if the Cowboys are undefeated heading into Bedlam, would be the two most impressive wins of the season.
Only Alabama has defeated three top 10 teams to this point, but they are hurt by the fact that their wins have served to expose each victim. Since losing to Alabama, #8 Georgia and #9 Texas A&M have each lost twice more, and LSU followed up their loss to the Tide last week with a loss to Arkansas. Top to bottom, Alabama has had a number of quality victories, but when considering a peak three, it's tough to put them ahead of any of the four teams listed above.
MK:
This is a fair point. When I was thinking about this question, I asked our resident Alabama fan what he thought were his three best wins of the season and the first team he named after LSU was Mississippi State. You wonder what it will be in two weeks. Like Michigan State's win over Oregon, Arkansas is a victory that's increasing in value, but the Razorbacks weren't playing anywhere near the level of football they are currently when they faced off against Alabama.
I think, though, if Michigan State or Ohio State can run the table the rest of the way, that's nothing to be ashamed of and certainly enough to merit inclusion in the College Football Playoff. The thing about the Big Ten gauntlet here, though, is that it will illustrate the ability to win against three deceptively--but nonetheless, very--different kinds of football teams. For instance, a win over Michigan State would include a victory over an elite quarterback-receiver connection, while Michigan possesses one of the best run defenses in the country and Iowa are an extraordinarily fundamentally sound team and have maybe the best trio of runningbacks in the land; Ohio State, on the other hand, is a spread option with possibly the best pass rush in college football. There's nothing wrong with the group of wins you might get out of the Big XII, but beating any combination of TCU, Baylor, Oklahoma, and Oklahoma State is more or less a victory over the same team three different times. I'm not sure that's the best recipe for success in a tournament format.
GAMES OF THE WEEK
Every week, we pick at least five of the best games in college football. Instead of picking against a point spread, we use confidence points—a common method of scoring in bowl game pools—to create separation in the weekly standings. The higher the number of points allocated to a game, the more the certain we are of the outcome. Results do not always agree with us. Each number can only be used once.

We also include a brief capsule to go along with each game. All times, of course, are Eastern.
#15 LSU at #22 Ole Miss
3:30, Oxford, Miss.—CBS
MK:
The Tigers and the Rebels have lost to Arkansas in back-to-back weeks, with the Hogs more or less scuttling any prayer of an SEC Championship Game appearance for either team. (Ole Miss, theoretically, would win the division if they win these next two weeks and Alabama somehow loses to a fairly bad Auburn team in the Iron Bowl, but this seems unlikely. At this point, these teams are playing for the rights to wherever that second-place SEC West team that would normally go to the Cotton Bowl ends up with the CFP appropriating the Dallas bowl this season.) The result, probably, is that the game will devolve into an extended discussion of the Heisman merits of Leonard Fournette, who seemed to have the award all but sewn up before running into Alabama and Arkansas.
MK's pick: LSU, 34-17. Confidence points: 2.
BW's pick: Ole Miss, 30-19. Confidence points: 3.
#24 Southern California at #23 Oregon
3:30, Eugene, Ore.—ESPN
BW:
Following a loss in Clay Helton's first game as interim coach, USC enters the game having won 4 in a row, and if the Trojans defeat Oregon and UCLA, they will be the South representative in the conference title game. Oregon is also riding a 4 game streak, but despite their win over Stanford last week, will still need help in the way of a Cardinal loss to rival Cal to have a shot at the Pac-12 Championship. In the matchup to watch, USC's rushing defense allowing under 84 yards and 2.7 yards per attempt, while Oregon enters the game averaging over 297 yards per game and 6.2 yards per carry on the ground. On the other end of the ledger, Oregon boasts one of the worst pass defenses in the league, while USC's Cody Kessler has been the most efficient passer in the Pac-12.
MK's pick: Southern Cal, 44-41. Confidence points: 3.
BW's pick: Oregon, 37-34. Confidence points: 2.
UCLA at #13 Utah
3:30, Salt Lake City, Ut.—FOX
MK:
Both of these teams are coming off losses that made their Pac-12 South Division title hopes at least a little less likely. The Bruins and Washington State played one of the best and probably least watched games of last week, as UCLA brutalized the Cougars in the style of
Rocky IV
but the plucky underdogs still pulled out a win in Pasadena; at almost the same time, Arizona dealt a crippling blow to Utah in overtime, as the Utes no longer control their own destiny in the Pac-12 South. (UCLA does, despite a worse record, because they'll need to beat Utah and USC in order to take the division, and that's exactly who they play the next two weeks.)
MK's pick: UCLA, 28-21. Confidence points: 4.
BW's pick: UCLA, 33-27. Confidence points: 5.
#20 Northwestern at #25 Wisconsin
3:30, Madison, Wisc.—Big Ten Network
BW:
Northwestern has won 3 straight since being destroyed in back to back weeks by Michigan and Iowa. Wisconsin, despite having beaten no one of note this year, finds themselves back in the top 25 thanks to a 5 game winning streak over the likes of Nebraska, Purdue, Illinois, Rutgers, and last week's 7 point win over Maryland. The Badgers are coming off a bye, but will still be without starting RB Corey Clement, who has only played in 2 games this year thanks to a sports hernia. However, it has been since 2000 that the Badgers have lost to the Wildcats in Madison. With USC-Oregon, LSU-Ole Miss, UCLA-Utah, and MSU-OSU also kicking off at 3:30, if by dinner time we find ourselves riveted to this game, something has gone horribly wrong.
MK's pick: Wisconsin, 16-9. Confidence points: 1.
BW's pick: Northwestern, 13-10. Confidence points: 1.
#9 Michigan State at #3 Ohio State
3:30, Columbus, Oh.—ABC
BW:
If the defending champs have been guilty of sleepwalking throughout much of this regular season, now is the time for them to wake up. Following 9 uninspiring-yet-unbeaten weeks against unranked competition, the Buckeyes finally have a chance to show their mettle this weekend against a highly ranked opponent in Michigan State. Sparty's season has been filled with close calls, and while they found a way to win most, sometimes in the most illogical ways possible, their luck finally ran out against Nebraska a couple weeks back. However, Mark Dantonio still has his squad controlling its own destiny in the Big Ten race, and still in a solid position for the playoffs should they win out. MSU QB Connor Cook left last week's win over Maryland with a shoulder injury, but while he appears to be good to go this week, Joey Bosa and company will be smelling blood. JT Barrett is set to make his second start of the season for the Buckeyes. In last year's 49-37 victory, Barrett threw for 300 and 3 scores while rushing for 86 and 2 more. Considering an Ohio State loss would mean that they'd need a win over Michigan PLUS a Michigan State loss against Penn State to make the Big Ten Championship game, it would be really tough to envision the Buckeyes making the playoffs even with only one loss on their resume. This game is a true playoff eliminator that is equally important for both teams.
MK's pick: Ohio State, 29-20. Confidence points: 5.
BW's pick: Ohio State, 32-17. Confidence points: 6.
#10 Baylor at #6 Oklahoma State
7:30, Stillwater, Okla.—FOX
MK:
Last week, the Oklahoma Sooners held Baylor to 416 yards of total offense and forced two turnovers, turning away Baylor and quite possibly ending the Bears' playoff hopes. The Oklahoma State Cowboys have been among the most impressive-looking teams in the country when they play in Stillwater—it's a dirty secret of the Big XII that teams are completely different at home and on the road in this league—and I can't imagine we'll see a different theme emerge today.
MK's pick: Oklahoma State, 51-24. Confidence points: 7.
BW's pick: Baylor, 47-34. Confidence points: 4.
#18 Texas Christian at #7 Oklahoma
8:00, Norman, Okla.—ABC
BW:
TCU fell from the ranks of the unbeaten a couple of weeks ago to Oklahoma State, then didn't look good at all last week against winless Kansas after losing QB Trevone Boykin early in the game to an ankle injury. Boykin is still questionable to play this week, but even if he does, he'll be without top WR Josh Doctson who will miss the rest of the regular season with a wrist injury. This couldn't come at a worse time for the Horned Frogs as they travel to Norman to take on one of the hottest teams in the country in Oklahoma. The Sooners are the number one team in the country according to ESPN's FPI, and while QB Baker Mayfield and RB Samaje Perine have the offense humming, it's the defense, which according to football outsiders ranks 2nd only to Alabama in defensive efficiency, that has put the Sooners into prime position to win the Big 12.
MK's pick: Oklahoma, 44-20. Confidence points: 6.
BW's pick: Oklahoma, 52-20. Confidence points: 7.
UPSET SPECIAL
The upset special is a weekly, off-the-board pick. In order to qualify, a game must meet at least one of any of the following criteria: a point spread of one touchdown or more; a consensus gap of five places or greater in national polls between the two teams playing, with ranked-versus-unranked matchups automatically qualifying; or, an FBS-versus-FCS showdown, which features no line. Any correct upset special earns three points. The other, final thing you need to know about this column is that Brian always wins this stupid thing.
BW:
I talked a lot about it in the opening, so there's no need to rehash too much in this space. Michigan has struggled a bit in their last two contest on the road, barely surviving against Minnesota and Indiana. They're also likely to be looking ahead a bit to next week's monster matchup, when Ohio State is set for their trip to Ann Arbor.
Penn State
is going to ride a great "White Out" crowd, a lot of emotion, a big effort on the DL from Anthony Zettel and national sack leader Carl Nassib, a bust-out performance from freshman RB Saquan Barkley, and a solid game from their somewhat-embattled-but-increasingly-steady QB Christian Hackenberg to a big victory over Michigan, 26-13.
MK:
That's bold, but believable? Michigan may be saving themselves for Ohio State, or they possibly peaked earlier in the season, but they haven't looked dominant since their punting disaster against Sparty. It's about time, though, that one of these SEC programs got dinged by their late-season cupcake, and the best candidate this year appears to be
Georgia Southern
. The Eagles' run the triple-option with ruthless efficiency, and are probably the least balanced team in the country, statistically, in that they average 314 rushing yards per game
more
than their corresponding passing numbers. This boils down to a bet that an injured Bulldog squad might have some trouble with the option in their dress rehearsal for Georgia Tech, and it's not like the Yellow Jackets don't give Mark Richt fits every year, either.
OVERALL STANDINGS
MK: 43-29 (4-7), 194 points; 3-4 (0-1), 12 points (last week)
BW: 38-34 (4-7), 174 points; 0-7 (0-1), 0 points (LW)
EV: 4-3 (0-1), 9 points; 4-3 (0-1), 9 points (LW)
Matt Kocsan and Brian Williams are staff writers at FootballPros. You can follow them both on twitter @kocsan (Matt) and @FPCommish (Brian).