MK:
We hope you had a Happy Thanksgiving and—as Brian said to me—only with the family you like. The college football weekend got off to a great start last night, as the Texas Tech Red Raiders finally beat the Texas Longhorns for the first time since 2008, making this alumnus very happy and possibly turning up the heat on Charlie Strong once again this offseason.
Speaking of hot seats, we're talking mostly about the weekend's games, but also taking on the college football coaching carousel and the conundrum of figuring out the difference between the best and most deserving teams in the land.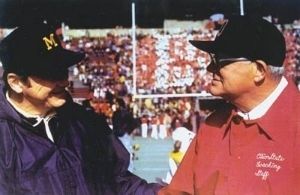 THREE GOOD QUESTIONS
For those of you who are new here, each week, Brian Williams (hereafter BW) and I (MK) write up a column on the hyper-regionalism, idiosyncrasies, and insanity that make up the sport of college football. We also occasionally discuss football. We answer five good questions (give or take one or two), pick a few of the best games of the weekend, and call one upset. The first question is always the two of us arguing about where we would go if we had an unlimited budget and could travel to any college football game we wanted this weekend. That, and the fact that we don't ever write anything that's short, is about all you need to know. We're glad you're here and we'd love to hear from you.
1.) It's the most important week of the college football regular season, Brian, and you get first pick. If you could go to any college football game in America this weekend, where are you headed and why?
BW:
It is nearly impossible to compare one regular season to the next, so I am going to try and avoid using any hyperbole regarding this particular regular season. Yet, as we look back, with the plethora of crazy endings, the monster matchups on a seemingly weekly basis, and even in the "lesser" weeks, storylines never failed to create themselves. The coaching turnover has been unprecedented.
MK:
…about which more in a moment.
BW:
This includes schools that are considered traditional powers, under-the-radar programs, and Virginia Tech, which is not only saying goodbye after 28 years to long-time coach Frank Beamer, but is also saying goodbye to a an entire brand (Beamer Ball). It's really hard to define "best", "most interesting", or whatever, but while some of the aspects that have made this season so great must be considered anomalous, I think it is fair to say after two seasons, the presence of the College Football Play has not only not hindered the regular season, it has only served to enhance it.
MK:
So, I found this, and I had to share it.
I mean, the four team playoff makes the one loss less fatal, but only by degrees, you know? It was still pretty devastating for Ohio State and Oklahoma State to lose last weekend, just as it's still a potentially major complication for Notre Dame and Oklahoma they slipped up and had a stupid Saturday themselves earlier this year. As something of a playoff skeptic, I've been pleasantly surprised with how well the playoff has complemented the regular season and how smooth the transition has been, by and large. Honestly, we spent all of the month of November arguing about the microscopic differences between really good football teams for the last couple of decades, why should we have expected that to change now?
BW:
All that said, the season is certainly not over, and Matt and I will be with you through championship week, the Bowl games, and of course the National Championship Game in early January.
MK:
…and I'm just going to say right now, I'm planning on being back next year, too.
BW:
You aren't getting rid of me that easily either.
One of my favorite things to do each week is to declare "where I'm going", which is almost always hypothetical (almost), but has allowed me to research some of the great traditions that we are all at least somewhat familiar with, and many of the equally great Saturday traditions that are often outside the periphery of the national eye. But while the past couple of years have proven that we're not afraid to tackle the hidden greatness of all things Floyd of Rosedale…
MK:
Floyd is going to be the best man at my wedding, whenever that happens.
BW:
…Chief Caddo, and certainly EGG BOWL...
MK:
E G G B O W L ! ! ! ! ! ! ! ! ! ! ! ! ! ! ! ! !
BW:
…and while we have never hesitated to take you to places like the mines of Golden, Colorado, to a little Holy War in the mountains of eastern Pennsylvania, Slippery Rock, or Alliance, Ohio, this isn't the week for that. With the exception of a few lingering games next weekend that will be smattered alongside the conference championship main attractions, this is the final week of the regular season for most of the FBS schools, and with it we've been provided a monster slate to tackle.
MK:
Nine. Whole. Games.
BW:
As of right now, it feels like there are six teams battling for the four spots, but teams 7-12 are all on watch, as all it will take are a few upsets to throw those teams into the mix. As of right now, the only team standing in the way of an unbeaten showdown in the ACC Championship is South Carolina. After starting the season by handing North Carolina their only defeat, there's nothing that could salvage the season of the Gamecocks quite like a win over arch-rival Clemson this weekend, realistically knocking them out of the playoff discussion. Second-ranked Alabama is traveling to Auburn in a traditional matchup that doesn't look all-that dangerous for the Tide., while #4 Iowa has a dangerous matchup on tap in Lincoln against a Nebraska team that not only beat #5 Michigan State earlier this month, but also needs one more win for bowl eligibility, and to avoid only their third losing season since Bob Devaney took over the program in 1961. And speaking of Michigan State, they're the only team in the top 8 with a home game this weekend, as Sparty plays host to Penn State. If the Nittany Lions can do the improbable and upset the Spartans, the winner of Michigan—Ohio State will suddenly be thrust into the Big Ten Championship, and could find themselves back in the playoff discussion. But on a big weekend that also features a number of traditional rivalries, including the Egg Bowl, FSU—Florida, TCU—Baylor…
MK:
Oh, yeah, remember when TCU's trip to Baylor this season was going to be the most important event in history since the surrender of Japan on the deck of the
U.S.S. Missouri
?
BW:
…and UCLA and USC battling for the Pac-12 South, there are three matchups that stand above the rest.
With #3 Oklahoma and #11 Oklahoma State meeting on Saturday evening in Stillwater for
Bedlam
, the Sooners are essentially in a win-and-in scenario. Sixth-ranked Notre Dame has fallen a bit in the rankings, and look like they may be the odd team out in the playoff hunt, save for an upset of Clemson, Alabama, or Oklahoma. The Fighting Irish travel to #9 Stanford, with the Cardinal also hoping for a little mayhem that would vault them back into the thick of the playoff discussion. This is the game that gives me the greatest pause, but there's no turning away from
The Game
between Ohio State and Michigan. It is always one of the highlights of the season regardless of record, so considering that both teams are in the top 10, and still have an outside shot at greater things, this remains the best matchup of the day.
MK:
You know, I haven't really decided how I feel about
The Game
as a moniker for the annual meeting between Ohio State and Michigan? I mean, I appreciate that there isn't a hokey description and—as much as I love those dumb things—no one has ever gotten the bright idea to institute a traveling trophy. (Other than, you know, the Big Ten Championship.) As much as
The Game
indulges in understatement that borders on and the crosses over into some well-earned arrogance, it just sounds a little awkward to me. I never call it
The Game
, apart from when, on this coming Saturday morning, someone asks me if I'm going to watch the game, to which I reply, 'Yeah, I'm going to watch the game,' because what other game could I possibly be talking about, anyway? That's sort of the point, I suppose, but I like the idea more of still putting the names of each of the two schools in front of it. You see, the Ohio State—Michigan game is just like any other game, except that it's the most important thing in the world.
BW:
We're nothing around here if not bastions for tradition, and there is no more traditional rivalry in major college football than Michigan and Ohio State. I absolutely love that neither school will agree to move the game from a Noon kick, refusing to cater to the networks that I'm sure would love to move the game into a prime time viewing space. The mid-day ambience only serves to add to this traditional matchup, as the definition of perfect football weather is a late-Autumn afternoon in the Midwest. Making it even more fun, there is added juice thanks to the addition of Jim Harbaugh on Michigan's sideline, but this is also the first time that both teams will enter the matchup ranked within the top 10 since the 1 vs. 2 matchup in 2006 that was won by the Buckeyes in Ohio Stadium, 42-39.
MK:
Which, by the way, is the only time I can ever remember this game starting at later than one o'clock in the afternoon. They kicked off at 3:30.
BW:
Michigan is just one ill-timed fumble away from being in a much greater position, but I'm sure the 110,000 plus that will be on hand at Michigan Stadium will be more than satisfied with a win over Ohio State. The Buckeyes of course lost last week to Michigan State, their first regular season conference loss in the Urban Meyer era, and while they'll certainly have their eye on Penn State's attempt to upset Michigan State later in the day, they know that longshot won't matter unless they take care of business against That School Up North.
MK:
That game—that game!—is really the only choice worth making this weekend. I'll play along, because I'm second in the rotation, and select another one, but this is the game that illuminates the entire football season for me and for so many people around Great Lakes region. A story, okay? My first year at Ohio State was 2004, when a fairly average Buckeye team—that had been blown out by Iowa, that had lost to Northwestern and Purdue—hosted a Michigan team that was already destined for Pasadena because, regardless of the outcome of their game against Ohio State, the Wolverines would still hold the right tiebreakers in the Big Ten standings. Ohio State had rotated Justin Zwick (remember him?) and Troy Smith at quarterback throughout the year, but Smith started the Michigan game and exploded for 241 passing yards, 145 rushing yards, and three total touchdowns
en route
to a 37-21 victory that wasn't really even that close, with Ohio State outscoring Michigan 27-0 in the second and third quarters. Ohio State's first score of the game, though, came on a 68-yard heave down the middle of the field to Anthony Gonzalez, who was breaking open and entered the end zone untouched to give the good guys a 7-0 lead. Now, I'd gone to high school with Tony—and graduated with him along with 350 dudes, and while we weren't grand friends or anything, we knew each other to talk from taking upper division Latin courses together—and not two minutes after the score, I get a phone call from one of my best friends from school, then at Notre Dame, who can't stop screaming that someone who scored a touchdown in the Ohio State—Michigan knows our names. In Ohio State lore, he's better known for this catch against Michigan a year later, but still:
that
is how big a deal this is in this part of the world.
Last year, this weekend, I was able to claim the Egg Bowl, and that would be a worthy prize again this season. As much as I'm tempted to grab the Washington State—Washington game, I think next year's Apple Cup might be last year's Egg Bowl for us here at
Tailgating
, and while I don't think we can scream AAAAAAPPPPPPPLLLLLLLLLEEEEEEEE CCCCUUUUUPPPPPP as easily or naturally, I have a sneaking suspicion that the Cougars and the Huskies—both with young quarterbacks and plenty of returning playmakers—will be playing each other for a Pac-12 North title in 2016. Theoretically, at least, though, I was in Stark Vegas two weeks ago and I went to the Palouse to watch Washington State play Stanford on Halloween. (The game
is
at Washington, which might be a first for me in terms of this column, though, so there's that.) Georgia at Georgia Tech, even if both teams are unranked, would be a worthy choice, too, because Good, Old-Fashioned Hate is almost always the best game that no one in the country watches every year, because it's competing against Ohio State—Michigan, the Iron Bowl, or even the Egg Bowl (in the right season). I even have my eye on that Iowa—Nebraska game you mentioned, because the Huskers have been dreadfully unlucky throughout this season, but ought to make things interesting against an Iowa team that I've been screaming is going to win the Big Ten for the last month and a half.
It's not the classic rivalry that I'd like to pick this weekend, but the game I take here has to be Notre Dame—Stanford, doesn't it? I think it's second only to the game in Ann Arbor in terms of talent out on the field, and the distance between that and the third-place game in Stillwater is pretty minimal, and it seems to me that Notre Dame still has an opportunity to play their way into the College Football Playoff with an outstanding performance against the Cardinal, while if enough losses pile up in front of them, Stanford might just get the benefit of the doubt with a blowout win against a dubious Pac-12 South champion next weekend. Really, it's a pity we can't see a Stanford—Washington State or Stanford—Oregon rematch for the conference title. Send me to The Farm for the last great game of an epic weekend, to watch Christian McCaffery, who's passed the century mark in rushing yards for nine straight games and whose mile and a half of all-purpose yards this season leads the country, slam into the Notre Dame defense and try to keep Stanford on the edge of the College Football Playoff.
2.) With USC and Miami already vacant and LSU and Georgia possibly looking to move on from Les Miles and Mark Richt, we're looking at an unprecedented offseason in terms of the coaching carousel. Does it make any sense for LSU or Georgia to move on? Or would it be better if the Tigers and Bulldogs just traded coaches?
MK:
First of all, I think it does make some sense to compare the two situations because I think both of them are, at the core, much more about the fan base than about the coach or even the program. Miles and Richt have both been, by any rational standard, successful, but as much as I think it makes sense to inform Les Miles that, say, he really, really needs a new offensive coordinator, because somehow he got confused a couple years ago and hired Cam Cameron, I can't understand why LSU would want to kick the best second- or third-best recruiter in the country to the curb because a team that was about a year away fell apart on him down the stretch.
This is part of the reason why, though, I can see a distinction between the situation for Miles and the situation for Richt. If the goal is to win a national championship, Miles has obviously proven that can do that, albeit in a really odd season in which a two-loss team somehow won it all. Mark Richt, on the other hand, has not, and he's in his fifteenth year at Georgia, which is more than enough time for him to have at least gotten to a national championship game, and he hasn't even finished a regular season with fewer than two losses since 2002. I think he's an outstanding coach and he puts a great time on the field, but I do think we've gotten to the point where we can wonder if—like a certain coach of Ohio State whose name I will not say this week of all weeks—it's just not going to happen in Athens for Georgia or for Mark and change of scene just might beneficial for both of them.
BW:
Honestly, I think we sometimes forget exactly how difficult it is to win a national championship. I won't say that LSU is living in an alternate reality, but at the very least they clearly have a massive Alabama, or Nick Saban complex. There is no other way to explain their frustration in Les Miles. Following a history that had only seen a national championship in 1958, Saban and Miles have spoiled Tiger fans with a four year cycle of success. Saban led LSU to a national title in 2003, Miles did the same in 2007, and then Miles had them back in the title game in 2011. This year would have continued that trend, and while the Tigers were firmly in the discussion at the start of November, a month that has seen three straight losses has made this arguably LSU's most disappointing season in years. Still, for them to let Miles go after leading them to the most sustained success in program history would be wrong. What coach, other than the not-happening return of Nick Saban, could make this fan base happy? Bill Belichick? Would Chip Kelly do the trick? Jimbo Fisher? Is there anything that suggests either would be a better option than Les Miles?
By the same token, I think Mark Richt is one of the best coaches in the country, and that he hasn't won a National Championship doesn't necessarily mean that they
can't
win a National Championship under his leadership. The expectations in Georgia are higher than the reality, and those expectations have only risen so high because of the success of Mark Richt.
MK:
Ehhhhhhhhh... Georgia was a pretty great job before Mark Richt showed up. They're not chronically hoisting national championship trophies or anything, but his predecessor Jim Donnan had teams with stupid amounts of talent that also couldn't get over the hump. (Granted, Richt has won a much larger number of games than Donnan, which is why he's remained there, but it's not like the Bulldogs only became a talented force once he showed up.) Again, I think we can ask if, since Georgia never made that leap after the 2007 season, which ought to have been their breakout year, things are just ever going to line up. Even the serially doubted Mack Brown only needed eight years—and, it must be said, Vince Young—to win a national title at Texas. Furthermore, for the last six or seven years, Florida and Tennessee both have been fairly down, and there's not much reason I can see why the Bulldogs shouldn't have won just about every SEC East Championship since about the start of the 2010 season.
So, this confluence of circumstances—which is, that LSU needs a major overhaul on offense and maybe Georgia just needs a new face—makes a trade between the two programs a really appealing option to me.
BW:
There are many who believe that it takes about 8-10 years for a coach's message to become stale, so in that regard, you may be onto something here. However, I'm not quite as sure that a trade between Georgia and LSU would make sense. I think Georgia would generally be happy with the switch to Miles, especially considering he's won a National Championship, but really, would LSU be content with Richt? I think Richt would potentially fit beautifully with the LSU program, but LSU fancies themselves as one of the apex programs in college football, and they want to make a splash. If they don't hire a big gun, they'll hire what they think is the next big thing. I just don't see them determining that Richt is either. I think that Mark Richt could be sold as a coupe to nearly every program in the nation, including any once-elite program from any other conference. But to immediately go from one SEC-elite program to another that has reached a higher peak than Georgia, Richt would be a tough sell for the Tiger faithful.
MK:
You're probably right about LSU's expectations, although I think functionally he'd fill the need quite well. I think LSU is going to be surprised by the fact that their pieces on offense probably won't fit seamlessly into a scheme there.
BW:
Why not just send Miles back to Stillwater and trade for Mike Gundy? I don't think Gundy gets the credit he deserves for the job he's done at Oklahoma State. He's still young enough to be considered an up-and-comer, and he's had the Cowboys in the thick of the national championship hunt twice in recent seasons, which is completely unheard of.
MK:
See, I was thinking of sending Gundy over to Oregon. I'm not sure that would make the Oklahoma State crowd terribly happy, because they'd have Helfrich and I'm not sure his track record is all that hot, but considering the sales pitch at Oklahoma State and Oregon has to be fairly similar—great facilities buoyed by either shoe or natural gas money—and I think the Ducks could benefit from getting just a little bit stouter at the point of attack, I think it's a huge win for Oregon and for Gundy, because I'm not sure Oklahoma State can quite it put it together in a conference like theirs. Oklahoma State, though, probably still benefits enough because they're capable athletically of running Helfrich's system immediately and the spread option on the ground would be such an against-the-grain changeup in the Big XII that it just might be what you need to change your fortunes.
BW:
To do this right, I think it would have to be a couple of coaches who are in that 8-10 year window at a program, aren't quite on the verge of becoming an institution like Frank Beamer or Bill Snyder, and may benefit by having their message heard elsewhere. A Les Miles for Mark Richt swap is the right sort of idea, though as I said before, I just don't see how LSU would buy in… unless we added a 3rd name to the equation. Jimbo Fisher's name has been mentioned in conjunction with the LSU job, is familiar with the program having worked as a coach under both Saban and Miles, and would have the juice that LSU fans would be looking for. Les Miles would be a great fit at Georgia since he has a national championship pedigree. Mark Richt served for 14 years under Bobby Bowden, and while the fans in Tallahassee wouldn't be happy with losing Fisher, replacing him with a Bowden protégé in Richt would quickly heal their pain.
MK:
...but this is all, you know, none of our business.
Get it?
3.) One of the great logical problems facing the College Football Playoff, or any college football postseason, is the distinction between the best and the most deserving teams. Since this is a perpetual problem, how do we sort that out, in general and in this particular year?
BW:
A couple of weeks ago, CFP chairman Jeff Long was discussing Iowa on ESPN following the unveiling of the latest rankings, and the question was brought up whether or not the Hawkeyes were closing in on the Top 4 because they were one of the four best teams in the country, or because they were one of the most deserving teams in the country. Long immediately said it was because they were one of the best, but then proceeded to elaborate by detailing exactly why Iowa was deserving of that status. Kirk Herbstreit immediately called out Long on the broadcast, saying that he agreed with the case that Iowa could be considered deserving, but that there was no way Iowa was among the four best teams in the country.
Earlier this week, on the same network, Paul Finebaum and Danny Kanell were discussing their personal rankings, and the same debate was taking place. Kanell had Iowa at #2 thanks to the "deserving" clause, while Finebaum had Iowa outside his top 4 thanks to the "best" clause. Maybe I'm the only person annoyed by the lack of distinction, but there is a fine line between being "deserving" and being the "best", and I think that it's an important discrepancy that needs to be made by the committee as we continue to move forward with the playoff.
MK:
So… what does
best
mean, though? I think it's pretty easy to identify the most deserving teams in any given year, especially since you can now pick out four of them instead of just two.
BW:
The crux of my confusion lies within the selection committee protocol. Their stated mission, according to collegefootballplayoff.com is "to select the best teams", which to me is an extremely subjective goal, and one that is an extremely dangerous slope to cross. To help define "best", the committee uses a mostly specific criteria, which I've pulled directly from the FAQ section of that same website.
Originally Posted by
CFP Mission Statement
Almost all of that does nothing to describe who's the best, just who's the most deserving of the better teams in the country. Winning a conference championship says nothing of whether or Clemson is a better team than Ole Miss.
MK:
Losing to Arkansas at home suggests they are, though.
BW:
The strength of schedule for Stanford says nothing about whether or not they'd beat Oklahoma State on a neutral field.
MK:
This, I think, is a much more difficult question.
BW:
And does the comparative outcome of their games against Texas really tell us assuredly that Notre Dame is superior to Oklahoma?
MK:
The answer to this is surely no. It tells us considerably more about how Notre Dame and Oklahoma match up in terms of personnel and scheme against Texas, I think, as the Sooners have struggled with fairly bad Horns teams for a half decade or so.
BW:
The committee's stated goal is to pick the best four teams, but the reality is that they are picking the best, most deserving teams, with a caveat that I have bolded above, and that's where I have my biggest problem. Last year, as the season was drawing to a close, the committee had TCU rated among the four top teams in the country.
MK:
Your first problem is that you're acting like those weekly rankings meant something, though.
BW:
The Horned Frogs mostly dominated Baylor for 3+ quarters, but ultimately lost, which helped to cloud that distinction, especially without a conference championship game to participate in. So, while TCU did exactly what they were supposed to do against Iowa State, Ohio State, a team that had just lost their starting QB, and a team that wasn't deemed better than or as deserving as TCU just a week before, destroyed a decent-but-not-great Wisconsin 59-0 in the Big Ten Championship. I still have no idea how that one win, with a 3rd string QB, was enough to suddenly catapult the Buckeyes over a TCU team that was fully in tact with their Heisman-candidate QB heading into the playoff. That Ohio State ended up winning the championship is irrelevant in my mind, because once in the playoff, anything can happen (and did). Ohio State was not the most deserving team last year, and I'm not sure how they could suddenly be considered better than TCU at the time of the rankings based off of one somewhat fluky result (as I've said before, the greatest lie in sports is often a blowout).
MK:
So, we're maybe getting a little off-topic here, but…
The fact of the matter is that Texas Christian did not beat Baylor. I know that in some sort of more enlightened, more progressive, and more statistically accurate universe that we might design, we wouldn't measure the ultimate goodness or badness of teams by dividing all of their performances into these little isolated compartments called games, but that's where we are. I'm looking at Ohio State's schedule last year and trying not to be a homer, but I really don't see a win on TCU's resume that is—by any rational standard—better than a victory at East Lansing over a Michigan State team whose only other loss had been to Oregon; what's more, I don't see any win on TCU's schedule that's obviously better than a win over a ten-win Wisconsin team, considering that the Frogs' best win of the season had probably come against Kansas State. I guess I can see my way to the argument that the Wisconsin game really did enhance the Ohio State schedule, and that the manner of victory could convince the committee that the Buckeyes would still be able to compete without Barrett.
Baylor, on the other hand and as a contender for that fourth spot, would be a slightly more complicated argument, I think, but you and the committee both seem to have considered them as behind TCU anyway.
BW:
To me, if the committee wants to change the wording to include both "best" and "deserving", I'm mostly fine with it. But that first word is so subjective by itself that it causes weird things to happen when the final decisions are to be made. Notre Dame has by far and away the best loss in the country at Clemson. They also destroyed the same Texas team that beat Oklahoma a few weeks later. Yet, the committee is ignoring both aspects of that stated criteria, and has subjectively determined that Oklahoma is the better team. Baylor is #2 in ESPN's FPI metric and has only lost to Oklahoma, yet they need a lot of help if they want to be considered for the playoff. The biggest knock against Baylor is their non-conference schedule, which has nothing to do with how good Baylor actually is. Oklahoma is #3 because the committee thinks they're better even though Notre Dame may be more deserving, but Baylor is stuck at #7 because they aren't as deserving as Notre Dame, even if they may be better. So where do we draw the line?
MK:
The other problem that we're getting into here, right, is this nebulous territory between best and best-right-now.
BW:
I guess all I want is a bit more clarity. Don't tell me you're looking for best, then describe deserving, but sometimes ignore the deserving in favor of who you think is the best. I see nothing wrong with rewarding the more deserving team over the best team. Stanford is probably better than Iowa. Baylor is probably better than Iowa. Iowa has undoubtedly earned the right to be placed in the Top 4 (for now). Just don't tell me they're ranked higher because they're better, then proceed to only state the reasons as to why they're more deserving. It insults our intelligence.
Personally, I'm going to favor the deserving and rank Clemson, Iowa, Alabama, and Notre Dame as my top 4. Matt, in your view, who are the four most-deserving teams, who are the four best, and do you feel like there's a distinction between the two schools of thought?
MK:
You know, as I said before, we really need to find some terms here. What the hell does best mean, anyway? Is best the most talented team? If that's the case, we might just let Alabama and Ohio State play a best of three series. The team that's playing at the highest level? Well, I mean, that's kind of odd, because then—if you toss records aside—Arkansas, Oregon, and Washington State look like late-comers that could beat a lot of football teams right now. It's always been some magic blend of record and schedule and eye-test and—as much as we might hate this—pedigree that's determined who has access to the national title, and it's probably not going to change very much or get any less muddled any time soon. The uneasy accommodation between best and most deserving that the committee is making is probably best illustrated by the fact that they have undefeated teams—Clemson and Iowa—at #1 and #4 bracketing one-loss teams like Alabama and Oklahoma. An undefeated team from a major conference is more deserving than a one-loss team: period, end of discussion. If it's simply about who's more deserving, Iowa ought to be the #2 seed at the moment, but they're not.
The way that I would tend to do this is to have a hierarchy of factors, not so much give weight to this qualification or that one, but to indicate an order of precedence in selecting four teams to compete for it all. If you are an undefeated team from a Power Five conference, you get moved to the front of the line. If you do not respect this, then in a system that has sixty-four teams playing at that level of football who are playing three-quarters of their games within a self-contained round robin tournament, more or less, you risk total chaos because there's no way to reasonably compare across those conferences. Though we tentatively order the leagues every year, undefeated (in the Power Five) is undefeated and it has to be respected or the whole thing falls apart. This same rule will apply to one-loss versus two-loss, two- versus three-, and so on down.
The rest of this stuff is where it gets more than a little difficult, though. I'm interested in strength of schedule, but I'm not terribly worried by the transitive property of equality in sports, as we have in the Notre Dame—Oklahoma conundrum. Good football in general and the qualifications for the College Football Playoff are sort of like the old definition of pornography, in that, it's kind of hard to define but you know it when you see it. If you put the strength of schedule component above the eye-test, or even above record, the question then becomes how do you even know whose schedule is good? I'm not even one of these anti-advanced stat Luddites or anything, but I'm not entirely sure how useful things like FPI and F+ or game control really are when you're dealing with disparate sets of opponents; to bring in a baseball analogy, I'm not a gigantic stat nerd, but I get why the measurements make sense in Major League Baseball because everyone is playing the same schedule, more or less, and the level of competition varies less wildly or erratically.
Anyway, to answer your question and as of this writing, I'm seeding Clemson at #1 and for their trouble they get to play #4 Oklahoma; Clemson is first because they have the best resume of the undefeateds, and Oklahoma edges out Notre Dame because, for all the talk of the Irish's best loss, who exactly is their best win? Navy? Temple? Southern Cal? Oklahoma lost to Texas, but Baylor and TCU—even without starting quarterbacks—are better wins than any two of Notre Dame's you can pull up. (After they play Stanford, we can talk about this again.) I place Iowa at #2 because I am stubborn like that, but their reward is to play Alabama. Good luck, Hawkeyes.
CLICK HERE TO CONTINUE ON TO PAGE 2 FOR OUR PREDICTIONS THIS WEEK.