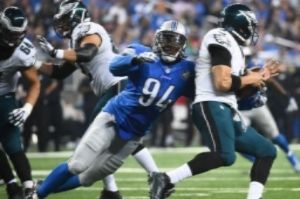 I just want you all to know this: the Detroit Lions' best player is Ziggy Ansah. It's not even close right now. Dude is becoming a game-wrecker (11.5 sacks - second only to JJ Watt). Ansah's upside is insane
(just ask former NFL defensive lineman Stephen White)
.
I wanted to get this out there. It is an absolute joy to watch Ansah run down an opposing QB.
Last week saw iwatt score - AGAIN - with the Bears, jhinkamp get all wise and pick the Fightin' Osweilers and three of us draw blood with the Redskins (myself, xmenehune and Raven). On a four-game win streak of his own, xmenehune is one win off the lead and holds a total points edge over our leader. Amy needs a win or an xmen loss to keep the lead. Time to pick smart, guys.
Week thirteen gives us some compelling possibilities. What say we just get to it?
STANDINGS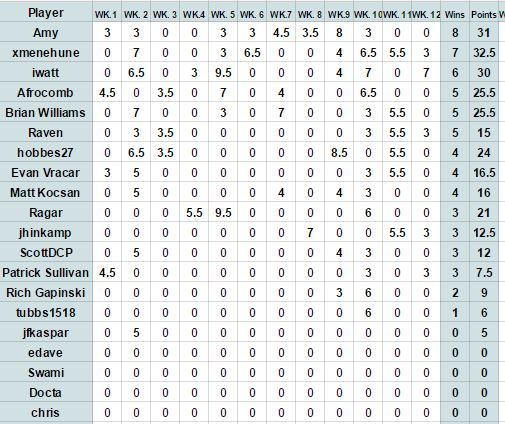 Rules:
One pick per week
Your chosen team must be at least a (+3) underdog (Only games listed in this column are eligible)
Your chosen team must win the game outright (no 'pushes' or 'covers')
Season winner is the one with the most upsets correctly chosen between Week #1 through the Conference Championship Games (20 weeks all together)
There will be a points system to determine a winner in the event of a tie
Points will be accumulated by adding the game spreads for your correct picks (if you take Carolina (+4.5) and Carolina wins, you will be awarded a win and 4.5 points). Be careful making picks based on the number of points possible. Points only count if you are tied for the total wins lead when the whole contest is finished.
The No Upsets Option: Predict correctly that 'No Upsets' will occur in any given week and you will be awarded one win and a point total equal to the sum of all the spreads in that week's Upset Special. If you wish to exercise the 'No Upsets' Option, that prediction is due by 5 minutes prior to kickoff of the first game of the week in question. This includes Thursday Night Football or Saturday games. The 'No Upsets' option is confined to the Upset Possibilities listed in this article.
Picks are due no later than 5 minutes before the scheduled start of the broadcast time for your game. The FootballPros.com time stamp on your post is gospel.
Spread lines, once posted, will remain static throughout the week. This isn't The Sports Book at Caesar's Palace, after all.
Let's. Get it. ON!!
Week #13 Upset Special Possibilities
Odds by
OddsShark
.
All times Eastern.
Underdogs in
bold
.
Thursday Night Football
Sunday 1:00 Games
Bengals @ Browns (+9.5)
Texans (+3) @ Bills
Cardinal @ Rams (+5.5)
Niners (+7) @ Bears
Southwest Jacksonville Community College (+3) @ Titans
Ravens (+4) @ Dolphins
Sunday 4:00 Games
Chiefs @ Raiders (+3)
Broncos @ Chargers (+4)
Panthers @ Saints (+7)
Eagles (+10) @ Patriots
Sunday Night Football (8:20 PM)
Monday Night Football (8:30 PM)
Cowboys (+4.5) @ Redskins
Biggie's Week #13 Upset Special:
I really, REALLY want to take DET, here, but I am still skeptical about the Lions' run defense. A resurgent Eddie Lacy may just be the antidote to the Packers' woes. To be serious, don't be shocked to see the Motor City Kitties nail down their first season sweep of the Cheeseheads since the 1991 season.
/looks back at standings
//realizes he has zero chance of a comeback
///says ****it. you go go big or you go home.
Gimme the
Lions (+3)