MK:
We're a little late getting off the ground this week. Brian and I may be a little slap happy and may need a week off, but we've brought you a championship edition of
Tailgating
in time for the major conference tilts of today. In our question period, it's December, so we're finally dishing over who deserves to hoist the Heisman Trophy and what we think about the rise, fall, and rise of Mark Richt.
THREE GOOD QUESTIONS
For those of you who are new here, each week, Brian Williams (hereafter BW) and I (MK) write up a column on the hyper-regionalism, idiosyncrasies, and insanity that make up the sport of college football. We also occasionally discuss football. We answer five good questions (give or take one or two), pick a few of the best games of the weekend, and call one upset. The first question is always the two of us arguing about where we would go if we had an unlimited budget and could travel to any college football game we wanted this weekend. That, and the fact that we don't ever write anything that's short, is about all you need to know. We're glad you're here and we'd love to hear from you.
1.) Only the last weekend of the college football regular season and the first week of its postseason, if you could go to any game in America, where are you headed and why?
MK:
Well, does anyone miss the I-Formation? If so, you should really tune in to FOX—yes, FOX, this is your reminder that FOX covers college football, because I always forget about whatever game is on FOX—for the Big Ten Championship Game this evening, feature the Iowa Hawkeyes and the Michigan State Spartans. Though Ohio State has owned the conference for most of the last decade and a half, the Buckeyes are in need of significant help to sneak into the College Football Playoff and the winner of this contest is all-but-guaranteed to wrap up at least the four seed and earn a trip to the Orange Bowl.
In the Survivor Series that has been the Big Ten this season, Kirk Ferentz's team has undoubtedly had the easier path to the conference championship, as the undefeated Hawkeyes have avoided both Ohio State and Michigan in league play. The Spartans, to be fair and in a rather astonishing stat, led for exactly zero seconds of game play in both of those contests against the Buckeyes and Wolverines combined, yet still managed to grind out victories. Connor Cook, Michigan State's outstanding quarterback and a first-round pick in the upcoming NFL Draft, has benefited immensely from the ridiculously acrobatic Aaron Burbridge, whose 1158 receiving yards and seven touchdowns have masked the fact that the Spartans are not a great running football team, averaging only four yards per carry and not even to 2000 yards on the season through twelve games. The Hawkeyes, meanwhile, are your father's Big Ten football team: they boast a trio of runningbacks that could start at the majority of schools nationally, and a large, powerful, and quick offensive line that attacks opposing defenses.
People have discounted Iowa for the entire season, but as an Ohio State alumnus who knew that the Buckeyes would probably have to be perfect to return to the Playoff, the Hawkeyes—a fundamentally sound team that is ruthlessly efficient and does nothing particularly well but does everything well enough—was the team I was afraid of from about the middle of October this season. You overlook them in this game and—I think—when they play Clemson or Alabama at your peril, guys and gals. Send me to Indianapolis for what is by far the best of the conference championship games this weekend.
Oh, and…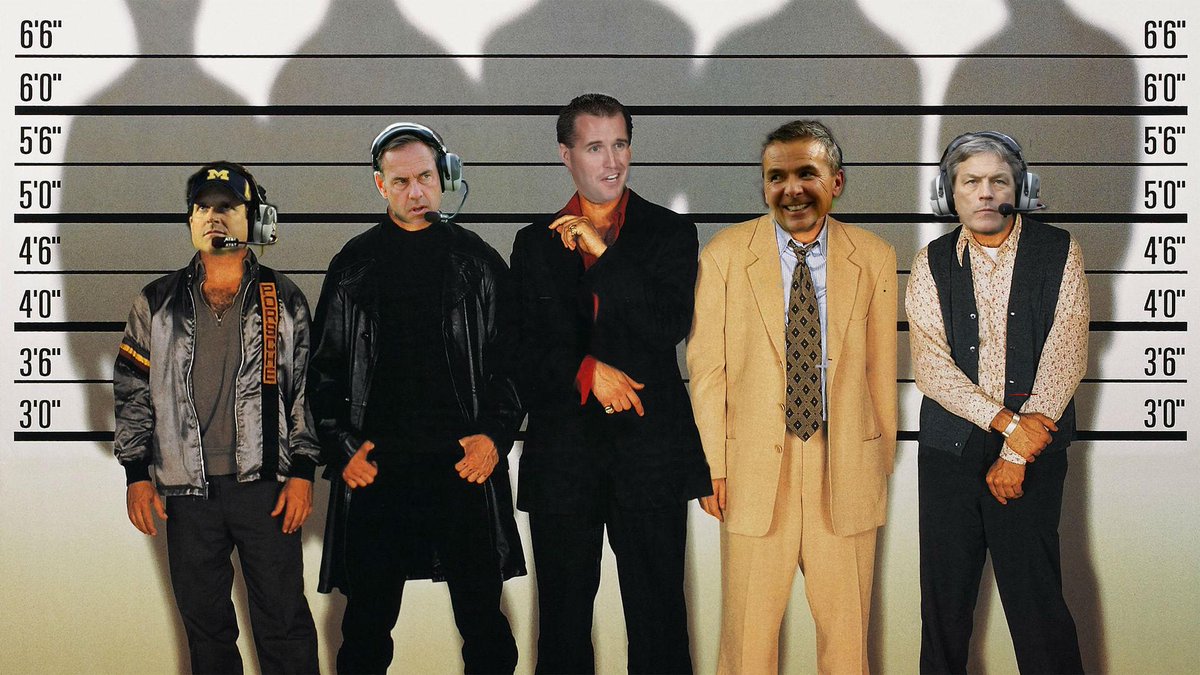 Hello, Keyser.
BW:
The Big Ten championship is the only direct national quarterfinal this weekend, and I agree that it's the best choice. But there are worse things than picking second on championship weekend, so before telling you where I am going, let me tell you where I'm not going.
I'm not going to the SEC Championship. Pardon me for going all Captain Obvious on you, but Florida stinks. They are the worst team playing in any of the major conference championships, and I could and will include the AAC Championship between Houston and Temple within that distinction. They can't score on offense against a normal defense, let alone the best defense in the country. Plus, they barely survived Florida Atlantic in OT two weeks ago. Alabama will win by 40 and SEC nation will puff their chest about being the best team in the country, but sorry Bama (not), it will mean absolutely nothing.
Common perception is that Clemson should roll North Carolina on Saturday night in the ACC Championship, but I disagree, and think this could actually turn out to be the game of the weekend, so I'll happily pack my bags for Charlotte. Granted it's come against a weaker schedule, but North Carolina has been equally as prolific as Clemson on offense, and actually has a sneaky good defense, particularly against the pass, and that is top 20 in scoring defense. QB Marquise Williams is not Deshaun Watson, but he's done a pretty good impression this year, with very solid passing numbers, and rushing stats that are almost identical to Watson's. With a 0 looming in the loss column, this game probably represents the most pressure Clemson will face all season, including any run they'd make through the playoff. Meanwhile, North Carolina has absolutely nothing to lose since no one expected them to be here, and while they're likely out of the playoff picture, go ahead and cue Marty Schottenheimer's music… "There's a gleam, men… there's a gleam. Let's Get The Gleam!"
2.) Since Thanksgiving has passed, by our own rules, we're finally supposed to talk about this. If you had a vote, what would your Heisman ballot look like this season?
BW:
The Heisman ceremony is officially a week away, and it seems that Derrick Henry is one more pretty good performance away from locking things up for good. However, there are two other major players for the trophy that will also be on center stage this weekend, and if Florida can contain Henry, I think the race is still close enough for either Christian McCaffrey or Deshaun Watson to steal the trophy with one final memorable performance.
Baker Mayfield and Dalvin Cook are both excellent candidates and should be invited to the ceremony in New York. However, neither will be on the field this weekend, and I believe at this point that Mayfield is behind Watson, and Cook is behind McCaffrey and Henry, meaning that neither have a realistic chance to take home the trophy. My ballot would list Mayfield at 5 and Cook at 4, though it's splitting hairs at this point. Cook gets the nod because he's more dynamic.
Christian McCaffrey and Deshaun Watson both find themselves in a position this weekend to make some noise. McCaffrey has been making noise all year with over 250 all-purpose yards per game, and needs 216 on Saturday to break Barry Sanders' single-season all-purpose yardage record. Granted, Barry's record came in 11 games, and this week will be McCaffrey's 13th, but that would still be a significant accomplishment to be sure. Interestingly, the one area where McCaffrey has had the least success this year has been in the punt return game, but that could be where he has a chance to make his biggest statement. USC is 118 out of 127 in punt return defense. For Watson, he will face a stiff challenge from a North Carolina defense that's one of the more efficient units against the pass in the country. However, the Heels do have a significant deficiency in defending the run, and last week, allowed NC State QB Jacoby Brissett, who had a less than 2 yard per carry avg and fewer than 200 yards rushing coming in, to gain 128 yards and 2 TDs with a 6.4 YPC. Watson is not only the best passer UNC has faced this year, giving the pass defense their stiffest test, but he's also gained nearly 800 yards on the ground, and is licking his chops at the thought of facing that run defense.
Derrick Henry is the front-runner thanks to four 200 yard efforts in his last 6 games to go along with 12 TDs during that stretch.
He's not as well-rounded as McCaffrey or as dynamic as Cook, but after Alabama castrated Leonard Fournette's campaign, Henry has been the most dominant player in college football over the 2nd half of the season. I do think there's an outside shot for Watson or McCaffrey to steal the trophy this weekend, but for now, my ballot would read Henry, Watson, McCaffrey, Cook, Mayfield.
MK:
Obviously, there's a little bit of projecting involved here, anticipating what might happen in the conference championship games, which I assume is why you expect McCaffery and Watson to emerge as serious contenders over the next week or two. I have a couple of thoughts.
First, I agree with this, because the conference championship gives players a thirteenth game to work on improving their aggregate stats, but the exclusive stage helps them for other reasons. The Heisman has always been a hybrid award for individual and team, but especially recently, narrative has become an important component of winning the trophy as well. Reporters and voters talk—frequently, openly, and sometimes ludicrously—about a Heisman moment, some sort of signature play on the national stage that demonstrates that the player is worthy of the honor. This leads to some fairly silly conversations, and it's worth pointing out that this season, while there have been an extraordinary numbers of moments that I think will stick with us for a long time, has failed to produce a moment of this kind. I'm not sure that stage exists this year, or if it might cause voters to revise their opinions of the last several months of football in the aftermath of what could be a very calm conference championship weekend.
Derrick Henry, with his close-out, kneel-before-Zod series of carries at the end of Iron Bowl—along with his nearly 1800 yards of rushing while being the only player in college football with over twenty rushing touchdowns—should probably have earned everyone's vote by now. I don't want to overstate the case, because the result may well have been the same in any case, but I have no idea how Lane Kiffin only gave this man the ball sixteen times in the Sugar Bowl last year. Speaking of that game, Brian, I don't know how you've neglected Ezekiel Elliott in your Heisman voting.
I may be an insufferable Ohio State homer, but the Buckeye runningback carried more than the football as the offense struggled at times this season, and still racked up nearly 1700 yards and nineteen touchdowns despite a pretty obvious pitch count. (Oh, and about teams that lost football games because good runningbacks didn't get enough carries, I have grievances about the playcalling in that Michigan State game that I've never properly discussed.)
At this point, I'd put Henry at first and Elliott at second, for the consistency combined with the homer run hitting ability. I think these are clearly the best backs in the nation right now, and any doubts we might have had about Zeke should be mitigated by the way he gashed a very solid Michigan run defense in the Big House. Had his season not been limited by injury, I think Josh Doctson (WR, TCU) probably would have or should have earned a trip to New York—even though the honor likely would have gone to Trevone Boykin instead—but I'm going regressive against what has recently become a quarterback award and sending all my votes to the bellcows: Dalvin Cook (third place), Leonard Fournette (fourth), and Christian McCaffrey (fifth).
Baker Mayfield is a really dynamic player and a hell of a talent, but respect for the running game is long overdue.
3.) Once more, with feeling: Les Miles survived for another season at LSU, but Mark Richt and Georgia have both moved on, and you know, they're doing great or whatever. Can you justify the firing of coach with a winning percentage of approximately .740, and do you think he's a good fit at Miami?
MK:
Brian, I think you feel quite a bit more strongly about this than I do, so I'm letting you take the wheel here for a little bit.
BW:
The country should never be surprised when an SEC school becomes discontented with a successful coach and makes him a casualty of his own success. Other than Robert Winston, who coached 6 total games for the Bulldogs in 1894, no Georgia coach has a higher winning percentage than Richt. During his tenure, only Florida and Alabama appeared in more SEC Championship games, and Richt led Georgia to two SEC Championships. But what he did not do was compete for and win a National Championship, and for a school with one official national championship to its credit (1980), apparently that wasn't good enough.
MK:
Okay, I think you're overstating things a little year. Yes, Mark Richt is an excellent football coach and he's done a very nice job upon the whole at Georgia. He also seems like a good and decent man, so there's always that, and his players seem to adore him. We normally miss the forest for the trees, but sometimes I think we can talk ourselves into the opposite problem.
Is there really any doubt that Richt's best years at Georgia were his first years? His last conference title at Georgia came in 2005, or in his fifth season, and Richt had won ten games or more in years two through five with the Bulldogs. Since then, he's won ten or more games five times, which is still a very respectable total over the course of some ten seasons, but there are a couple of disturbing things that stand out here. In addition to not winning the conference since 2005, his teams have only won the SEC East twice since the 2007 season; this might seem like a weird way to do the accounting, but stay with me, here. Georgia was among the favorites entering 2008, after a torrent of a second half of the season in 2007, culminating in a Sugar Bowl boomsticking of BCS-buster darling Hawai'i. Since then, all Richt has done is produce the #1 overall pick in 2009 (Matthew Stafford) as well as some of the most promising skill position players to be drafted in the last five years (AJ Green and Todd Gurley), but the team hasn't managed a conference title, has only won the division twice despite the fact that Florida hasn't been that great since 2008 and Tennessee has basically been garbage the entire time, and hasn't managed to get the Bulldogs to a bowl better than Capital One Bowl in that same span. What's more, he beats rival Georgia Tech like a drum, but he's only 5-10 against division rival Florida in the World's Largest Outdoor Cocktail Party.
I mean, whether the goal is a national championship or not, I do think these types of things are real problems and not imagined ones. As I said last week, Richt really reminds of John Cooper, who put extraordinarily talented Ohio State teams on the field, but rarely brought home the conference and struggled against important rivals. Don't get me wrong, he's a much better coach than Cooper, but these are exactly the things that brought both of them down. It's always difficult to project whether a coordinator should be the candidate for a big job like the one in Athens, so Kirby Smart has a lot of his plate if he wants to play Jim Tressel. Still, this shocked so many people, and I can't quite understand why this is all that surprising.
BW:
Georgia's loss is Miami's gain, as Mark Richt and the Hurricanes are a great fit. Miami has turned into a mediocre football team over the past decade. No longer an identity associated with the current state of the program, "The U" has continued to fade further and further in the rear-view mirror with each passing coaching failure. Mark Richt, as a graduate of Miami, understands the tradition and expectations better than anyone. He's brought life back to the fan base and to the alumni, and is easily the most established coach Miami has ever hired. And make no mistake, the
only
reason Miami landed Richt is because it's his alma mater. National Championships are not on the brain in Coral Gables at this point, it's more a matter of restoring order and making the Hurricanes a real player in the ACC for the first time. Richt's Georgia teams always competed in the SEC, considering he was fired following a 9-3 season, and his Miami teams will be a force in the ACC in short order.
MK:
I think Richt is much better than the Hurricanes could have otherwise hoped for, and it makes me wonder if there was something truly mutual about the parting between the Dawgs and the head coach.
BW:
With Larry Fedora doing some pretty great things at North Carolina (culminating this year, but the promise has been there for a few years), Pat Narduzzi putting his stamp on Pitt, Justin Fuente potentially reinvigorating Virginia Tech, and now Mark Richt attempting to bring back
The U
,
the ACC Coastal (seriously, can we PLEASE change the name)
is transitioning from one of the weakest divisions in all of major college football into one of the most intriguing divisions in the nation.
MK:
The SEC West, the Big Ten East, and the ACC... Coastal?
Maybe.
GAMES OF THE WEEK
Every week, we pick at least five of the best games in college football. Instead of picking against a point spread, we use confidence points—a common method of scoring in bowl game pools—to create separation in the weekly standings. The higher the number of points allocated to a game, the more the certain we are of the outcome. Results do not always agree with us. Each number can only be used once.

We also include a brief capsule to go along with each game. All times, of course, are Eastern.
#22 Temple at #19 Houston
American Athletic Conference Championship—Noon, Houston, Tex.—ESPN
BW:
You know it's going to be a special season when it starts with a 74 year-old monkey being lifted from your back. Temple has parlayed that landmark win over Penn State into the best season in school history. A win would give the Owls their first 11 win season in school history, and likely land them their first major bowl game since losing the 1934 Sugar Bowl under Pop Warner. For Houston, it's taken Tom Herman one year to put the Cougars on the brink of a major bowl. Greg Ward Jr. is one of the best duel-threat QBs in the country, and will lead Houston's 15th ranked offense against Temple's 18th ranked defense. It has been a banner year for the AAC, with as many as four teams ranked in the Top 25. The former Big East Conference lost its automatic qualifying status into a major bowl game with the demise of the BCS, but this year will almost certainly make their New Year's Six debut featuring the winner of this game.
MK's pick: Houston, 34-14. Confidence points: 5.
BW's pick: Temple, 31-27. Confidence points: 2.
Southern Miss at Western Kentucky
Conference USA Championship—Noon, Bowling Green, Ky.—ESPN2
BW:
While the big games will kick later in the day, make sure you have your remote handy for the noon appetizer to flip between the AAC Championship and this game featuring two of the top 10 offenses in the country. Todd Monken has quietly put together one of the better coaching performances in the country this year at Southern Miss. In 2013, he took over a team that finished 0-12, and after just four wins in his first two seasons, has the Golden Eagles at 9-3 and in the Conference USA championship game. Western Kentucky has only lost @Indiana and @LSU this season, and 2nd year head coach Jeff Brohm is putting together quite a resume for a team (Virginia?) looking for an exciting offense. These teams combine for more than 1050 yards of offense and 85 points per game, while USM QB Nick Mullins and WKU QB Brandon Doughty have combined for 8148 yards passing, 77 TDs, and only 15 INTs.
MK's pick: Western Kentucky, 47-42. Confidence points: 6.
BW's pick: Western Kentucky, 55-38. Confidence points: 6.
#18 Florida vs. #2 Alabama
Southeastern Conference Championship—4:00, Atlanta, Ga.—CBS
MK:
While Alabama had a little tougher sledding in the Iron Bowl last week than most people—including the Crimson Tide football team, presumably—expected, at least the offense scored. Florida played a just abysmal tilt with the rival Florida State Seminoles, managing only 260 yards of total offense and getting on the board only because of second-half safety. Though navigating an underwhelming SEC East, Florida brings the fifth-ranked scoring defense nationally into the conference title game against Alabama. The Gator run defense, which has surrendered 150 yards to LSU's Leonard Fournette and 183 to Florida State's Dalvin Cook, will have one last chance to test their mettle before the bowl season against an excellent runningback in Derrick Henry. It seems unlikely that the Gators—who boast one-score wins against East Carolina, Kentucky, Tennessee, Vanderbilt, and Florida Atlantic—will defeat the Crimson Tide and send the College Football Playoff into chaos.
MK's pick: Alabama, 28-10. Confidence points: 7.
BW's pick: Alabama, 38-0. Confidence points: 7.
Air Force at San Diego State
Mountain West Championship—7:30, San Diego, Calif.—ESPN2
MK:
Without a powerful Boise State team, the Mountain West has flown under the radar this season, but the San Diego State Aztecs have been one of the most dominant teams within their conference this year. The Aztecs ran the table in the league, winning their eight conference games by an average of nearly 24 points, with a powerful running game led by Donnel Pumphrey, who enters play today with 1464 rushing yards and 16 rushing touchdowns, and a stingy defense allowing only 16.6 points per contest. The Falcons may counter with runningback Timothy McVey. In a loss to New Mexico last week, the Falcons may have backed into the conference title game but found a new weapon, with McVey averaging over 15 yards per offensive touch and scoring five touchdowns against the Lobos. Brian and I both like the Academy to pull the upset tonight.
MK's pick: Air Force, 35-30. Confidence points: 5.
BW's pick: Air Force, 22-19. Confidence points: 1.
#20 Southern California vs. #7 Stanford
Pac-12 Championship—7:45, Santa Clara, Calif.—ESPN
BW:
Stanford is a part of the most interesting scenario of the day, as a Cardinal win combined with a North Carolina win would create a highly interesting 4-team scenario between Stanford, UNC, Ohio State, and Clemson for that final playoff spot. Despite having two losses, Stanford has made a strong case, and have a chance with an impressive victory to move to the front of that pack (UNC is currently ranked behind three 2-loss teams, so I see no reason Stanford couldn't pass a few 1-loss teams and get in). USC lost early in the season to Stanford, and were actually a significant favorite in that game, but that was under Steve Sarkisian, who was relieved from his duties a few weeks later. Following a tough loss to Notre Dame in his first game as coach, Clay Helton has USC playing very good football. The Trojans have won 5 of 6, and early this week, Helton deservedly had the interim tag removed from his title.
MK's pick: USC, 42-31. Confidence points: 4.
BW's pick: USC, 30-28. Confidence points: 3.
#10 North Carolina vs. #1 Clemson
Atlantic Coast Conference Championship—8:00, Charlotte, N.C.—ABC
MK:
North Carolina has played a lot of bad football teams, but to their credit, they've really throttled them. The Tar Heels have joined elite company on offense, sandwiched between Oklahoma State and Texas Christian in terms of points per game at eleventh in the nation, and Larry Fedora's have done it while maintaining tremendous balance in the running and passing game, at 229 rushing yards and 266 passing yards per contest. In this game, Marquise Williams (QB, UNC) will be the man to watch, as his numbers at least somewhat conceal how well he actually plays, as he takes on Clemson's Deshaun Watson. Were North Carolina to win, the committee would have a truly fascinating decision to make, and while the Tigers have to be the favorites, this is clearly the best shot at creating chaos today.
MK's pick: North Carolina, 44-40. Confidence points: 1.
BW's pick: Clemson, 44-31. Confidence points: 4.
#4 Iowa vs. #5 Michigan State
Big Ten Championship—8:00, Indianapolis, Ind.—FOX
BW:
On FOX (friendly reminder), you'll be hard-pressed to find two more even, physical, disciplined teams in today's only "official" national quarterfinal. Despite unexpectedly finishing the regular season unbeaten, Iowa has only been an underdog once this year @Wisconsin. More than anything, that exposes the biggest difference between the two teams, as the Spartans have been tested far more than the Hawkeyes, performing at their best in wins over Oregon, Michigan, and Ohio State. Michigan State QB Connor Cook was clearly compromised against Penn State last week, but still managed to carve up a Nittany Lion defense that couldn't create pressure without top sack-man Carl Nassib. These two teams are tied for 4th in the nation in TO margin and both turn the ball over fewer than one time per game. To have a chance, the Hawkeyes must find a way to put pressure on Cook, who will likely still be dealing with lingering effects from a shoulder injury suffered 3 weeks ago against Maryland. The over/under is 51, but I have a hard time seeing this potential bloodbath getting anywhere near that total.
MK's pick: Iowa, 31-23. Confidence points: 2.
BW's pick: Michigan State, 20-14. Confidence points: 5.
UPSET SPECIAL
The upset special is a weekly, off-the-board pick. In order to qualify, a game must meet at least one of any of the following criteria: a point spread of one touchdown or more; a consensus gap of five places or greater in national polls between the two teams playing, with ranked-versus-unranked matchups automatically qualifying; or, an FBS-versus-FCS showdown, which features no line. Any correct upset special earns three points. The other, final thing you need to know about this column is that Brian always wins this stupid thing.
MK:
This week, guys and gals, the upset special is going dark because of a lack of options. I mean, there's not so much a lack of options as there is a lack of options involving teams outside the Sun Belt. Not that there's anything wrong with the Fun Belt—typo intentional—but there's enough on the board already.
OVERALL STANDINGS
MK: 46-27 (5-6), 239 points; 6-3 (1-0), 35 points (last week)
BW: 44-30 (4-7), 235 points; 6-3 (0-1), 39 points (LW)
Matt Kocsan and Brian Williams are staff writers at FootballPros. They do, for the record, miss the I-Formation. You can follow them both on twitter @kocsan (Matt) and @FPCommish (Brian).