Rich continued his late roll when he accurately called out the "Falcons' Internal Super Bowl Win Over the Panthers". Nice work. Our other big points winner Last week was iwatt who smartly jumped on the Rams' bandwagon as they pounded the Seahawks. More nice work. Ian's making a serious charge for the Upset Special Top Dog crown. Amy better look out.
Afrocomb, Raven and I all went Captain Obvious and took the Redskins. Good thing points only count when it comes to tiebreakers.
The rest of you are left looking for rubies in mountains of rocks. Remember, there ain't no Coupe DeVille hiding at the bottom of a Cracker Jack box.
Keep in mind the rules will change a touch during the playoffs. Point spread requirements relax a bit and we add an 'All Upsets' option. Plan accordingly.
STANDINGS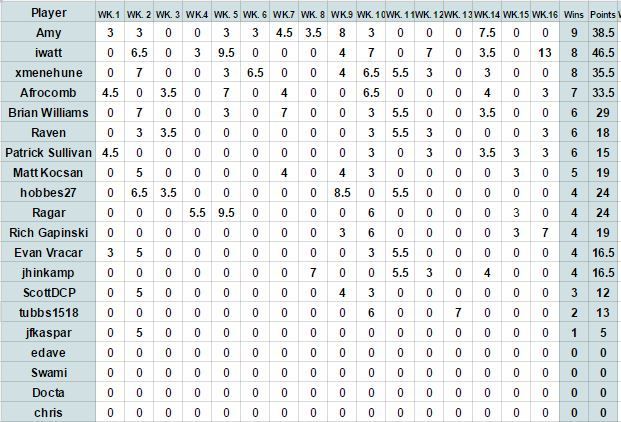 Rules:
One pick per week
Your chosen team must be at least a (+3) underdog (Only games listed in this column are eligible)
Your chosen team must win the game outright (no 'pushes' or 'covers')
Season winner is the one with the most upsets correctly chosen between Week #1 through the Conference Championship Games (20 weeks all together)
There will be a points system to determine a winner in the event of a tie
Points will be accumulated by adding the game spreads for your correct picks (if you take Carolina (+4.5) and Carolina wins, you will be awarded a win and 4.5 points). Be careful making picks based on the number of points possible. Points only count if you are tied for the total wins lead when the whole contest is finished.
The No Upsets Option: Predict correctly that 'No Upsets' will occur in any given week and you will be awarded one win and a point total equal to the sum of all the spreads in that week's Upset Special. If you wish to exercise the 'No Upsets' Option, that prediction is due by 5 minutes prior to kickoff of the first game of the week in question. This includes Thursday Night Football or Saturday games. The 'No Upsets' option is confined to the Upset Possibilities listed in this article.
Picks are due no later than 5 minutes before the scheduled start of the broadcast time for your game. The FootballPros.com time stamp on your post is gospel.
Spread lines, once posted, will remain static throughout the week. This isn't The Sports Book at Caesar's Palace, after all.
Let's. Get it. ON!!
Week #17 Upset Special Possibilities
Odds by
OddsShark
.
All times Eastern.
Underdogs in
bold
.
Sunday 1:00 Games
Patriots @ Dolphins (+9)
Jaguars (+5.5) @ Texans
Ravens (+9) @ Bengals
Steelers @ Browns (+9.5)
Eagles (+3.5) @ Giants
Jets @ Bills (+3)
Saints (+4) @ Falcons
Sunday 4:15 Games
Buccaneers (+11) @ Panthers
Raiders (+6.5) @ Chiefs
Chargers (+9) @ Broncos
Rams @ Niners (+3.5)
Seahawks (+6.5) @ Cardinals
Sunday Night Football (8:20 PM)
Biggie's Week #17 Upset Special:
Let go the hate in my heart, you say? Alritey then. I can always indulge another. Gimme the
Vikings (+3)