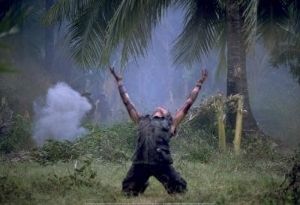 PS:
Welcome to our W&L Divisional Round Edition. If you like, I have left you a drop of maybe the single greatest rock & roll vocal performance in the last decade or so. After that, on to the picks and stuff.
Chiefs at Patriots (-5), Over/Under 42.5
Saturday, January 16, 2016
4:35 (ET), Foxborough, Mass.—CBS
MK:
Since the Chiefs began their run of eleven straight victories, they've been one of the best ATS options available, going 8-3-0 ATS. Does it surprise anyone else, in spite of how solid Kansas City has been, that they've laid points in ten of those eleven games? They started this run at 1-5 and they've only been an underdog once since their October 18 loss to Minnesota. (For the record, they did cover and win against Denver in that lone game.) The Pats, meanwhile, have been favored in every game this season, and cover with a stunningly average record of 7-7-2. There's a noticeable drop off after, you know, every player on their offense got hurt.
This is my nominee for the total-Vegas-zone line of the week. It's a weird, in-between number that leaves you open to one kind of back-door cover but isn't a real inducement to jump on the points. With Edelman and Amendola back but Brady recovering from one of those tricky high-ankle sprains, this is making me think too much. I think New England has enough to win by ten and I just don't want to play for a backdoor cover.
PICK: Patriots, Over
RG:
I have to agree with a lot with my colleague here. I know that a lot of the talk about this game surrounds the Patriots because they are the Patriots, but I don't think enough is being made about Maclin's injury. The only spot where I think I disagree is the over/under. I think Brady's limited mobility will allow him to be harassed at times during the game, making the offense sputter. Gronk is not 100%, but the Pats are still the better team.
PICK: Patriots, Under
PS:
I have no idea which team will win this game. None. I do know this: both teams have the ability to to shut down the other's best offensive player. Belichcik will find a way - as he always does - to limit Travis Kelce and that KC pass rush will put some serious constraints on Tom Brady's ability to advance the football. I look for a low-scoring, defensive battle. Oh, and that line is way too biased toward the champs.
PICK: Chiefs, Under
Packers at Cardinals (-7), O/U 50
Saturday, January 16, 2016
8:15 (ET), Glendale, Ariz.—NBC
MK:
Since I'm first in the wheel this week, I guess it's my job to remind everyone that these teams played three weeks ago and Arizona kind of demolished them. Well, that's wrong. At least the 'kind of' part is.
Granted, there hasn't been a pro football playoff game in the Phoenix area since 2009, but every single one of those games they've hosted have pretty great, and they've all been settled by about a touchdown. I like Arizona to win on Saturday, and I think they're going to the Super Bowl, but I also think this is going to be the one game you want to watch this weekend, if you have to choose.
PICK: Packers, Over
RG:
I think it is funny that the 2009 game Matt mentioned above was that wild 51-45 Cardinals win over the same Rodgers-led Packers team. It was a game that saw Kurt Warner play so well while Rodgers was still the guy who had not learned to win yet.
In this game, Rodgers is now a well-respected veteran who may be the most talented quarterback in the league when discussing all the variables. Amazingly, Carson Palmer is older than Rodgers but comes into this game as the player who hasn't learned to win in the playoffs yet. Well, Adams is now out for the Packers and I just can't believe that much can be different this time around for the final score. Sure, Green Bay won't turn it over as much as they did last time, but Arizona is a much better team right now.
PICK: Cardinals, Over
PS:
I'm right with Matt on this one. Arizona wins, but the Cheeseheads keep it very interesting. BTW, seeing Calvin Johnson in Packers' gear next season is gonna suck.
PICK: Packers, Over
Seahawks at Panthers (-2.5), O/U 44
1:05 (ET), Charlotte, N.C.—FOX
MK:
Okay, so remember what I said about the one game you want to watch this weekend? Maybe I was wrong. I'm not really sure how much stock to put in Seattle's utterly anemic offense performance at Minnesota. I mean, it was cold; that Viking defense is pretty good; Minnesota couldn't move the ball very well, either; and Bud Grant, in short sleeves, probably emasculated every man in that stadium. Marshawn Lynch is probable, which is good, because what disturbed me about Seattle was the Minnesota could hold the ball against them, especially going into a game against Carolina, who is fourth in overall TOP in the league (or, two spaces or eleven seconds per game behind Seattle).
I know most people don't care about this stat, but I do. More people care about turnovers, and while Carolina is +20 on that scoreboard this season, the Seahawks have only had four games all year in which they gave the ball away more than once.
PICK: Panthers, Under
RG:
The interesting thing about the narrative around this game is that both of these teams comes in with incredibly similar stats and team construction, but Seattle is disappointing and Carolina is dominating. For a much more detailed look at every game, check out what we have to say over at "
Blitz Picks."
I have a weird feeling about this game and I think it is going to be akin to the Giants-Niners games (playoff and regular season) from the 80s. I hope this rivalry gets to that point because it should always be fun to watch these teams. However, I think Seattle has enough with the return of Lynch and some magic from Wilson to get back to the NFC Championship game before getting smoked by the Cardinals.
PICK: Seattle, Under
PS:
I cannot wait to watch this game. BeastQuake II is coming.
PICK: Seahawks, Over
Steelers at Broncos (-7), O/U 39.5
4:40 (ET), Denver, Colo.—CBS
MK:
As of this writing, Antonio Brown has been declared out, DeAngelo Williams is unlikely to play, and Ben Roethlisberger looks extremely limited. My heart bleeds for you, Pittsburgh. It's only shifted a half-a-point from its opening position to compensate—again, as of this writing, or on Friday afternoon—but I'd lay these points now.
PICK: Broncos, Under
RG:
There's some sort of wave of people that are starting to discuss how the few remaining healthy Steelers players will be able to somehow find a way to beat the Broncos.
I think they've forgotten that the Denver defense has some metrics supporting them as one of the most dominant defenses since 1992 (Football Outsiders). As long as Peyton Manning really doesn't throw 4 interceptions, Denver should be fine covering this number. I don't expect any offense to be good, but this games screams out something like 20-3.
As soon as Pittsburgh realizes that they can't do anything with Roethlisberger throwing with an 11 yard downfield maximum or he gets hit, they will probably be finishing this game with Landry Jones. I don't root for injuries and I admire Roethlisberger's toughness and willingness to Toradol his way through this game, but I think it is very possible that he is "Sergeant Elias at the end of
Platoon
" in this scenario. Figuratively, of course, but I am a bit worried about him.
PICK: Broncos, Under
PS:
I want very badly to pick the Steelers. Ben has the playoff magic that carries teams this time of year. But that shoulder? And the Steelers are missing Brown to boot? Meh... I have to agree with my esteemed colleagues, right? Negative, Ghostrider.
PICK: Steelers, Under
GAMETIME GRUB
PS:
Wings, Biggie Style:
2 lbs. wings & drums
1 cup balsamic vinegar
1 15 oz. can Mandarin oranges (juice and all - do not drain off the juice or you will hate this glaze)
1 thinly sliced Vidalia onion
6 cloves fresh chopped garlic
1 jar Marzetti's chunky bleu cheese dressing
Put everything (including the juice from the oranges) in your crock pot and cook uncovered on low for at least four hours. You are making a BBQ sauce so let it thicken to your liking. Once the sauce is close to your preferred consistency, take your stick blender and puree all the bits of onion, orange & garlic. Don't fret over the quantity, this sauce keeps for a long time and is fantastic on this like ribs & chops.
Take your chicken and hit it with a little salt & pepper and bake it on a racked pan (this lets the wings get crispy all the way around) at 365 degrees until they are done (time depends on size of wings).
Toss the wings in your glaze and serve with bleu cheese dressing and some celery sticks. I like to sprinkle sliced green onions on mine as well.
Bon appetit.
BEER OF THE WEEK
MK:
It's a busy weekend for me, guys and gals. I'm on my way out of the country in a couple days for a couple months, and that's fine. I might end up listening to the conference championships and the Super Bowl on the radio, which will be a different sort of experience. That really might be alright, as I've listened to plenty of Browns games as a Cleveland expat over the years, but I'm running errands and writing things up now so if this is the last football I get to watch until Labor Day, it doesn't get too interrupted.
So, the beer in Spain is pretty okay. It's mostly comparable to your generic domestics stateside, but the price is a hell of a lot better. So, what are we drinking this weekend, as the temperatures start to dip again and the snow starts to fall, at least in my neck of the woods for now?
We're going back to a brewery Rich tapped a few weeks ago and grabbing
Jackie O's (of Athens, Ohio) Bourbon Barrel Black Maple Porter.
At 11% ABV, be careful with these, because you're getting into wine drunk and wine hangover territory if you're not careful. Really, I'm a bourbon most days, so I'm usually willing to give a barrel-aged brew at least one shot, especially since where I'm headed the liquor is noticeably more expensive than beer and wine.
Happy best pro football weekend of the season, everyone!
STANDINGS:
RG: 5-3, 65-61-2
PS: 4-4, 63-63-2
MK: 3-5, 60-66-2
Rich Gapinski, Patrick Sullivan, and Matt Kocsan are staff writers at FootballPros. Each week, they pick the most difficult games of the week based on the Tuesday morning lines and produce this column for their—and hopefully your—amusement. You can follow them on twitter @PolishedSports (Rich), @GoBigOrGoHome2 (Patrick), and @kocsan (Matt).